July 15, 2019
One of life's guilty pleasures is going to a spa and getting a massage.  However, it's not usually something I do when I'm out of the country.  But, when research says that Turkish bath experiences are legendary, you just have to give it a try.  I'm so glad I got past my innate shyness and visited a Hamam.  Unless you have a fear of bubbles (yes, that's a thing), I would highly recommend indulging in a Turkish bath while in Istanbul – it's like a fancy car wash for the soul.
Hamams (Turkish baths) are found all over the city – in tourist sections and where the locals live.  Some are co-ed, where people wear bathing suits, but most are segregated by gender – those are the ones that strip you of your modesty.  With so many to chose from, I decided on Ayasofya Hurrem Sultan Hamami, reportedly one of the most beautiful in the city.
Built for Roxelana, the wife of Sultan Suleiman the Magnificent, in the 16th century, it stands on the site of ancient baths from 100-200 AD and where the ancient Temple of Zeus once stood.  The Hamam was abandoned as a bathhouse in 1910, lived several lives as a prison, storage depot, and carpet bazaar then was restored to its glory in 2007.  It is conveniently located on the walk between the Hagia Sophia and the Blue Mosque.  Not that you'll feel like doing anything such as visiting monuments after indulging in the services at the Hamam – you'll feel too much like a limp noodle, in a good way.
Photo credit: Courtesy of Ayasofya Hurrem Sultan Hamami
Upon walking into the women's section, I immediately felt like I was entering what I envision as a grand living room of a haram.  There was a huge sunken sitting area with couches along the perimeter.  A few steps up were several recessed lounging areas with lots of pillows for relaxing and the reception desk.  The main relaxation room is vaulted, opening it to several stories above.  The interior structures were made of gleaming wood and draped with linens of soft colors.  The ambiance was meant to be soothing and, I have to say, it immediately did the trick.  I was told that the men's section is a mirror copy of the women's.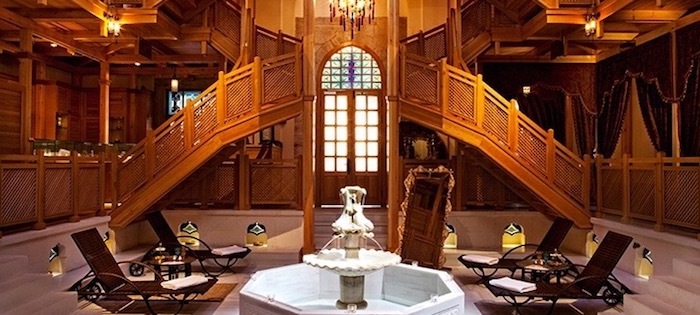 Greeted warmly by the staff, I was taken by the hand and led upstairs to a private dressing room.  I was given a little amenity kit, a package containing "underwear," sandals, and a large linen wrap.  I was instructed to undress, put on what was supposed to be underwear, wrap myself in the linen, and return to the relaxation area.  I'm not one to be nearly naked in a group of people, but I sucked it up, did what I was told, and set about trying to position the "underwear" comfortably – not an easy feat.
Downstairs, I was once again led by the hand into the inner sanctum of the women's treatment area.  Picture a large cave completely lined in gleaming white and gray marble.  Although all the surfaces are hard stone, it seemed somehow soft and soothing.  Along the edges of the room were platforms supporting water basins.  Sparkling gold or brass taps fed the basins.  In the middle of the room, there was an enormous inlaid marble platform where the cleansing rituals often happen.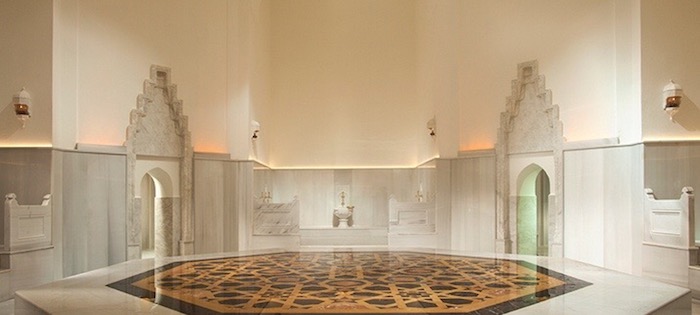 As I was led in, I noticed several red decorations that seemed a bit out of place.  It was explained to me that they were preparing for a bridal party that would occur later and would I mind having my ritual done in a private room (an upgrade).  Since I literally had the place to myself, I didn't mind at all.
In the private room, were several more marble benches, each with a water basin and a golden bowl.  My bath technician, Ozlem, who spoke enough English that we could communicate briefly, indicated that I should remove my wrap and sit on the bench beside the water.  She tested the water; it appeared to pass the test of hot but not scalding.  The water was indeed hot, enough to leave the skin a rosy red upon contact.  She showed me that I was to dip the bowl into the water and douse myself with it, before repeating the process over again – for 10 minutes.  I sat alone in my uncomfortably small underwear on a marble bench drenching myself in hot water.   Not something I thought I would be doing on a Monday (or any day). By the time the 10 minutes were up, I had actually gotten into a dousing rhythm and was toasty warm, and bright red from nose to toes.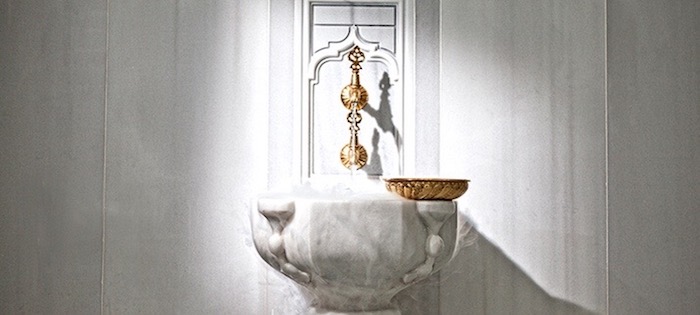 Ozlem, returned and proceeded to up the water temperature a bit and doused me a bit more just to make sure I hadn't missed a spot.  Then it was time for the cleansing.  She donned a kese (a loofah-like glove), instructed me to sit down on the marble bench and she began to scrub.  And scrub with the kese she did.  You think that you're pretty hygienic until you see the layers of dead skin roll off at an alarming rate.  Although the mit has a texture on this side of sandpaper, the scrubbing wasn't uncomfortable; it was, however, extremely invigorating.  When almost every inch of me had been scrubbed, I was doused again in hot water.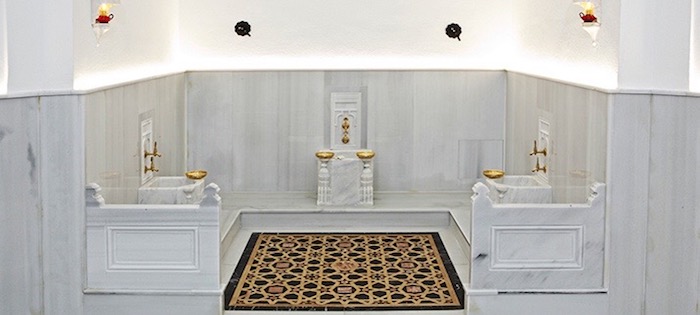 Then it was bubble time.  Ozlem requested that I lie face up on the marble table in the middle of the room.  Feeling like a sacrifice to the Gods, I stared up at the little skylights in the tall ceiling remarkably relaxed.  With a swoosh, a white piece of fabric appeared above me releasing gloriously foamy soap bubbles.  The fabric looked like a pillowcase that had been soaked in soapy water, but when she squeezed it, millions of tiny bubbles covered my body from chin to toes.  It took me back to childhood baths with Mr. Bubble suds.  The bubbles tickled and softened at the same time.
Then she began massaging the bubbles into my skin.  If I hadn't been relaxed before, this did the job.  Very few body parts were left unbubbled or unmassaged.  Partway through the sudsing experience, she told me to flip over and there were more bubbles and more massaging.  I was so intensely relaxed, I didn't even notice I was lying on a hard marble slab and not a cushy massage table.
Another dousing with hot water followed the massage and then I was instructed to sit once again on the marble bench.  She proceeded to shampoo and condition my hair.  If this wasn't the height of luxury, I'm not sure what would be.  Once completely rinsed from head to toe again, I was wrapped in a warm out of the dryer towel and slowly led back into the main treatment area floating on air, or bubbles, or both.
By this time, I was relaxed, toasty, and a bit woozy.  I was handed off to Rabia, a very nice young woman who apologized profusely that the bridal party had arrived a bit early and would I mind having my refreshments in a private lounge off the main room.  I was propped up with several pillows because I was too relaxed to do it myself and Rabia was off to get my refreshments – a glass of cool water, a glass of sherbet (fruit juice), hot tea, and several pieces of Turkish delight.  Truly delightful.
The bride's party was just beginning in the main living/relaxation area. There was traditional Turkish music (all women musicians) and the female friends and family of the bride were socializing merrily. From my lounge, I could hear the music and the festivities and had a good vantage point to see the bride in a beautiful beige sequined gown descend the stairs.
Several times during my relaxation, Rabia came over to apologize once again that my experience was being "spoiled" by the party.  The manager of the Hamam also appeared with the offer to have me return in the next days for another treatment at their expense for the inconvenience.  Although I appreciated their hospitality, I declined as this was only adding to the unbelievable experience.  They seemed a bit perplexed that I was so happy with all of the activity.
Feeling a little less woozy, I wanted to return to my dressing room, but it was a little difficult because the bride was being filmed just below where I needed to ascend the stairs.  I am pretty sure the video will show me streaking by wrapped in nothing but a towel.  The ultimate photobomb.
With what little energy I had remaining, I dressed and tried to sneak down the side staircase without disturbing the party.  I wasn't successful as I was beckoned over by a member of the bride's family and told that I should join in the dancing and merriment as their guest (Turkish hospitality is unbelievable).  Since I was way underdressed for the occasion, I paid my respects to the bride and her family and slipped out between the drapes of the Hamam's entrance. 
A wonderful experience I will never forget.  As I re-entered the real world, the clouds had evaporated, the sun was shining, and the city was once again vibrant.  What a day!