July 13-14, 2019
What started in the planning stage as a two-week trip to Tbilisi, Georgia eventually morphed into a 7 ½ week trip starting in Istanbul and ending in Vilnius, Lithuania. Each time I looked at the map, I'd think to myself, "well, if I am going to go to X, Y isn't that far … it would be a shame if I didn't go to Y too." Since I had to fly through Istanbul to get to Tbilisi, it was only natural that I spend a few days in Istanbul. And since I was going to Georgia, why not go to Ukraine, Poland, Denmark, Sweden, Latvia, and Lithuania as well. Why not!?! Luckily Steven (my husband) is used to my wacky thought process and just nodded his head every time I added another city and/or more time.
Several months of planning behind me, it was still surprising when it was time to head for the airport. I tried to pack "lean and mean," but I still probably packed more than needed.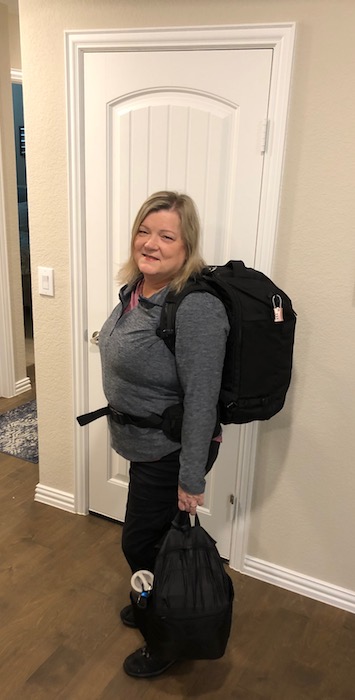 I was lucky to get a last minute upgrade on my flight from Dallas to London. Long flights are so much better in a lie-flat seat.
The food was better than it looked; unfortunately, the seat was less comfortable than it looked. Sleep came in short increments. Thank goodness I had a wealth of podcasts to catch up on.
On arrival at Heathrow, I had enough time for a shower at the British Airways lounge and a juice before sandwiching myself into the economy seat for the 3 ½ hour flight to Istanbul. The seats of the BA flight could double for a form of torture. They didn't recline, there was no legroom (I'm 5'2" and I had zero legroom), and I swear they are several inches narrower than any airline seat I've ever sat in. The fact that the pilot said the plane was new does not bode well for future travel on BA.
Somehow, the 3 ½ hour flight to Istanbul seemed longer than the 8-hour flight to London. Feeling like a sardine might have something to do with that. Luckily, before the lower half of my body went numb, we landed at the new Istanbul Airport, which opened in April 2019.
The distance from the plane to passport control was long (at least one bathroom stop long), but the airport was so fresh, wide open, and not crowded, that I didn't mind the walk as there were things to look at along the way.
Wide …

Open …

Spaces

Looks like the face of a futuristic cat

A warm welcom

Homecoming
I obtained my visa online prior to beginning the trip, so after a reasonable wait in the queue, I breezed through the agent's quick scan of my documents.
I find that pre-arranging transportation from an airport in a new city is a valuable expense. The hostel got me in touch with KiwiTaxi for my transport needs. Prior to even leaving the US, I received several texts from the company with detailed instructions on where they would meet me. I even received photographs of the sign they would be holding and a video detailing where to walk when I came out of baggage claim. I didn't see the sign at first, so there was a little bit of confusion. The situation was resolved quickly; I was met and taken to the van – I was the only passenger.
The skies had opened up and the freeways and streets were slick. Through the raindrops rolling green hills gave way to the outskirts of the city. Lots of apartment buildings and minarets sped by until they didn't. Like any big city, Istanbul has a traffic problem. Add in narrow, steep, winding streets, and 15 million people, traffic is going to come to a standstill. Despite the traffic, honking horns, and rain, I could already tell there was something special about Istanbul. I saw bits and pieces of interesting architecture, enormous Turkish flags hanging on the sides of buildings, lots of people, and my first glimpse of the Bosporus.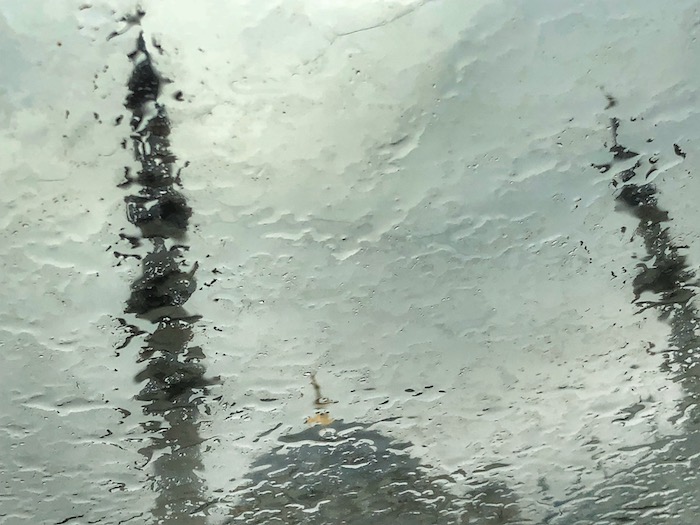 My home for the next several days is Cheers Hostel. I've never stayed in a hostel before, so I really didn't know what to expect. What I received (since I paid a little extra for it) was a large room with a very comfortable king bed and a private bathroom.
The hostel itself is well cared for and a little eclectic – I've heard the dorm rooms are comfortable. My room is actually across the road/alley in a separate building with extremely steep stairs. I was happy when I was escorted up only one flight of the stairs. Any further up and my knees would take a beating. Oh, did I mention there's a really cute house dog named Zaman. Totally spoiled by the guests and totally adorable.
As I stepped out the front door into the alley, I turned left and was greeted with a view of the top of the Hagia Sophia. Beautiful!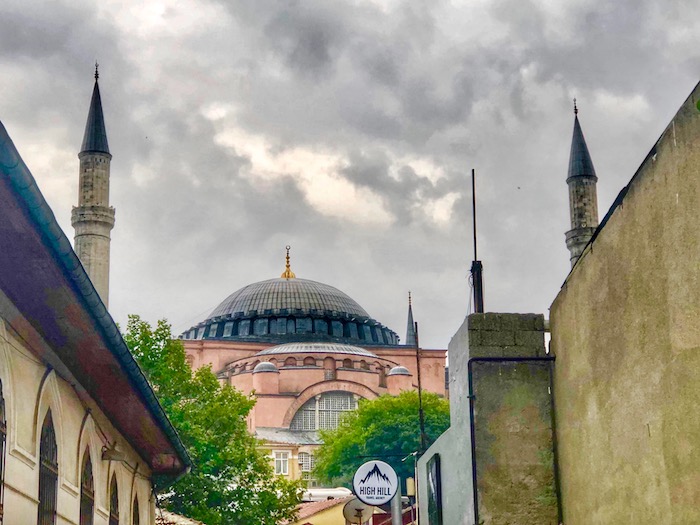 Down the alley, out into the main street, across the metro track, and around a corner, I got a full frontal view of the Hagia Sophia. Turning around, I could see the Blue Mosque looming in the distance. Places to visit on another day.
As I was getting back to the hostel, a group was leaving to get dinner. They didn't mind that I tagged along. The rest of the evening was filled with eating Gozleme (Turkish pancakes) and drinking Apple Tea. I seriously could duplicate the meal several nights in a row and be perfectly happy.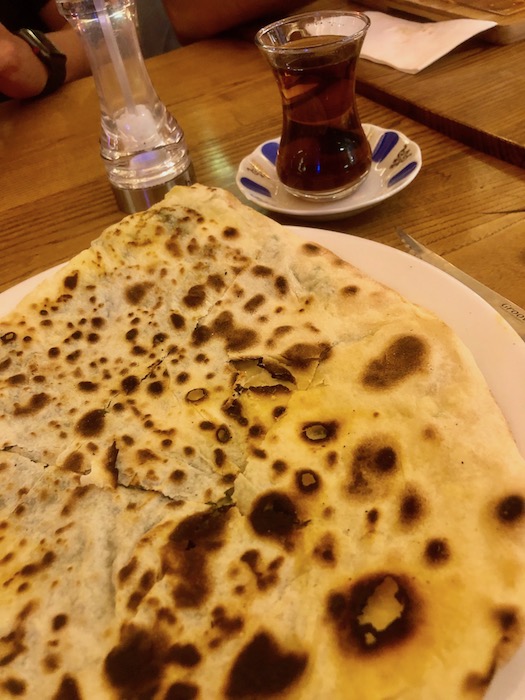 The group was very interesting – a variety of ages under 30 and from Australia, Scotland, Egypt, and the United States. All were very well traveled and it was fun to swap stories with like-minded, albeit much younger, travelers. I think I might like staying in hostels. We'll see.