March 10, 2019
I've wanted to visit Nicaragua for a long time, but the opportunity never arose. Although one day is never enough to get to know a country, that's all we had, so we chose to do a tour into Leon.
Once again, we braved the masses of Cruisers at the Mainstage Theater waiting for our group to be called. Green group 11 stickers firmly affixed to our chests, we disembarked and headed toward the buses – there was no green 11 bus. The lack of a clearly marked bus caused a commotion. I spotted a bus with a sign "Colonial Leon," the name of our tour, but it was green 13. People didn't want to get on the bus until the tour guide changed its number to match our stickers – come on people, flexibility is our friend.
Our guide is the youngest of 10 and the only one in her family to go to University. She is also the only one who doesn't have children. The younger generations of Nicaraguans only have 1-2 children, down from an average of 7-8, and, often, have none. She is a strong advocate of education to build a stronger, better nation.
Nicaragua is considered to be an economically poor country; its unemployment rate is 12%. Although Daniel Ortega (and his vice-president wife) has been back in power since 2006 (violating term limits set by the constitution). Notwithstanding prior political deeds, he has invested in the infrastructure of the country (Nicaragua has excellent roads) and the education of the people. Within the younger generations, the literacy rate is 98%. Both education and healthcare are free, but, to get seen at a private clinic (with shorter waiting lines), you have to have paid into the insurance plan by working in an established industry.
As we drove, we saw a lot of trash along the side of the road. Our guide told us that it is a problem they are trying to combat through education and public service campaigns. Such a beautiful landscape to be littered so extensively.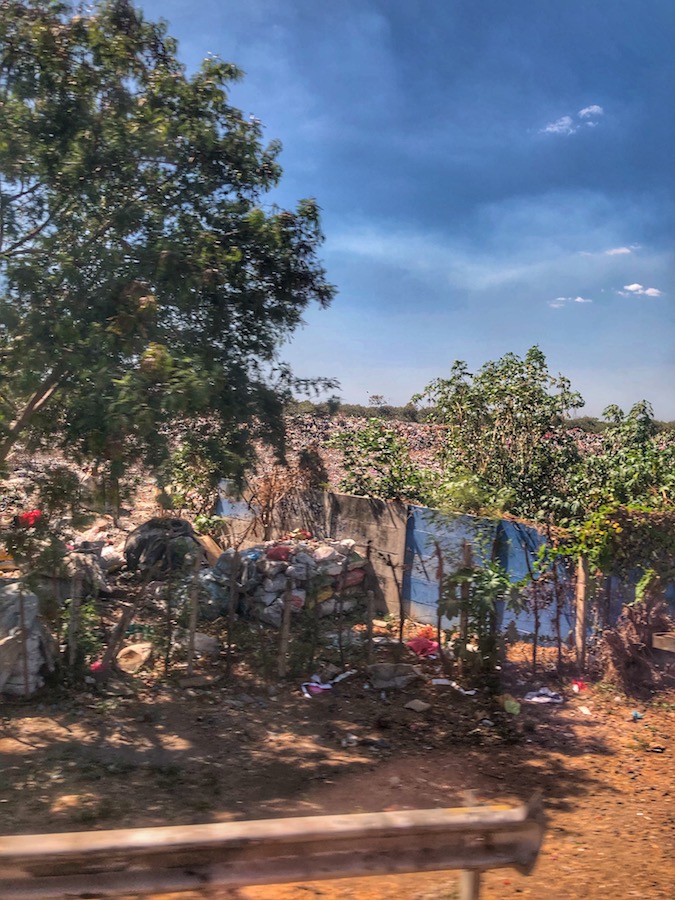 We also came across a shanty town experiencing a dust devil (mini tornado) that literally tore up anything in its path as we watched. Roofs were ripped off and houses torn apart. It was very sad to see; there was nothing we could do to prohibit its destruction.
Our excursion took us to the city of Leon, one of two colonial cities in Nicaragua.
We didn't have near enough time in town, but were able to visit the Cathedral of the Assumption of Mary (Real e Insigne Basilica de la Asunción de la Bienaventurada Virgin Maria), which was quite lovely inside.
The marble statues sculpted by Jorge Navas Cordonero was spectacular in their details, particularly the sculpture he did for the grave of beloved Nicaraguan poet Felix Ruben Garcia Sarmiento (Ruben Dario), buried in the cathedral.
After a turn about the interior of the Cathedral, I followed our guide and part of the group up three steep and narrow sets of stairs to the roof (Joan stayed on solid ground).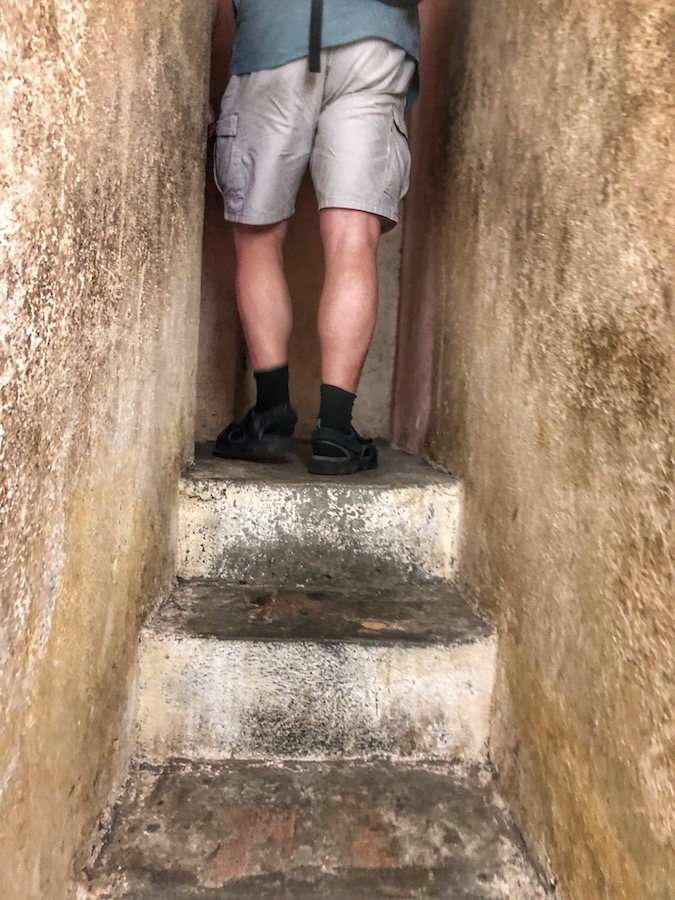 Although the white coloring of the roof was blinding and blisteringly hot, the views were stunning.  I could see the entire valley, including several of the other 15 churches in Leon (all are connected to the cathedral by underground tunnels).  I could also see several of the 17 volcanoes (only seven are active) off in the distance.  The 34 domes of the church provide ventilation and light ~ "the building is one of the best naturally illuminated cathedrals in America."
While on the roof, I met a fellow cruise passenger, who is from Wales.  He and I struck up a conversation about our shared love of traveling, comparing notes on great places to visit.  Note: he was not the guy in the black socks and flip flops in front of me in the photo above – please guys, never make that fashion faux pas; it's just wrong on so many levels.  Anyway, the ex-policeman from Wales and I bumped into each other several times later in the cruise, each time with new recommendations.
Our ride back to the ship was uneventful, but gave us wonderful views of some of the volcanoes.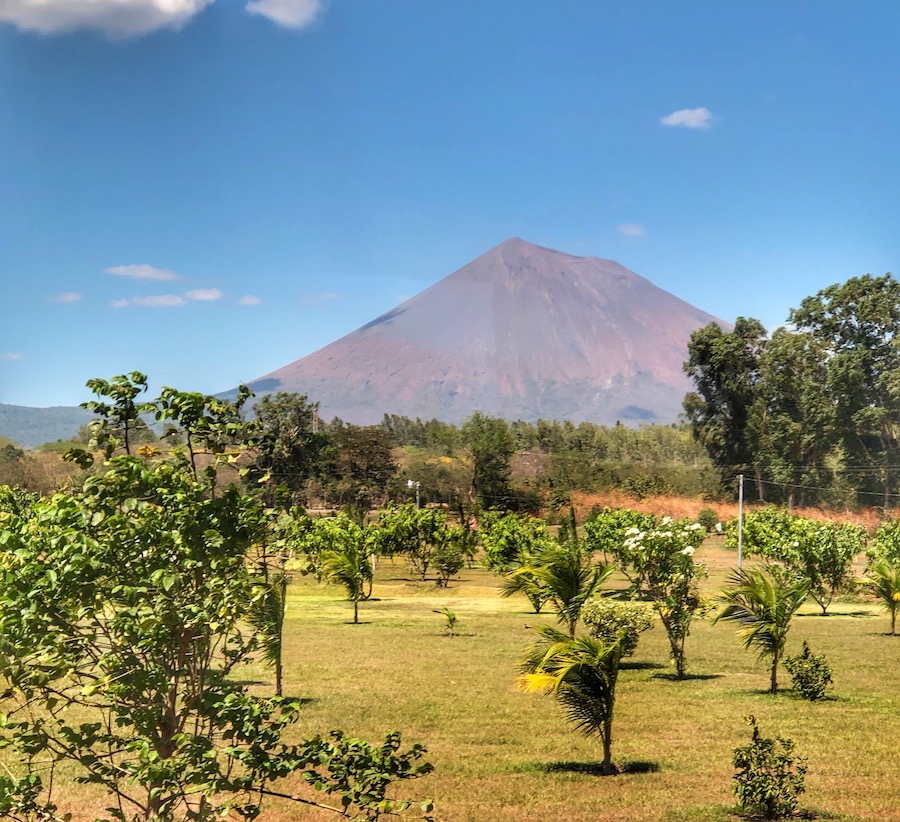 Our arrival back at the ship was met with Caribbean beats, cool drinks, and, of course, the omnipresent Purell. My hands have never been so disinfected and soft.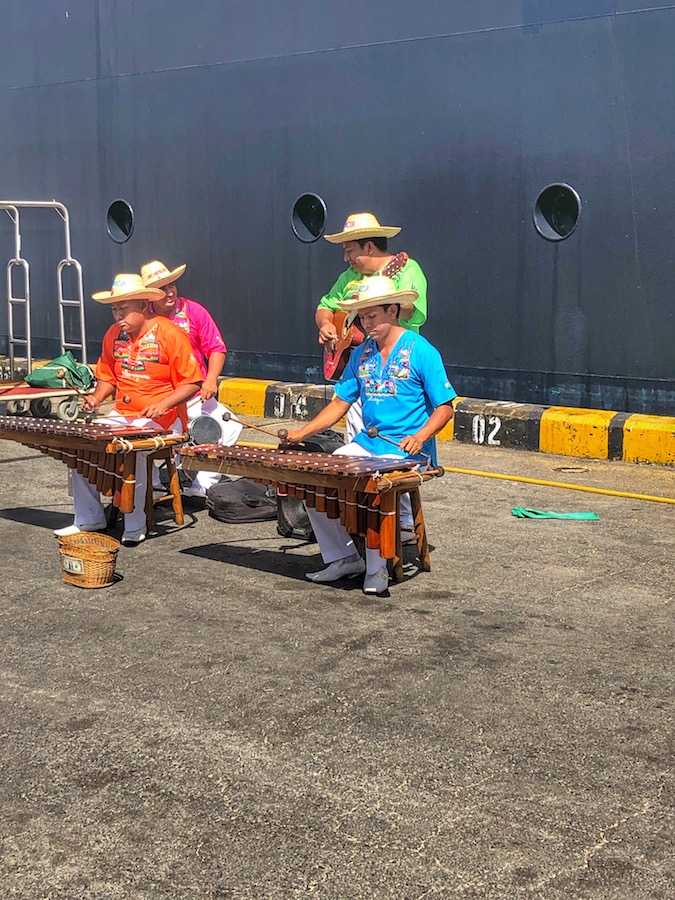 As we pulled out of the harbor, we were treated to more volcanoes off in the distance and a marvelous watery sunset.