October 11, 2019
Group tours come in all shapes and sizes from ones that control your every waking moment to ones that handle your travel and accommodations and nothing more.  We selected a Gate1 tour that fell right in the middle with tours and activities built-in, optional tours we could add on if desired, and plenty of free time to ourselves.
Today was an independent day with optional tours if we so chose.  We opted out.  The morning's optional tour was to the Chu Chi Tunnels.  We thought the trip would be very interesting, but Steven was not excited by the thought of being in an extremely confined space.  At the time we made the decision, we didn't know he didn't have to go into the tunnels if he didn't want to – lesson learned.  Truth be told, we also were not enthusiastic about the tour's 7:00 a.m. start time. 
Instead, we had a leisurely start to the morning partaking in a late buffet breakfast that was included with our room.  To me, there's nothing better than chicken Pho with a side of scrambled eggs to start the day.
After breakfast, we ventured up to the rooftop deck where the pool was located to take in the view.  Not sure why I wasn't prepared for Ho Chi Minh City (formerly Saigon) to have so many modern tall buildings.  The city from above looks so much calmer than what it can be down on the streets (see previous comments about scooter traffic).
We also decided to opt-out of the afternoon optional city tour.  In retrospect, we probably should have done it so we had a better sense of the city, but we were happy with our chosen activity – a massage … a lengthy massage.
Steven went down to the front desk and had a conversation with the bellmen.  They recommended the Yuri Spa and provided a brochure with a variety of massage options.  After discussing the choices, we each decided on a 120-minute hot stone full body massage and a 70-minute hot stone foot massage.  You heard me, over three hours of massage.  Yes, please!!!
Steven contacted the aforementioned bellmen with our request, they conveyed it to the spa, and we were booked.  We were advised that someone from the spa would be by shortly to walk us to our appointments.  Interesting; I've never been escorted to a massage before.
The spa employee spoke not a word as she walked us a few streets over from the hotel, through the front of women's dress shop, in through an interior sliding glass door, and up a flight of stairs.  We emerged into a very tranquil waiting room where we were asked to take our shoes off and then provided with tea service. 
The next three hours were pure bliss…  I believe both of us fell asleep at one point or another.  The cost of our indulgence?  $80 each… for 3 hours of amazingly relaxing massage.  We promised each other that if the prices were as good (or lower) we would pamper ourselves with several more massages during the trip.  [Spoiler alert … they were, and we did.]
After the massage, we were left to fend for ourselves to find the way back to the hotel.  Since we were only a few streets around the corner, it wasn't difficult.  Along the way, we stopped into a little corner market to pick up water, soda, and a few snacks.  We love looking at the different products on offer in new places.  This market had lots of interesting snacks and even had hot bao available for take-away.  I was amazed at the variety of ramen flavors.  Guess it's popular snack food.  Across the street from the market was a Starbucks – one of only a few we saw in HCMC.
Around 6:00 p.m., we headed down to the hotel's restaurant to meet our tour group. First up, we met our guide, La Quy Bi ("Bee"), a married 40-year-old father of two boys and a native of HCMC. Bee let us know that we had been the only ones to not partake in the optional tours, so the rest of the group had already met. He was also the one to tell us that we needn't have worried about going into the tunnels. Oops. We were still happy with our day.
The rest of the group trickled in – a woman from Washington, D.C., a Filipino couple from Orlando, a Filipino couple from Windsor (Canada), and a Canadian couple from Nevada. The husbands of the two Filipino couples were brothers and both were having birthdays during the trip. The only reason I mention that they were Filipino is that during the trip they compared the landscape of Vietnam to the Philippines and told us that we must visit their home country. It's on the list! The woman from D.C. has been on at least 15 other Gate1 trips and is an extremely experienced solo traveler. She's got me beat! The Canadian couple from Nevada was also very well-traveled particularly from his work as a manager in the worldwide mining industry. So, we were a group of 9, which is lucky because groups can often be a full busload (40+ people). As the week wore on, we found that we were equally matched and got along famously.
After the introductions, Bee gave us some useful information and instructions for traveling in Vietnam:
Shops shouldn't accept foreign currency; they can be fined for doing so.
If changing money, do so in a bank; however, make sure you have your passport with you, you'll need it for identification.
In restaurants, if you see the word "service charge" on the bill, it means the tip is included – it will be 5% of the bill. A further tip is not necessary.
If a service charge is not included, then a 10% tip is typical.
If you want to leave a tip for housekeeping at a hotel, $1-2 USD is typical and can be left in any major currency.
What Bee didn't tell us was what the typical tips were for the tour bus drivers and the tour guide (i.e. Bee). After the meet-up, we asked the woman from D.C. since she had been on so many tours. We settled on $2-3 USD per day per person for the bus driver and $5+ USD per day per person for the tour guide. [Personally, we usually tip on the high side, so we each ended up tipping Bee well more than $5 per day.]
With our meeting finished, Steven and I headed off to find a restaurant recommended by one of our well-traveled friends. Google maps was our savior, directing us right to the corner where the staircase was located to walk up to Quán Vietnamese Bistro – one of few restaurants in a city-wide chain. The restaurant was quaint, had cool vintage artwork, and, most importantly, fabulous food. Unfortunately, our eyes were bigger than our stomachs.
We ordered a mixed spring roll platter, honey garlic chicken, garlic rice, green beans with shrimp (probably also had garlic), and a lemongrass/lemon juice concoction to drink. Everything was delectable. Steven wasn't fond of the drink, but I liked it – more for me! Although next time we would order less, we would highly recommend dining at Quán when in HCMC. I'm sure their other restaurants are equally as good.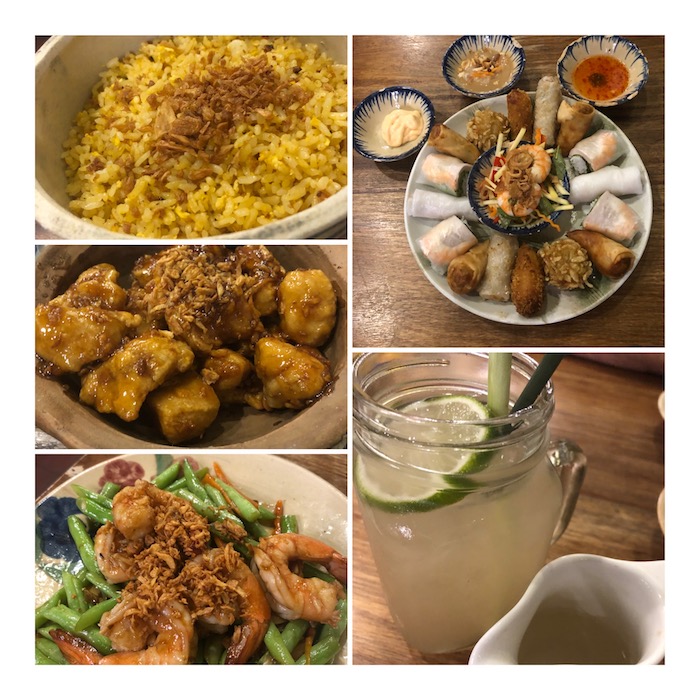 Our walk back to the hotel was uneventful although we experienced the 24/7 nature of HCMC.  The construction site next door to the hotel was still buzzing with activity at 10:00 p.m.  We overheard several unhappy people at breakfast say that it was still active well after midnight.  Not that we noticed; we slept like babies.