October 13, 2019
It's nice to have breakfast included with your room particularly when the buffet is as nice as it was at the hotel in HCMC. The tasty mix of western and eastern offerings was only dampened by the grumblings of the Aussie tour group members who were still bemoaning the noise of the construction next door. I wondered if they'd ever heard of earplugs.
Shortly after breakfast, we were off as a group to the airport to catch a flight to Hanoi. Although it appeared that we would have to stand in long queues to check our luggage (Vietnam Airlines is pretty strict about carry-on), Bee hustled us off to the far side of the check-in lobby to a "group only" section where there were no lines. Another advantage of traveling with a group of which I was not previously aware.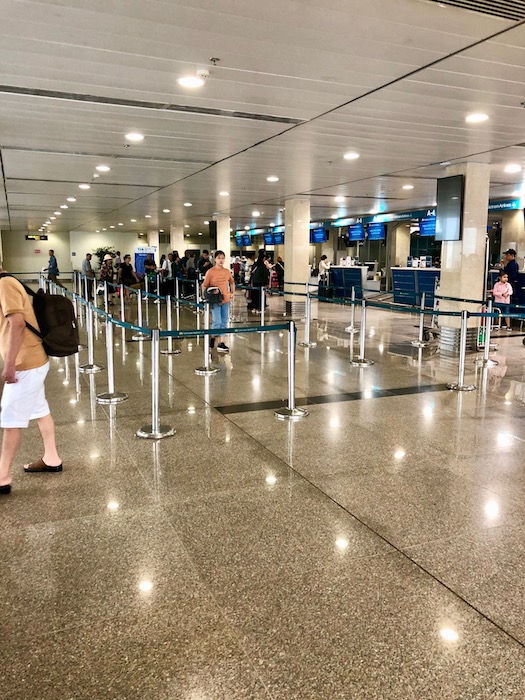 Passport control was relatively swift. I could tell that the agents were no-nonsense, so I made sure Steven knew not to try to be his usually overly engaging self. Just look straight ahead, speak when spoken to, and don't try to engage in small talk. I'm sure it was hard for him not to fill in the silent moments.
The group made it through and headed for the gate. Well, all but us. We headed for a lounge we had found that we could get in using our Priority Pass. We weren't the only ones with the lounge idea as it was very busy. When we walked in, the buffet was under siege. We did a lap to see what the lounge offered, took a few photos, and settled in with a soda. Just about that time, one of the other members of our group joined us in the lounge (the woman from DC).
On our way to meet the rest of the group at the gate, I took a side trip to the convenience store to see what kinds of snacks were stocked. I wasn't in the market for anything; I just like to check out the offerings. It seems Pringles and Pepperidge Farm are big sellers even in Vietnam.
When I was in China, I found that orderly queues are really not a thing. It seems that the same can be said for Vietnam. Even prior to the boarding announcement, a swarm around the boarding entrance began. There was no order, there were no lines, it was just one big mob. Even when boarding groups were called, they were not enforced. Ultimately, however, we all got on board.
As we usually do, Steven and I had aisle seats across from each other. Beside me sat a mother and daughter. Upon buckling up, they immediately made themselves at home by loosening several items of clothing, taking off their shoes, sticking their feet up against the backs of the seats and through the spaces in between the seats, and falling asleep. Apparently bare feet in the airplane was a thing because up and down the aisle I saw feet sans shoes and socks everywhere. I did not partake. Luckily, the flight wasn't a long one.
Off we went on another bus speeding out of Hanoi and into the Red River Delta. Although fertile, due to the weather, the Red River Delta only yields two crops of rice per year and only 20% of Vietnam's rice. Much of the area is agricultural land. Other than in Hanoi, the "city," crime is lower in the countryside where penalties are stiff. Drug trafficking (600 grams of cocaine+) gets you the death penalty.
Coal mining is big business in the north and is used for fuel and in factories. Huge factories continue to be built in the countryside of the north. Ceramics and pottery are also big business in northern Vietnam. On our way to Halong City, we made a lunch stop at a "humanity" center where locals make and sell handicrafts from huge ceramic pieces to intricate embroidery.
I so wanted to get one of the big Buddha ceramics but the shipping price would have been astronomical and indecision overtook me as there were too many beautiful embroidery pieces to choose from. I came away empty-handed. Our bellies did not leave empty though, we were able to make up our minds on selections from the menu in the little restaurant in the center.
Back out on the road, we were treated to endless views of new bridges and monuments, farmers tending fields, and rice fields with shrines honoring the deceased of the farmers' families.
Finally, off in the distance, we got the first glimpse of the limestone monoliths for which Halong Bay is known. We all got a little giddy in anticipation of what we would see tomorrow.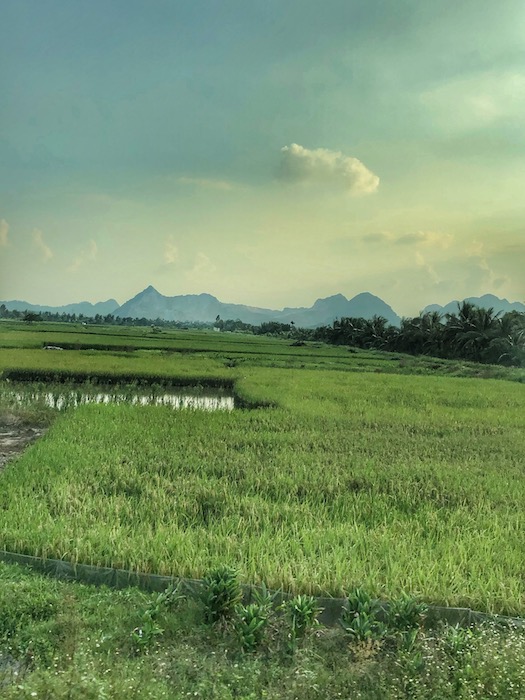 Halong City is a little underwhelming. It has several high-rise hotels, one of which was the Halong Palace, our hotel, but not much else. As we walked into our room, we found the largest bed we've ever seen. Usually, king-size beds are two twins put together, but I think they had put two full or queen beds together. I'm not sure where they found a fitted sheet to fit the jumbo-sized bed, but they did. We were amazed. We literally could have fit a family of five in one bed and still had room. We were a little afraid when we found the terror-inducing fire/gas masks in the closet. We were glad we didn't have to test them out during our short visit.
We didn't join the rest of the group in meandering around the local market to the rear of the hotel and, instead, ventured downstairs later for dinner in the hotel restaurant. Perhaps the worst meal decision of our entire trip. Steven's shrimp dish wasn't terrible, but my chicken dish went uneaten. The best part of the meal? The pretty garnish on the plate.
We thought we would redeem the evening by enjoying some relaxation in the massage chairs located in the hotel lobby.  We paid the equivalent of a few dollars, sat down, positioned our arms and legs in the appropriate holsters and leaned back ready for our tension to drift away.  Did.Not.Happen.  The massage chairs turned into monster chairs that maintained vice-like grips on our limbs while the rollers whacked their way up and down our bodies, twisting and turning our muscles this way and that, often in a direction nature never intended. 
Despite best efforts, we could not wrench our extremities out of the monster chairs' control without real injury, so we were captive for 20 very long minutes before being released.  It was definitely an evening for the books.