October 10, 2019
We headed off to Singapore's Changi Airport early because it is supposed to be the No. 1 airport in the world and has a bunch of things to see and do that other airports don't have. We also thought that checking in might take longer since we knew we were going to have to check our backpacks. Having checked JetStar's cabin baggage allowances online, I knew that our bags weren't going to cut it.
We arrived at the airport to no lines at the automated passenger check-in kiosks. It took us less than two minutes to get our boarding passes. It was then on to the automated baggage check-in kiosks. Another two minutes and we were watching as our backpacks entered the bowels of the airport. We crossed our fingers that they would see them coming off the conveyor belt in Vietnam. Another minute was spent having our passports and visas checked by a dedicated counter-person (visas are required for Vietnam), and then we were off to clear security and immigration (also quick and easy).
Not only is Changi Airport organized and efficient, but it also has wide-open spaces, lots of vegetation, and tons of artwork. For an airport, it is quite beautiful.
It's also environmentally friendly with reminders to recycle at every turn and seems to care for its passengers. We found a large "snoozing" area complete with loungers for passengers with long layovers or were too exhausted from the shopping that can be accomplished within Changi's walls.
Steven had already checked out our lounge options online based on our Priority Pass. We decided to check out a couple of them as we made our way down the concourse to our departure gate.
The first one, d'nata, is the default lounge for a number of airlines. Despite all the potential feeders into the lounge, it was almost empty when we arrived. It was large, had several different seating areas and configurations (with lots of outlets and USB ports), a large TV viewing area, and a pretty good spread for breakfast in which we indulged. There were both western and Asian fare and a large coffee bar. Almost anything one could wish for a quick airport breakfast. As far as a combination of ambiance and amenities, we'd give it a solid B+/A-. We spent a little bit of time after consuming our meal and decided to move on to the next lounge.
Next on our list was the SATS Premier Lounge. This lounge was more of an open concept than the last, which can be good and bad. It's great for being well lit and airy, but bad if there are loud people in the lounge at the same time as your visit. Luckily, everyone was quiet and keeping to themselves. The seating areas were comfortable and plentiful, all with plugins, and there was a nice business section with desks. The buffet was well stocked with a number of selections and the refrigerator was stocked with juices, sodas, and water that could be taken out of the lounge when you left (which we did).
After grabbing drinks, sampling a few nibbles, and trying out the different types of chairs for comfort, we were about to leave for the next lounge when we saw them … next-gen massage chairs. It was like the heavens opened and the angels sang. These chairs looked like the real deal with lots of selections on the remote. They promised to massage almost every inch of your body. It was a promise we couldn't pass up. Two out of the three chairs were operational and they were all ours for the next 30 minutes. Ahhhh, pure bliss. I must say, the chair got into some muscles I didn't even know I needed massaging. I think we would travel back through Changi Airport just to seek those wonder chairs out again.
After a solid 30 minutes in the massage chairs, we were noodles and could visit no other lounges. We melted our way down to our departure gate and waited for our flight.
Jetstar is one of the budget airlines operating in Asia. Boarding was quick, the seats were not uncomfortable, the legroom was adequate, and the flight went off without a hitch. The only thing that can be said for the meal that was served is that … we were served a meal without asking for us to pay for it. A translation of the name of the meal that was emblazoned on the foil wrapper is "Thai style mixed rice." It had rice, which may have been mixed, but we still aren't quite sure what the thing on top of the rice was. It was pretty scary looking, but it actually didn't taste too bad. We were still marveling over the mere fact that we were served a free meal on a budget airline.
As the plane came out of the clouds, we got our first glimpses of Vietnam. Our excitement magnified.
The airport in Ho Chi Minh City (HCMC) is pretty bare-bones. The immigration line moved quickly and we soon waved through by the no-nonsense border control officers. We sighed with relief as our backpacks tumbled down the conveyor at the baggage claim.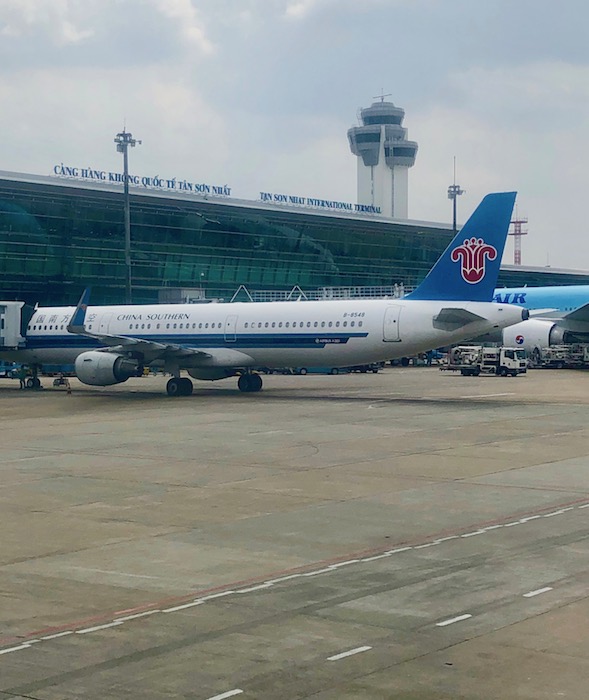 Soon enough, we were in a taxi (always make sure it is metered) and off towards the center of town where our hotel was located.
What can I say about the traffic but OMG! Dividing lines seem to be mere suggestions as cars, trucks, and seemingly thousands of motorbikes bobbed and weaved along the roadways. Stoplights also seemed to be mere suggestions. Red lights were only an opportunity to slow down while dodging around cars coming from all sides. Miraculously, we didn't see any accidents and, more importantly, our taxi wasn't involved in any accidents. It was as if all the vehicle operators were listening to the same song and their drives were choreographed to intersect but avoid each other. A motorized dance, if you will. It was exhilarating, scary, and crazy all at the same time.
We arrived in one piece at the Northern Saigon Hotel. Our time in Vietnam is part of a tour booked through Gate1, so the tour operator selected the hotel. We were welcomed with a glass of juice and presented the keys to our king-bedded room. While the room's color palette was a little dark, it was spacious and the bed was very comfortable. I was a little worried about not being able to select our accommodations, but it looked like I needn't have worried. [Spoiler alert: all of our accommodations throughout the tour were very comfortable. I definitely worried for nothing.]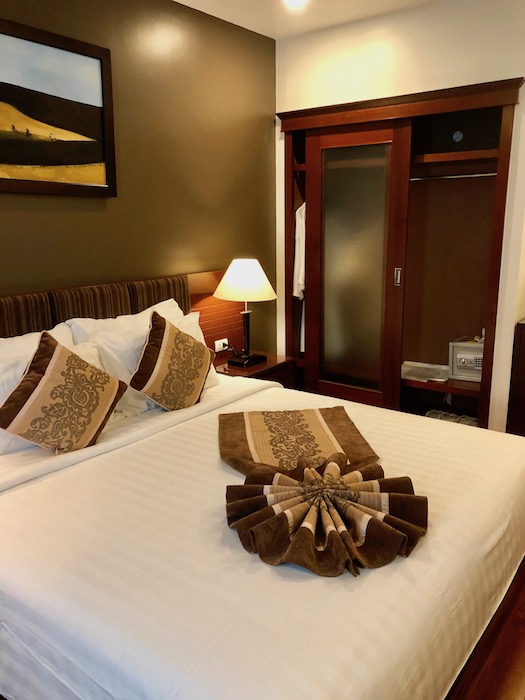 Since we weren't actually meeting the rest of our tour group until tomorrow, we booked a food tour through Secret Food Tours. We met our guide Windy (yes, Windy, not Wendy) at a small mall not too far from our hotel. After introductions and a little background about the city, we were off to our first stop, a tiny hole-in-the-wall stand for a burrito-like noodle/pancake package filled with pork, veggies, and spices. Not sure the name of the dish, but it was really good, particularly with the spicy/sweet sauce drizzled on top. We were off to a good start.
A walk through back alleyways and markets eventually led us to a sidewalk shellfish vendor, Ôk Loan. Everything on offer seemed to be grilled open and open flame. There were several people sitting on the tiny low chairs beside the vendor eating dinner, which is usually a good sign. Eat where the locals eat. Windy ordered sò diêp nu'ó'ng mõ' hành (grilled herb stuffed scallops) and nghêu hâ'p xà (mussels). While the mussels were good, I could have eaten the scallop dish all night long. I'm not sure what was in the mix that covered the scallops, but it was so fresh, aromatic, and filled with yummy goodness. Throw a little spicy/sweet sauce on top and I was in gastronomic heaven.
We walked off some of the calories already consumed by meandering through the alley markets selling all sorts of goods from fruits/vegetables to baskets to shoes.
Along the way, we ran into a bunch of women on the sidewalk practicing a dance routine. National Women's Day is coming up and they are performing at an event. They were an energetic, not all in sync, but an awfully cute group. They laughed when we clapped as they ended a routine.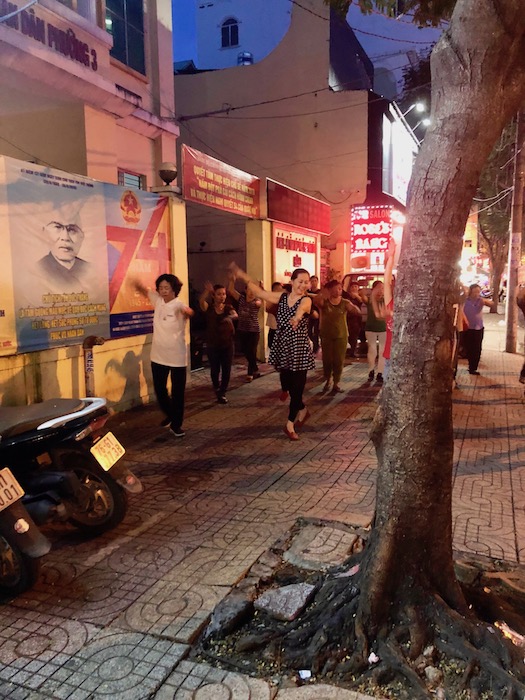 Our next stop was also at a sidewalk vendor for barbeque pork and rice. The food was good, but the company and conversation were even better. We sat at the same low table as a mid-30's Canadian gentleman who lived in an apartment across the street from the sidewalk "cafe." He told us the highs and lows about living in HCMC as an expat. It was interesting to hear his perspective. It was a great conversation, but it may have put us a little behind Windy's schedule.
As we walked through local neighborhoods, we were privy to their living conditions (very crowded) and the hustle/bustle that seems to prevalent 24/7. Motorcycles/scooters are the main sources of transportation, so they are everywhere. People even rent out parts of their apartment to people wanting to park their motorcycles indoors. It was crazy to see people living in spaces around the two-wheeled motor vehicles.
The traffic craziness doesn't seem to slow down at night, it gets worse. Crossing the street is like that old Frogger videogame – it is not for the faint of heart. Windy taught us to stick together "like sticky rice" when crossing the street – always look forward with laser focus, keep walking, never double back, and don't flinch as the scooters whiz by you with millimeters to spare.
Although we were pretty stuffed by this point, we made a stop to try bánh xèo (Vietnamese pancakes). They were good but obviously weren't anything to write home about as I can't remember the taste or exactly what they were stuffed with. We were definitely slowing down on our food consumption as we only ate a fraction of the portion offered to us.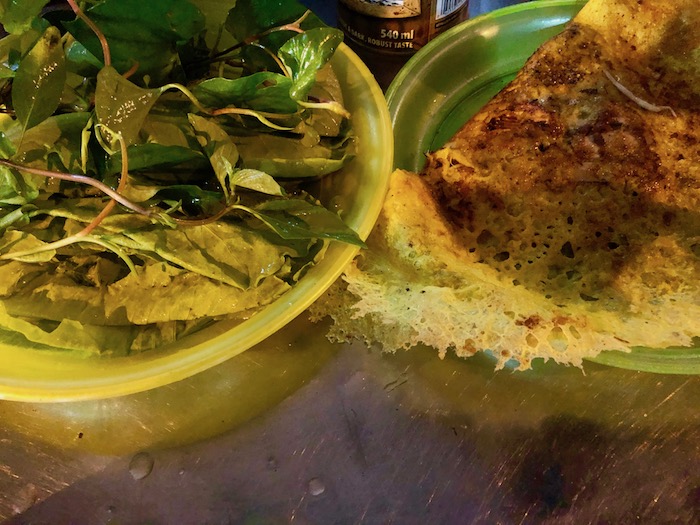 Walking off more calories, we strolled through the flower market. Windy bought a lotus flower and taught us how to fold back the outer layers to reveal the flower bud inside. The lotus flower stayed fresh and sat on our hotel vanity for the remainder of the time we were in HCMC. The flowers were so beautiful and plentiful. If I lived here, I would definitely have fresh flowers in the house all the time.
To end the wonderful food tour, Windy took us to a street vendor who makes fresh coconut ice cream. Even though we weren't hungry, we can always make room for a little ice cream. You have not lived until you've had fresh coconut ice cream dotted with fresh pieces of coconut, sprinkled with toasted coconut pieces, and served in a hollowed-out coconut. It was scrumptious, no too sweet, and so creamy (well, except for the toasted coconut). It was a great way to end a well-planned, well-executed, and fun food tour. We'd highly recommend Secret Food Tours and, if in HCMC, ask for Windy as your guide.
[Note: we took the food tour on our own, were not compensated, and the opinions are our own.]