August 9, 2019
It was time to leave my cozy Krakow apartment under the eaves.  I gathered my stuff, situated my backpacks, and left.  Except, I couldn't get the keys to go back into the lockbox, no matter how I tried to position them.  One, two … six times I tried, with no luck.  On my last attempt, I was able to get the lockbox to at least stay shut.  I took a picture of it, sent a message to the apartment owner, and prayed that no one got into it before the cleaners arrived in the early afternoon.  I haven't had an irate email from the owner, so I think I'm good.
Although I was not even a five-minute walk from the rail station, I arrived an hour early.  I've been in too many confusing rail stations not to give myself a buffer.  There was hardly anyone around. 
I located the monitor board and noted that my train was leaving from platform 3.  I was already aware that the train went further than Warsaw, so I knew the destination would actually read Gdynia Glowna.  Based on my online research, I also knew that I shouldn't get off at the first stop in Warsaw, but the second.  Based on my last train ride, I decided to check all the stops so that I wasn't caught off guard.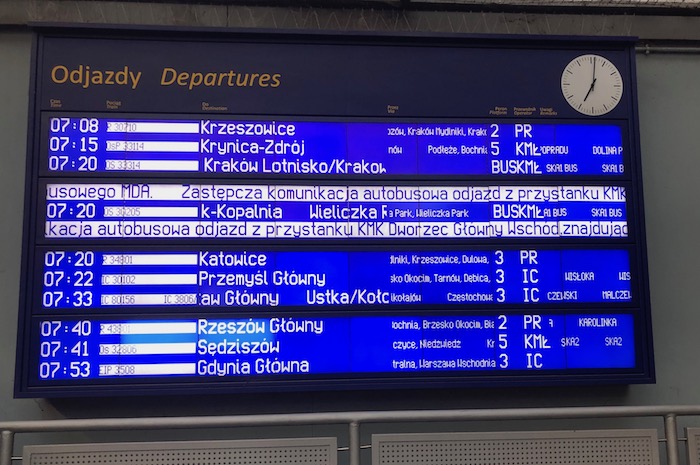 I made my way to Platform 3, only to find that there were 2 tracks associated with it.  I hoped that a sign would illuminate showing at which one my train would arrive since I saw from the monitor that the train would be at the platform for less than four minutes before moving on.  More and more people arrived; the sign illuminated and everyone moved en masse to the correct track (guess I wasn't the only one confused).
I again chose to sit in the first-class car for an extra few zloty.  The seats were comfortable, I had enough space to spread out a bit and write, and there was enough space in the overhead so that I could keep my bags with me.
I spent much of the ride looking out the window at the passing scenery. There was a lot of farmland and you could see church steeples off in the distance marking small towns. It was very pastoral.
About 40 minutes after we left Krakow, the rail stewards passed through the car offering complimentary beverages and taking breakfast orders – we had a choice of vegetarian sandwiches or ones with meat. I chose the meat option and was given two little sandwiches with cream cheese/farmer's cheese and a slice of salami, and a caramel wafer cookie. Not sure how the wafer cookie is a breakfast item, but I love them so I didn't question. The beverage guy seemed disappointed when I only asked for orange juice. Didn't I want coffee, tea, water, Pepsi, or other juice as well? I took a bottle of water too and he seemed happier.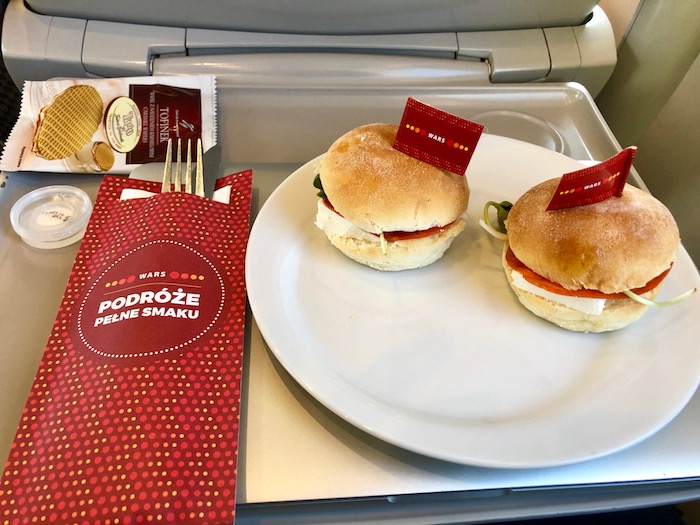 The train pulled into the first Warsaw station.  I stayed put knowing it wasn't my stop.  Once we started moving again, I took my time situating my bags and was ready as we slid into Warsaw Central.  We arrived right on the dot of 10:13a.  As I ascended the escalator, the train pulled out again.  It was 10:16a.  You can't be late for a train in Poland.
Almost 80% of Warsaw was destroyed during WWII.  That means most of Warsaw is "newer," including Warsaw's Central rail station.  My apartment wouldn't be ready until later, so instead of trying to find a place to store my bags, I decided to stick around the rail station for a few hours.  It was big, spacious and airy, and had lots of places to sit and people watch.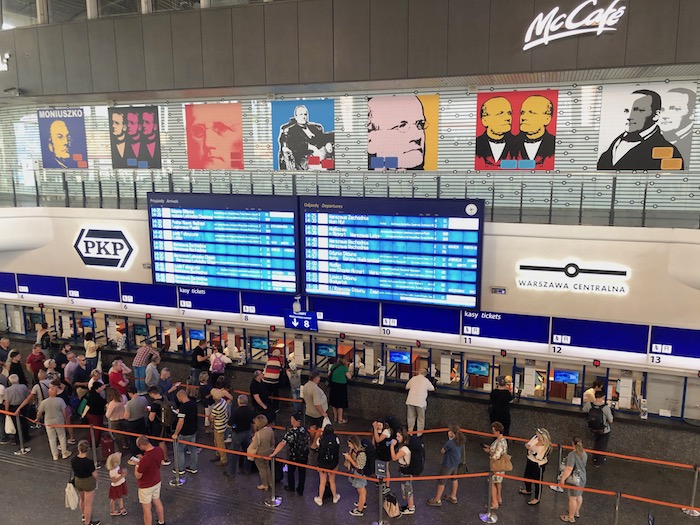 I sat for a bit in the upstairs breezeway, but there was too much noise.  I found a quieter section off to one side that had a bunch of outlets, so I thought it would be a good opportunity to top off all my devices.  As I walked in, I noticed a young man with his suitcase open and a lot of cords running this way and that.  He was operating off of at least outlets and was powering multiple devices.  He was also working on a laptop hooked up to a monitor that was at least 21 inches wide.  Then he started to pack up.  He had a carryon suitcase, a backpack, and two shopping bags.  Multiple cords, the laptop, and the monitor went into the suitcase.  More cords and other techie looking things were stuffed in the backpack. It appeared his clothes were shoved into the shopping bags.  This guy definitely took the term "remote workplace" literally.  I still can't believe he had a full monitor stuffed in his suitcase.  Oh, the things you see on the road.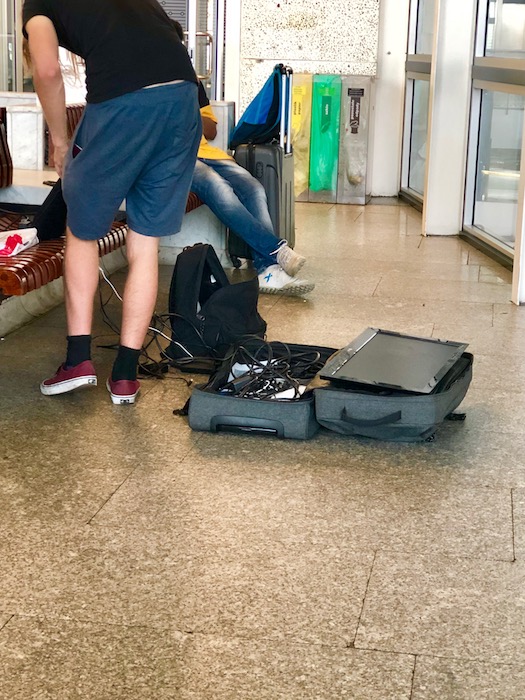 My bench wasn't very comfortable to sit on, so I decided to lie down and potentially nap (I'd padlocked all my bags to the bench and had individual locks on all the zippers).  I briefly put my shoes on the edge of the bench just as a police officer walked by – you'd have thought I had committed a felony.  He wagged his finger at me, yelled at me in Polish, and indicated that I was to remove my shoes from the bench immediately.  Not wanting to find myself in rail jail, I complied.  I also decided that perhaps the McDonalds on the other side of the station was a better place for me since it had Wi-Fi and clean restrooms.  I spent the rest of my time at the station in more familiar surroundings.

By my calculations, I only had a ten-minute walk to the apartment.  When I exited the rail station, I felt like I was in a different Poland – one that was minimalist, shiny, and bright.  There were skyscrapers all glass and chrome; there were post-Soviet era buildings that were all straight lines and concrete.  It was definitely different than Krakow. Of course, there was a nearby Starbucks!
One of the post-Soviet buildings happened to be my apartment building.  Downstairs there was a couple of small restaurants and a passport photo shop and around the corner a mini-mart.  It's very well situated. 
I followed the directions the owner had given me regarding accessing the building and finding the keys.  I ended up almost on my back under a radiator to find the lockbox, but I was soon unlocking the multiple locks and in my studio.  It's really cute, the bed is comfortable, it has everything I need for a few days, and it has a normal-sized shower. 
The last normal sized shower was the shared one I had at the hostel in Tbilisi. All of the other showers have been half-moon-shaped where there's hardly any room to turn around. I clapped with glee when I saw the spaciousness of this shower. It's amazing how priorities change as you travel.