August 9, 2019
Although I'd done a food tour in Krakow, I knew that food differed from region to region, so I scheduled a food tour in Warsaw through Delicious Poland. I decided to walk to the meeting point. Walking down the wide, open boulevards, I could tell straight away that Warsaw was very different from Krakow. For one, the streets are spacious and multi-lane. The tram and buses have their own dedicated lanes so that pedestrians, cars, and trams aren't sharing the same street as in Krakow.

Secondly, the architecture is very, very different. Since most of Warsaw was destroyed in the war and/or uprising, almost all of the architecture is post-WWII, which means a lot of Soviet-era minimalist buildings. Any embellishments to the Soviet-era structures give homage to the working class. The architecture is definitely not as fanciful as that found in Krakow. Comparing the two cities, I was told later that Krakow is the beautiful, fun girl that you date, while Warsaw is the intelligent, dependable girl you marry. I kind of understand the analogy.
I eventually wound up at the meeting point – Church of the Holiest Savior. Heavily damaged in the war, it was reconstructed in the late 1940s/early 1950s. Although the interior is very clean looking, there are wonderfully decorated and colorful areas of worship in the side chapels and the organ looks like it could belt out a hymn.
Outside, I met Pawel, my culinary guide for the evening. We waited a bit for two other guests to arrive, but apparently, they canceled last minute. I again had a private tour. Yay me! Pawel was a very nice young man who is at the internship phase of his studies to be a doctor. He was quite knowledgeable about Warsaw and was quite enthusiastic about the food/drink scene in his city. We got along quite well.
Our first stop was a little out of the way restaurant for pierogis.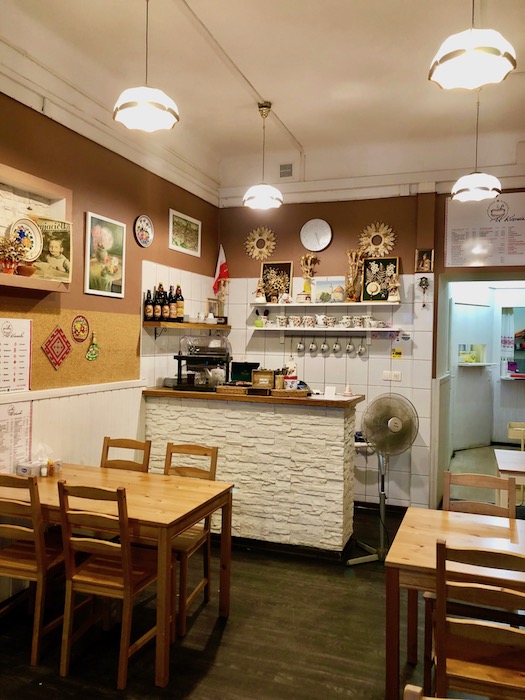 I had a sample of three savory and one sweet.  The savory pierogis were: Ruski – the most popular one filled with potatoes and cheese; z Kapusta i Grzybani – sauerkraut and mushroom; and, ze Szpinak – spinach (and possibly some cheese).  Each one was really good, but I think I liked the sauerkraut and mushroom one the best, which is surprising since I'm not a big fan of sauerkraut.  The sweet pierogi was filled with strawberries and topped with whipping cream – nothing more needs to be said, it was delicious.  Between the savory and sweet pierogis, I had a cup of Barszcz, or Polish borsch.  Polish borsch differs from the Ukrainian borsch in that it's just the bright red liquid.  There are no pieces of vegetables or meat floating in the soup – it's just the broth.  It's good, but I think I prefer Ukrainian borsch (particularly Svetlana's).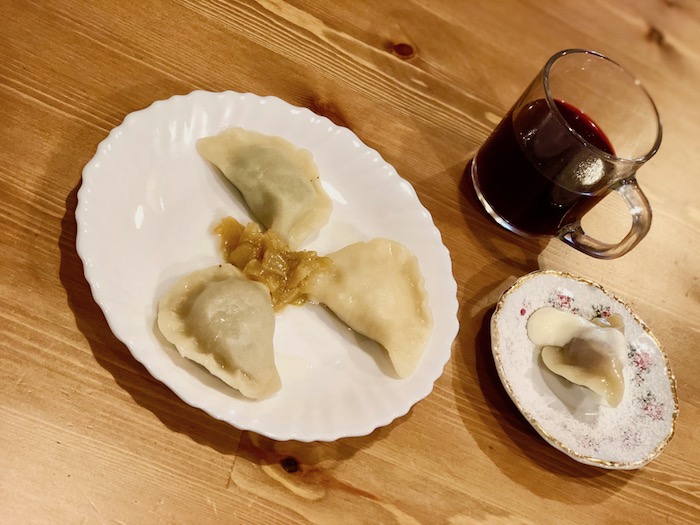 At the next stop, I tried yet another soup. This time it was Rosol – chicken soup with noodles made out of the same type of dough used for pierogis. Although vegetables are used in the making of the chicken broth, they are strained out and what is left are the broth and the tiny noodles. Chicken noodle soup without the chicken; it also reminded me of Italian wedding soup without the tiny meatballs. With the soup, we were served Sznytki, which are small bite-sized sandwiches. One open-faced sandwich was Pasztet – chicken pate without using livers (yay, since I don't like liver); the other was Gzik – farmer's cheese and radish. These reminded me of bocadillos from Spain. Both sandwiches were good, but I preferred the cheese and radish sznytki. I liked the tanginess of the cheese.

Pawel took me to the local food hall for our next food find.  I love a food hall whether it's in Amsterdam, Madrid, my hometown of Frisco (Texas), or here in Warsaw.  As always, the bar was situated in the center and the food stalls were on the outer edge with places to sit and gather scattered all over. 
All types of food were represented, but we came for sausage.  The two of us shared a kielbasa burger and local beer.  The kielbasa had a great snap to it; the burger condiments made it messy, but it was tasty.  I even liked the beer, although I didn't drink that much – just enough to wet my whistle.  Over our "burger" and beer, Pawel and I chatted about life.  He's a very interesting young man.
Back out on the street again, we headed to a tiny storefront that specializes in Zapiekanka.  As you recall, I lost a fight with a zapiekanka in Krakow where the toppings toppled down the front of my shirt and onto the ground.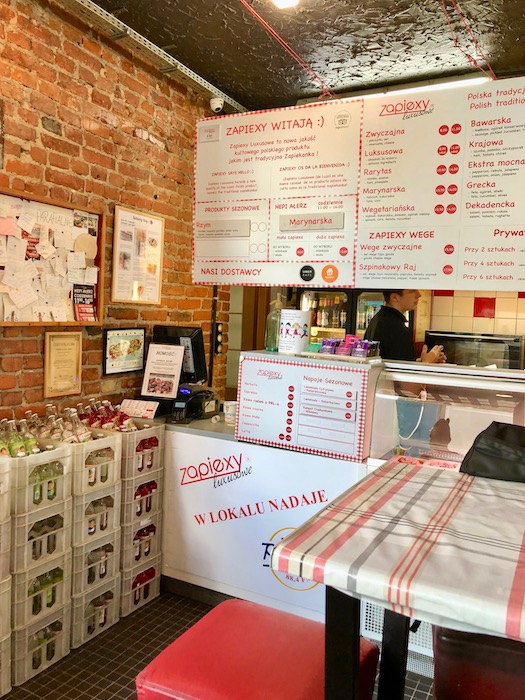 Here, I got a smaller version and went for the "typical" variety without the extra toppings.  The zapiekanka is a half of a baguette (or in this case, a quarter) with mushrooms and cheese.  Once broiled/baked, the cheese is all melty and bubbly and the bread is toasty.  It's basically a baguette pizza and it's good.  No wonder it's called Polish fast food.  With the zapiekanka, I was given a glass of Oranzada, a popular Polish soda.  Although you'd think it would have an orange flavor, it doesn't.  Think more like sweet bubblegum Kool-Aid with a hint of berry flavor.  Not sure where it got its name, but it has been around since the Soviet era.  Conveniently, this little shop was not too far from my apartment (I would stop in once again during my stay).

On Fat Thursday, it is a tradition to eat Paczki – Polish doughnuts filled with jam. Although I didn't end up eating it until later in the evening, Pawel took me to one of the most popular shops selling paczki (they can be eaten at any time of the year). He selected one filled with rose jam. While we were waiting, he showed me pictures of the lines of people waiting to buy paczki on Fat Thursday. The lines can be blocks long. That's devotion to doughnuts. Later on, the doughnut solved my craving for something sweet, but I wasn't partial to the rose jam. I think I would have opted for something like strawberry.
Our last stop of the evening would actually be our main course – I thought the zapiekanka was the main course. Anyway, we had potato pancakes smothered in goulash and mizeria, which is sliced cucumbers smothered in sour cream. The potato pancakes were fried, so they were crispy. The goulash wasn't overly spicy and tasted a bit like chili (gave me an idea for a meal to make at home). I thought the cucumber and sour cream combination was a bit weird, but it was actually good. I'm not sure I will replicate it at home, but I actually liked the combo. We washed everything down with an ice-cold shot of Zubrowka (Bison Grass vodka) and a tall glass of Kompot. I don't think I will ever get used to the burn of the Zubrowka, cold or not.
At the end of the evening, I was stuffed. I carried my little bag containing the paczki home with me. Pawel walked me partway back to the apartment, but since I knew he had to go in the opposite direction, I told him I could make my way. It was still bright out and there were lots of people out and about, so I felt very safe. It was a great food tour with a great guide. Thanks, Delicious Poland.