September 2, 2018
After a Sunday morning sleep in and a leisurely breakfast, we headed out to the neighborhood Starbucks to get a latte. As we crossed the street, we saw a group of brightly dressed locals engaging in their morning Tai Chi practice under the awning of the mall. Their movements were so fluid, graceful, and calm.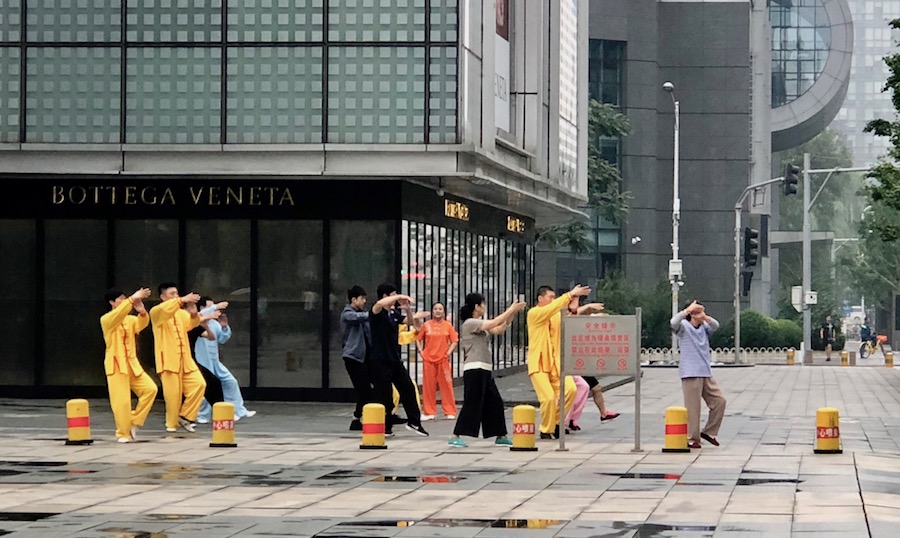 A little further down the patio area, there was a group of small children decked out in helmets, roller skates, and enough padding to protect them from whatever fall they might take. They skated through a little course of nylon green cones in a somewhat organized line, their adoring parents looking on.
We stood for a moment taking in the scene before the call for caffeine overtook us. By the way, they don't know what a sugar-free latte is in Beijing. When asked, the clerk behind the counter just said "we have sugar." Some things are lost in translation.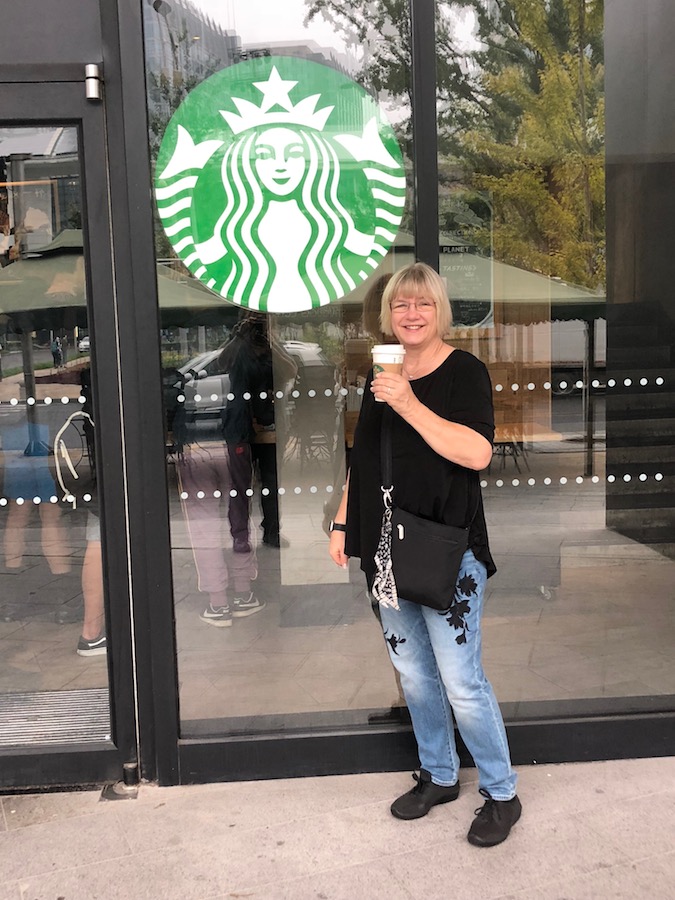 Not too long ago, a good friend of mine turned me on to taking cooking classes while on vacation. It has actually awakened the inner chef in me. When putting together the itinerary for this trip, I really wanted to add in some type of culinary adventure. I sorted through the reviews for several classes and came up with Beijinger Kitchen. The owner of the cooking school, Carlyle, was very quick to respond to my inquiries. The information he provided was really detailed, right down to providing exactly what we would learn to prepare, photos of the corner where we were to meet prior to the class, directions for the taxi driver in Chinese, and his WeChat information in case we got lost.
After our Starbucks' run, we handed the taxi driver a copy of the directions written in Chinese and set off in search of deliciousness. We were a little impressed with ourselves that we could tell he was taking us int he right direction because we recognized landmarks and buildings. I only had one thought that we might be lost when he headed down a very narrow alleyway in a hutong. My hesitance was unfounded; at the end of the alley we popped out on the correct street.
Standing on the corner, we compared the photo we had been provided to the real thing. The shop on the right side looked like the one in the photo, but the name of the one on the left wasn't the same. Matching all the other details in the photo, we felt we were right where we were supposed to be; this was confirmed within minutes when another couple arrived for the same class.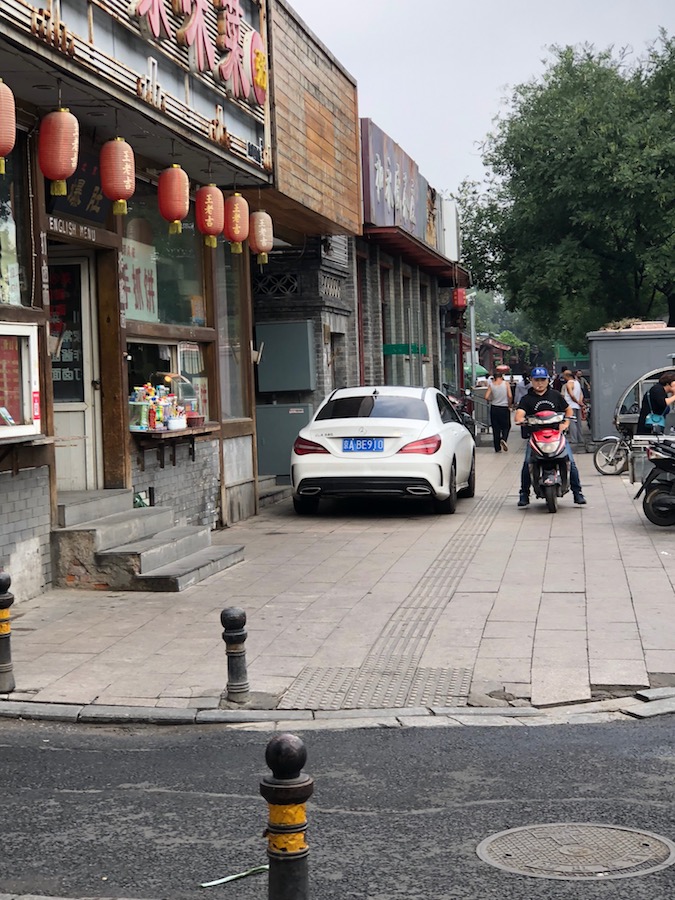 The couple is from Montreal and on a journey through Asia with no end date. They'd just arrived in Beijing from a stay in Mongolia; unsure of where they will go next, they intend on ending up in Nepal at some point. A few minutes later, Carlyle arrived, and then two more ladies from Switzerland. We were a group of 6 for the class.
I pointed out to Carlyle that the photo of the corner was different than real life. He apologized profusely but explained that the shop on the left side of the alley has bad feng shui and has changed hands many times in the past year; so much so, that as soon as he takes a picture, it has changed from a bar to a shop back to a bar with a new name.
Carlyle guided the group across the street into a small local market to show us different spices, herbs, sauces, and vegetables used in Chinese cooking. He was full of information regarding what contains hot energy and what contains cold energy, what should be eaten in what season and what should be eaten to ensure good health.
We eventually walked deep into the heart of the hutong to a small home where we were to take our class.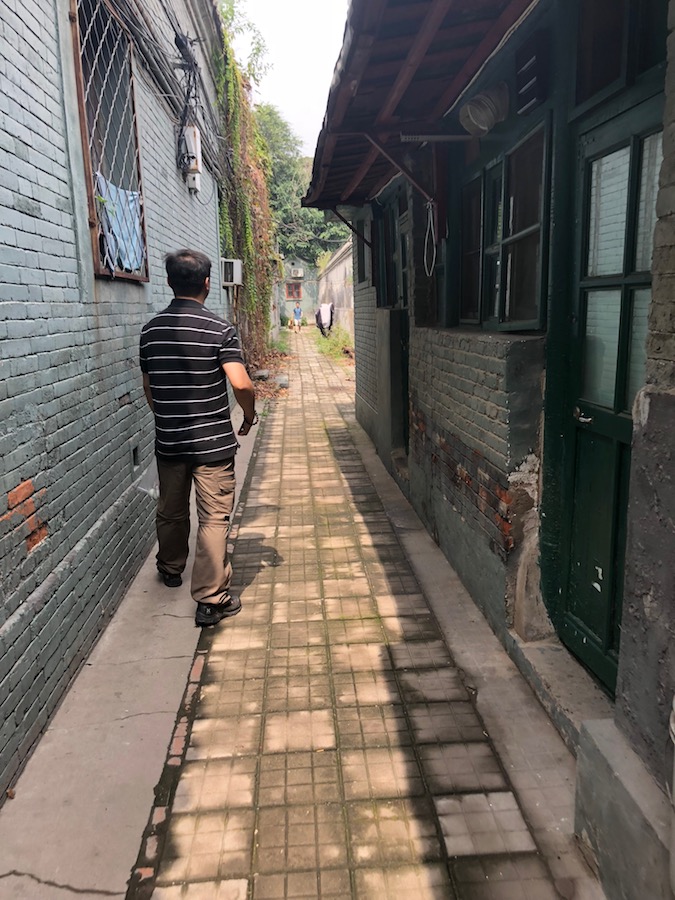 Supporting Carlyle's dream to own a cooking school, his grandfather gave him the house three years ago. We walked through a maze of tiny alleys to get to the small home, which consists of a small front room, a work/dining room for eight and a small kitchen. Despite being in the heart of the Old Beijing hutong, this home had something that most others do not – a working indoor restroom and running water. Carlyle is quite proud of the space.
In the kitchen, we met Chef Yi, a chef of 19 years who works at a local hotel.  Carlyle engages seven chefs from local luxury hotels to teach the cooking skills while he interprets the chef's directions, provides the history of the dishes and keeps everyone entertained. 
Chef Yi started as an apprentice when he was 18 years of age. For the first three years, he learned knife skills and was only allowed to cut and chop things while more experienced chefs did the actual cooking. When the master chef went home at the end of the day, Chef Yi and other apprentices were required to stay until all hours of the night to practice other kitchen techniques. For the first three years, nothing cooked by the apprentices could be served to paying guests. After the third year, he was required to take a test. If he passed, he was allowed to become a sous chef; if he didn't pass, he would have had to leave the hotel and find another kitchen to work in where he would start the 3-year process all over again.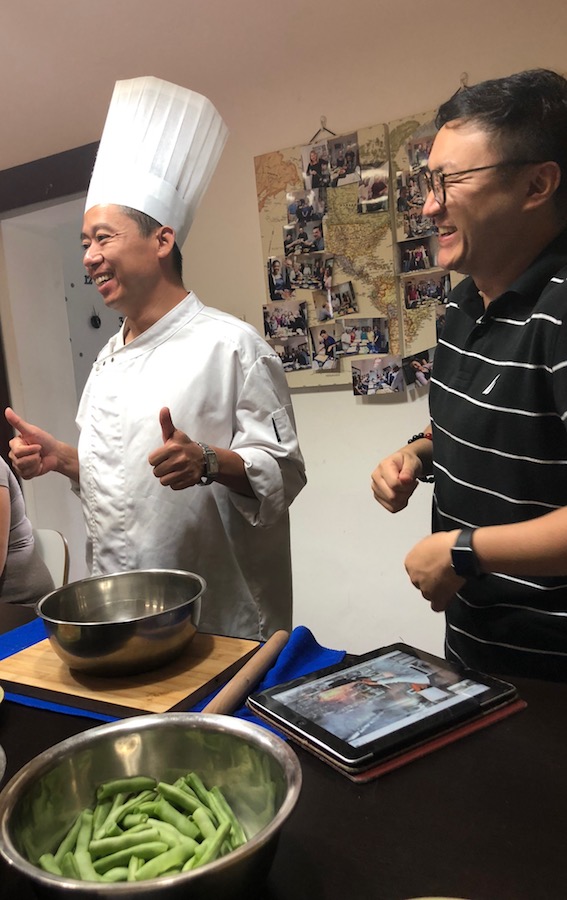 Carlyle and Chef Yi worked well together and played off each other. We could tell that they enjoyed what they were doing.
We started the class making dumpling dough, which was then placed off to the side to set.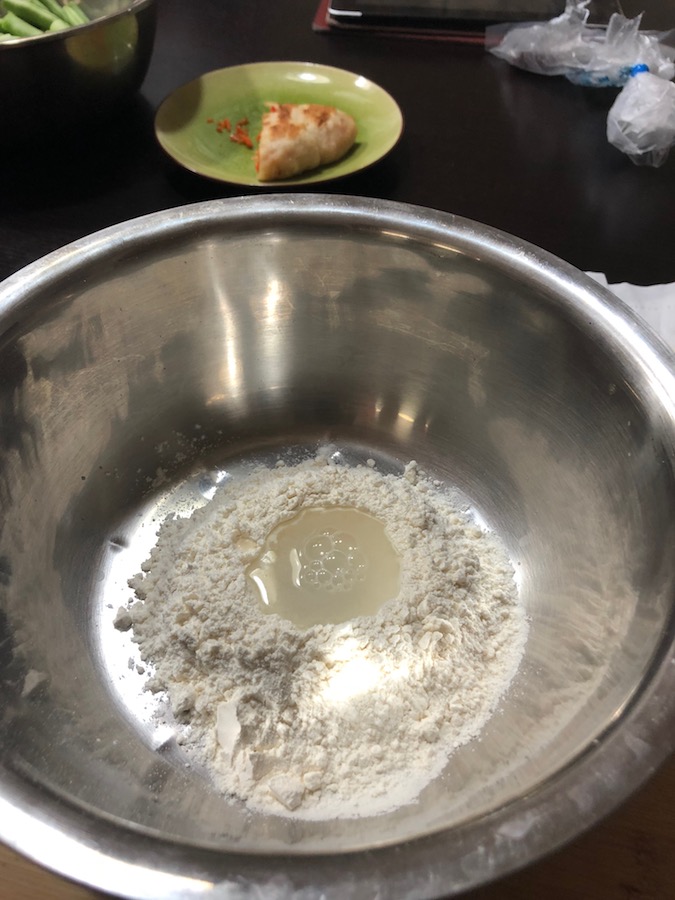 Next, we were taught some basic knife skills – no one lost any fingers and no bandaids were needed. We were taught how to cut a cucumber to make one spiral from the entire vegetable; I'm not sure I'll be able to duplicate it at home.
Besides looking really cool, it creates a larger surface area for vinegar to soak in to make cucumber salad (which is really good). We also cut designs in the caps of shiitake mushrooms so that sauce would soak in while cooking. We diced cabbage, mushrooms and other vegetables for use in dumpling fillings and tenderized and cubed chicken for Kung Pao Chicken. All the while, the group laughed and talked – it was great fun.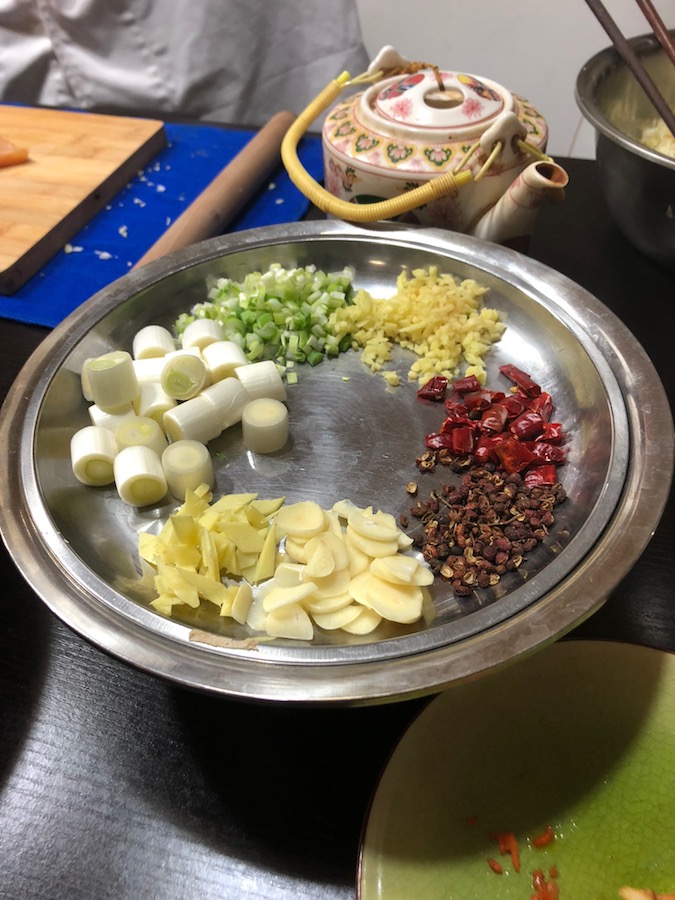 After the prep was finished, both Chef Yi and Carlyle taught us how to roll the dough into the thin circles needed to form dumplings. It wasn't as easy as it looked and there were a few do-overs. In the time each of us rolled out four or five, Chef Yi finished the remainder of the dumpling wrappers (about two times the number we finished).
Then came the really tough part, forming the dumplings. We were shown how to spoon in just the right amount of the pork and vegetable filling and then pinch this corner, join it with that corner, then lift it and fold it over in just the right way to come up with a perfectly formed dumpling.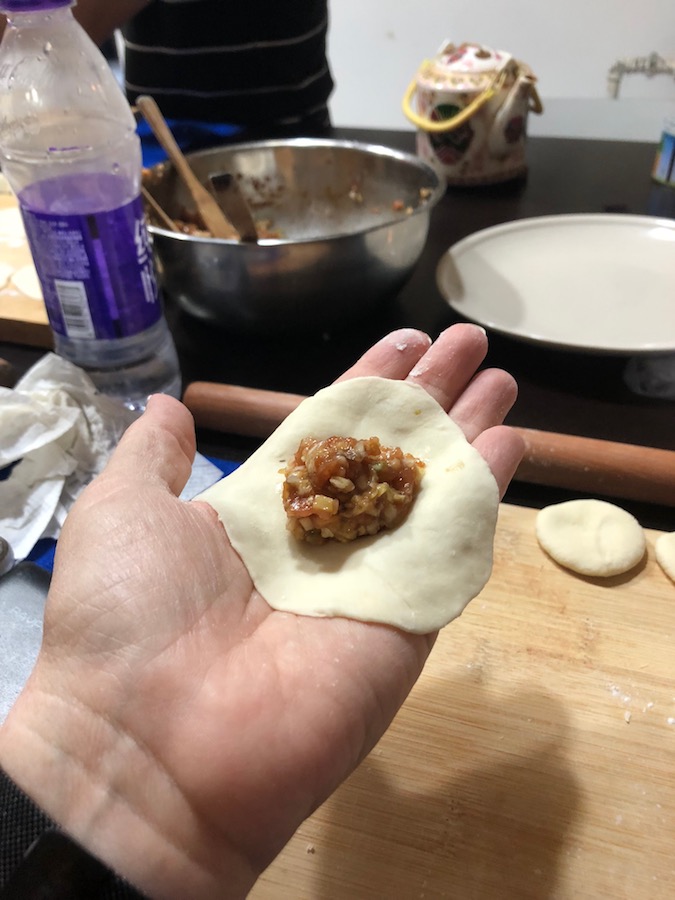 Then it was our turn – pinches were done, tucks were made and this corner was joined to that corner and … the result was a poor copy of what Chef Yi had created. It's a good thing fun comes in the attempt. After several tries, our dumplings began to look a bit better. By the time we got the hang of it, we had used up all the dough.
In the meantime, Chef Yi cooked some of the other ingredients needed to make the Cantonese and Szechuan dishes we were also going to cook. One person from each couple was able to cook a dish from scratch under the guidance of Chef Yi, who monitored the flame under the very heavy wok.
I was in charge of making the Kung Pao Chicken, which became exciting when Chef encouraged me to use two hands to flip the pan's ingredients to coat everything in sauce. Everything in the pan went airborne as it was supposed to, but since I was so surprised that I'd actually got lift-off, I almost missed catching it as it came down. Not to worry, I stuck the landing.
Others in the group made spicy long beans with pork and Szechuan peppercorns, and sweet and sour chicken with pineapple. Chef Yi finished up the menu with the cucumber and vinegar salad, fermented duck eggs, and bok choy/shiitake mushrooms, while Carlyle boiled the dumplings.
Beer, tea and water was poured and then it was time to dine on what we had made. Not surprisingly, everything was very tasty as we had been taught well. When all the plates were empty and all the dumplings consumed, we were very full – but happy. We each agreed that it was an afternoon well spent. We left with a little more knowledge than we'd had upon arriving and recipes to remind us of what we wouldn't remember.
Can you all expect to be invited over for a home made Chinese feast? Probably not, but you never know.