Several years ago, I took "weekend warrior" cooking classes from Le Cordon Bleu close to my (then) home in California. They taught me the basics but in no way made me a chef. I still struggle with recipes, measurements, and substituting ingredients when I inevitably don't have what I need in my cupboard or refrigerator. Despite my shortcomings, my inner wannabe chef was awakened.
On a recent trip, a friend introduced me to the practice of taking cooking classes on the road. We were on a trip that included Paris – he decided we should take a class while in the city of lights. I give him full credit for finding La Cuisine Paris.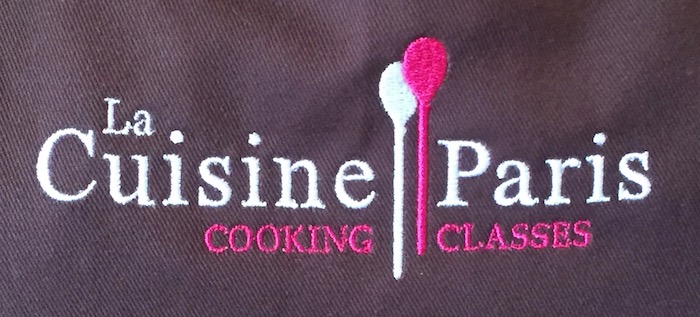 A cooking school whose name translates to The Kitchen has to be great. It lived up to my friend's high expectations (he's a bit of a gourmand) and certainly lived up to mine. Whether you are experienced or a newbie, La Cuisine and its staff make you feel at home in the kitchen.
A Few Facts
La Cuisine Paris is a hands-on French cooking school that teaches classes in English. Classes are held in one of three cozy kitchens designed to look more like the one you have at home (although, admittedly, my kitchen would not hold as many people) than a cold industrial space. This makes replicating recipes later when you get home a bit easier.
Each class accommodates up to 10 people. All of my fellow wannabe chefs were adults, but children over the age of 13 are allowed to attend. Private classes can be designed to include children under 13 years of age.
La Cuisine's calendar is varied. It includes classes in knife skills, sauces, French classics such as soufflés and crepes, and boulangerie basics from baguettes to croissants to macarons. Since I was there, they've added master classes (it will be a while before I'm ready for one of those) and food tours.
Classes
My friend and I took a Market Class, where we toured a market picking out the freshest of ingredients with our chef and the rest of the group to design a meal to be prepared and then eaten at the end of class. After my friend left Paris, I signed up for three more classes based on my favorite bakery items – French bread, croissants, and macarons.
French Market:  We met our small group (three other individuals) and Chef Lise at a local farmer's market not too far from La Cuisine Paris.  It was up to the group to decide on the menu based on what we experienced at the market.  The seafood was fresh, so it featured in our recipes.  After studying the butcher's available selections, the group chose pork tenderloin as our primary protein.  Figs and pears were in season, so we used them in sauces and dessert. In our second floor kitchen, Chef Lise taught us necessary knife skills and everything we needed to know to pull off the meal successfully. This included making pastry dough and all the sauces and sides to accompany our proteins.  In the end, we all sat around a beautifully appointed table to savor our creations.  It was a very successful meal.  For more on my class experience, including more photographs, click here.
Scallops & butter on the half shell

Pork tenderloin with figs

In France, one must have a cheese course

Almond & pear tart
Baguettes and Fougasse:  Six other students and I met Segolene, our chef for the day.  Making dough for baguettes and different types of bread took patience on behalf of the students and the teacher.  Segolene was very patient with us; even with the intense difficulties our group seemed to have with kneading dough. (I narrowly escaped getting hit by a flying ball of dough.) In the end, our fougasse (flatbread), designed in various shapes, held a myriad of toppings and were quite delicious.  Most of our baguettes were crispy lengths of deliciousness, although I deflated one with a fateful slash of my knife.  No matter, it all tasted great with a little French butter and jam.  For more on my experience in this class, including more photographs, click here.
Creative fougasse

Overly crispy baguettes

Everything is better with butter & jam
Macarons:  I joined seven other people and our chef of the day ("just call me V") for three hours of baking and assembling two kinds of macarons – Italian and French.  Separated into teams of two, each group was responsible for making fillings for the macarons (from scratch) – coffee buttercream, salted caramel, raspberry jam, and chocolate ganache.  Then we went on to make the meringue bases for the macarons.  The difficult step was the mixing – if you mix too much, the cookies will be flat and won't get "feet" when cooked; if you don't mix it enough, then the shells will crack and look ugly ~ no one wants an ugly macaron.  Although a bit misshaped, ours turned out pretty well.  Unfortunately, we had to let them rest in the refrigerator for 24 hours before tasting.  For more on my class experience, including more photographs, click here.
It's all in the mixing

Uniformity is key

Macaron tops with feet

Finished product – mmm good!
Croissants:  My last class at La Cuisine involved creating my all-time favorite breakfast bread – croissants.  We were a group of eight learning from Chef Guillaume, a pastry chef who has worked across Europe and in San Francisco.  Croissant dough must be frozen 24 hours and then thawed in a refrigerator before it can be used.  Our class made dough for the next day's class, and we worked with the dough made by the class before us.  Forming the actual croissants and other pastries was fun, making the actual dough was a bit more difficult.  Croissants are layers of dough with butter in between.  The tricky task is to roll out and fold the layers without tearing them, which would allow the butter to leak out (not a good outcome).  Chef Guillaume was a very good teacher and our group ended up with more successes than questionable dough blobs.  Ultimately, our baked goodies were delicious.  For more on my experience in this class, including photographs, click here.
Cinnamon buns – so good

Needs baking

In the oven and smelling wonderful

Beautiful, buttery croissants
Location and Staff
La Cuisine Paris is located in the 4th Arrondissment, not too far from Notre Dame and close to the Marais. The closest metro stops are Pont Marie (line 7) or Hôtel de Ville (lines 1 and 11). The school is located in what appears to be a small storefront, but the kitchens are located on the second floor or in the basement caves.
The front desk staffers are pleasant, helpful, and quick with suggestions for shops, restaurants, and things to do in and around Paris. Most of them are transplants to the city from around the world so they were happy to offer their insights.
The chefs were knowledgeable about their craft and had been cooking since they were very young. They were patient with the newbies, reveling in each success and fending off each near miss, while still teaching new skills to those with more experience. All of the chefs made the classes enjoyable and the recipes repeatable.
Address: 80 Quai de l'Hôtel de Ville, 75004 Paris
Telephone: +33 (0)1 40 51 78 18
Website: lacusineparis.com
Price
Prices: classes run €69-€165, depending on the type and length of the course.  The four-hour French Market class cost €165, while the three-hour baking classes cost €99 each.  After the class, you get to eat what you make, bake, boil, or broil. That's sweet!!