October 31, 2018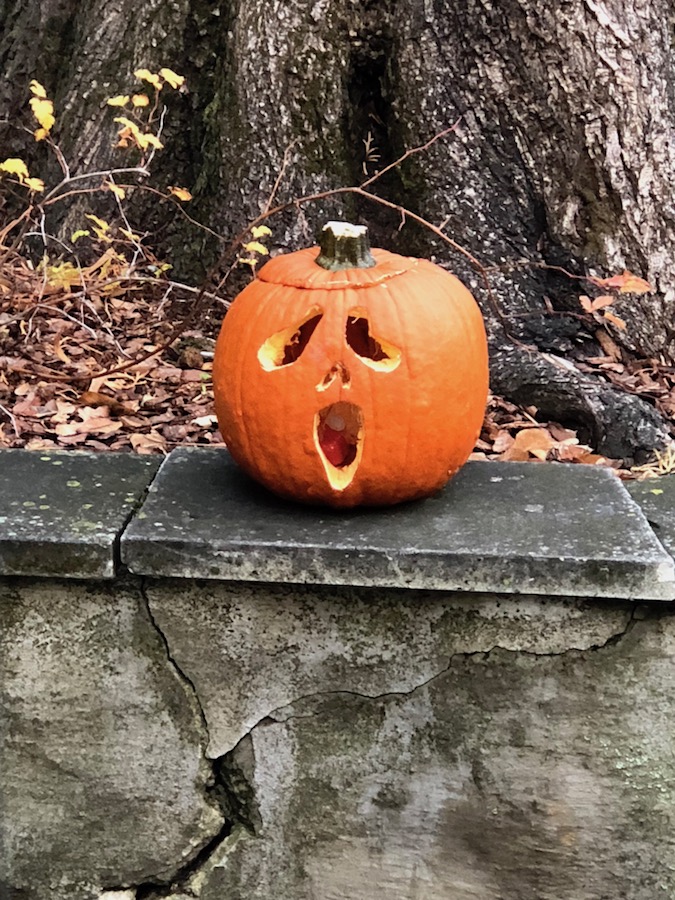 Happy Halloween!
My day had a bit of a late start since I was tussling with an internet connectivity issue. Struggling with the darned thing almost caused me to miss breakfast. Yikes! Wouldn't want that, particularly since it was complementary (thanks Marriott elite status).
Breakfast is held in the Tchaikovsky Restaurant, which is small but extremely elegant. I thought I would only get a continental breakfast but they had a full spread. Hot dishes, cold dishes, fruit, cereal, pastries – they had it all. There was even a plate of macarons – for breakfast? Yes, please.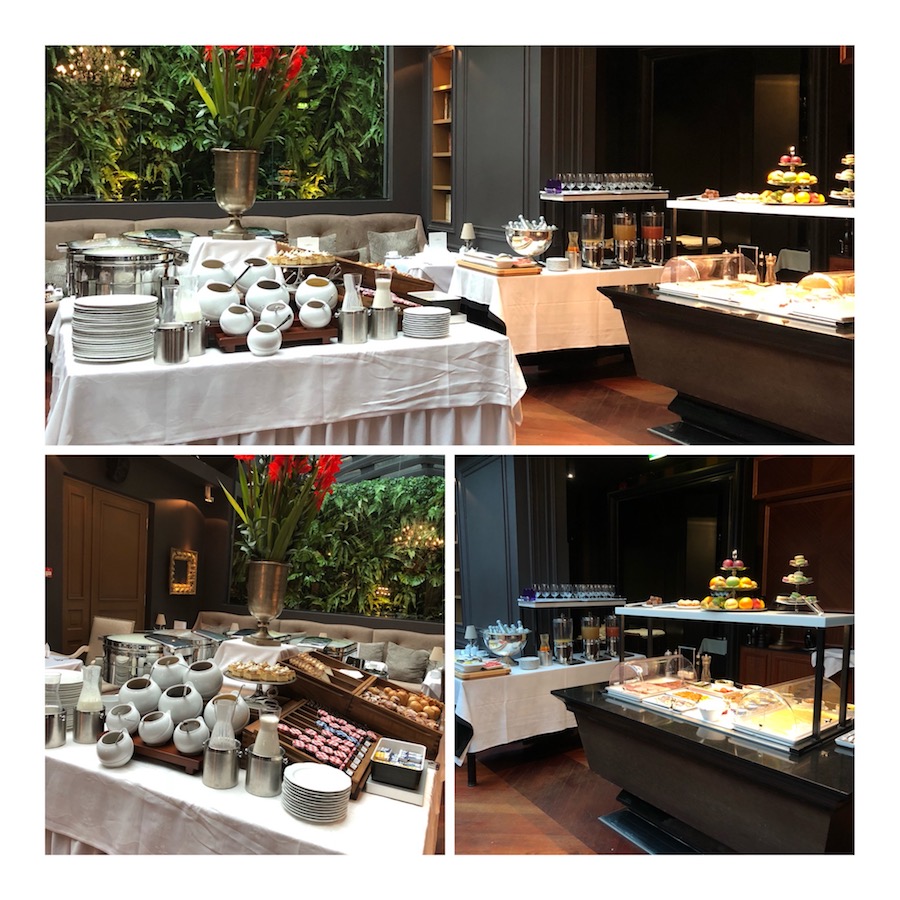 It had rained while I wasn't paying attention, so the cobblestones were wet and slippery. I took extra care not to fall or injure any more extremities.
With the rain also came warmer temperatures (8 C/ 47F). I threw caution to the wind and decided to leave the hat and scarf in the room (really didn't need the gloves either).
With no real destination in mind, I picked a direction and just started walking. Down around the ruins of St. Catherine's Church, I found a little door in the battlement wall, which took me up a winding metal staircase and on to the top of the wall.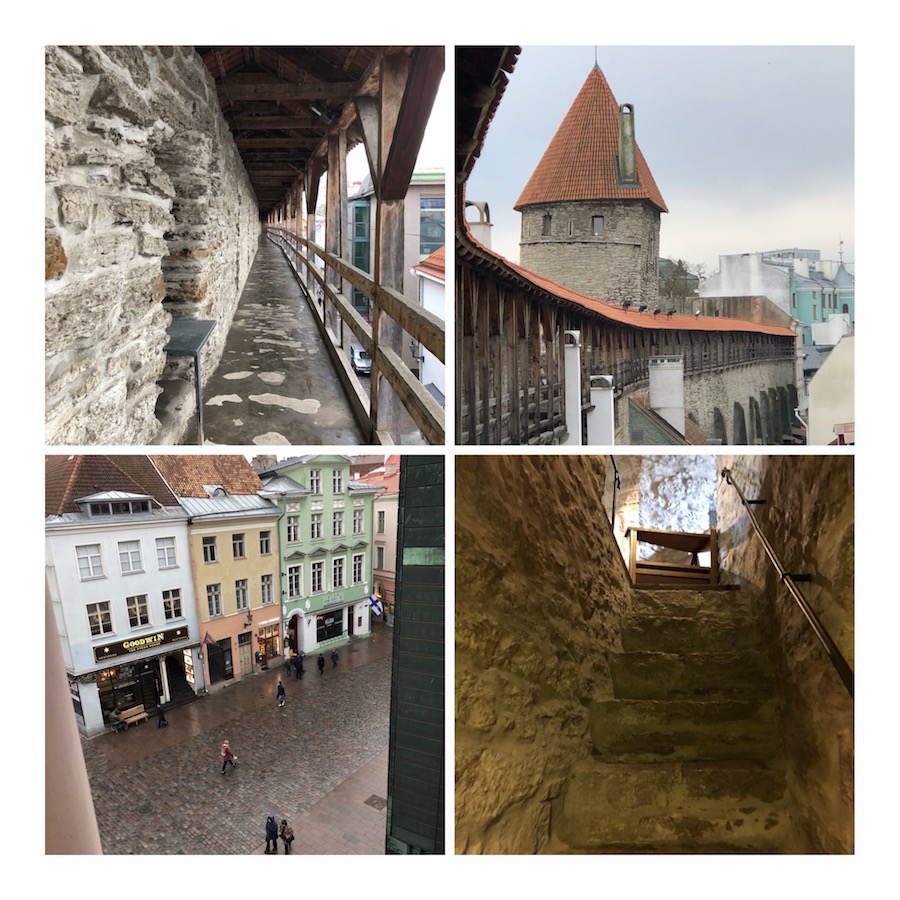 Then, there was another, even smaller, stone staircase that took me up to the top of the guard tower – the view was stunning.
Back down on the ground, I found one of the original gates for the fortified wall, outside of which there was a nice flower market.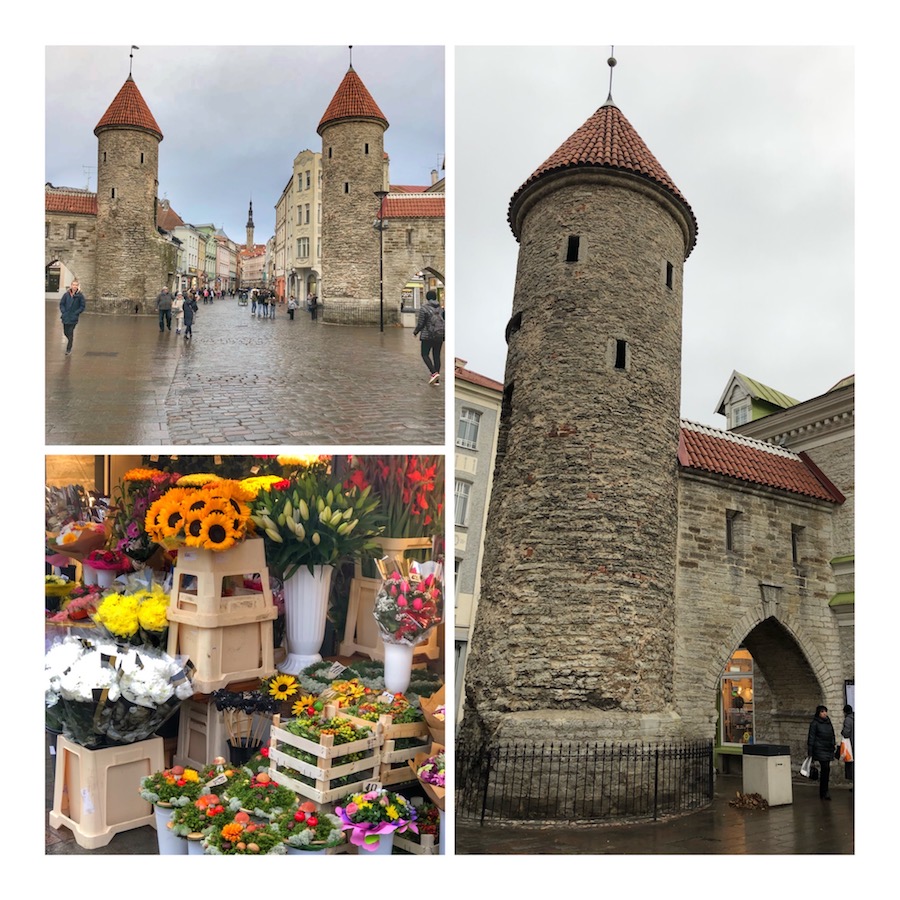 The hill overlooking the gate and flower market is called Kissing Hill, probably due to the two sculptures found in the park – "A moment before the kiss" and "A moment after the kiss." There's also a gazebo, which I suppose can also be used for kissing.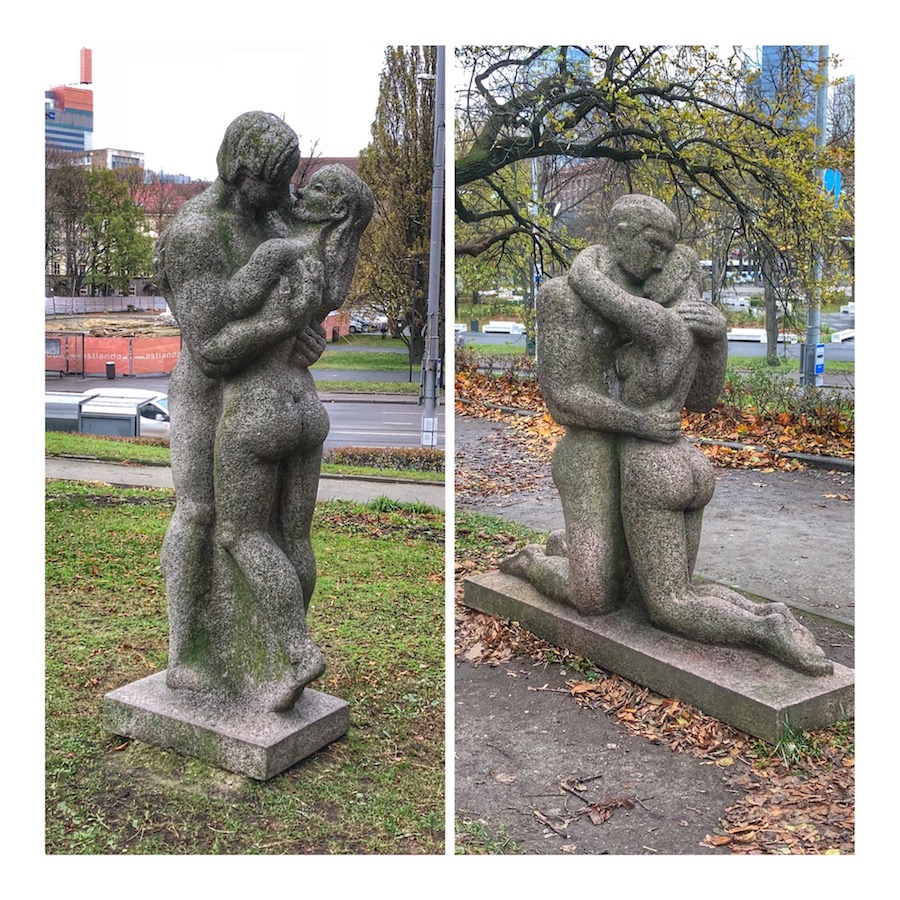 My unscripted walk took me by interesting architecture and sculptures (the birds are used to delineate pedestrian only zones),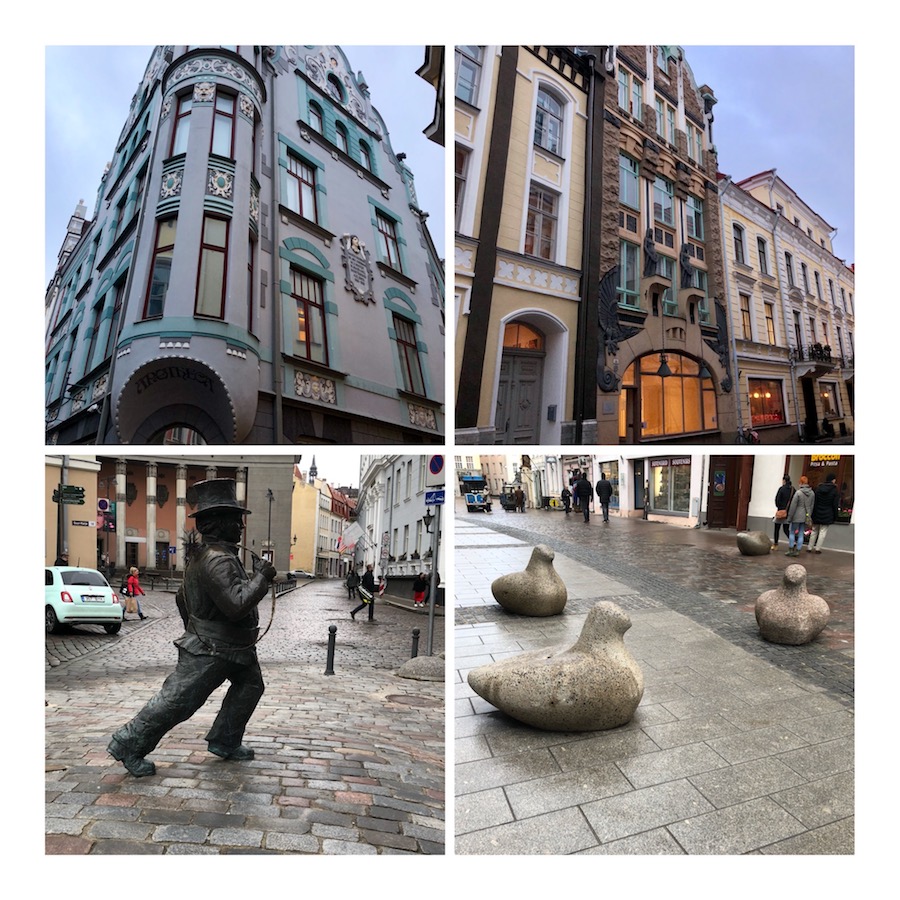 houses integrating parts of the fortified wall and guard houses,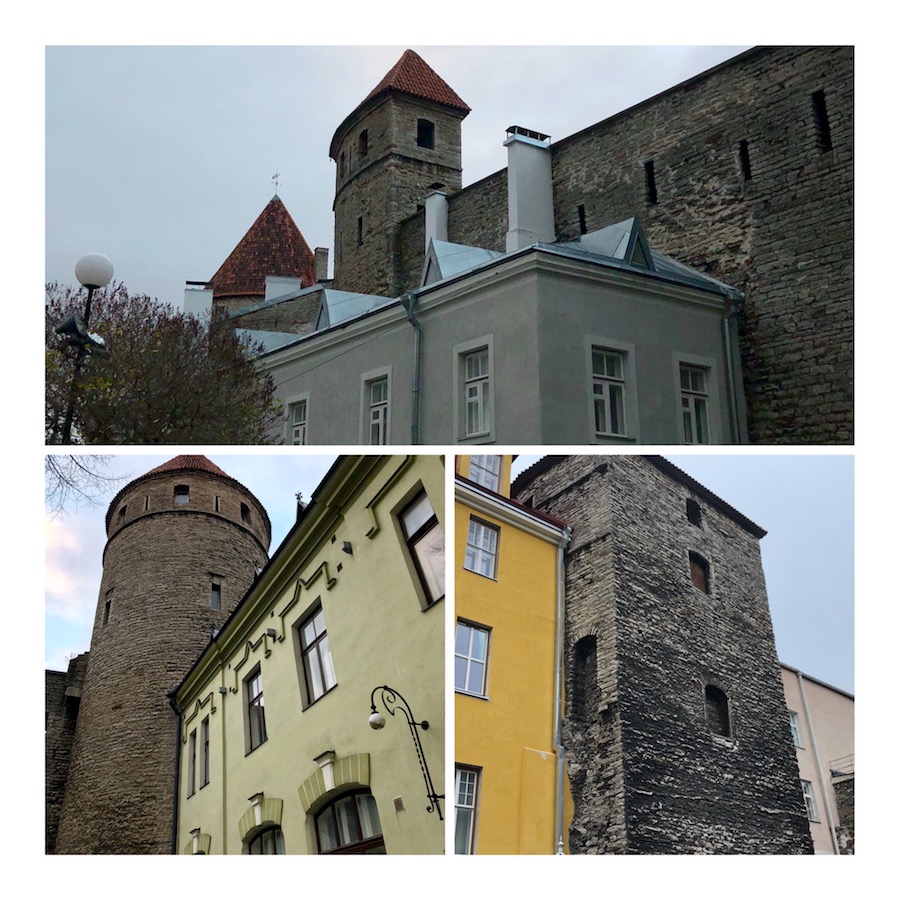 interesting benches,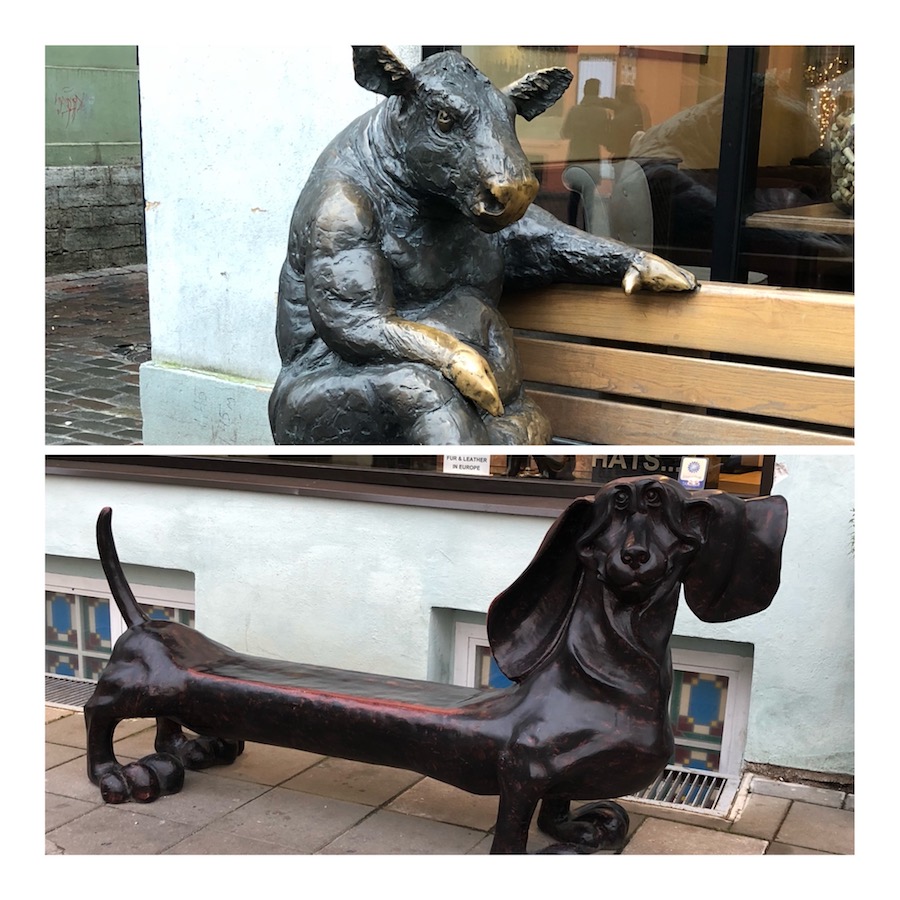 and, of course, churches (always lots of churches).
Today, I was able to get into the Cathedral of Saint Mary the Virgin. There has been a church on this site since 1219 (first wood, then stone). The church interior was destroyed in a huge fire that devastated Toompea Hill (the upper town) in 1684, so what stands today is newer – completed in 1696.
The interior is a bit odd with several large crests adorning the walls, but there is a gorgeous Ladegast-Sauer organ in the rear of the church that was completed in 1914. If you're ever in Tallinn on a Saturday, there is an organ recital at noon – I'm sure it would be fabulous. There were several people performing restoration work on various pieces of the pulpit while I was there. I bet it's lovely when they are done.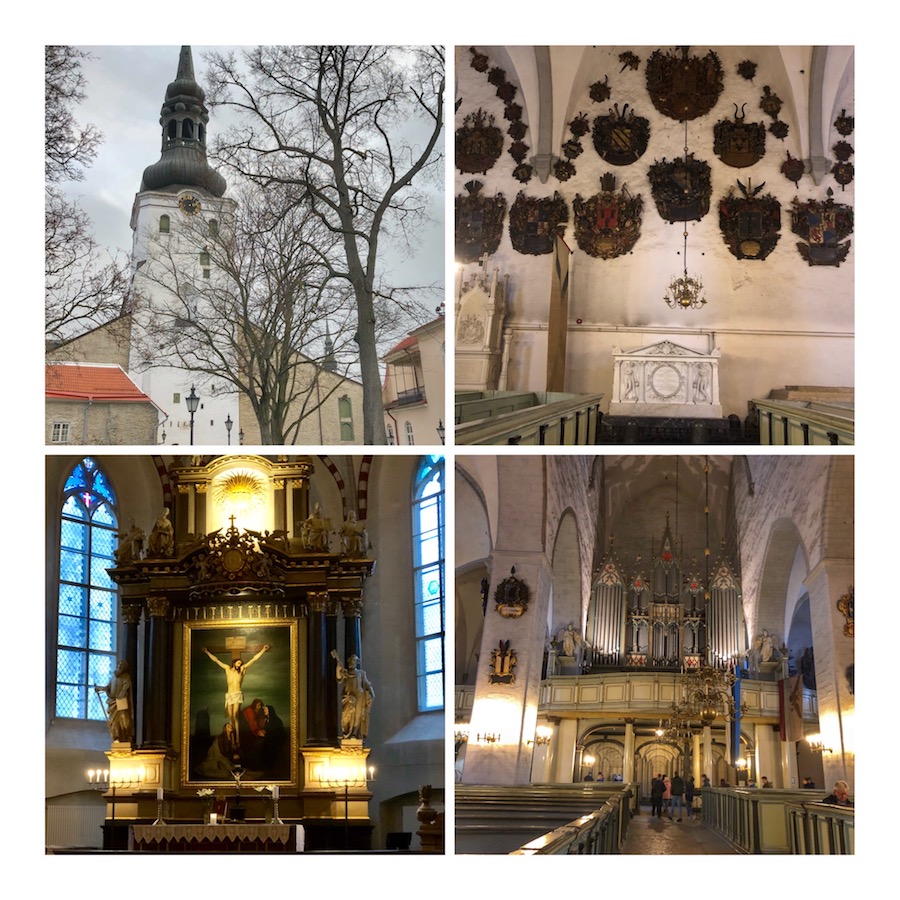 Up behind the Russian Orthodox Church, I found the Danish King's Garden. Back in 1311, the area was given to the "lower town" by the King of Denmark and a wall was erected as a border between the lower town and Toompea. Built into the fortification are the Virgin/Maiden Tower, the Stable Tower and the Short Leg Gate Tower (the short leg refers to a short-cut to get to the gate rather than having to take the long way around).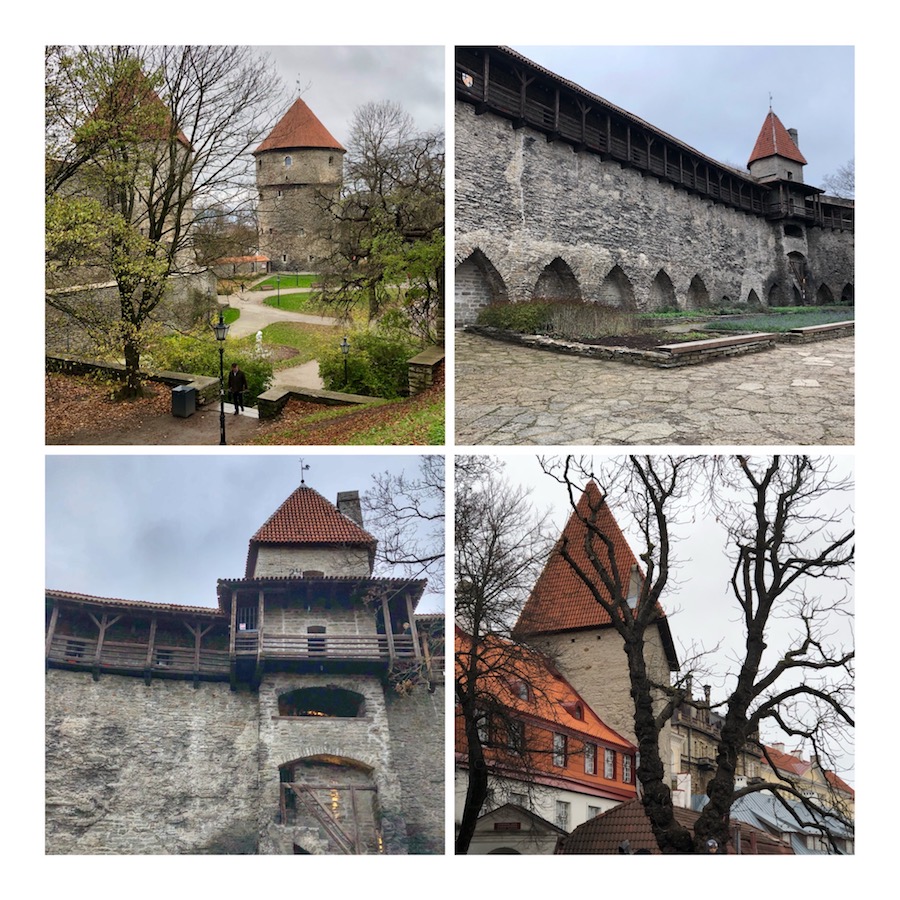 The gate of the Short Leg Gate Tower was locked at night to keep the riff-raff out of the nobility's backyard. The gate was also supposed to stop ghosts who were trying to sneak up to Toompea Hill from the Danish King's Garden, a favorite dueling ground of aristocrats. The Short Leg Gate Tower is supposedly one of the most haunted places in Tallinn. There have been sightings of an infamous executed monk, a lion, and a ghostly galleon floating through the tower walls with its flowing transparent sails.
In recent years, a male voice has been heard singing in the towers, but they've always been found to be empty. I didn't see any ghosts or hear any strange sounds, but there were some creepily eerie statues of monks with no faces in the garden that may end up in a nightmare or two.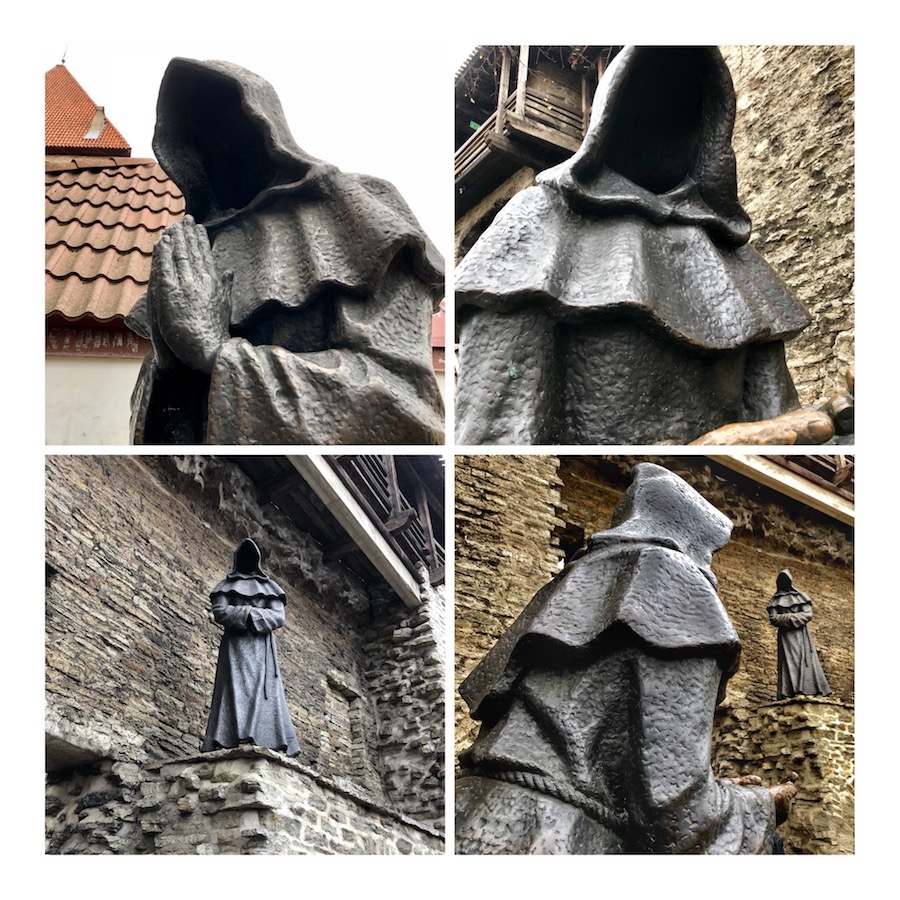 The Virgin/Maiden Tower was once a prison for prostitutes, which brings a touch of irony to its name. It is said that a deal was once struck in the tower between an ugly prostitute and the devil. The devil got her soul and she became beautiful. As part of the deal, the woman was to entice as many of the male townspeople to the dark side. Not sure if the deal was ever consummated because, in the end, she was declared a witch and executed.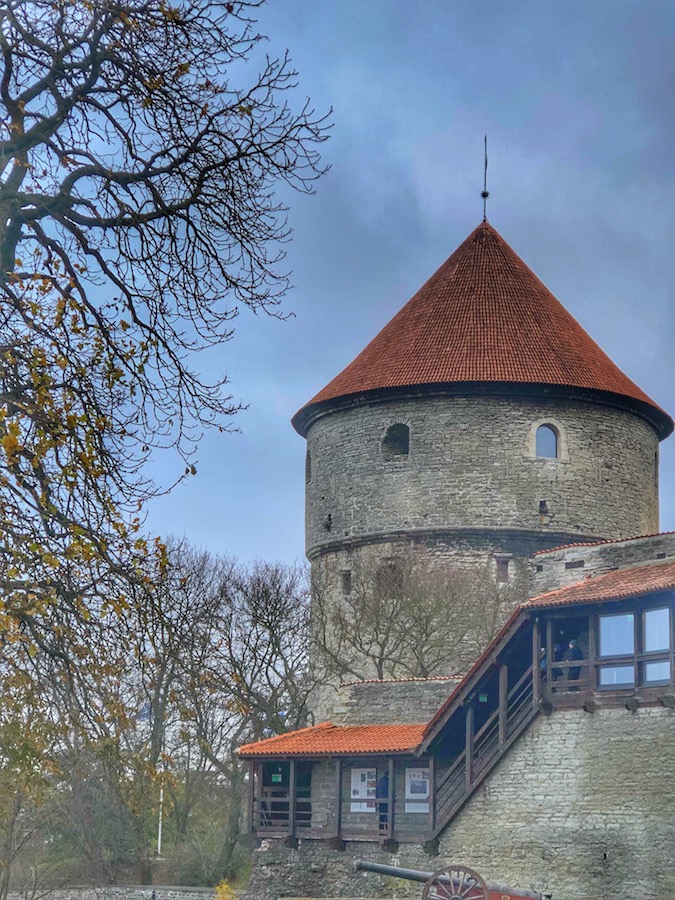 My walk took me back to the lookouts over the lower city. Although I'd already taken pictures yesterday, I decided to take more as today's sky had a bit more texture and color.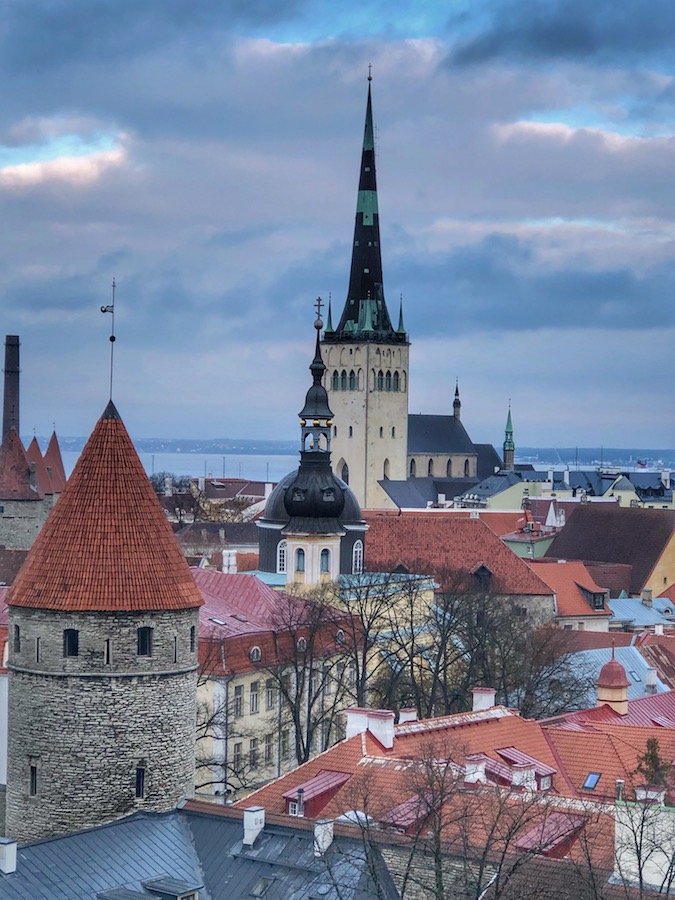 Also, who could resist getting a cool picture of the city as a backdrop to a cheeky seagull.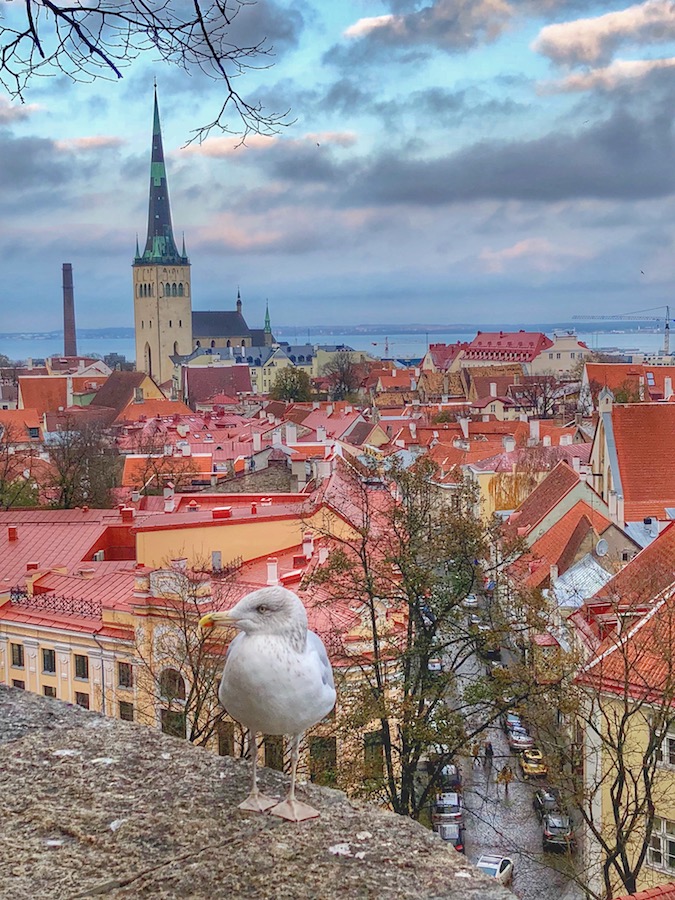 On my way back to the hotel, I came across a little bit of Texas, in the form of a Tex-Mex cantina. Yes, they serve queso. No, I didn't eat there, although the TripAdvisor ratings are good and its quipped as being "The best Americana in Tallinn." I'll take their word for it.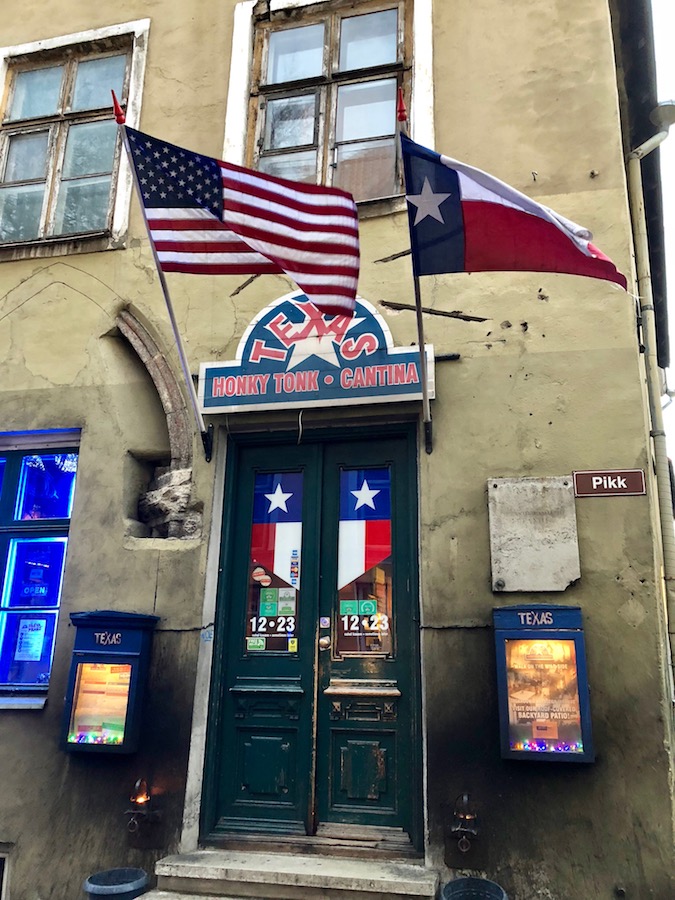 I made it back to the Town Hall Square in time for the sunset – spectacular.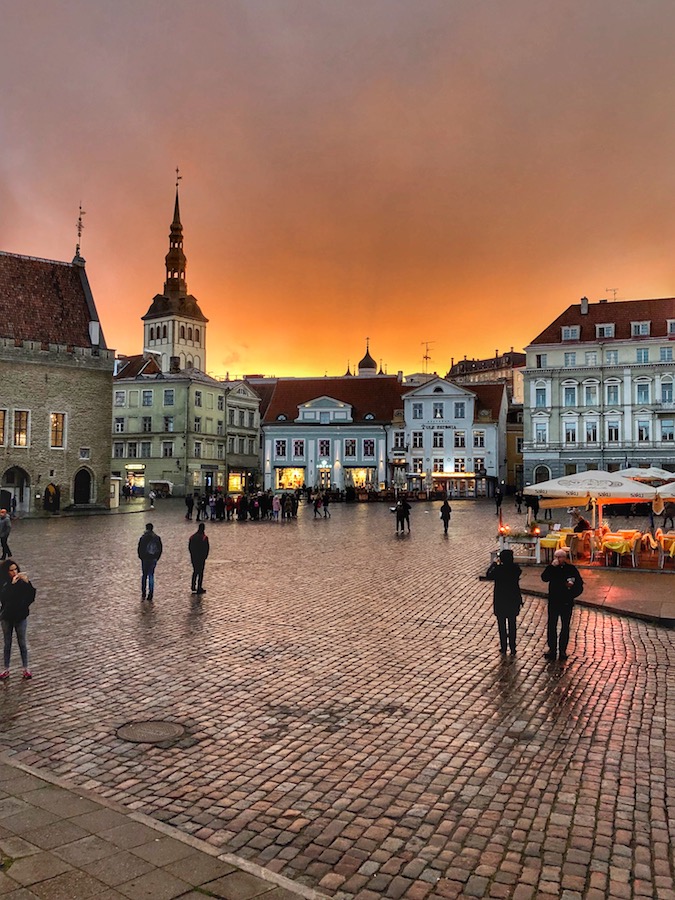 Last night, when I was walking from one restaurant to the other, the couple I was walking with recommended that I try the local vegan restaurant. They assured me that even though they weren't vegan they had been very impressed with the food. Game to try something different, I had the concierge book me a table ~ the first available time slot was 8:45pm. I guess it's a good sign that a restaurant is so busy that they can't squeeze one person in until it's time for the nightly news.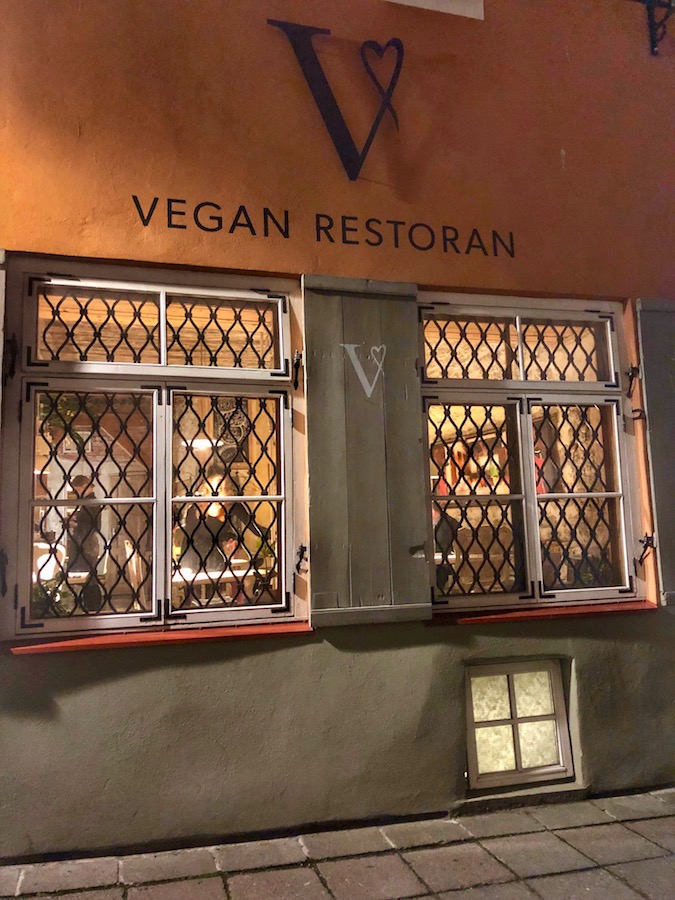 The vegan restaurant is aptly named Vegan Restoran. Luckily, the menu is much more creative – there were so many enticing choices. My server was not as engaging as last night's, but she was efficient. She had definite opinions as to which dishes were her favorites – a trait I like to see. She helped me select the beetroot ravioli with cashew cheese as my starter, a salad with strawberries (although the spicy tomato and mushroom soup sounded good), and then spicy chickpeas with oven baked sweet potato and tahini sauce as my main.
Two gentlemen from London sitting next to me (Rodney and David) went with the snack platter filled with numerous appetizers, the oven roasted pepper walnut and chickpea burger with oven roasted carrots and turnips, and the same spicy chickpea main as mine. Over the course of dinner, we shared commentary on the pros and cons of each dish (mostly pros) and various other subjects (yes, politics did come up).
The beetroot ravioli consisted of two thin slices of red beet each with a dollop of cashew cream wedged in between. The three "raviolis" were laid on a healthy smear of pesto, spinach, mung bean sprouts and crushed pistachios. It all sounds a bit weird, but it was really delectable, as well as artful. Although none of the flavors stood out on their own, when combined into a cohesive bite, the flavors played off of each other and sang. I think they should jar the pesto sauce.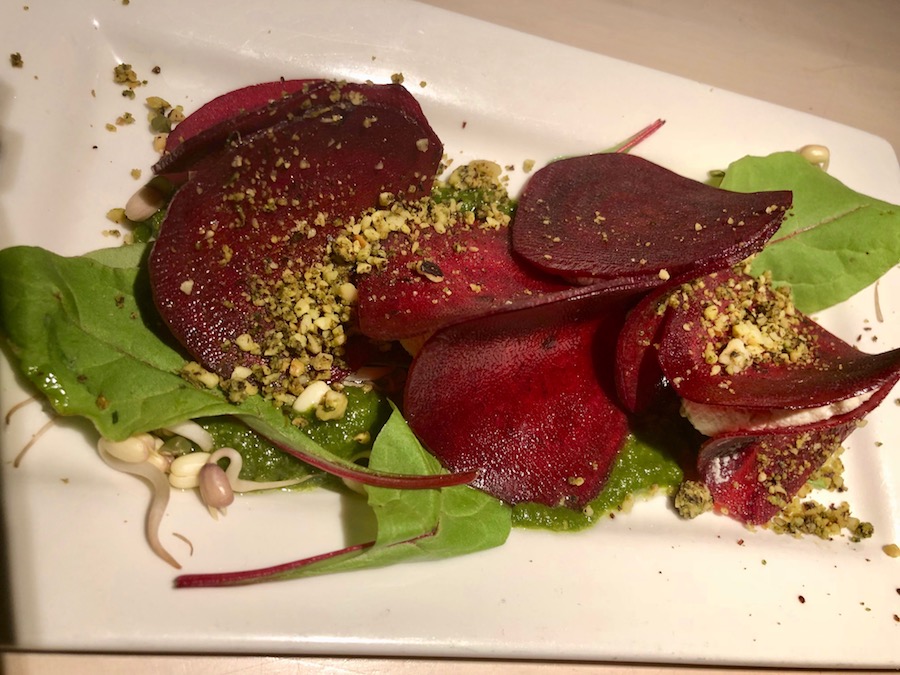 A salad usually isn't inspirational, but this field green salad was garnished with pecan halves, sliced strawberries, ruby red grapefruit segments, grape tomato halves, sliced radishes and pomegranate arils. Everything was topped off with a strawberry vinaigrette, which was not too sweet or acidic. I'm definitely duplicating this combination when I get home.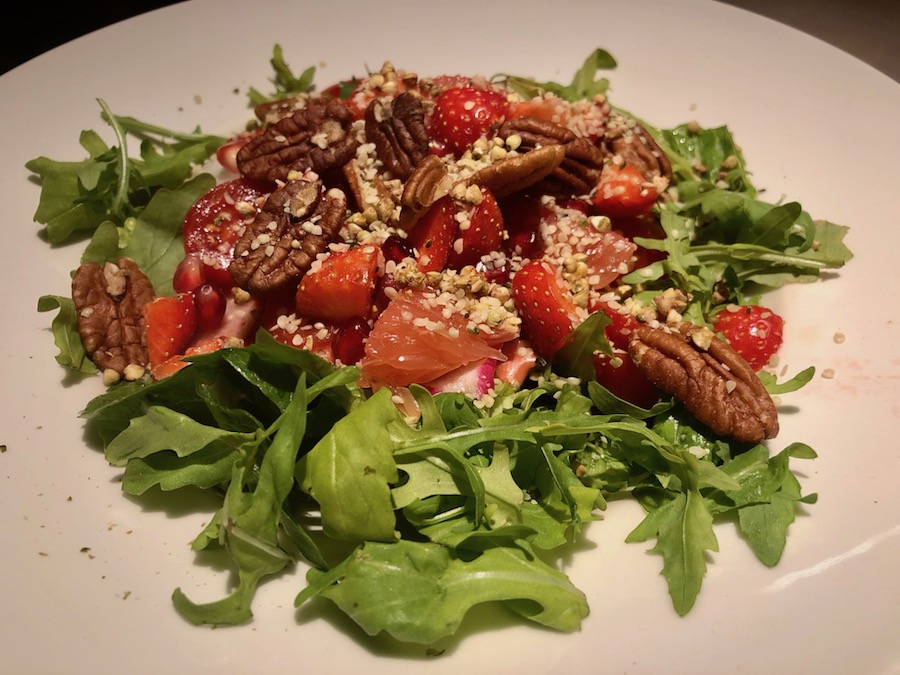 I can't say enough good things about the chickpea dish – it was not too spicy, but just spicy enough to keep my taste buds on alert. The oven baked sweet potato underneath was soft and sweet, which was a great counter-balance to the spice of the chickpeas. Al dente asparagus spears added crunchiness and broccoli florets, cauliflower pieces and spinach added heartiness. Delicious – I think I'll also add this dish to the list to recreate at home.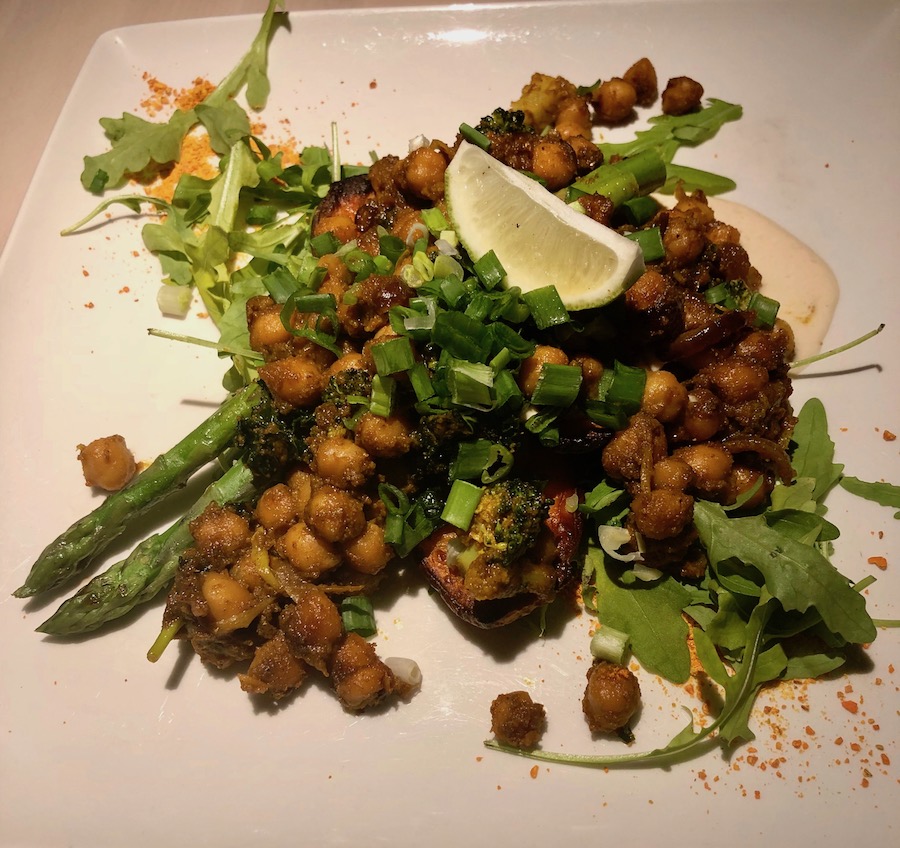 David from London agreed that it was tasty and recreatable (Rodney loved his burger and said it rivaled any hamburger he'd had back when he was a carnivore). Happy Cow agrees with our assessment.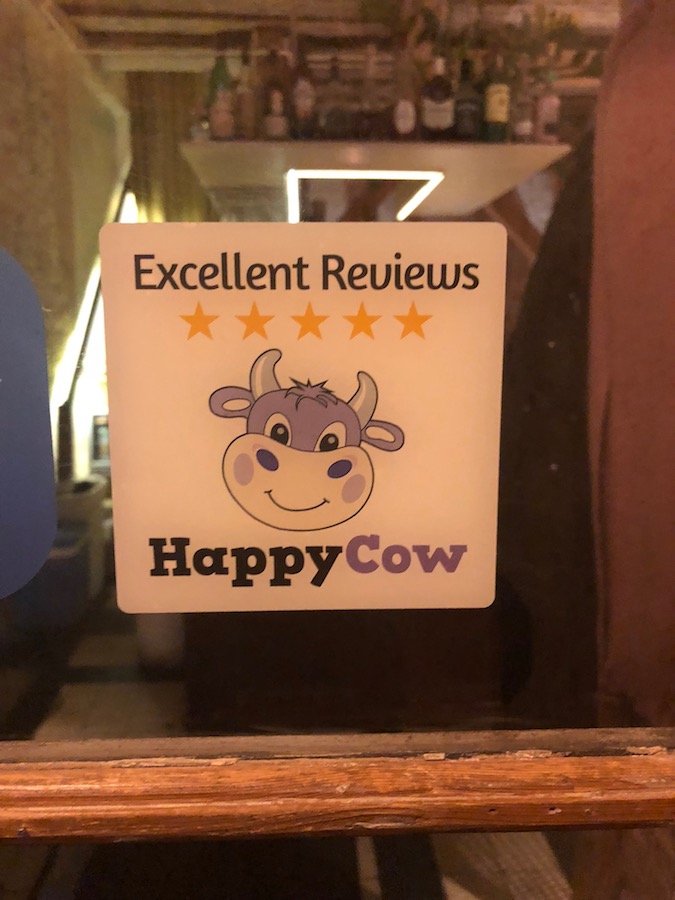 I was not expecting to adore this restaurant, but I do. I'll definitely put it on the must-dos for my next visit to Tallinn. Oh yes, there will be a next time. How could you not fall in love with a quaint town like this.