November 1, 2018
The new day brought sun and warmer temperatures – it got up to 42 degrees Fahrenheit. I was still struggling with email/computer issues, so decided I might as well enjoy breakfast while battling the computer demons. The service was impeccable, if not a tad bit restrained, and the food was pretty good. I have to admit, I did sneak two small macarons off of the beautiful display on the way out of the restaurant.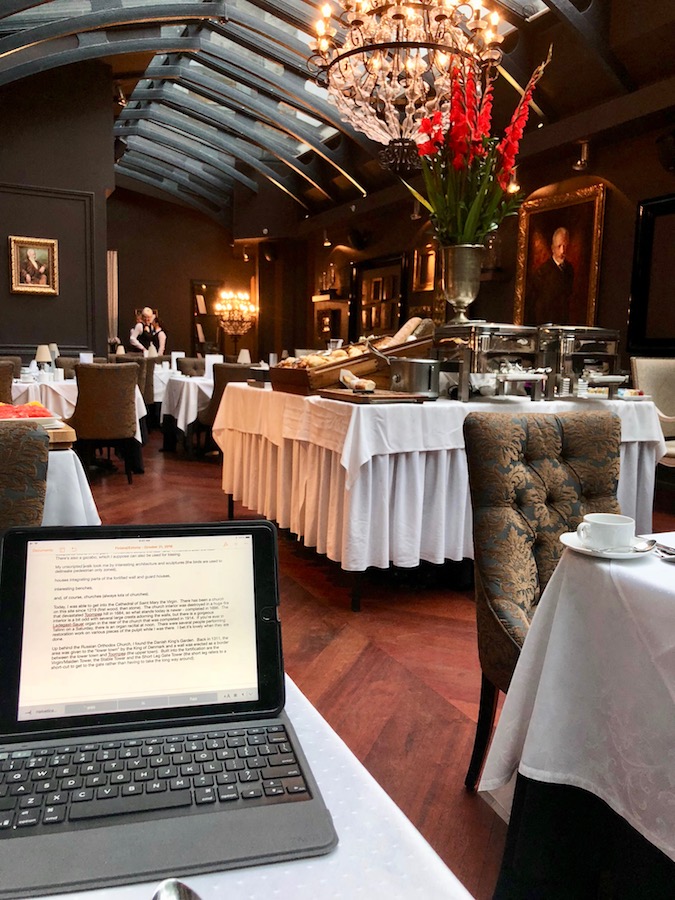 I caught a taxi to the ferry station and breezed through check-in quickly enough to be able to watch the MS Finlandia pulling into its slip, it having just come from Helsinki. I watched as lines were thrown down from the deck above and connected to a big giant hook. It appeared that the entire ship was tethered by those two little metal lines. I'm sure there's more to it, but from my angle, it looked a little precarious.
As I watched out the window (you can see the glare in some of the photos), I saw doors on the bow of the ship open up (wasn't aware that happened) to reveal a type of mechanized gangplank, which began to lower to the ground. It looked like the ship was sticking out its tongue.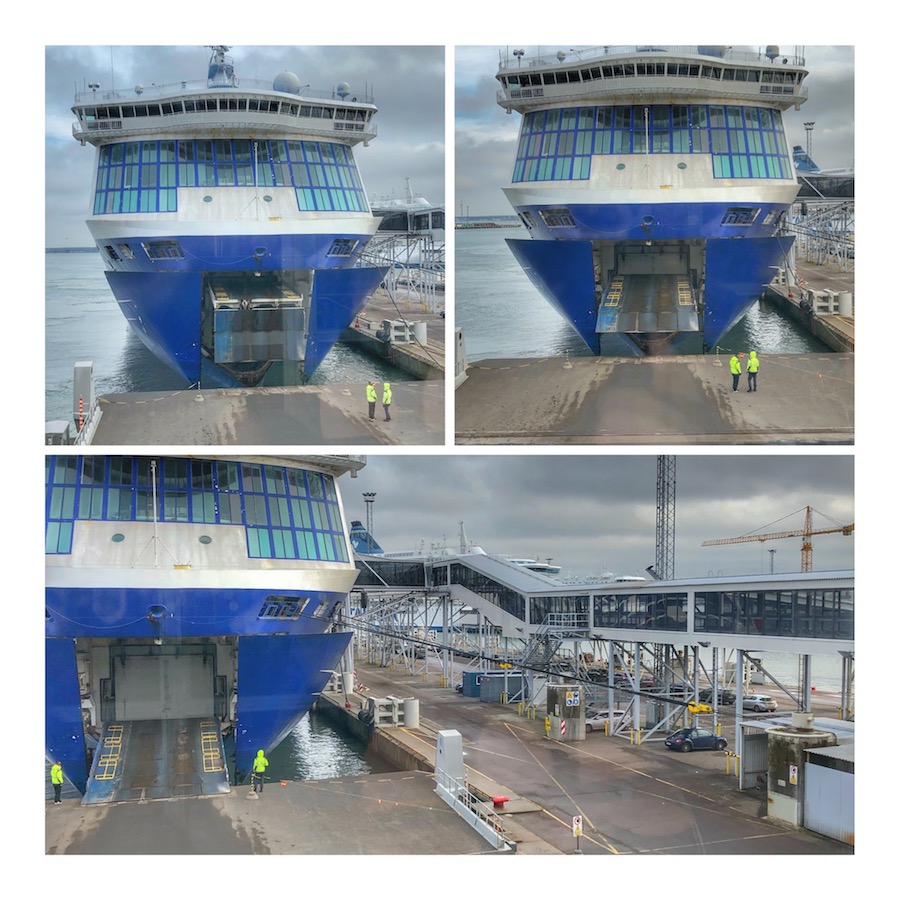 There seemed to be some concern over a mechanical issue because several of the ground crew ran over, peered under the gangplank, pointed animatedly, and then stood around discussing matters for awhile. Whatever the issue was, it delayed passengers from disembarking and I'm sure they were not too happy to be standing in the waiting area.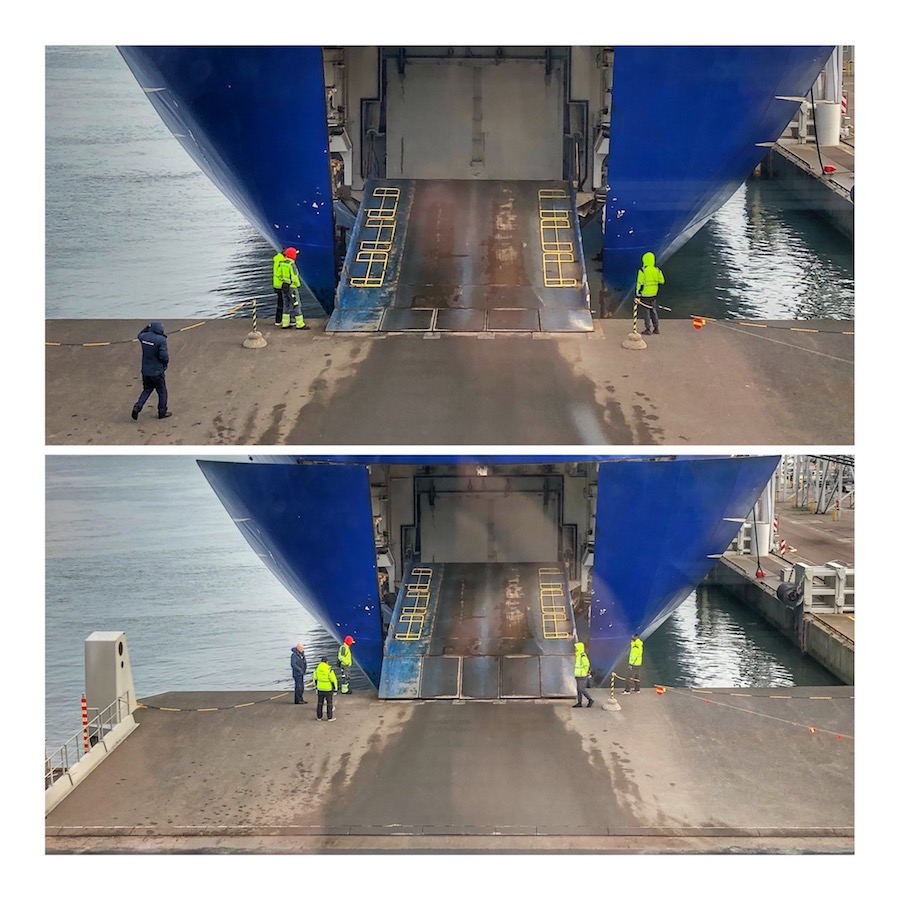 They must have decided the issue wasn't a dealbreaker because all of a sudden there was a flurry of activity and more doors opened in the bow to release a slew of vehicles. As they rolled off the ship, I counted 175 cars, 45 18-wheel trucks, 2 buses, 4 vans and 1 camper. This 574 foot, 2 inch long ship can hold up to the equivalent of 655 passenger cars.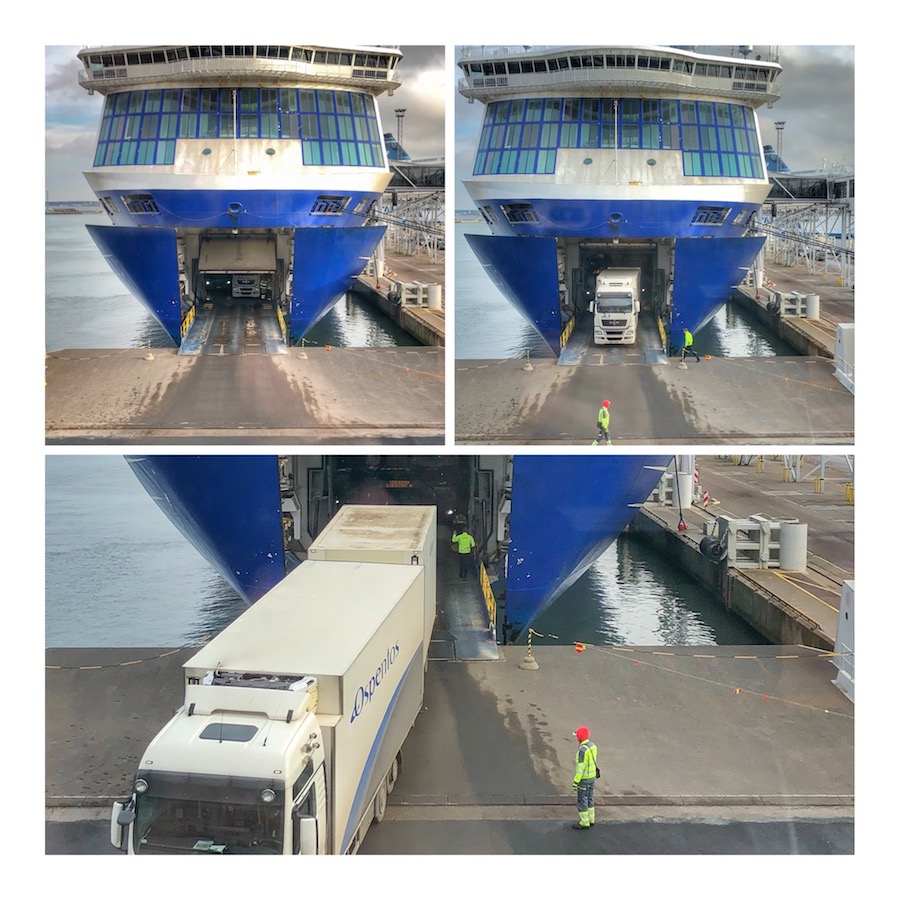 The ship also holds up to 2080 passengers, has 200 cabins, 2 large shopping areas, a business class lounge, meeting center, multiple bars and pubs (some with dancing available), a buffet restaurant, a large cafe, a children's playground and, for the kid in adults, gambling machines. All this for a 2 1/2 hour ride across the Gulf of Finland.
Once the passengers and vehicles from Helsinki were offloaded and new vehicles started entering the belly of the beast, the gates were opened to let us on board – there were no orderly lines as there had been on the Finnish side – it was pretty much a swarm.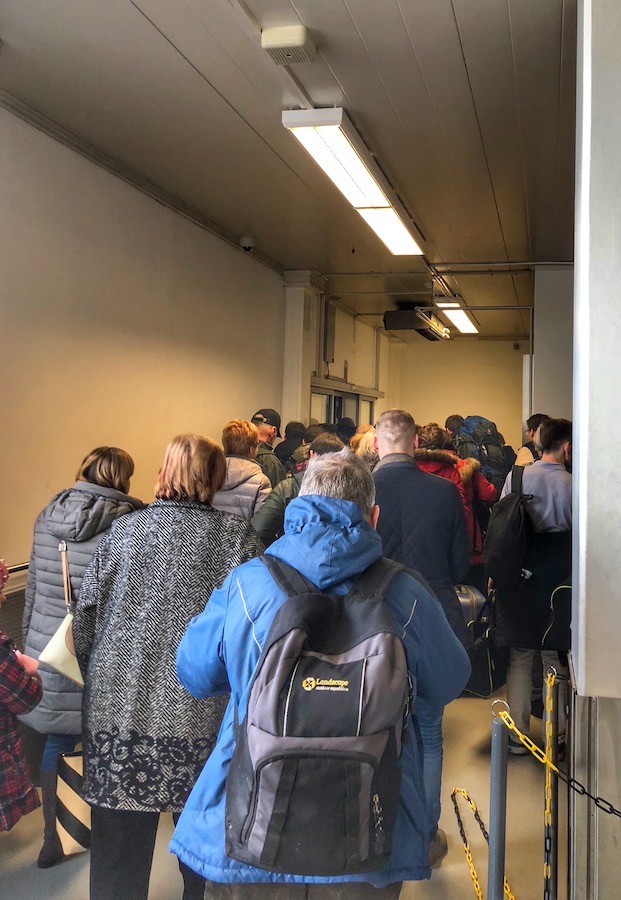 The trip across the Gulf was uneventful as the weather was good. As we left the ship, I saw several people with shopping carts of duty-free/tax-free items they'd purchased on board (mostly alcohol). I've been told that alcohol can be up to half the price in Estonia as in Finland. I guess that makes a round-trip ticket worth it to some.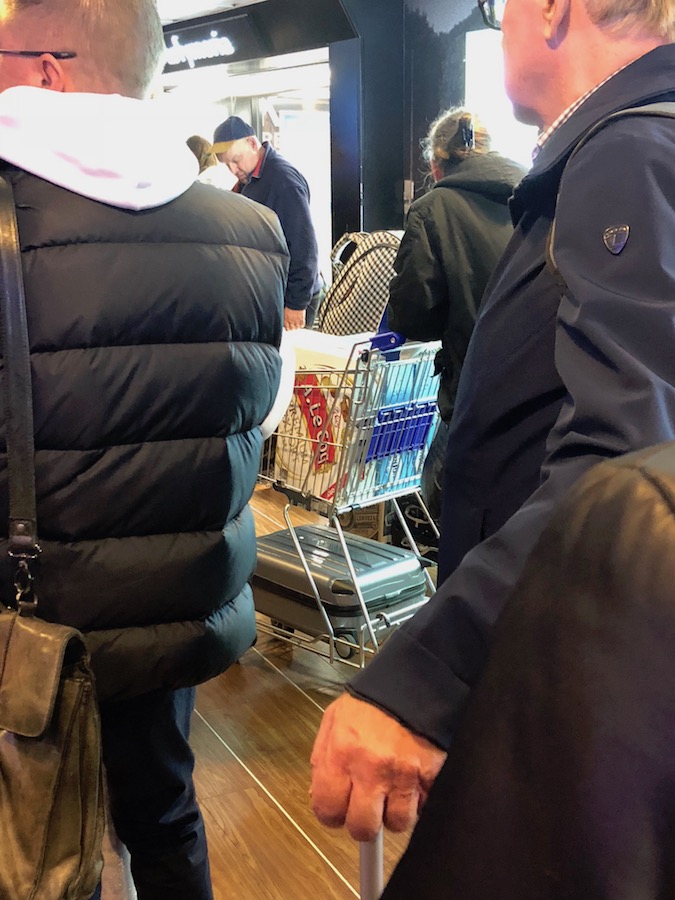 I was welcomed back to the Hotel Indigo with an upgraded room. In the room, they had also left us a nice Anniversary card and a bottle of wine – very thoughtful.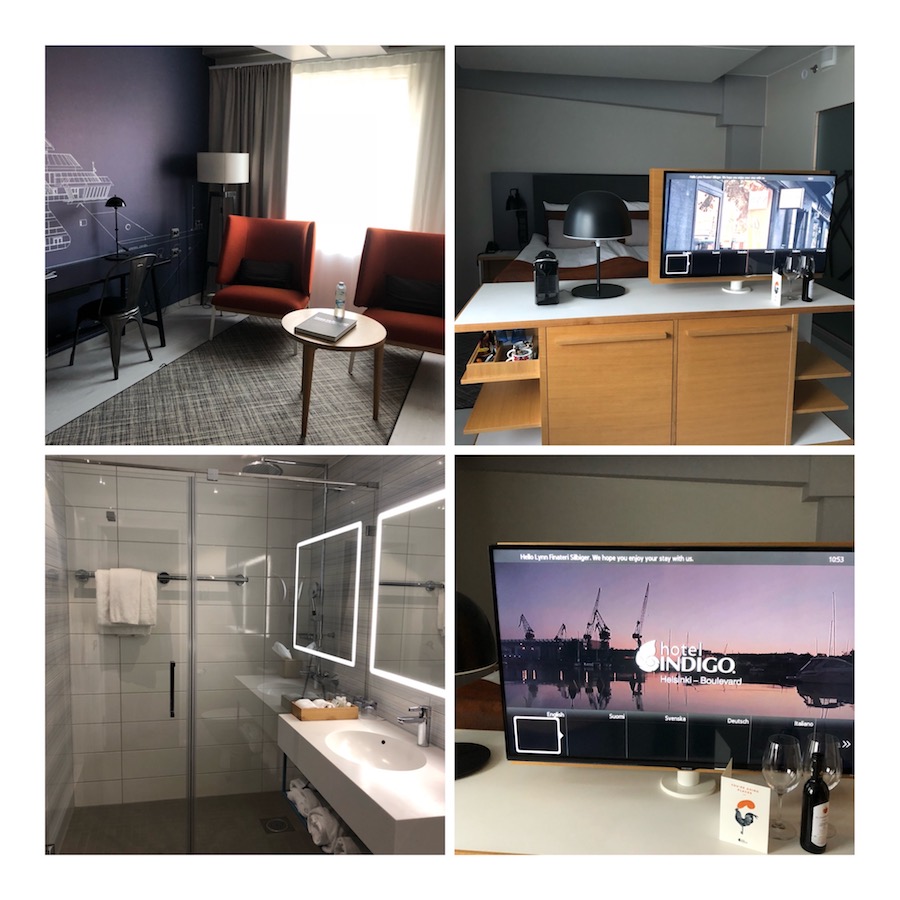 I hadn't done a lot of walking yet, so I laced up the hiking boots and just started to walk since it was relatively nice weather. I covered a lot of the same ground I'd walked several days before, but I felt so comfortable exploring. It was as if I'd come back to see an old friend. In the two days I'd been away, more holiday lights had been added to the city center area – it's beginning to look a lot like Christmas. The evening lights started to wink on and a quiet calm came over the city.
As I neared the Esplanad, my stomach told me that I was hungry. I happened to be walking past Kappeli, a beautiful glassed-in restaurant, which has been serving meals since 1867. During the summer, a seat on Kappeli's outdoor terrace is coveted. In the winter, as it turns out, a seat inside is also highly sought after.
I hadn't thought to make a reservation since my meal was a spur of the moment decision. When I asked for a table for one, the hostess/waitress all but sniffed at me and said "no reservation? Well, there is only one table remaining and it is that one" pointing in the direction of a tiny table by the window, wedged into a odd shaped corner, behind a glass partition (which made getting into the chair challenging). Much to her surprise, I took that table and the challenge getting into the seat. I must have garnered some respect from her as over the course of the next hour or so, she warmed up to me (as much as a Finn is apt to).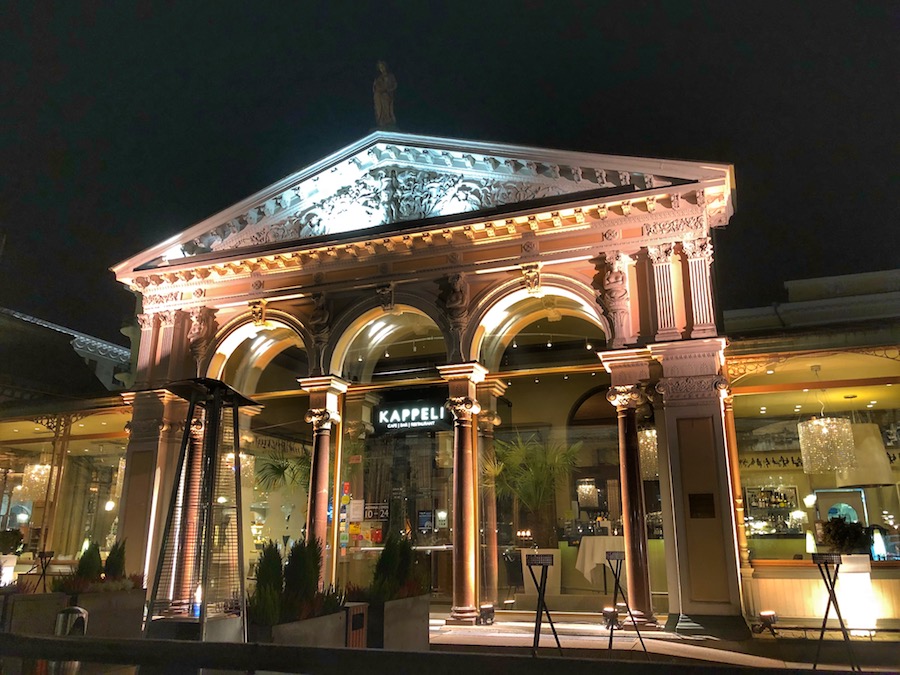 I had read great reviews about Kappeli's salmon soup, so I had to try it. No lie, it is awesome. The broth is creamy, but not too rich and the big chunks of salmon are tender without being overdone. I'd highly recommend trying this soup (only available in the restaurant, not in the "cafe" on the other side of the building – they sell a "lesser" version of salmon soup to the masses on the weekend).
In addition to a small bowl of soup, I had the reindeer tartar appetizer, which came with a dollop of egg yolk cream, pickled wild mushrooms, spruce shoot oil, and capers. It wasn't my favorite dish of the trip, but it wasn't awful. I just didn't find the reindeer to be tender enough and it definitely had a gamey taste. Since I'd kind of struck out on the main part of my meal, I decided I needed to try dessert. The apple mousse with salted caramel, oat crumble and meringue did not disappoint. It was like a deconstructed apple crisp, but prettier.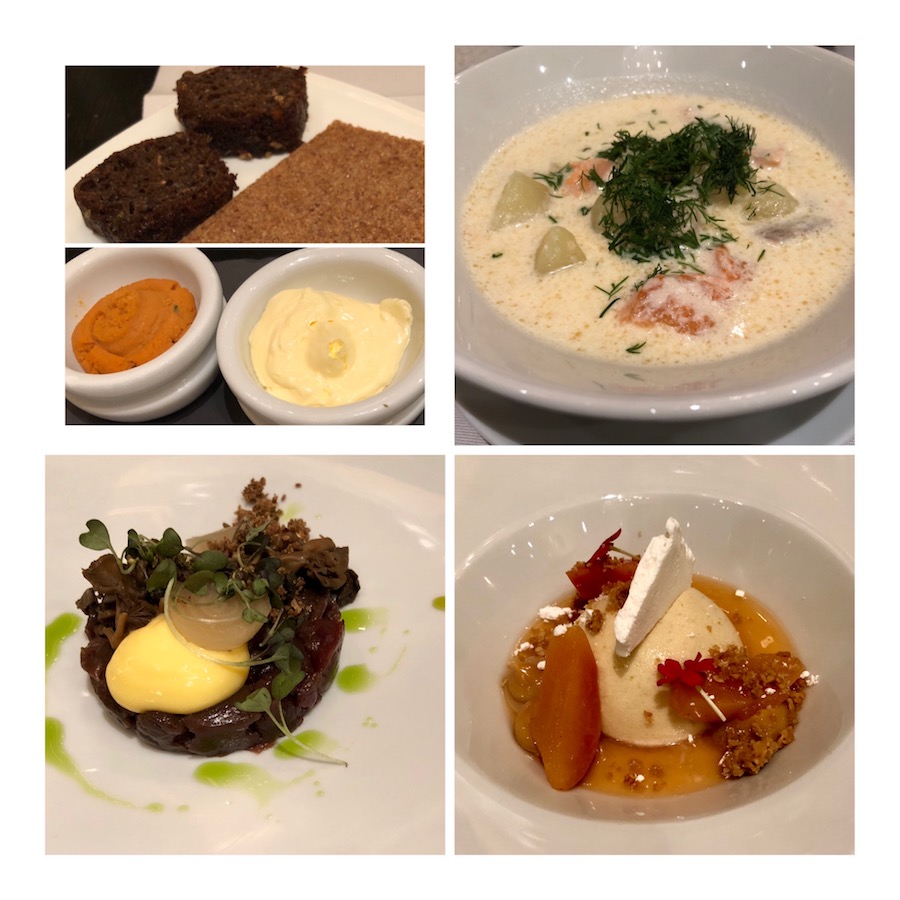 With a happy tummy, I hit the sidewalks again and got in another couple of miles of walking before heading back to the hotel in time to welcome my hubby, Steven, to Helsinki. I hope he likes this city as much as I do.