October 30, 2018
Happy Anniversary to my wonderful husband, Steven – wish you were already here to experience everything with me. Only two more days – travel safely.
The snow melted over night, but it was still cold in the early light of day. I could hear the wind howling outside, which usually wouldn't give me cause for concern, but since a multi-hour water crossing was in my near future, it was a little unnerving as I finished packing my bags. It's all a part of the adventure.
I pre-arranged a taxi to take me to the docks on the far side of the city so I could board Eckero's MS Finlandia. My driver was a man of few words (as with most Finns), but spoke perfect English and had a cousin in Dallas. He expressed concern for me when the wind began to whip harder and faster as we arrived at the ship terminal. I was unfazed, however, as it's not like I would be crossing to Estonia on a dinghy – what loomed before me looked like a cruise ship.
Check-in was efficient (that's what the Finns do) and I was soon in the large waiting area with hundreds of people – some with suitcases and some with empty shopping bags. Apparently, a lot of Finns travel to Estonia just to load up on alcohol and other supplies because it is much cheaper, even with the cost of the return ticket.
Anyway, I had given myself plenty of time, so I stopped by the cafeteria and picked up a bottle of water and, you guessed it, a Korvapuusti. Not much to talk about this pastry though, as it was – **gasp** – commercially made and pretty tasteless. After two small bites, I decided it wasn't worth the calories. I figured there might be something better onboard.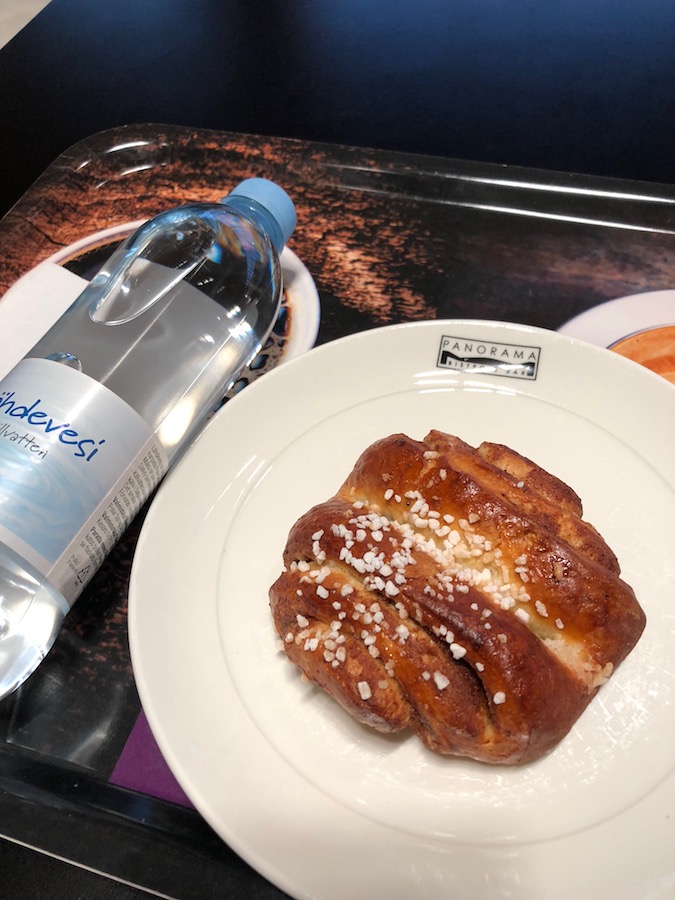 When the boarding announcement was made, the crowd swarmed, but in an orderly fashion, through the doors.  Walking down the gangway into the ship definitely reminded me of boarding a cruise ship.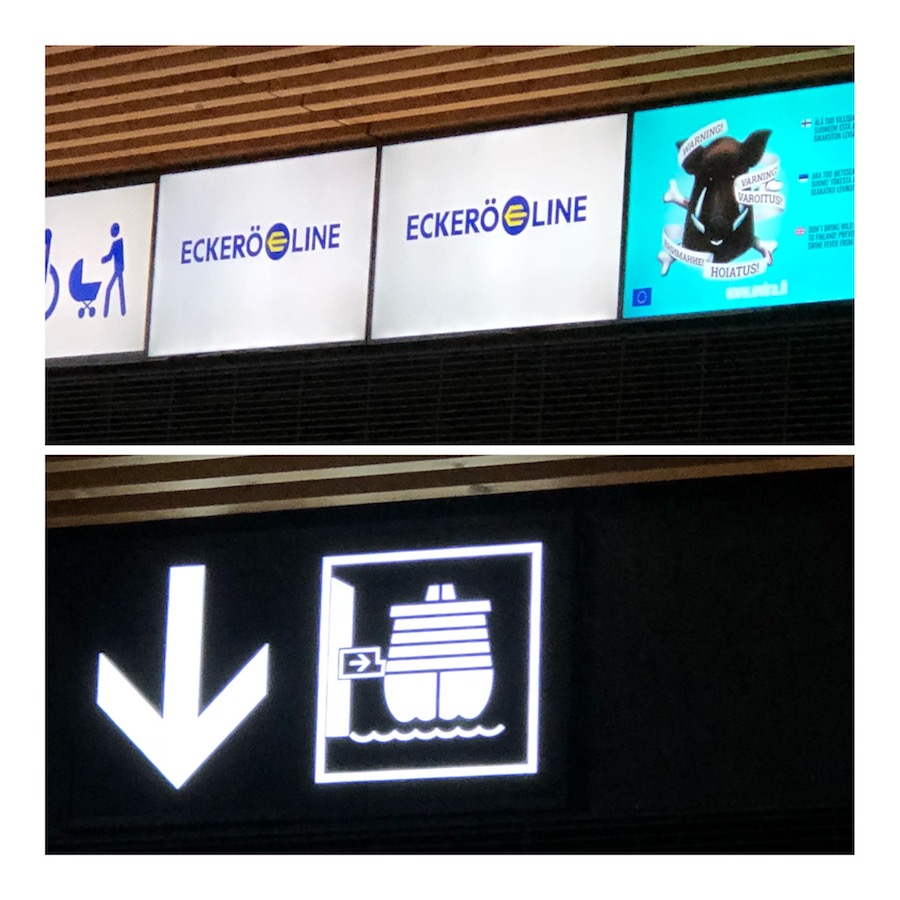 Just inside, I found the sign for the Lounge.  When given several options online upon booking my ticket, I decided to go for the upgrade since it was only a few extra dollars.  Turned out to be a good decision.  The lounge was clean, comfortable, not crowded, provided free beverages, and even had a nice continental breakfast laid out.  Sweet!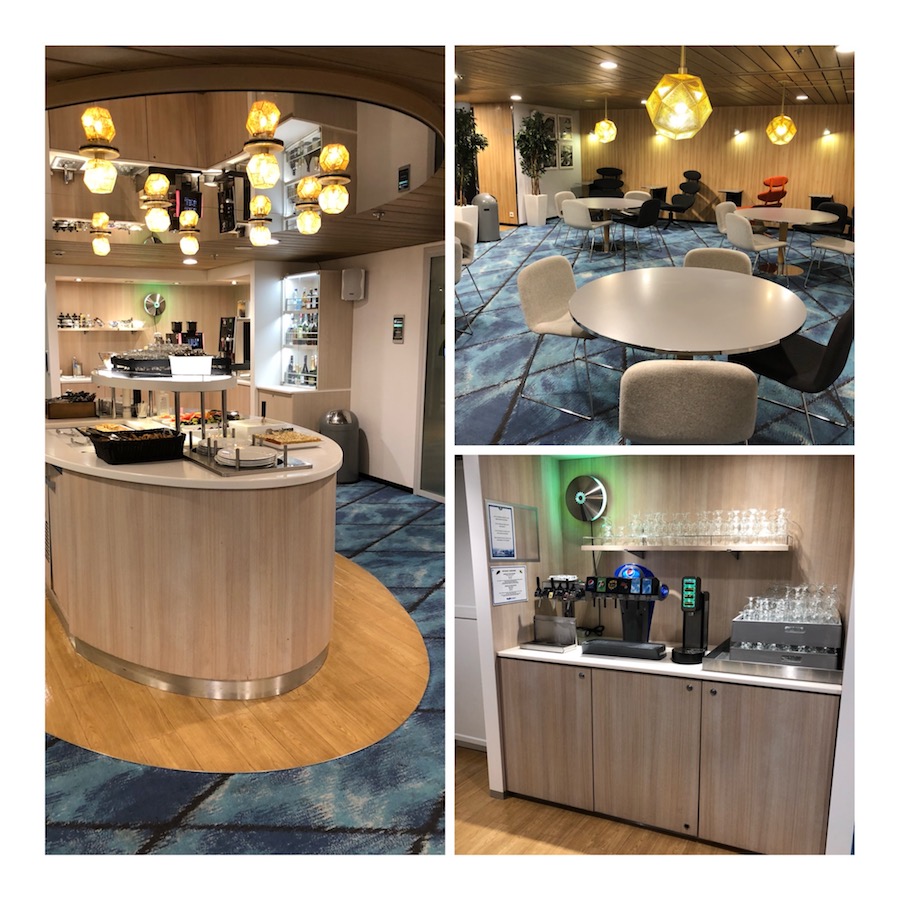 As we headed out to sea, it became quickly apparent that it would not be smooth sailing. The skies continued to be gloomy and gray. As the waves grew increasingly larger, the faces of my fellow passengers became increasingly greener. This would be a looong 2 1/2 hours for many onboard. I, on the other hand, didn't seem to have an issue other than difficulty walking to get more tea as the ship rocked from side to side. After a while, I got the zig zag walking pattern down for getting to/from the beverage station.
There were many happy sighs as we pulled into Tallinn's port.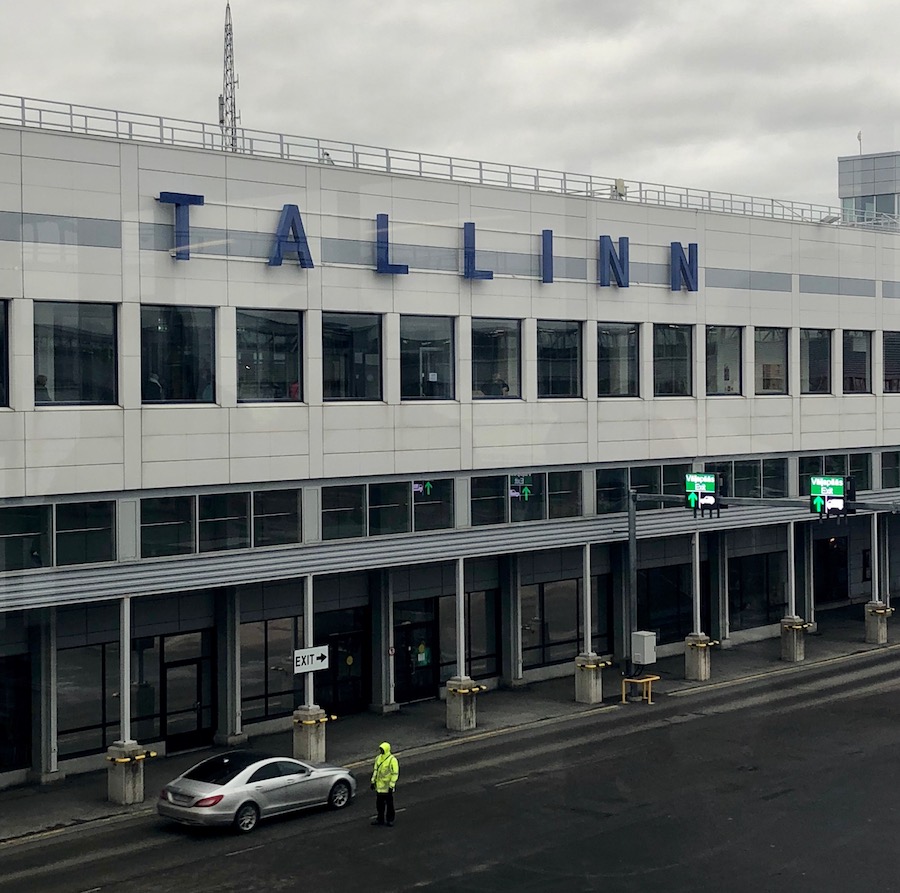 On the way off the ship, I noticed slot machines I hadn't seen on the way in and knew Steven would have been fascinated by them (he likes slot machines). Walking into the terminal, I looked back at our ship in time to see offloading of several 18-wheelers and cars – no wonder the ship has to be so big.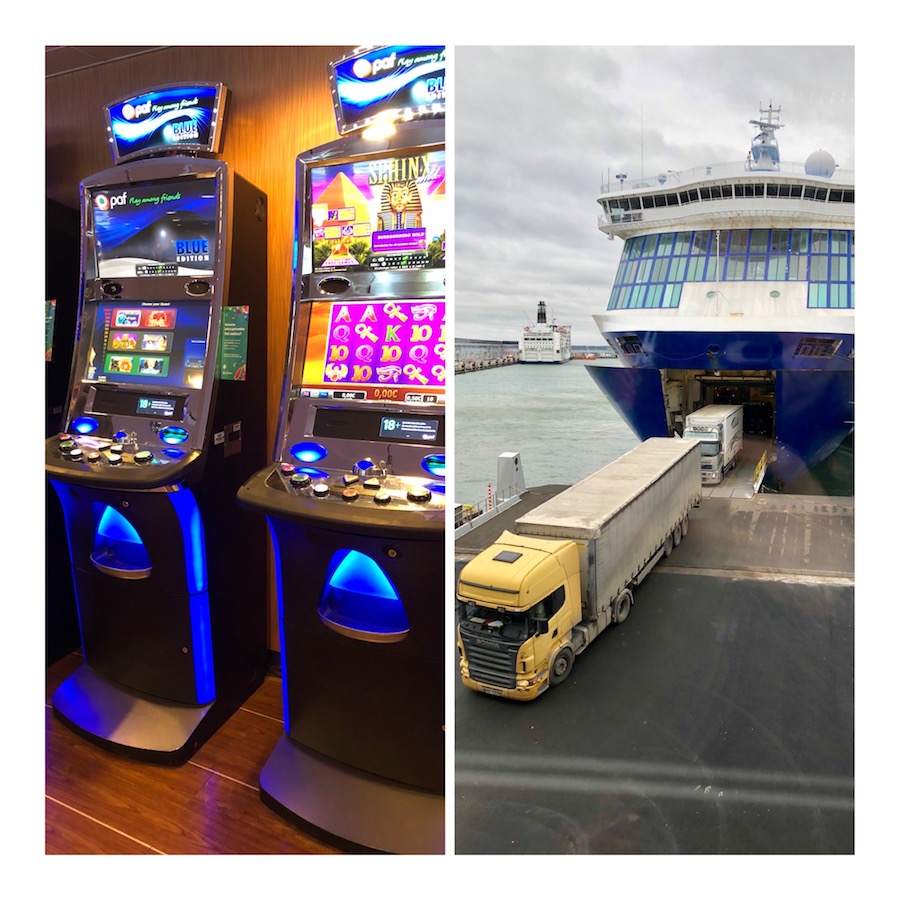 It was bone-chillingly cold, but according to Google maps my hotel was only .8 miles away, so I decided to walk. With a suitcase on my back and a daypack on my front, I looked like the Michelin man dressed in black. As it turns out, the extra padding came in handy because about 1/4 mile into my walk, as I came to the top of a stone staircase, I slipped on black ice.
While I'm sure my ascent was poetry in motion, my descent was not as I came down first on my left knee and then tucked and rolled.  Dazed and confused, I knew my inartful landing was going to leave a mark … or several. 
As I lay on the ground like a turtle on its back (my suitcase backpack being my protective shell), a nice Estonian man rushed to help me up.  He dusted the snow and dirt off me and then queried "It's good?" giving me a quizzical two thumbs up.  Yes, I was good enough to limp the remaining 1/2 mile through the lovely cobblestone streets to my hotel – guess I should have taken a taxi.
I was fortunate to have had the foresight to book a nice hotel.  The Hotel Telegraf is a member of Marriott's Autograph Collection and is pretty fancy.  (Steven and I stayed at an Autograph Collection hotel in Barcelona and loved it.)  As I hobbled in the front door, my bags were immediately whisked away and I was ushered to a comfy chair in the lobby so I wouldn't have to stand to check-in.  Although a bit early to get in my room, the manager graciously switched me to an available room and was immediately assisted up to it – such a fuss. 
Inside my room, I was told to get comfy on the bed, my leg was propped up under several pillows and the bellman rushed off to get me a vacuum packed bag of ice (he didn't want it to leak as it melted).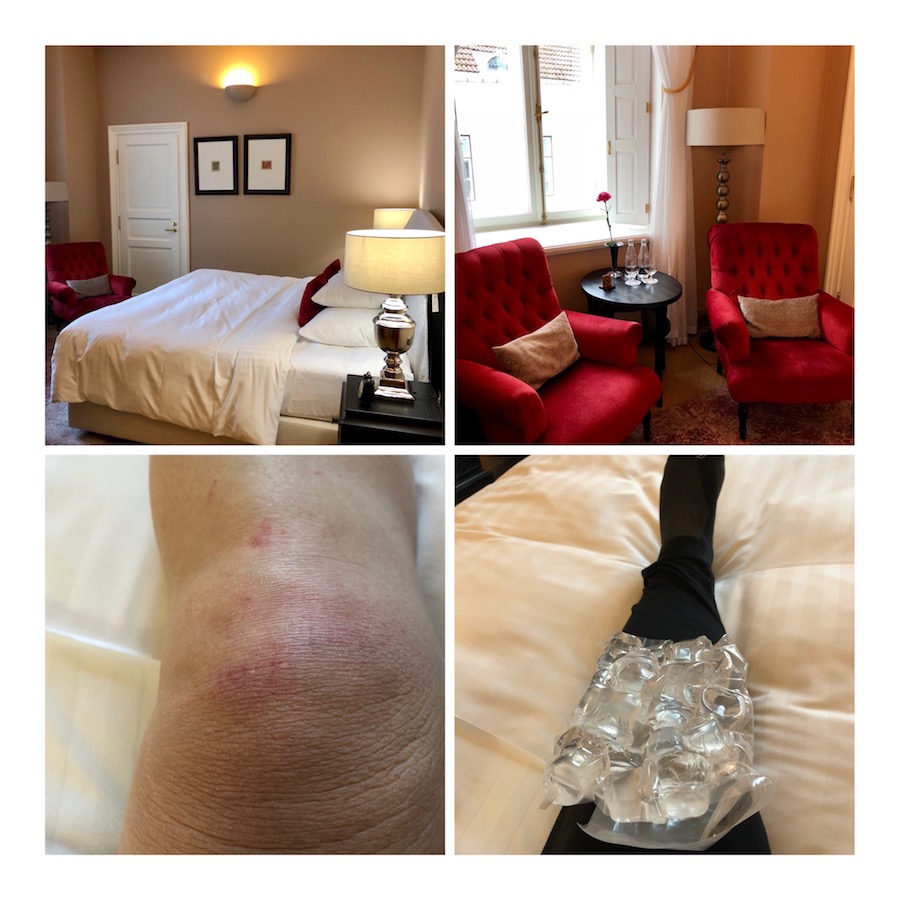 As the manager and bellman left, I was told that I should take it easy and they would check on me later (which they did several times). Like I said, I was fortunate to have had the foresight to book a nice hotel.
I was a good girl and stayed put for the next three hours – through two management status checks and a second vacuum packed ice bag. When I could stand no longer to wallow in bed, I did what all light packers must do… laundry in the sink. Turns out, the towel warmer makes a great (and efficient) clothes dryer.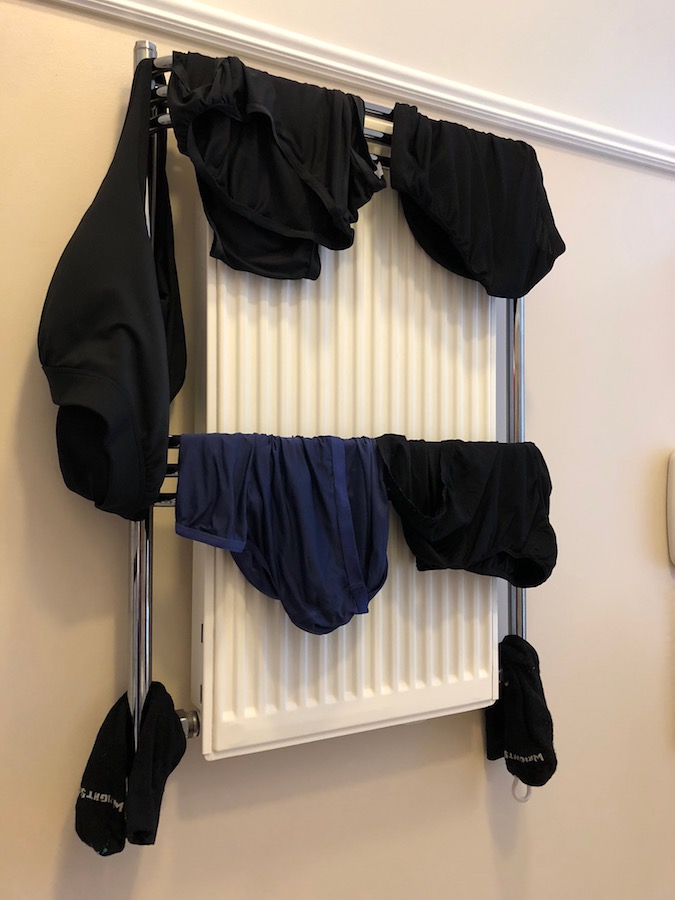 As the light of day was waning quickly, I decided to test out the knee by taking a walk around old town Tallinn. It is a quaint walled city with an upper old town, a lower old town and then the new city stretched out to house the 450,000 inhabitants. I passed the oldest apothecary in Europe on my way to Town Hall Square, which is just around the corner from my hotel. The Square reminds me of the ones I love in Brussels and Bruges. Super cute and I could imagine it busy on warmer days.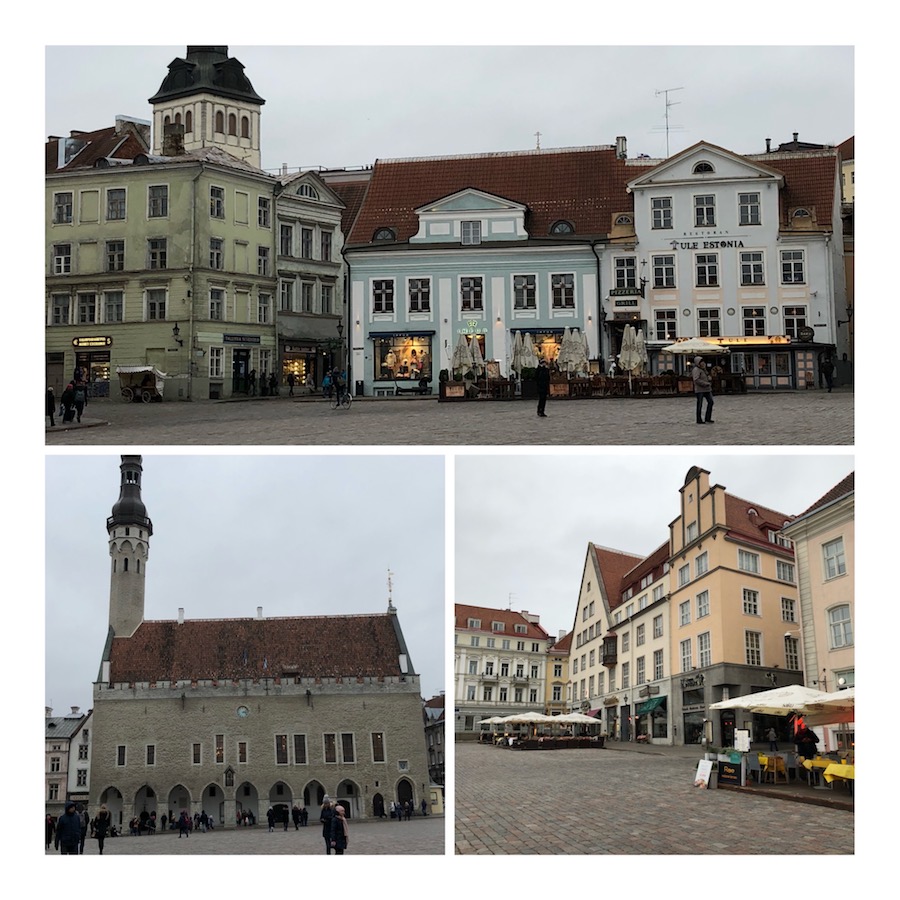 Each new street revealed pastel hued houses and storefronts. Did I mention that all the streets are cobblestoned? Estonians call them nature's foot massage. Not sure about the massage factor, but they are difficult to walk on, even with a banged up knee.
Making my way up the hill (slowly), I came upon portions of the town walls, the battlement towers,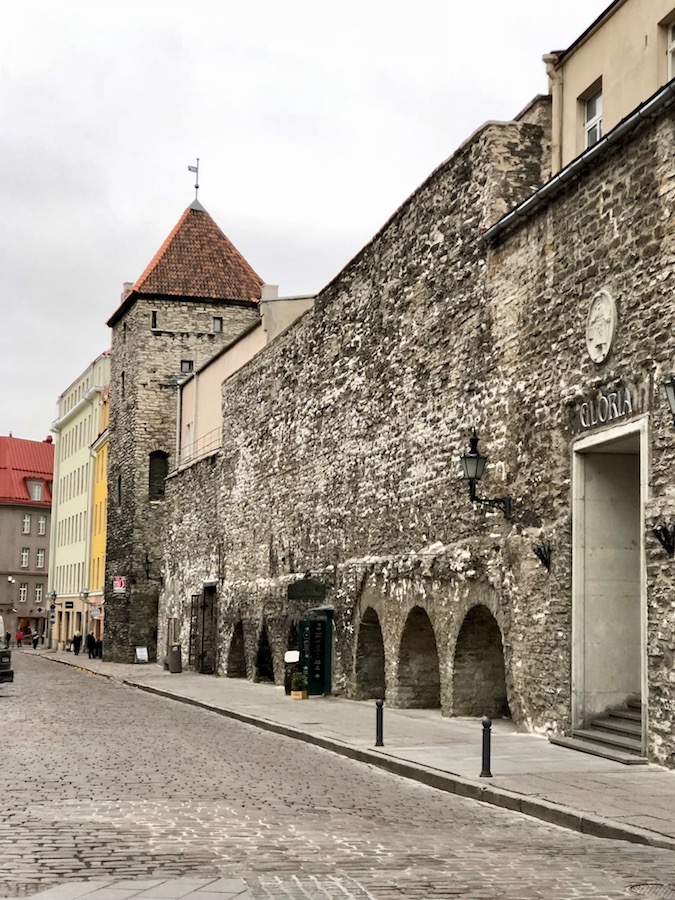 several closed churches,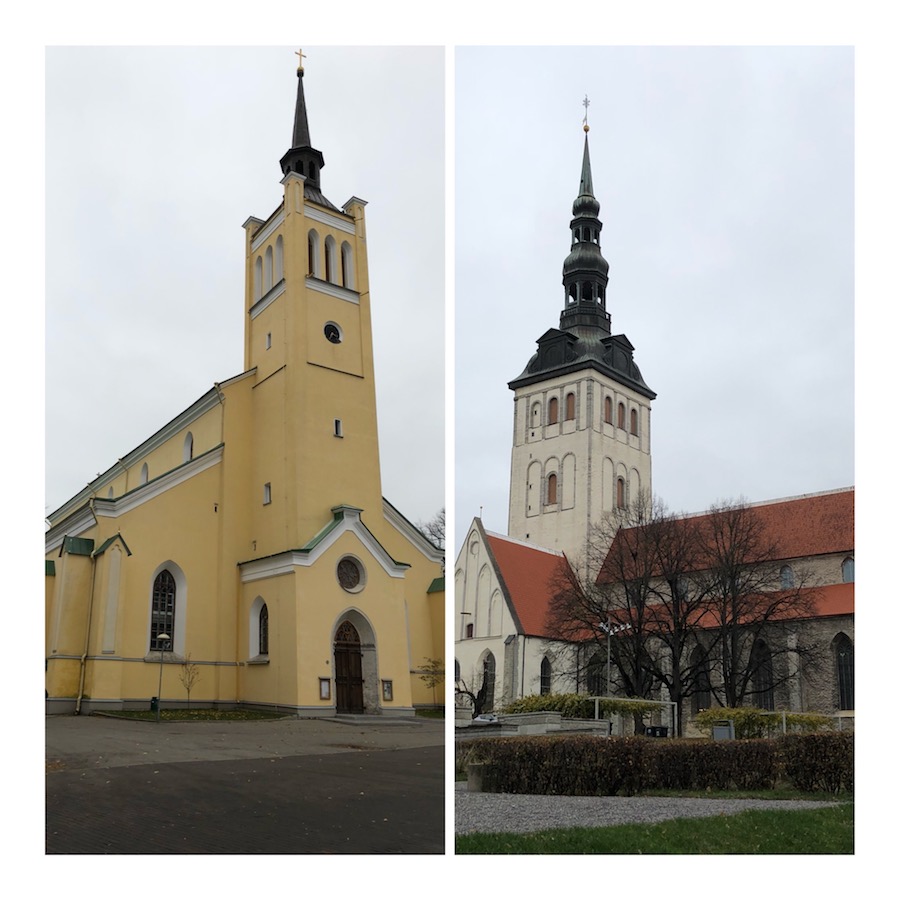 and the Russian Orthodox Cathedral (open, but no pictures allowed aside).
Finally, the narrow streets lead me to the viewing platforms high above the rest of the city. What a view!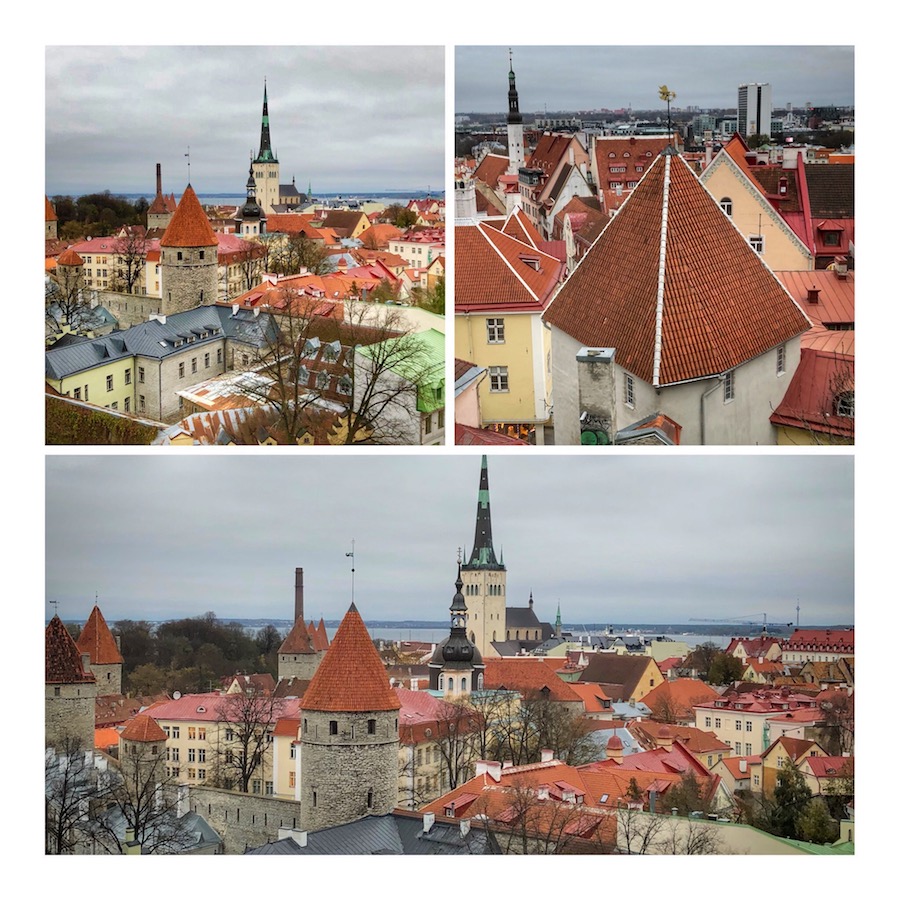 As the wind whipped wildly around me, I struggled to take a decent selfie. Not a great result.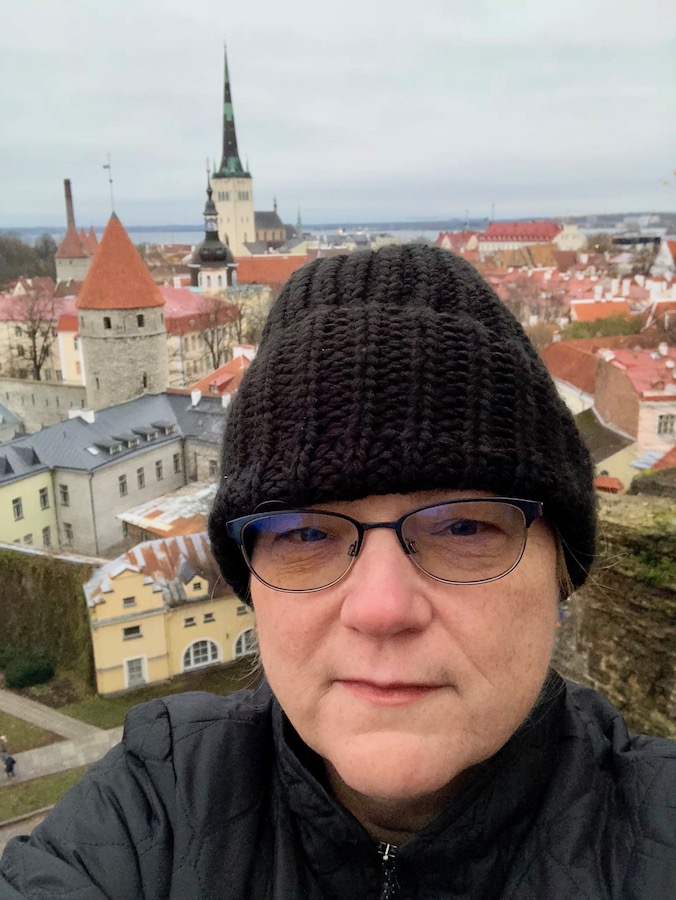 As I was about to leave, I saw another woman struggling to take a selfie in the wind, so I offered to take her picture. After trying several languages between us (English, French, botched Spanish, basic Italian from me; German, Dutch, Swedish, Russian from her), we settled on charades to direct her poses for pictures. Where there's a will, there's a way.
Back at the hotel with my leg propped up (trying to be good), without the aid of trusty Yelp (not available yet in Estonia), I researched restaurants for dinner. With good reviews on several sites, I settled on Rataskaevu 16, which, in addition to its name, happens to be its address. Unfortunately, when I arrived without a reservation, I was told they were full. However, lucky for me, and another couple, the chef had opened a second restaurant around the corner, and they had two tables available. So off to Vaike Rataskaevu 16 we went.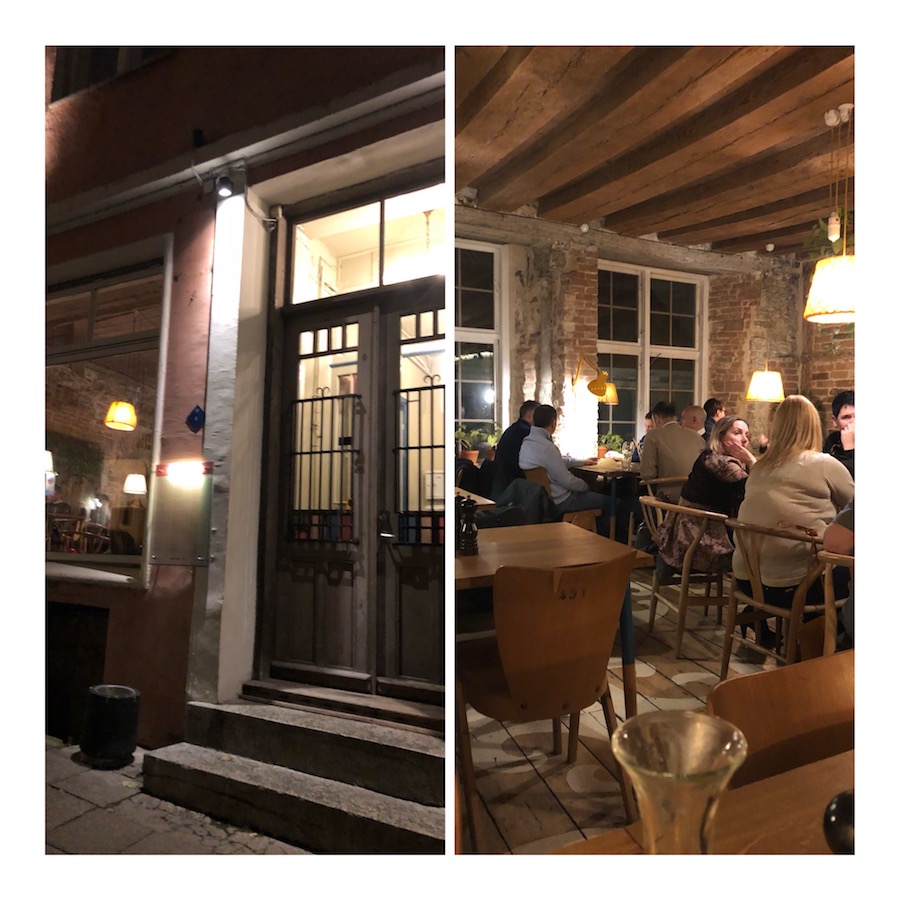 From beginning to end, this was one of the most pleasant and most delicious meals I've had in a long time.  Service was friendly, efficient, unhurried and welcoming.  I even received cute little heartfelt notes throughout the meal – on the paper doily under my teacup, on my beverage napkin and on the bill.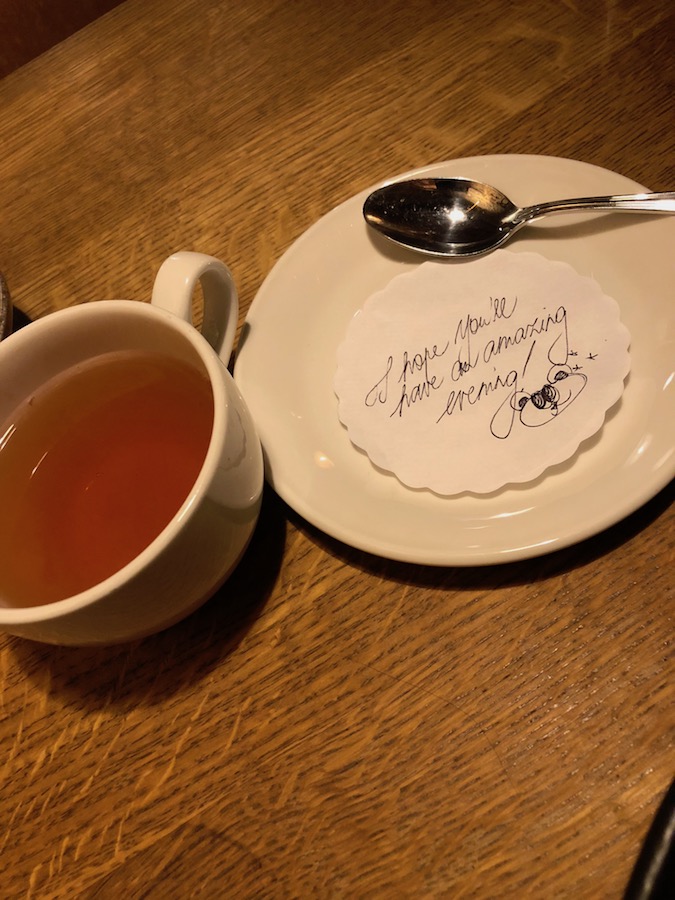 First came the bread board ……. sorry, I had to stop to wipe the drool from the corners of my mouth while I thought about the bread ….. ok, I'm good. This delectable wheat bread was dark as night, soft as a down pillow, and as moist as your grandma's best chocolate cake. The addition of malt to the dough gave it a deep rich flavor that drew me in … to a second huge slice. The herb butter, with a hint of chili for heat, was the icing on the cake (seriously, this bread actually felt and tasted like cake). With each bite, I knew that I was going to have to work off the calories for days.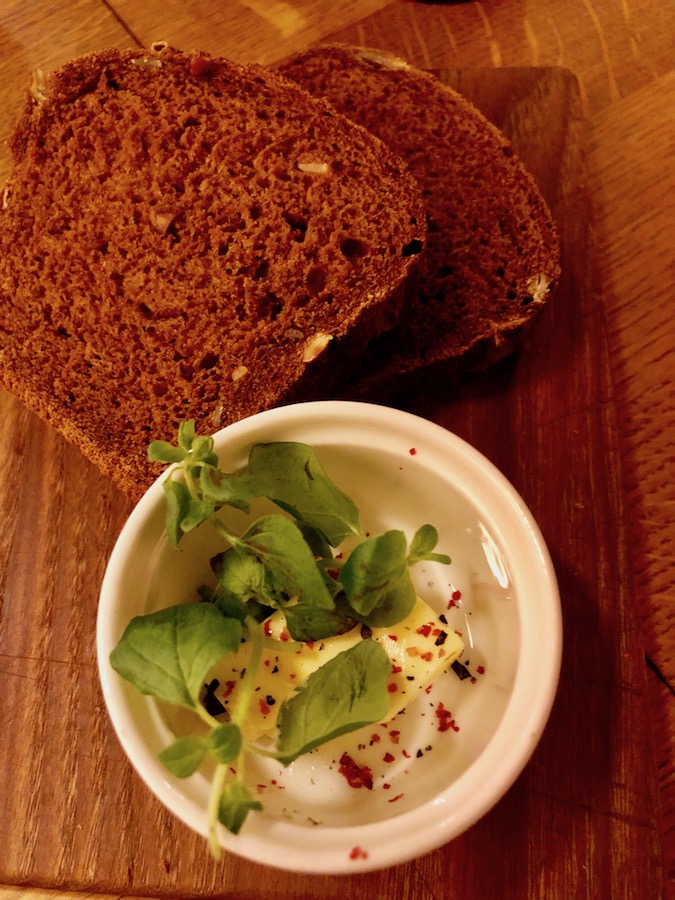 The menu was full of tasty options full of hearty autumn Nordic fare.  Although the slow-roasted duck tartare and beef tenderloin pate looked enticing, I chose the rustic tomato soup with white asparagus as my starter.  With a hint of jalapeño to spice things up, a drizzle of asparagus cream on top to cool things off, and toasted coriander and cumin seeds for a crunch, this was the best tomato soup I've ever had.  As hard as I tried to make it last, I was soon to the bottom of the bowl (the bowl itself was a really interesting vessel).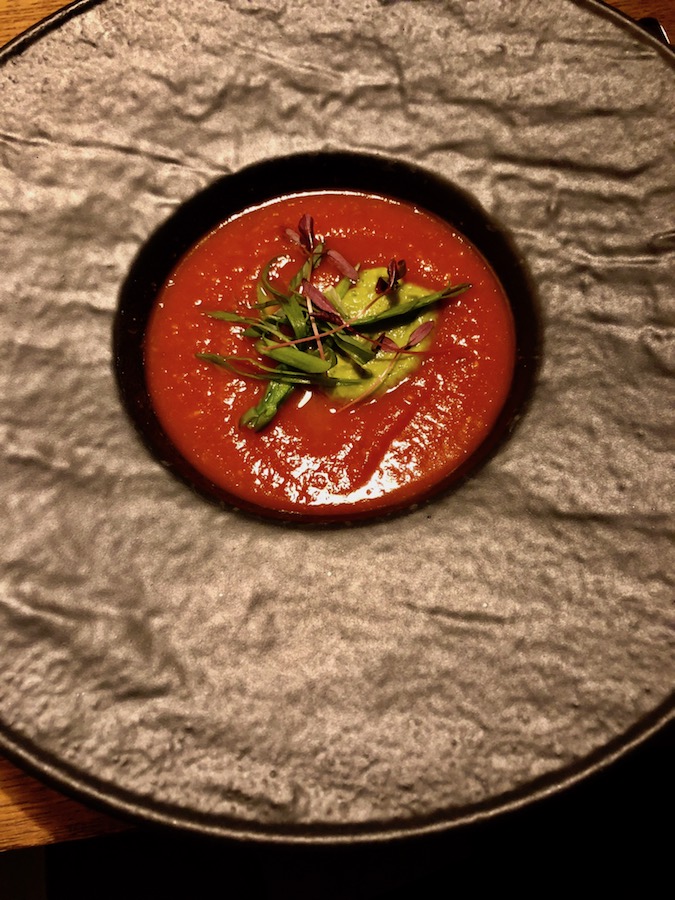 The selection of entrees held options for vegetarians and carnivores alike.  The local couple seated next to me expounded the virtues of the chicken breast in wine sauce, which they come to eat on a weekly basis, but I decided on the braised elk roast.  Not knocking the chicken, but I think I made the better choice. 
The dish was a feast for the eyes and my taste buds.  The elk came on a flourish of cauliflower cream, surrounded by a black currant reduction, topped with raw herbs and edible flowers, and accented with sea-buckthorn berries.  The roasted elk all but melted in my mouth and was punctuated with pops of sweetness from the reduction, bitterness from the herbs and flowers, and sourness of the berries.  With a little of each component, every forkful was a burst of flavor.  Had I not kept myself in check, I would have licked my plate clean.  I was a little sad when there was nothing left, but my tummy was happy.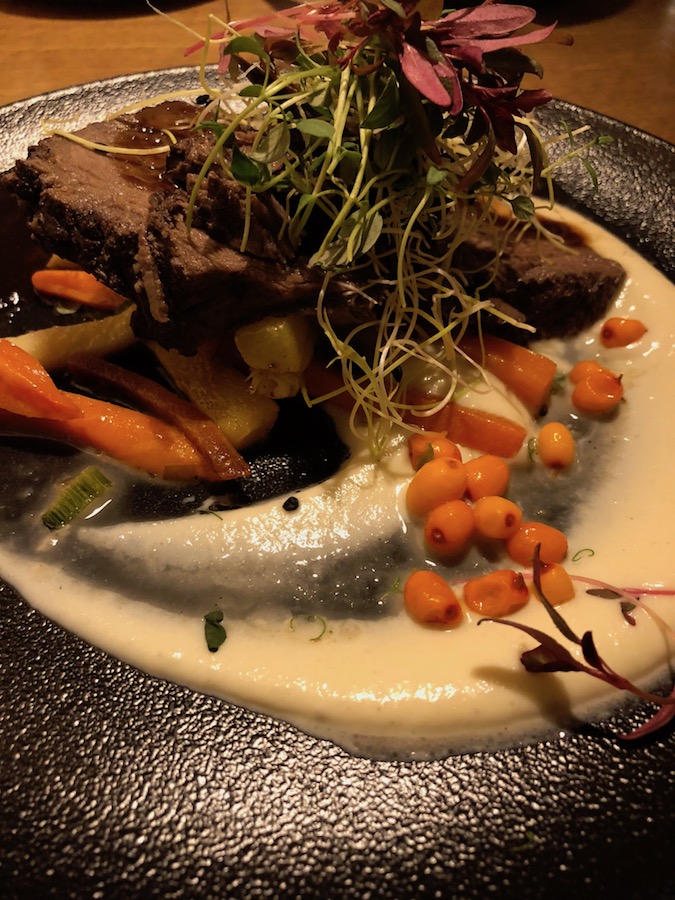 I thought about finishing the fabulous meal with dessert, but since I had indulged in two pieces of bread, I did not. As desserts came to tables around me, I thought twice, but held firm. The couple next to me didn't help as they urged me to try the sinfully delicious chocolate cake or the legendary bread pudding. I stood my ground. Maybe tomorrow night…
Darkness had fallen and the lights and outdoor heaters in the Square cast a magical glow as I walked back to the Telegraf. Such a pretty town day or night. Yet another place has captured a piece of my heart.