October 5, 2017
We found last night's restaurant transformed into a bustling breakfast room. Although there were only a handful of people wandering the hotel last night, this morning, breakfast was packed. What a breakfast spread it was. There were eggs done many ways, breakfast meats of any kind, any pastry you could imagine (including pigs in a blanket with a much more refined name), fruit, cereal (hot and cold), and several different Asian dishes. Since we are in Russia, there was also caviar – why not?! The hostess showed us to a quiet anti-room where we had a clear view of the busy main room, without the noise.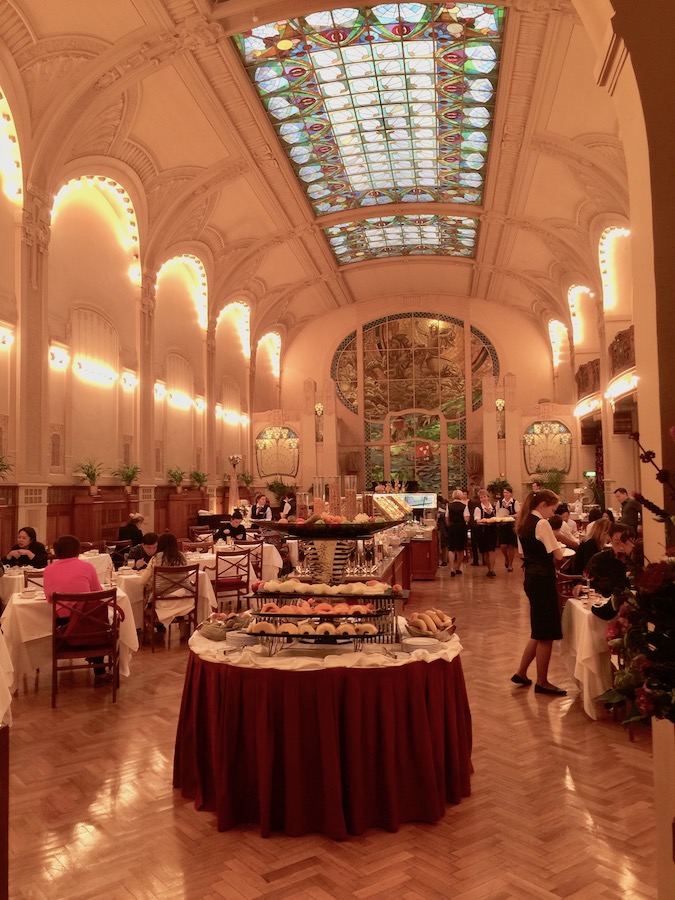 Our package also included several days of tours arranged by the hotel. I normally like to plan my own, but this was a simple (and efficient) was to make the best of our short time in St. Petersburg. We met our guide for the next few days at 10:00 a.m.
A tall, attractive woman, Irina, sported braids and was bundled up for the day's chilly, rainy weather. She is a former teacher and history devotee; she has definite political leanings and world views. Irina is also a fan of American television, particularly Big Bang Theory – we got along swimmingly.
The hotel's Mercedes whisked us off for the one hour drive to Peterhof Palace, on the outskirts of St. Petersburg. Along the way, Irina gave us the history of St. Petersburg's rise out of the swamp and how it was affected by the many wars and campaigns fought in the area.
She is passionate about her city – when asked if she was raised in St. Petersburg, she said, "No, I was raised in Leningrad." Hmm, I had to think about that one since, in my mind, they are the same. To her, the difference lies in the mindset and focus of the people of the time. Irina is interesting and has a wry sense of humor. Rod asked about the strangest questions foreigners have asked her. One of them involved Catherine the Great and her horses – I'll keep this PG-rated and tell you to Google it. Irina says there is no truth to the rumors.
As we made our way to Peterhof, we passed several summer homes built by the wealthy during the time of Peter the Great. Friends of Peter were given plots of land when they did something that pleased the Tsar. They built the homes to be close to the ruler in order to garner more favor. Some of these homes lie in ruin today, but some have been brought back to life. We stopped by the palace resurrected by President Putin, but only saw it from the road. No one lives in the palace; it is only used for ceremonies and special events, such as the G8 summit.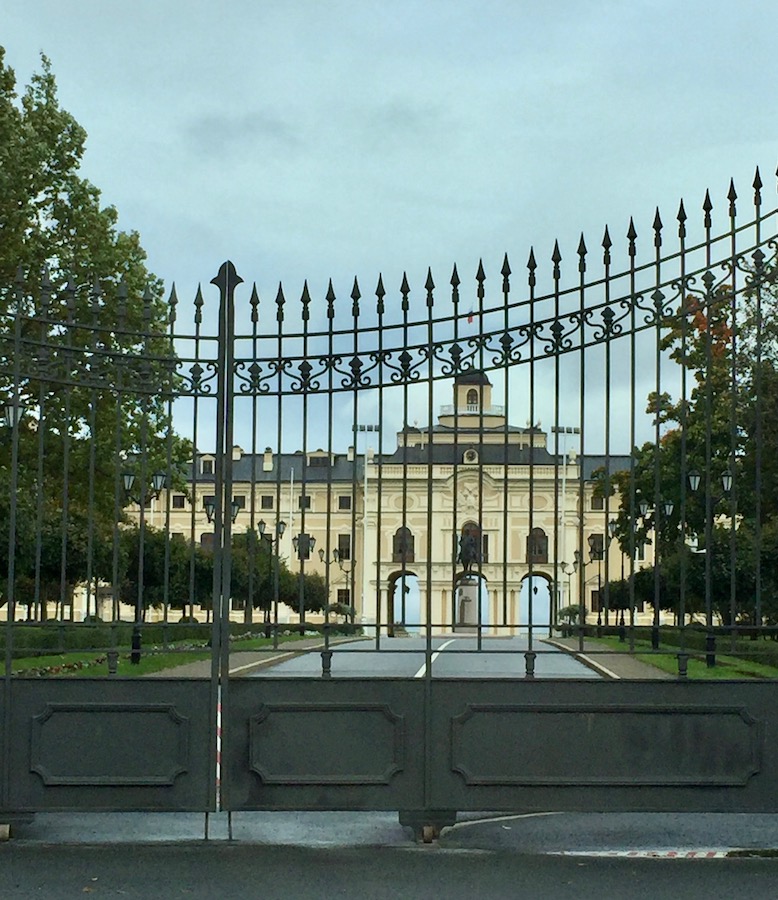 The interior of the Peterhof Palace is remarkable. It is extensively adorned (sometimes too extensively) in gold, crystal, silks, and huge paintings of family members and battles long since fought. No pictures are allowed inside. There was no way I was defying the orders of the individuals standing guard in each room for a picture taken on the sly.
As we walked through room after room more beautiful than the last, Irina regaled us with stories of love, deceit, murder, and tyranny. And, that was only within the royal family. We saw the different portions of the palace built by Peter, Anna, Elisabeth, Catherine I, Catherine the Great, and others, each with his/her own taste and influence. It was a fascinating and informative tour.
As wonderful as the palace was inside, it was the gardens that captivated us (and all who visit). Words can barely describe the beauty, even on an overcast and rainy day. An engineering marvel, the gardens contain 144+ fountains, each of which is powered only by gravity – no pumps or electricity.
We were among a select few allowed to go "underground" into the grottos to see the intricate web of pipes feeding the fountains.
The pipes were originally made of hollowed oak trees. Today, they've been replaced with steel and cast iron. An interesting fact is that many children's lives were lost in the 18th and 19th centuries because they were lowered into the pipe system to clean them – what a horrible way to die.
Our backstage pass was the envy of quite a few of the other visitors because while they were only allowed to see the main waterfall feature from the front or sides, we stood in it to take photographs. I'm sure we will be in quite a few vacation photos of visitors from around the world.
I wanted to stay for hours wandering the gardens, but our tour was all too soon over. Our route back to the hotel included a drive-by of the metro station recently in the news for being bombed. All looks normal after such a tragedy.
After a short respite in our room, Rod and I set off to find the local market to buy bottled water and snacks. When traveling, one of the things Steven (husband) and I like to do is visit a local grocery store. You can tell a lot about people by what they buy and the food they eat.
Not too far from the hotel, we found a huge complex of interconnected stores. It almost reminded me of an indoor souk – independent store after independent store selling all kinds of items, but all under one roof. There was a honey store, next to a toy store, next to a home goods store, next to a shoe store, … It was fun to window shop, just don't touch anything. Point to the item you want to see and it will be shown to you. Touch it and you'll be barked at in brusk Russian.

After our foray in the "mall," we found the grocery store and wandered the aisles. There were so many familiar products, but with a twist. At home, we only have a few brands/types of ketchup. Here, I lost count at 20 kinds of ketchup, all in squeeze packages. I wasn't aware the Russians like ketchup so much. We found the snack section and proceeded to pick some chips based o the pictures on the front of the packages. Since we don't read Cyrillic, I think we bought sour cream and onion and, possibly, sour cream and dill. We won't be sure until we taste them.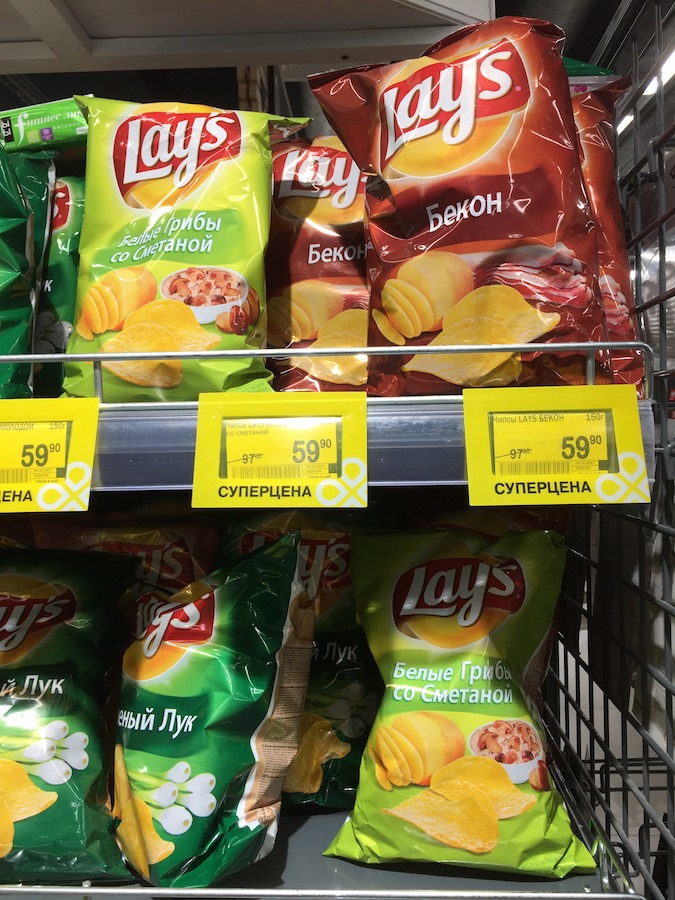 On our way back to the hotel, the skies opened up and a deluge turned us into wet kittens. We dried off from the sudden downpour and got ready for dinner.
Before leaving, we ventured up to a "pop-up" shop on the top floor of the hotel. It was fashion week in St. Petersburg, and the shop was supposed to have all types of clothes and shoes to appeal to all tastes. It should have dawned on me that fashion week meant size 0 only. Our first clue should have been the two tall, beautiful, trendy millennials that got on the elevator with us. The second clue was the ear-piercing, bass thumping techno-music that hit us as the elevator doors opened. Young, tall, and beautiful hipsters were everywhere, draped over furniture, standing in small groups, or taking selfies. We walked about 20 steps, looked around and then at each other, and left. When did we get so old and uncool?!
We decided to walk the 25 minutes to the restaurant since the rain had stopped. The beauty of St. Petersburg at night unfolded before us as we traversed main and side streets, and crossed over canals. Reflections in the waterways and the puddles made by the previous storm were captivating.
It is no secret that I love food and finding great restaurants. Compared to Rod, however, I am an amateur foodie – he far surpasses me in that department. I had teased Rod about all the research he did for dinner possibilities and that he had pre-reserved almost all of our evening meals at Michelin star and/or Michelin quality restaurants. I have to now eat my words and thank Rod for his preparation. If tonight's meal is indicative of those to follow, wowza!
Arriving at EM Restaurant, we found the door locked. We didn't wait long before the host appeared to check that we had reservations and then let us in. Apparently, they don't just let anyone in for dinner – which is a good thing. It was like dining in someone's home. The room was open so we could watch the chefs in the immaculate kitchen prepare dinner. How the two chefs kept the kitchen so clean as they cooked is beyond me.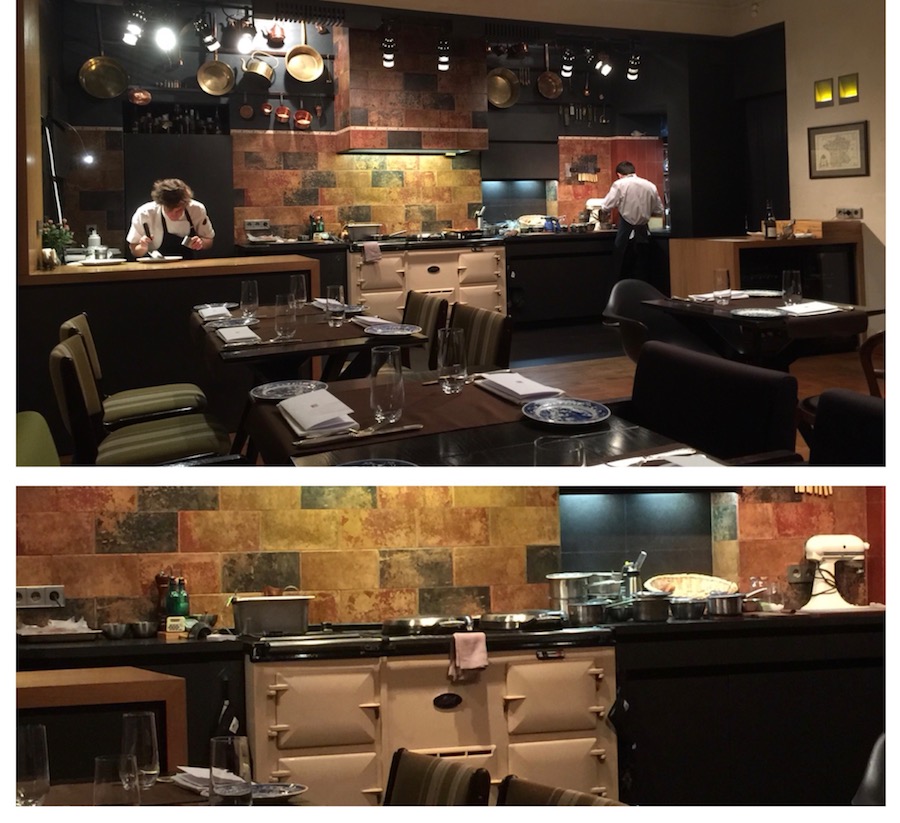 The menu was prix fix. We were delighted with seven courses, each as spectacular as the last. (Except for the consomme, which neither of us enjoyed). Before the decadence began, we were offered a board with two types of freshly made bread (one was coffee, apple, and pink pepper – so earthy and divine), fresh butter, and spinach salt. Rod adored the salt so much that he took a bottle home as a souvenir.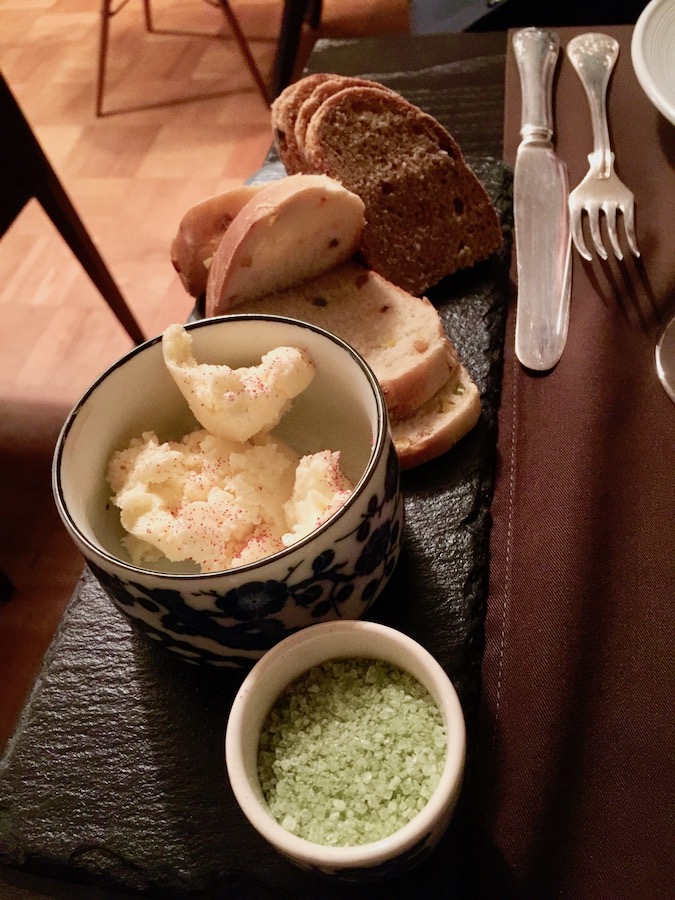 Then the meal began. Words cannot describe the delicious smells and tastes. I'll let photos do the talking.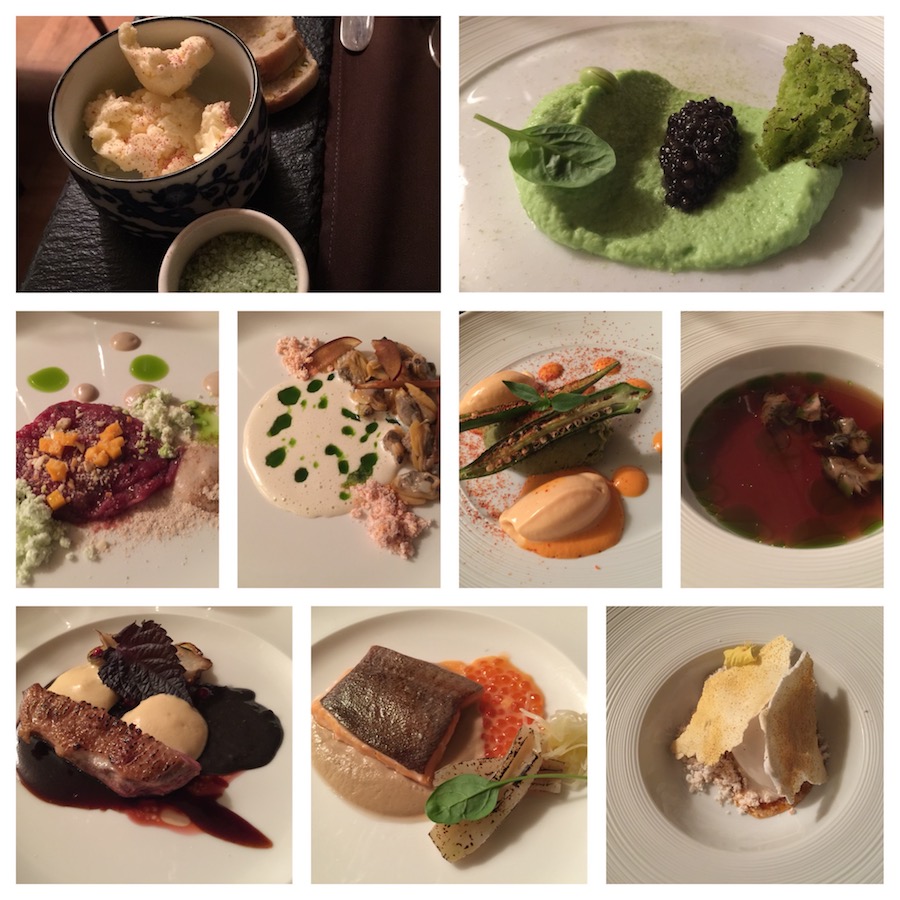 Course I – black caviar and spinach brioche with edamame cream
Course II – venison, shiitake, and smoked cashew with salvia oil
Course III – vongole (pasta) and plum with cilantro oil and ponzu sauce
Course IV – okra and mung bean pate with chili pepper ice cream
Course V – ceps consomme with oysters
Course VI – trout and topinambours (sunchokes) with sunflower seed cream or duck breast with white mushrooms and fois gras sauce (we shared)
Course VII – cedar ice cream with spruce caramel and meringue with pine pollen
The chef designed the menu with each course, evoking a particular flavor palate or sense. For example, the dessert centered on flavors of the forest (happy my tree allergies were not affected).
It was a dinner for all the senses ~ beautiful to look at and full of flavor. As Rod said, "It was like eating art."