October 5, 2017
We landed in St. Petersburg under a low ceiling of clouds and drizzle. Passport control was extremely efficient, non-obtrusive (only a question of where we'd come from), and quick. Rod's bag was one of the first ones onto the carousel. We were into the main reception area of the airport within minutes of getting off the plane.
I had pre-arranged a transfer to the hotel, so our driver was waiting with a comfortable Mercedes and some cold water. A 30-minute drive through streets lined with Cold War-era buildings and lovely European influenced architecture brought us to the Belmond Grand Hotel Europe. Although distinguished on the outside, the interior is lovely with understated elegance – beautiful, but not over the top. Neither of us had heard of the Belmond collection of hotels before this trip, but if this hotel is representative of the chain, we are lifelong fans.
We were offered a cold beverage as soon as we reached the reception desk. After checking in, we were escorted to our upgraded room – a spacious, elegant suite.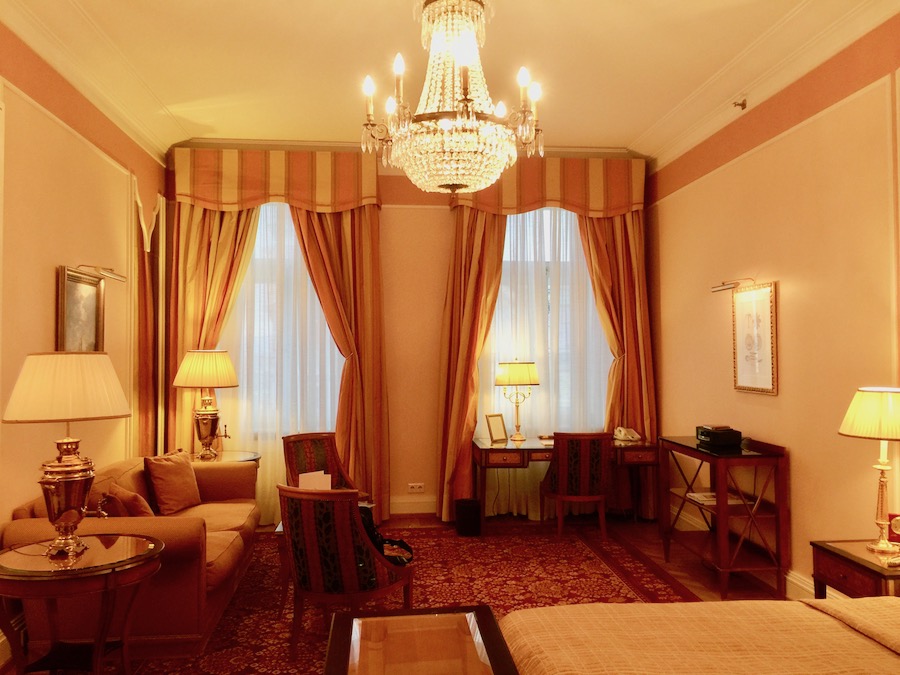 We agreed to go out and explore … after a short nap. Best laid plans – three hours later, we awoke just in time for a quick shower before dinner. Oh well, I guess we needed the sleep.
Our hotel package came with dinner in one of two of the hotel's restaurants. We were glad that we'd chosen to dine at L'Europe so that we didn't have to travel far (only two floors) for dinner. The restaurant looks like it could have been a ballroom or a theater in a past life, with floor to ceiling stained glass at one end.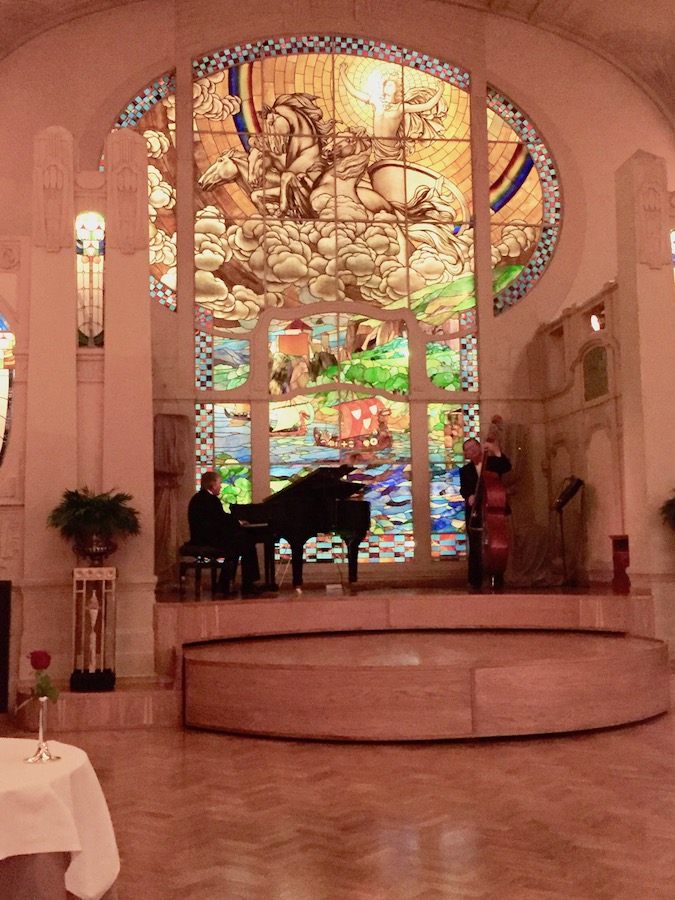 A pianist and bass player entertained with a variety of American jazz and rat pack era classics. The service was superb – never an empty water glass, and new cutlery for every course. If you got up from the table for any reason, you received a fresh napkin – no refolding of used linen here. Our special menu offered us a choice of two appetizers, two entrees and a dessert. Since there are two of us, we decided to order one of each and share – good decision.
Our meal started with an amuse bouche of warm sweet potato soup. It was so light and creamy, with just enough sweetness to make it interesting. It was a foreshadowing of the meal to come.
Rod's appetizer was country style blinis filled with pan-fried cabbage and minced beef served with whipped sour cream. Hearty in flavor, but perfectly complemented by the tangy sour cream – delicious. I chose the traditional borsch (Moscow style – not sure the difference) with sliced beef and smoked sausage. I like beets, but this soup was transformative – so sweet, but so substantial at the same time. A dollop of sour cream on top added a nice creamy texture. Yum.
In advance of our main courses, we were offered a palate cleanser of melon sorbet. Rod promises he is going to figure out how to make this at home. So refreshing and light, it definitely cleansed our palates, which was good because it set the stage for our entree course.
Rod ordered the coulibiac of salmon and perch in a white wine-dill sauce; I had the chicken cutlet, Pozharsky style. The fish, done en croute, was tender and flaky, the fattiness of the salmon playing off of the leanness of the perch. The white wine-dill sauce was "lick it off the plate" delicious and perfectly complimented the bundle of lusciousness that was the coulibiac. Not sure what made the chicken "Pozharsky style," but it was patties of minced chicken coated in croutons (not bread crumbs) and then pan-fried. I will never look at croutons the same because these were never meant to be in a salad – their sole purpose in life was always to be used to coat the outside of the chicken. Served over whipped potatoes and topped with a creamy caper sauce, I would eat these every day for weeks at a time.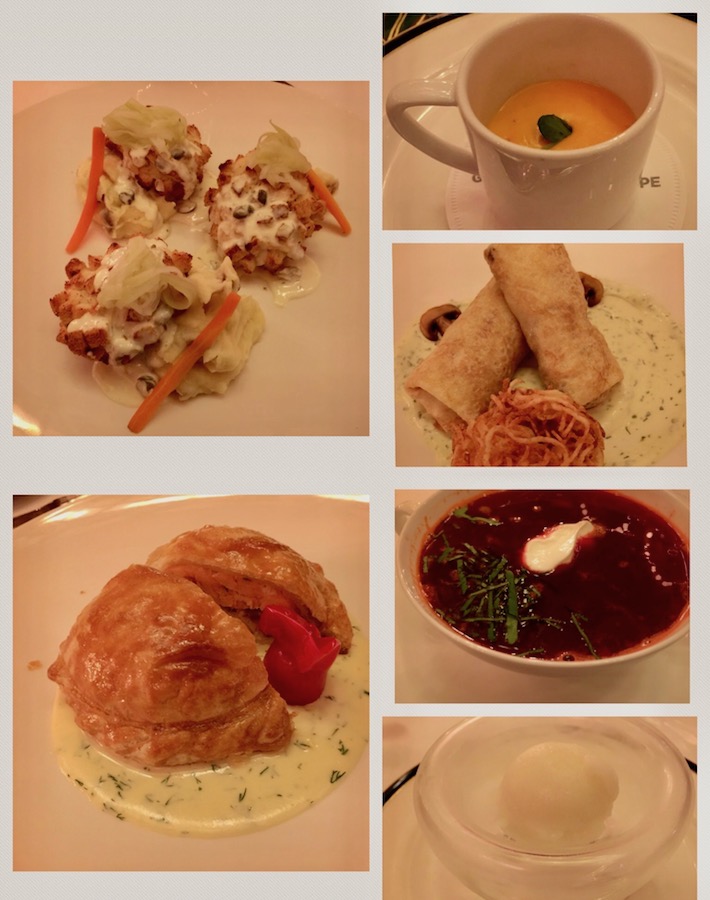 The crowning glory of the meal, however, was dessert – "Anna Pavlova" cake, described on the menu as "A meringue cloud with strawberry and vanilla sauce." I have a very fond childhood memory of eating my first pavlova; I hoped that this version would not tarnish that memory. Nothing could be further from the truth – this dessert was a feast for the eyes as well as the taste buds. What's not to love – meringue, strawberries, vanilla cream, delicate swirls of chocolate sauce, and almond crumble (not typical of pavlova).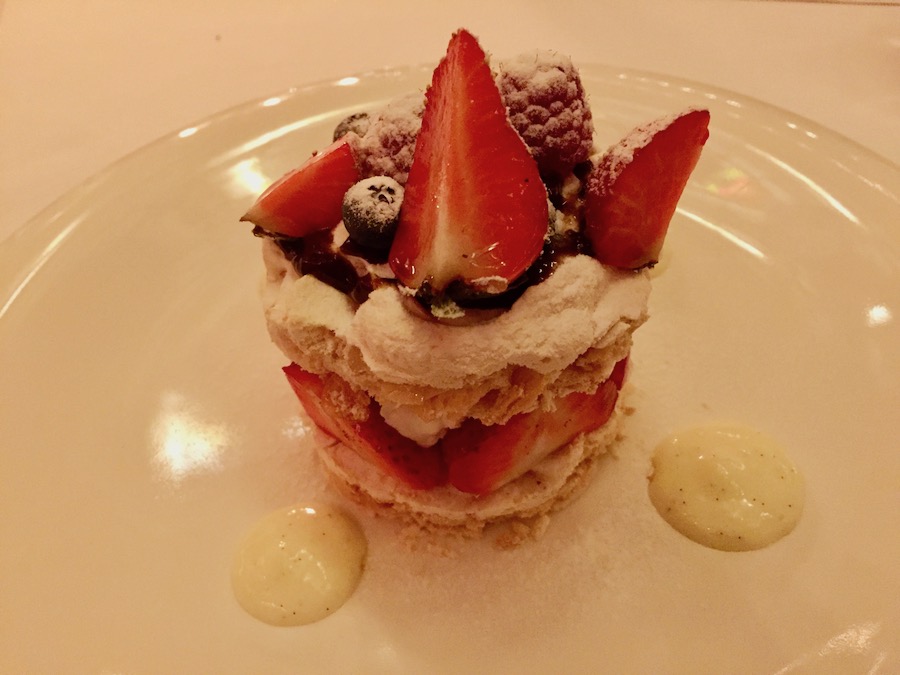 Perhaps one of the finest desserts I have ever had the pleasure of devouring. I chose not to lick the plate, but I did discretely scraped every morsel off with my fork.
An assortment of house-made truffles accompanied our after dinner tea, but we were too full. (We have some in the room compliments of the hotel management, along with two mini bottles of vodka set inside Russian nesting dolls.)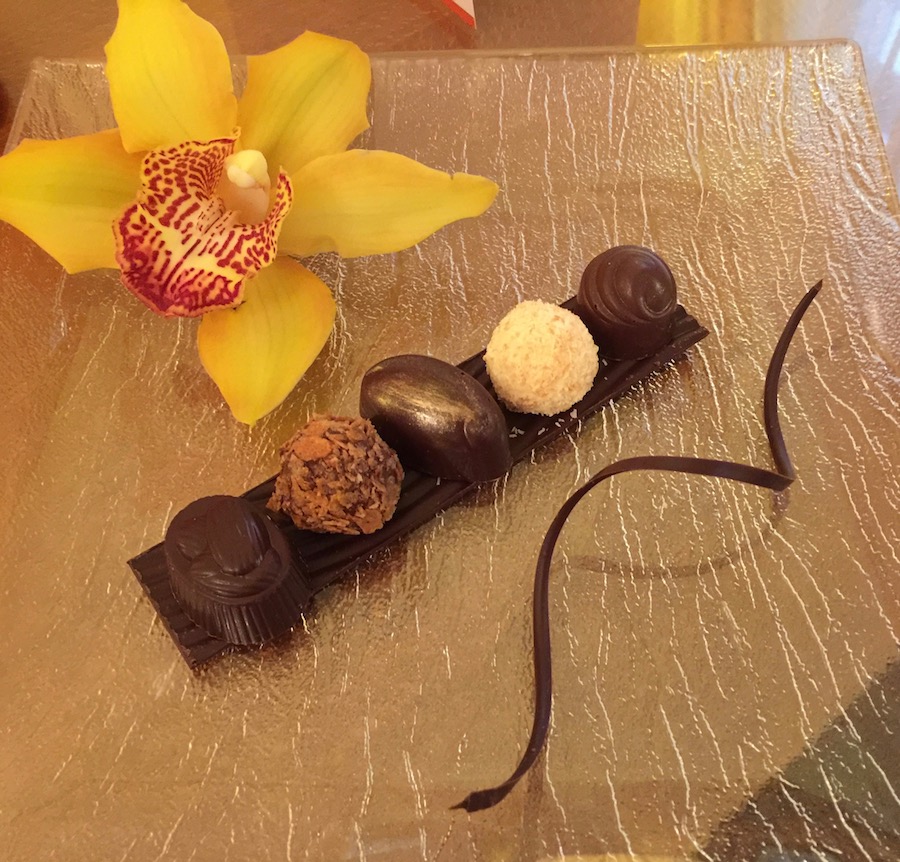 If this meal is a precursor of meals to come, we will need to walk all day, every day to work off the calories. As a matter of fact, I think I will go out and walk an extra mile now.