October 21, 2017
Neither Rod nor Sindy had ever been to Versailles, so we early on to devote most of a day at the palace. Researching the best way to avoid the inevitable lines at Versailles, I came across a tour of the apartments of Louis XV and Louis XVI, which allowed us to get in through a different portal, and with a much shorter security line. For an extra seven euros each, it was an easy (and great) choice.
The tour was informative, giving us an insight into the lives of kings. It seems that when each king came to power, he liked to destroy things that the prior king had built ~ even if they were related to each other. Accordingly, bedrooms were dismantled and established elsewhere in the palace only to be dismantled and moved back again with the new reign. The same was true of chapels in the palace. There were at least four chapels built with the palace walls, but only one remains. Crazy to think that they built gorgeous structures only to have someone tear them down because they were "old."
Versailles is beautiful, if not over the top. There's gold inside, gold outside, gold on the furniture – gold is everywhere! The decor is not my taste, but I can appreciate its beauty.
We were lucky not to have too many people on our tour, but when it was over, we were let out into the "masses." I'm so glad it wasn't high season as I've been told tourists can be shoulder-to-shoulder in the hall of mirrors. As it was, there were too many people taking selfies. If you're a friend of mine on Facebook, you already know what I think of selfies and selfie-sticks. But, it was also the tourists with no sense of personal space and boundaries that got to me. As the day went on, we were no longer polite by standing aside while others took their numerous photos and selfies. Instead, we just walked through. I'm sure we "photo-bombed" several vacation selfies.
The Hall of Mirrors is something to see. So many mirrors bouncing the light from the chandeliers and windows – spectacular.
After we finished inside, we went out to walk the immense grounds.
Some of the dancing water fountains were supposed to be playing, so we went off in search of them. Of course, while we were out, it started to rain – yay! We walked and walked, but we only saw about 1/10th of the grounds. We made it down to the Neptune fountain before turning back. Sindy and decided we might go back to do more of the grounds later in the week.
Rod was in the mood for French Onion Soup, so we googled restaurants and went off in search of Le Boeuf a la Mode. Onion soup for Rod and Sindy, charcuterie for me, and we all split a "French Hamburger." It was actually pretty good. The crowning glory of the meal, however, was profiteroles, which we drenched in molten chocolate. Oh, yes we did!
On our way back to the apartment, we attempted to locate a chocolate shop Rod had been to many years ago, which he referred to as the "super bowl of chocolate." He recalled they made all sorts of objects from chocolate (i.e., high heel shoes, Eiffel Towers, etc.), lots of chocolate pastries and desserts, and out of this world hot chocolate. Our Uber driver dropped us off at the Jean Paul Hevin store near Place Vendome, but it was a tiny shop and not the one Rod remembered. Not that it didn't have chocolate and macarons to purchase, it did – and, we did.
A few purchases made, we started walking back to the apartment and stumbled across another high end shopping area, so we did a little window snooping. We also came across a couple of well-guarded buildings, a few of which were embassies, but we aren't sure why the others had so many guards with machine guns.
Rod's selection for his final meal in Paris was one of Eater's top 35 places to eat in Paris – Grand Coeur. We dawdled a bit getting to dinner because our reservations were for 8:30 p.m., except they weren't
When we arrived at the restaurant, the maitre'd informed us that our table inside the restaurant had been given away when we didn't show up at 7:30 p.m. However, he continued, we were welcome to sit outside under the awning. It had started to rain again and it was cold. There was a little heater – we took the outside table. Boy, are we glad we did.
Our waitress was outstanding and had a recommendation each time we asked. For starters, Sindy had the pumpkin veloute with scallops – basically a silky, smooth pumpkin soup full of flavor that was a velvety cushion for several melt in your mouth scallops. Rod started with the foie gras ravioli, which was very special, delicious, and "one of the best starters on the trip." I had the moules au gratin with saffron, which was awesome. The preparation of the mussels was so unique and didn't even taste like mussels; the saffron added an interesting dimension.
For mains, Sindy had red tuna, and both Rod and I had the lamb shoulder. The main dishes were solid but fell a bit flat only because the starters were all spectacular. For dessert, we shared a creme caramel. While I'm not much of a creme brûlée/flan type of person, this creme caramel was smooth, sweet, and hit the spot.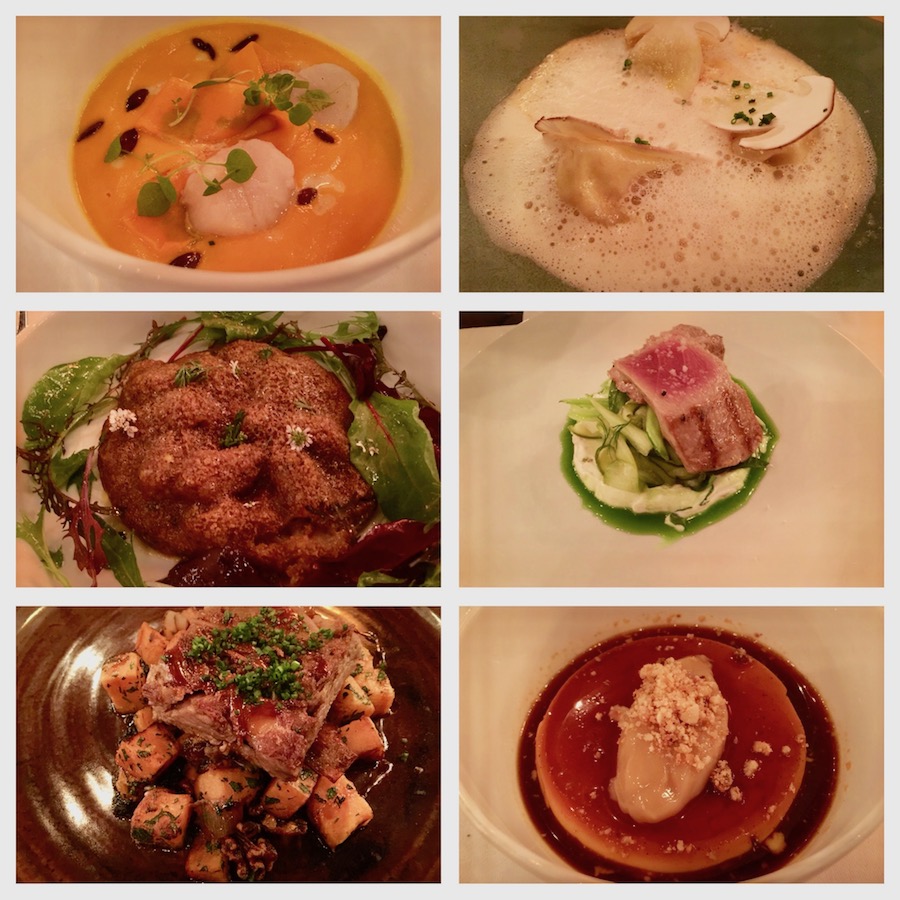 It was a nice way to end our gourmand tour. We will miss Rod and his fine dining selections.