October 19, 2017
Rod dashed down the street to the local patisserie to get a couple of croissants for breakfast so we could head out early. We were off to meet a group to shop in a local farmer's market and then cook what we bought.
We met Sean, one of the employees of La Cuisine Paris, at the designated spot. Sean is Australian and moved to Paris 4 years ago and, I guess, just forgot to go home. We also met Lise, our chef for the day, who is a native Parisian but has a mother from Pacific Palisades. She began her cooking career at age 15 and has worked in a family butcher shop, a cheese shop, and several restaurants. Our group consisted of 3 other individuals: Dave, a retired gentleman from Ohio who loves to cook and travel, but his wife likes neither; Ryan, a twenty-something tech guy from Orange County who loves to cook, but his girlfriend would rather be at the spa; and Lisa, just turned 55 also from Ohio who was traveling with a small group of women and was on her free day. With Rod and me, we were an intimate group of 5 food-loving individuals.
We only had to walk across the street to get to the outdoor market. Sellers of fresh fruit and vegetables of all colors and flavors, cheese vendors, a butcher, a fishmonger, and bakers all coexisted in one tiny plaza. The sights and sounds were fabulous.
I truly believe that fruit and vegetables taste better here because there are no pesticides used and GMO is no in their vocabulary. We learned the vendors go to a commercial market open from 11 p.m. to 6 a.m. every day to pick up their produce for the market. If something doesn't look good, they don't buy it. Apparently, none of the herbs looked good because none of the vendors had any to sell. Chef Lise was not pleased.
Lise and Sean toured us through the market letting us know what was in season, which proteins would pair well with different vegetables and fruit, and making suggestions on possible recipes.
It was up to the group to decide on the menu based on what we experienced in the market. We chose scallops and mussels as the appetizer paired with white wine, cream, shallots, leeks, and, of course, butter, and herbs. Our main course would be a pork tenderloin wrapped in speck (think ham) with figs, and a honey, bourbon and shallot glaze accompanied by a white bean and carrot goulash. The cheese course would include a variety of cheese (one wrapped in dough leftover from dessert) and fresh figs. Dessert would be a yummy almond and pear tart.
Lise taught us basic knife skills and everything we needed to know to successfully pull off the meal including making pastry dough, all the sauces, and the sides to accompany our proteins.
My big accomplishments, besides cutting a lot of vegetables and figs, were to whisk all the ingredients for the tart filling – and whisk I did until I thought my arm would fall off, make the leek ragout, and stir the mussels so that the cream sauce infused into each of them. Lise also taught us how to open and clean scallops. It was labor intensive, but the results were succulent.
In the end, we ate what we prepared. The entire meal was fabulous. I had so much fun during the cooking class, more fun that I thought I would. Thank you, Rod, for making the arrangements.
At the end of the class, Lise told us about E. Dehillerin, Julia Child's favorite cooking store, which offered students a discount. Four of the five of our group (Dave didn't come) decided to take a stroll to the store. It had such an incredible array of cooking utensils and vessels – some of the largest pots, pans, and whisks I've ever seen. We didn't buy anything, but Rod has his eye on a large lasagna pan and has already downloaded the catalog.
Outside the store, we bid farewell to Ryan who was meeting his girlfriend for their last afternoon in Paris before heading to Florence, Italy. Lisa asked if we wanted to join her on a trip to the Musee D'Orsay. Of course, I said yes. Rod wasn't as excited.
The women won out and off we went to the D'Orsay, one of the most beautiful museums I've visited in the recent past. The collections of Greek and Roman statues were stunning, and I was over the moon about the collection of Impressionist and Post-Impressionist paintings. When I can get an abundance of works by Monet, Cezanne, Renoir, Van Gogh, Degas, and others in one place, I am a very happy girl! Words fail how awesome it was to see works of art so close you could touch them. Except, of course, for the pesky alarms that would likely sound if you got too close.
I could have stayed in the museum for hours and hours. We tapped out, however, after two hours so I didn't burn through too much of Rod's patience. He was already making an exception to his one museum per city rule. At the very end, we walked out on the D'Orsay's roof terrace to look out over Paris – stunning view.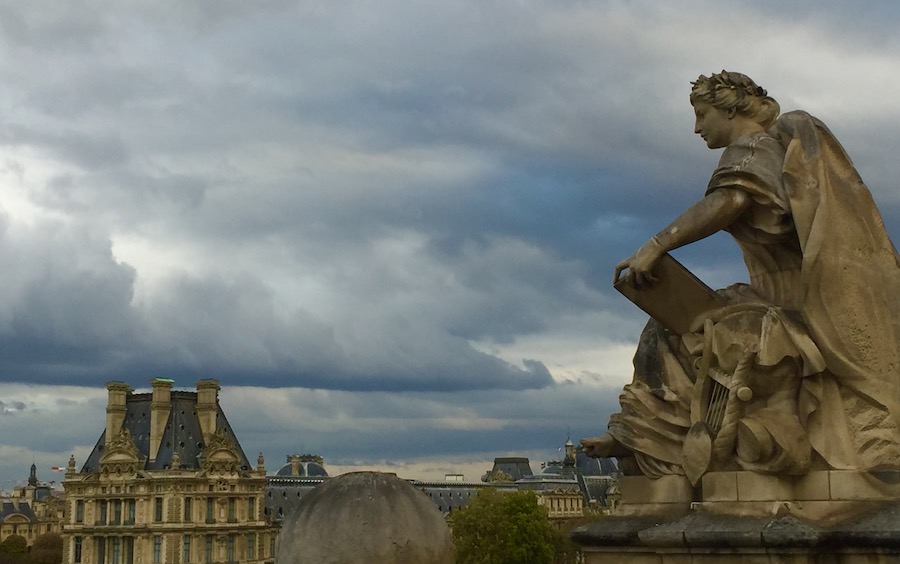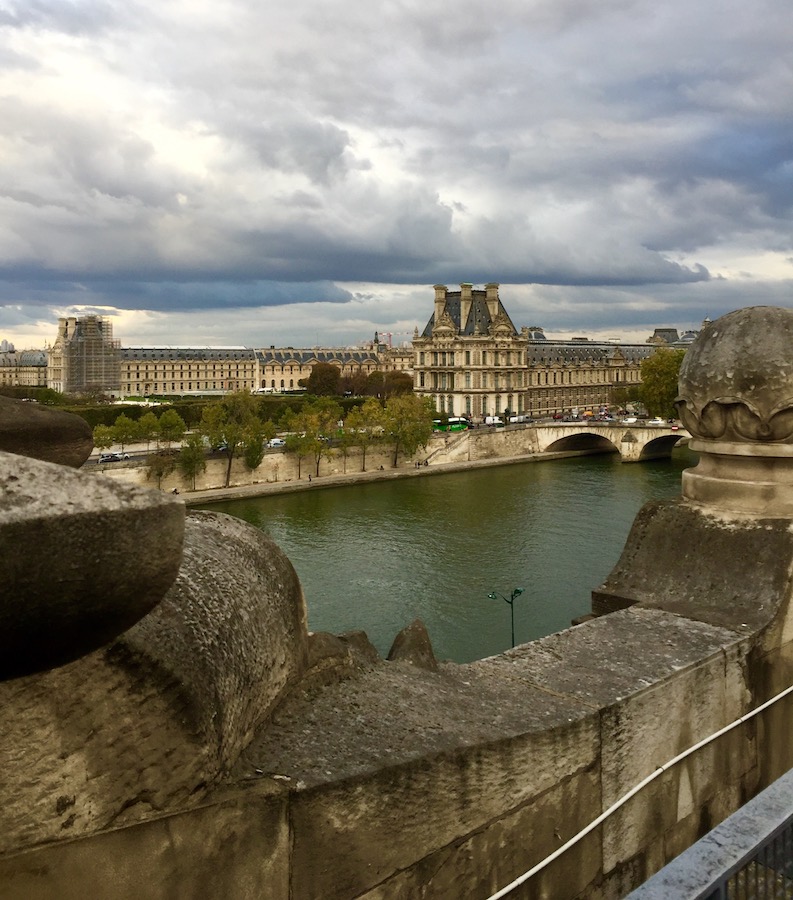 We bid farewell to Lisa, who was off to buy another suitcase to carry her purchases from her trip to France. She leaves tomorrow. We had a little downtime to rest our aching feet before going off to dinner. Since we had such a huge lunch, I didn't think going out to dinner was such a good idea. However, with what came next, it was a really, really good idea.
Rod loves to research restaurants and was in charge of finding all the amazing places we've eaten on this trip.  Our restaurant tonight was simply called ES.  On a very unassuming street, right around the corner from the French president's in-town residence (lots of security), you would never suspect that a culinary treasure lay beyond a simple storefront. 
Entering the front door, we walked through heavy drapes covering the entrance and into a bright, minimally decorated but elegant space with tables for 20 people. It felt spacious, so unlike the meal last night.
The two young chefs are Japanese and use their heritage, fusing it with French cooking. Simple, yet complex dishes are presented one by one in a 10-course prix fixe meal (actually 11 courses if you count the mini-dessert amuse bouche at the end of the meal). When the dish comes to your table, the waiter or chef explains what it is and you choose to eat it or not. In the beginning, the wait staff advised we should let them know if we wanted to slow down, or speed up, the courses and whether we were getting full – nice touch. The meal was well-paced, but I did tell them to cut the portion size down about halfway through.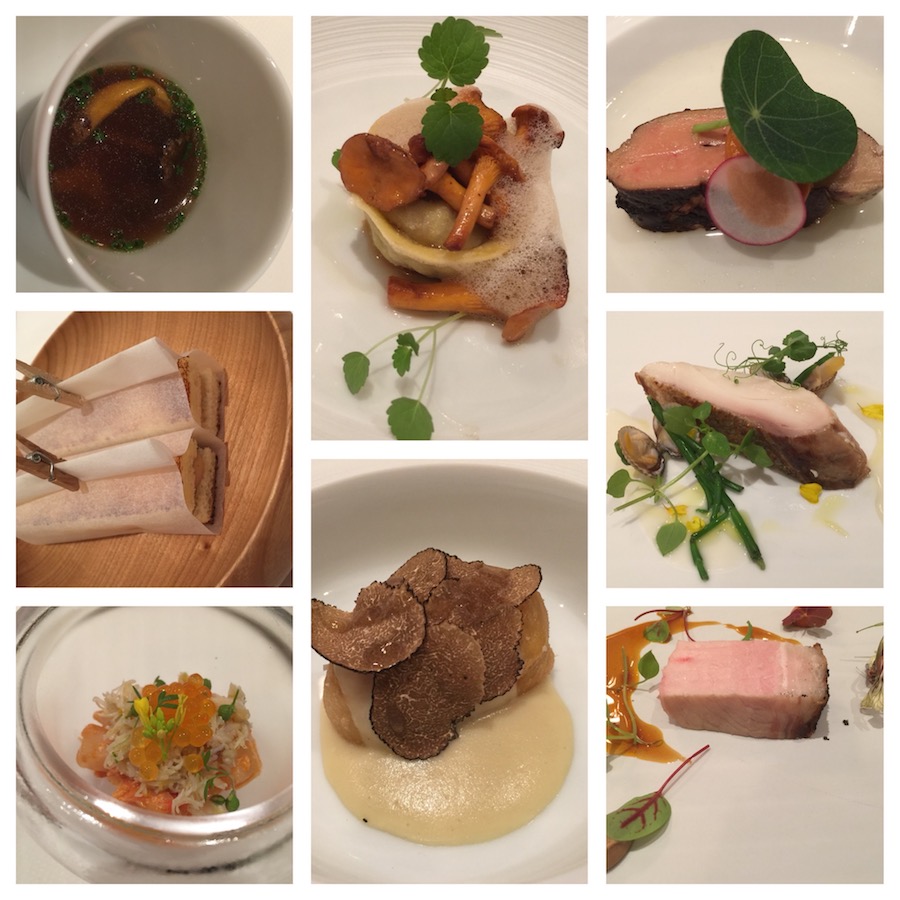 Course 1/amuse bouche: consommé of mushrooms and a brioche sandwich of duck liver pate ~ the consommé had a hearty flavor to it, but was so incredibly clear; the mushrooms were cooked just enough to bring out their character but retained their integrity.
Course 2: mushroom ravioli with a medley of mushrooms and a mushroom emulsion ~ probably one of the best ravioli bites I've ever had; luckily I cut it into pieces, so I got to enjoy it a little longer.
Course 3: Lobster, crab, and scallop with Japanese peppers and a dollop of caviar ~ even with the caviar and the crab, the dish wasn't overly salty, but did lack a little spice. Nonetheless, it was fresh, light, and delicious.
Course 4: sweetbreads lightly deep fried with onion cream and truffles ~ yes, I know what sweetbreads are, and no, I don't care because this was a highlight of the meal. The sweetbreads were creamy and flavorful without being too brash, and the truffles added an earthiness. Rod said we could stop the meal here and replay it a couple of times. I agreed. At this point, I also told the wait staff to start making my portions smaller.
Course 5: foie gras with sea urchin cream and consommé of turnip ~ probably a combination that I wouldn't have dreamed up, but it worked. Each element was good on its own, but each flavor complemented the next and was a perfect little bite when eaten together.
Course 6: sea bream with sea beans ~ this wasn't my favorite – although the fish was cooked perfectly, the entire dish was salty, which can be blamed on the sea beans.
Course 7: pork with chorizo sauce, red pepper cream, and nut cream ~ contrary to last night's pork dish, this was lean with just the right amount of fat on the end cap. A delightful piece of meat cooked to perfection.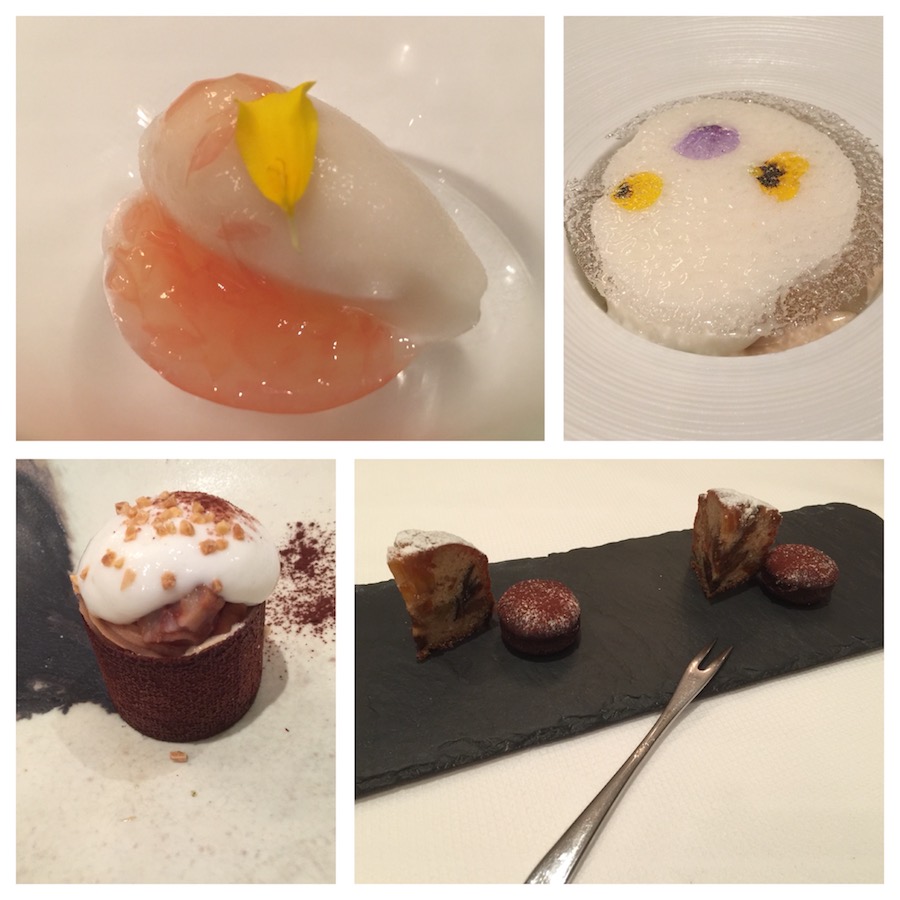 Dessert 1: sorbet of lychee with grapefruit emulsion ~ this was light, not too sweet, and very flavorful; a wonderful palate cleanser.
Dessert 2: pear with Darjeeling tea ice cream, cognac sauce and a crystal sugar cover ~ a man at another table didn't seem to enjoy this dish based on his spitting it out on his plate in plain sight of the rest of the diners. Apparently, he has no taste (which based on his total lack of table manners was probably a given) because this dessert was creamy and the flavors were comforting and subtle, with the extra surprise of the crispy sugar disc on top.
Dessert 3: not sure what to call this dessert, but it had a thin chocolate outer layer to contain the mixture of hazelnuts, coffee, flaky crust, and almond ice cream with a Japanese whiskey sauce on top. I'm not a huge fan of the dark chocolate/coffee combination (I know, I'm a little weird), but this dessert worked and was not too filling.
Dessert 4/amuse bouche: a small chocolate terrine and a sliver of fruitcake ~ the terrine was incredibly dark, so I only tasted a morsel – it was too rich for my taste; the fruitcake was pretty good, but not the best I've had.
Had the dinner stopped after Dessert 3 and the fish wasn't overly salty, this would have been one of the best and most perfectly prepared meals I've ever had.  Despite the 10/11 courses, we weren't overly full, which was a blessing.  ES was a splurge well worth taking, and an awesome finish to the prix fixe portion of our gourmand tour.