October 18, 2017
Our stay in Destelbergen was wonderful and all too soon, it was time to say goodbye to our hosts.
At the Ghent train station, Rod and I grabbed the next train to Brussels and were on our way on our next adventure. We took 2nd class, so the space was a little tighter particularly since Rod's suitcase was a little bigger. The nice people on the other side of the aisle offered to store his bag in their section. They had been on a lovely holiday in Brugge and were returning to their home in the Cotswolds, connecting to the Eurostar in Brussels.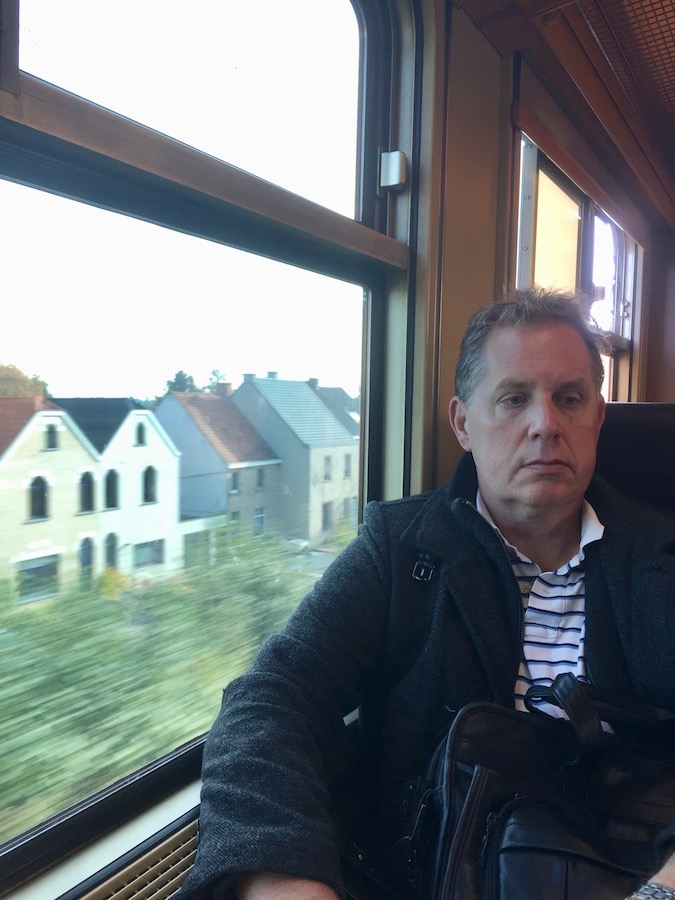 Brussels Midi station is big, but well-organized. It has quite a selection of shops and restaurants to pick from. We had slightly under two hours to pass at the station, so we found a corner in the food court to stack our stuff and ordered from Bernie's Burgers. The burgers weren't too bad and they were paired with our last order of Belgian frites, so what could be better?!
The train ride from Brussels to Paris was uneventful for us. The compartments were packed; I was glad we reserved seats well in advance in 2nd class. There were many people without seat assignments or seats. The conductor even handed out refund forms to some people because, even though they had reserved tickets, there were no seats. At one point, the police came into the cabin and walked up and down the aisle looking at people. They stopped in our aisle and questioned the young lady across from us. She had to produce her passport and travel documents. They even took her baggage, inspecting it in the aisle. Not sure what made her stand out, but I was glad they just looked at us and kept walking.
We finally arrived at Gare Nord Station in Paris – j'adore Paris! I immediately started texting the woman who was meeting us at the AirBnB we rented, advising her of our imminent arrival … and then we stood in the taxi line for 30 minutes.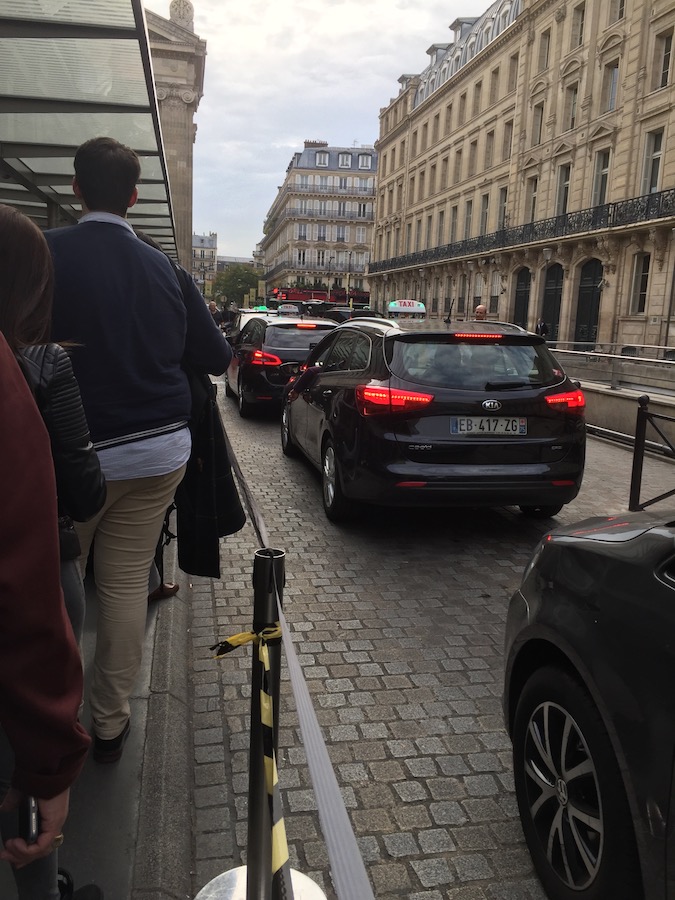 Finally, we were in a taxi and speeding along the streets of Paris to our new home for the next several days. It was so exciting to see our first glimpse of the trip of the Eiffel Tower, the Place de Concorde, and the Arc de Triomphe.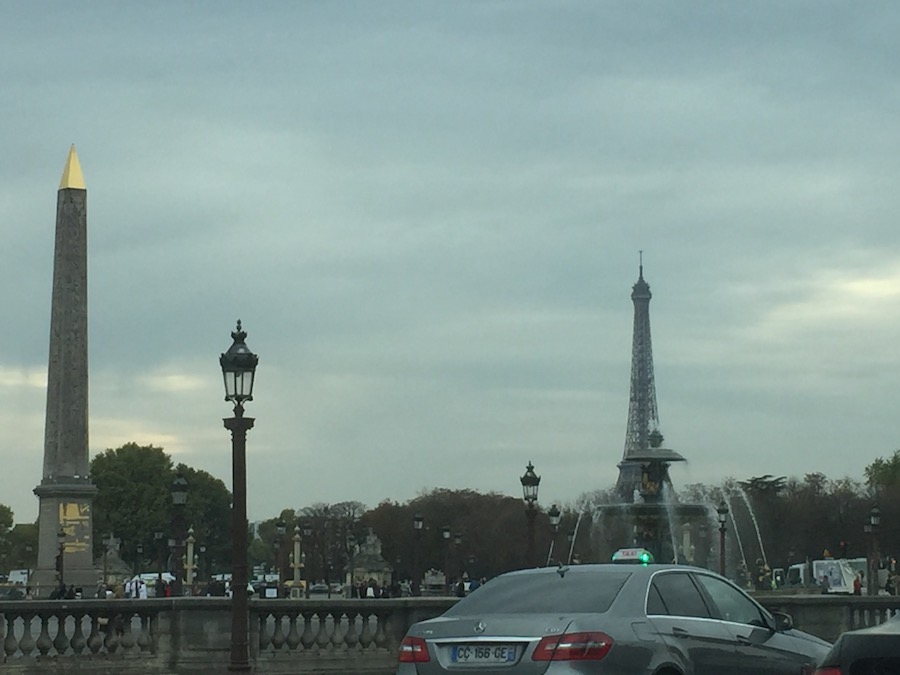 Our apartment is extremely large by Paris standards. It is on the top floor with a terrace overlooking the streets below, has five bedrooms on two floors, is just off the Champs Elysees, and a 1/4 mile from the Arc de Triomphe. The location is also great because it is close to a metro stop.
The apartment is not without its quirks (we still haven't figured out how to turn on some of the lights), but it is quite lovely, clean, and spacious. It also has a washer and dryer, which is useful when traveling for an extended amount of time. Fingers crossed we can figure out how to use it before we leave.
We settled in, played with the lights a little, and then headed off to find a local grocery store to get soda, juice, and some laundry detergent. We walked to the Champs Elysees, turned left, walked about 1/4 mile (opposite direction of the Arc), and, voila, the local Monoprix grocery store. It was almost as if we lived here. We figured out the self check-out, didn't set off any alarms when we left the store, and made it back to the apartment without incident. Up we went in the teeny tiny elevator (we were told not to use the stairs as they are creaky and disturb the neighbors), and we were home.
We underestimated the time it took to drive to the restaurant due to traffic and arrived 15 minutes late (I hate being late for anything). Dinner this evening was at Fulgurances l'Adresse, a trendy prix fixe establishment, which has rotating chefs. As their website says, it "acts as an incubator, welcoming young chefs to take over the kitchen in order to find and refine their identity, test their ideas, …". The chef for the next few months is Sebastian Myers, a young Australian chef. Unfortunately, we don't believe he has refined his identity yet. Some of his ideas really didn't need to be tests, or they should be retested and refined on someone else.
Of all the meals we've had on our gourmand experience, this one quickly tumbled to the bottom of the list. It did have a few moments that wanted to redeem the meal, but overall, it didn't quite make the grade.
First, there were so many tables in the tiny restaurant that we almost sat on top of the people next to us. We were so close that I could have eaten off their plates without even stretching my arm. Luckily, I didn't like the food enough to attempt it.
Second, the service was extraordinarily slow even by European standards. I actually think they forgot us in the rotation of dishes and. at one point, we waited 30 minutes between courses, while others around us finished up two courses in the meantime.
Third, some of the courses were just downright unappetizing. So here's the lineup and our musings: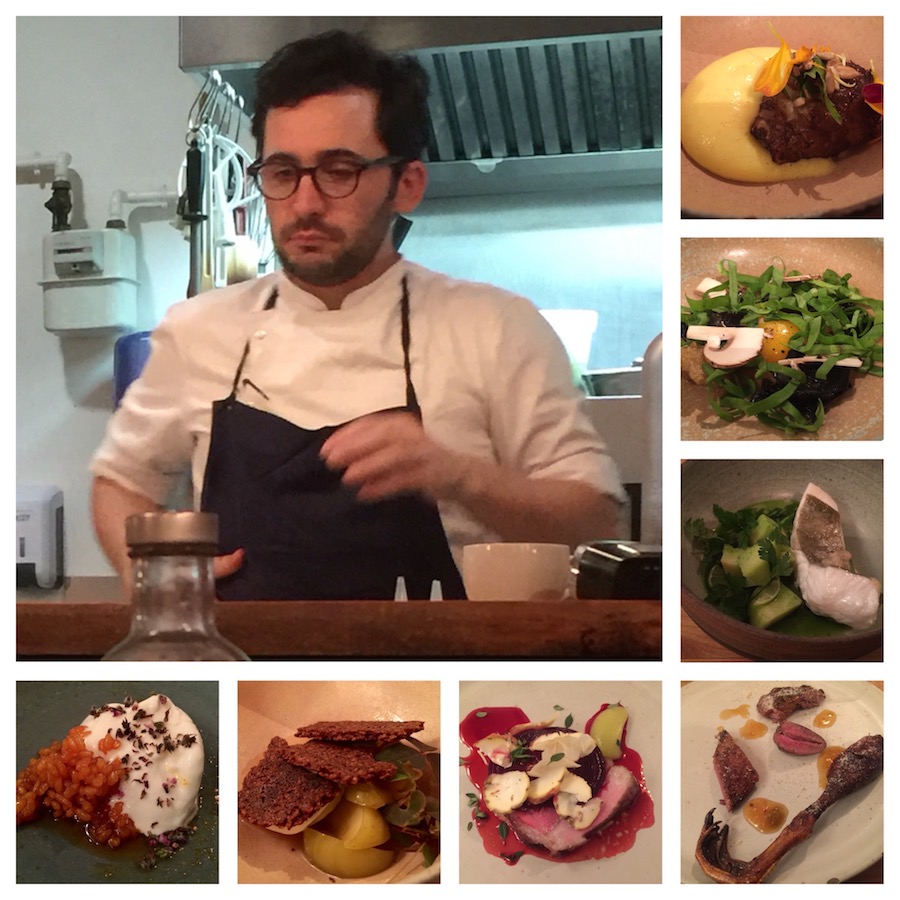 Amuse bouche: Jerusalem artichoke with sabayon and marigold flowers ~ this tidbit was quite tasty; we thought the meal was off to a great start.
Bread plate: the bread was rustic and a bit dry; Rod didn't like that they offered neither butter nor olive oil – just plain, dry bread.
1st course: Chanterelles, sorrel, and confit egg yolk – this was Rod's favorite of the entire meal, and I appreciated the complex flavors. The confit egg yolk was a surprising element and I really liked it although it was a bit too runny.
2nd course: Steamed John Dory with cucumbers – this wasn't awful and the sauce saved it in the flavor category, but the fish itself was overly salted. We've definitely had better John Dory on this trip.
3rd course: Duck with salt – yep, salt was definitely a major component of the dish. We both could have done without the duck heart that sat smack in the middle of the plate. It was disconcerting to have the curved, mangled duck foot front and center on my plate. The tiny amount of meat that was actually edible was well-prepared but very salty (think salt lick).
4th course: Pork with beets, chestnuts and apple cream – the apple cream was the best part of the dish and it was only a dab on the plate. The pork was so fatty it was virtually inedible. Looking at the plates sitting on other tables, we weren't the only diners that thought so.
1st dessert: Apple cooked in orange wine with cardamom cream, oat cookies and some type of herb that looked like a four leaf clover – liked the cardamom cream and oat cookies; wasn't keen on the remainder. Rod felt like he was eating dry muesli and wasn't a fan.
2nd dessert: Some type of ice cream (I think the waiter said something about organic matter) with caramel rice and some type of herb. Although I didn't hate the dish (didn't really like it either), Rod thought it was "vile" and couldn't stomach more than a small mouthful.
Overall, we were very disappointed. The restaurant didn't live up to our high expectations (not sure it would have lived up to low expectations either). Nonetheless, given all the phenomenal meals we've had and will have, our winning ratio is still high. Win some, lose some.