October 3-5, 2019
DFW to LAX to HKG to SIN = a mere 28 hours of travel time. I guess it isn't a lot of time given the distance, but it sounded like a long time. With about seven of those hours in layovers in Los Angeles and Hong Kong, and business class seats for the fifteen-hour flight from Los Angeles to Hong Kong, the trip actually wasn't that bad.
Steven even looked blissful as he took a final nap during the descent into Hong Kong (the nap was in addition to the full eight+ hours of sleep he got on the flight).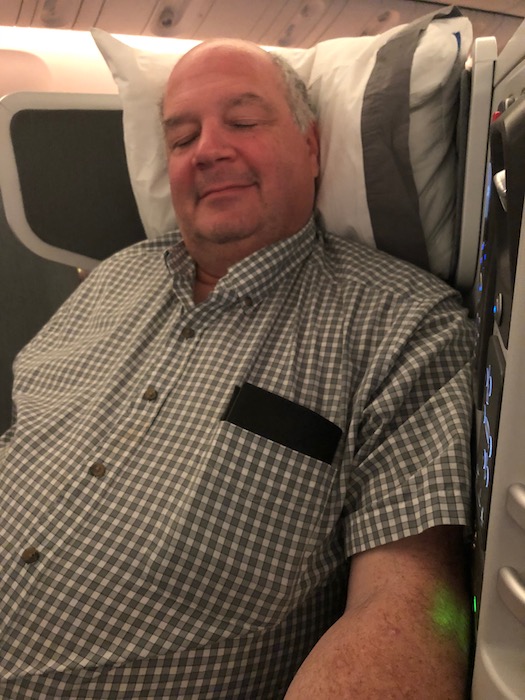 The transition to our connecting flight in Hong Kong was easy as there are plenty of signs to follow. We had to go through two security checkpoints, but the agents were efficient and everything flowed smoothly. The terminal was bright and full of wide-open spaces making it easy to navigate to our gate.
With a bit of time to spare between flights, we decided to check out one of the lounges. We had access to the Plaza Premium Lounge with our PriorityPass membership, but the line wrapped around the upper level. We were not inclined to wait in the queue since we likely wouldn't make it in before our flight was called. Instead, we checked out the AMEX Centurion Lounge. It was also busy, but there wasn't a line to get in. We had enough time to check email and grab a snack before it was time to head back to the gate.
It was our first time on Cathay Pacific. We can't recommend them enough. While we weren't able to nab business class seats on this leg of our adventure, the economy seats were spacious and comfortable. We had aisle seats across from each other and were lucky not to have anyone occupying the middle seats. As soon as we sat down, the flight attendant for our section and the purser introduced themselves and thanked us for being OneWorld elite members. They would both check on us several more times during the three-hour flight. Such service and the food was pretty good as well.
Immigration ran like clockwork in Singapore's beautiful Changi Airport. We were through within mere minutes and off to find a taxi to the hotel.
During the planning phase of this trip, I decided to use hotel points for the first three days (so we could spend our money on a later stay at Marina Bay Sands), so I booked us into the Holiday Inn Express in Clarke Quay. We were happy to find that the hotel was conveniently located to a ton of restaurants, a couple of metro stops, and other sites we wanted to see. While the room was a bit small, the hotel got two thumbs up for comfy beds, a great breakfast, customer service, and location. It also has a cool pool on the roof.
A bit of a tight squeeze, but comfortable

The view from our window
Since I had only slept a few hours on flights, I took a nap while Steven got a lay of the land and even checked out how to get to the metro stops. Two hours later, we were refreshed and ready to start on our first adventure – a food and nightlife tour.
The Singapore metros are extremely clean. If you're caught eating or drinking on the trains, you can expect a hefty fine. If you are caught bringing durian fruit on the train, you will be fined (although no fine is listed) but it is likely your fellow passengers will take care of you and your stinky fruit well before security or the police find you. Our ride was smooth, fast, and durian free.
We found the posters for the Thoughtfulness campaign cute and interesting. I think we could all use a bit more thoughtfulness in our lives.
After emerging from the Telok Ayer metro stop, we met our guide, Simon, from Monster Day Tours in the financial district.
The main stop on our tour was the Lau Pa Sat market.
While it's a busy hawker market during the day, catering to the business lunch crowd, in the evenings it comes alive with the addition of "satay street." From 7:00 p.m. to 1:00 a.m. Monday through Friday and 3:00 p.m. to 1:00 a.m. Saturday/Sunday, Boon Tat Street is closed to traffic and the satay hawker stalls set up tables for customers (also tents when it starts to rain, as it did on us). Beef, chicken and mutton satay cost around .70 cents (SIN) per stick with a minimum of 10 sticks and prawn satay is $2.00 (SIN) per stick with a minimum of 5 sticks. The air is smokey and filled with tantalizing aromas. The satay at stalls 6, 7, and 8 are supposedly the best. We can vouch for stall no. 6.
Besides satay, Simon made sure were didn't go away hungry by plying us with fresh spring rolls, roti prata, spicy wok noodles, chicken wings, and an oyster omelet. Everything was so fresh and tasty. Additionally, we had "carrot cake" two ways – one savory, one sweeter. No, this wasn't dessert; it didn't even contain carrots. Here, daikon radish is known as white carrot. Therefore, these dishes consisted of daikon, eggs, chili paste, and spices. While I think what we know as carrot cake is still my favorite, the two types of carrot cake Simon introduced us to are pretty good as well.
Photo credit: Monster Day Tours
By the time we were full to the gills, darkness had taken over and the lights of Singapore had come alive.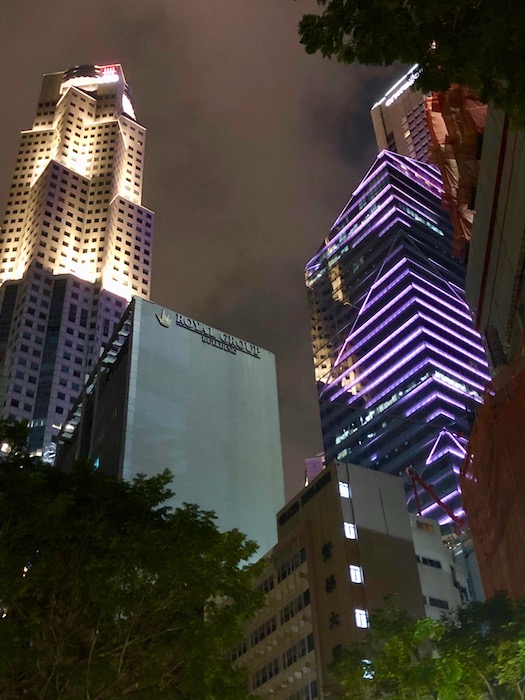 Simon took us through back streets showing us shophouses that had been converted into speakeasys, bars, and restaurants while giving us some background on Singapore and its growth.
Along the way, we stopped at the only 7 Eleven that sells beer on tap. Steven and Simon were poured a glass; I enjoyed my bottled water.
Photo Credit: Monster Day Tours
Our last stop of the night was at a club in Clarke Quay, not too far from our hotel. We got in on a two for one (or as they call it here – one to one) drink special. Two fruity non-alcoholic drinks were a little too sweet for me, but Steven seemed to enjoy his Singapore Slings. When in Singapore …
After saying goodnight to Simon, we made our way back to the hotel and up to the rooftop to take in the lights of the city. It has been a long couple of days and we are tired to the bone. A good night's sleep will do us both a world of good. More adventures are in store tomorrow.