October 7, 2019
The smells of Little India can overpower you if you let it. We started our next tour with Wok 'n Stroll, our guide Natalie, and a freelance journalist on assignment in the small sidewalk markets. The markets were a kaleidoscope of colors, smells, and textures. The fruit and vegetables were vibrant and so fresh. The herbs and chilis were fragrant and filled my senses. Although new to us, these are the everyday markets of many of the immigrants calling Singapore home.
Past the market, there were several shops filled with gold jewelry. Some of the gold is purchased for loved ones, but most are purchased as offerings to Hindu gods and goddesses.
Little India is an interesting section of Singapore. It was raised from a slum; there is still a grittiness to the area, which is a bit strange in the ever tidy Singapore. You'll actually find messiness and visible trash on the streets. It's not a lot, but it gives a different feel to the otherwise pristine city.
As we moved into Tekka Market, our first stop on the food tour, we got our first glimpse of street art. Singapore is making a concerted effort to encourage art and culture across the city to bring out the character of its diverse cultures.
Tekka ("foot of the bamboo plant") Centre is comprised of one of the largest wet markets in town, hawker food stalls, and a variety of shops where you can buy almost anything you want. Since we were on a food tour, our focus was set on getting breakfast from several places in the hawker market. We started off with coffee, of course.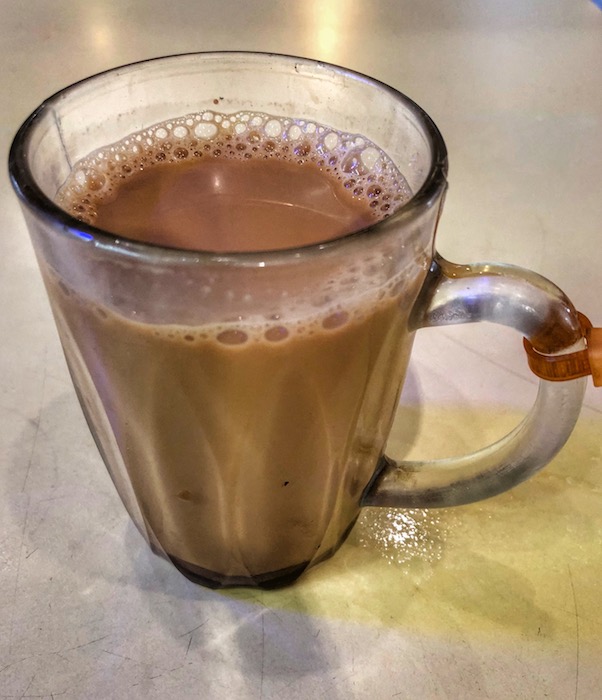 Then we moved onto mee siam, spicy vermicelli noodles – a Malay and Singaporean specialty. The stock was prawn-based, the noodles were made from rice and it was hot, sour, and really tasty.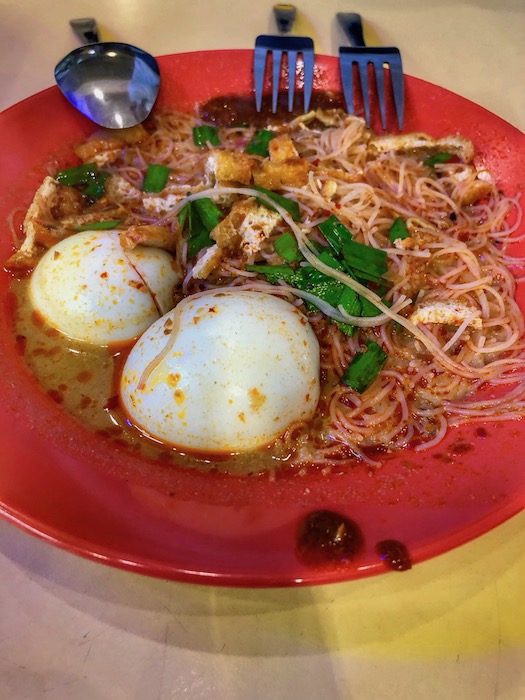 Sticking with rice-based dishes (it is Asia after all), we tried idly, a popular breakfast rice cake, with several sauces – most of them spicy. Idly is made from milled rice that has been soaked and fermented in water for 2-3 days, then the batter is steamed. The rice cakes have a sour taste (duh, it's been fermented), but they take on the flavor of the sauce you dip it in. Since it's a fermented food, it's supposed to be good for digestion and tummy troubles. We haven't had any issues this trip, but we indulged as a preventative measure.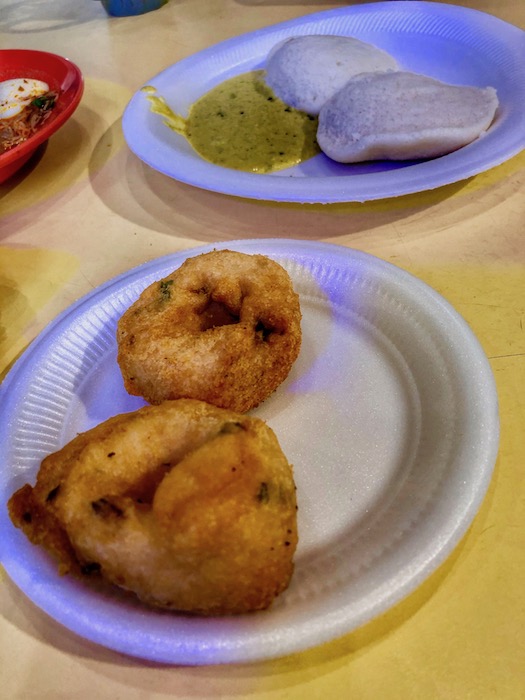 Natalie got us a plate of vadai, Indian donuts – the heat sneaks up on you from the chilis blended into the batter. She also brought over a plate of dosa pancakes, also made from fermented rice flour. I like sour flavors and heat from chilis, so I was in heaven. The food was really fresh since it was cooked as we ordered. There wasn't anything we tried that we didn't like. Awesome breakfast.
We walked off some of the breakfast carbs in the sidewalk markets stopping to watch as garlands of flowers were assembled as temple offerings.
Natalie bought us each a small garland to wear. It was very festive and we smelled nice for the remainder of the day (not that we didn't start off smelling nice).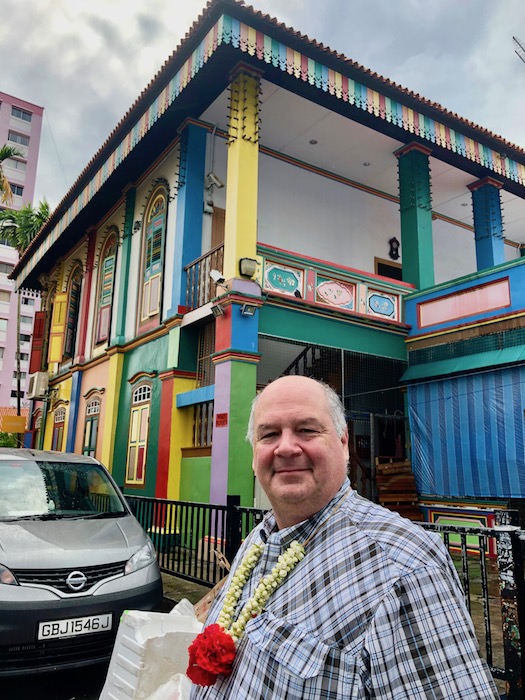 We came across several murals. The first is left to your own interpretation, but it is supposed to evoke the five senses. The second was in honor of the sacred cow. The third showed scenes from everyday life, and the fourth showcased traditional occupations assigned to Indians in the Singapore of yesteryear.
As we walked the streets of Little India, we saw some of the colorful decorations that have already been installed in advance of Diwali/Deepavali, the Festival of Lights that starts in a few weeks.
And, of course, more murals (these were a favorite of mine – I love the colors).
We hadn't eaten in at least 40 minutes, so we walked to Zam Zam, a local Malay restaurant just off of Arab Street that is iconic for serving murtabak, a huge meat and egg stuffed pocket of pancake thin dough. Natalie chose a chicken murtabak for us to try, as well as lamb briyani (spelled biryani in other countries), and chicken mee goreng.
The murtabak was filling and great finger food, the lamb briyani was chock full of spices and tasted like a curry, and the mee goreng (fried noodles) hit the spot. Again, all the dishes were tasty and not too many morsels remained at the end of the meal. I washed everything down with a limau ice (iced lime tea) and Steven had lychee ice (iced lychee tea). When we return to Singapore, we will definitely make a stop at Zam Zam for a meal. By the way, the upper floor has air conditioning (albeit very weak) and fans – a good thing to know in the Singapore heat.
Zam Zam is across the street from the Sultan Mosque. All mosques in Singapore are open to the public, but we heard the call to prayer while we were finishing up lunch, so we didn't try to go inside.
We followed the narrow roads and sidewalks full of fabric and tailor shops towards Haji Street.
Although we had been there last night, we saw additional street art on the way to and on Haji Street under Natalie's keen eye.
Our last stop of the tour was at Selfie Coffee, a trendy shop that places an edible ink photo of you on top of cream on the top of your coffee drink. Well-known for my dislike of selfies, I resisted the lure of seeing our faces etched in cream but in the end, peer pressure did me in.
I did find it interesting to watch the photo (and our faces) collapse as the drink was sucked out from beneath the cream topper.
We bid farewell to Natalie. She was the best tour guide we've had in Singapore and in any other city in a long time. Both Steven and I highly recommend Wok 'n Stroll and, in particular, Natalie as a guide.
It began to rain as we strolled down the remainder of Haji Lane looking into shops.
Back at the hotel, a nap seemed like a good thing. We drifted off into food comas only to awake several hours later hungry again. How could that be humanly possible?!?
Anyway, with the Clarke Quay riverside area close by, we had a myriad of restaurant options. We chose to go to Jumbo Seafood, a chain restaurant with a reputation for good chili crab. We had been told by several people that we couldn't leave Singapore without trying chili crab. We'd received several suggestions regarding "the best chili crab," but most of the places were a good distance away and Jumbo Seafood had always ranked high on people's recommendations. It did not disappoint.
We were prepared to wait a while for a table, so we were surprised when our number was called within minutes of arriving. Knowing that the meal would be messy, we prepped ourselves by donning bibs.
Our full meal comprised of deshelled prawns in a salted egg batter, egg fried rice, and, the star of the dinner, chili crab. Oh, and there were rolls too – a must to sop up the lusciously spicy sauce. Best rolls ever – tiny, but so, so delicious. Order at least three per person – we only ordered two each and wished we had more. The prawns were delicious. The batter was light and so much better than tempura. The chili crab was really good – the sauce is what makes the dish. We've had better crab at some of the cajun places we've frequented in Los Angeles and the Dallas area, but the sauce is what elevated the meal. We definitely were not disappointed.
After dinner, we walked around the entertainment quarter filled with restaurants, bars, dance clubs, and karaoke. We particularly like watching the little kids playing in the dancing fountain.
I even found some great street art in the stairwell leading up to an arcade.