October 6, 2019
We decided to catch a Grab (formerly Uber) car this morning instead of taking the MRT. Since it wasn't a straight shot, we'd have to switch lines, and we were a bit short on time, we thought it would be faster. It was so fast that we had some time to kill before our food tour.
There happened to be a 7-Eleven store on the corner and we love to check out local foods and snacks in grocery stores, so it was a perfect place to while away the extra minutes. There were several potato chip varieties that were odd and some that sounded enticing. We couldn't chance the chocolate melting, so we didn't pick up the popcorn Kit Kats, which was unfortunate as we never found the flavor again. A missed culinary opportunity.
In case you are in need of instructions on how to create a Slurpee, you are in luck – there's a cartoon to tell you how.
And, in case you are feeling peckish or have indulged too much in the available snacks and sweets, there is a full complement of vitamins and herbal supplements available at the check-out.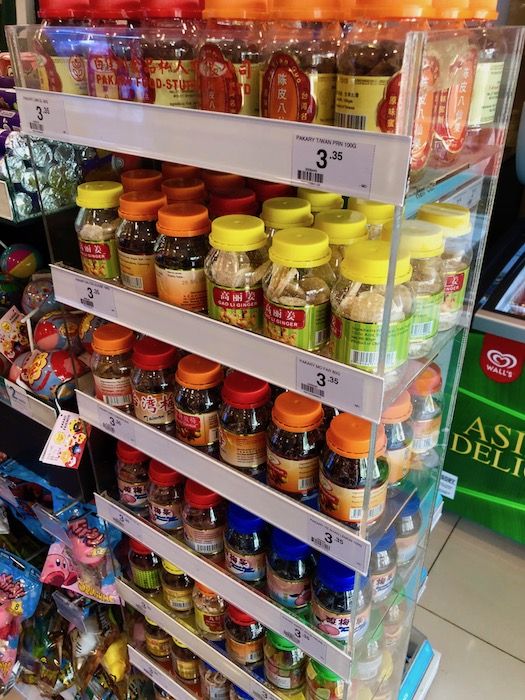 We wandered back across the street to Tiong Bahru, the market where we were scheduled to meet our group for a food tour. The hawker stalls where you can get any number of goodies to eat is on the second floor, while the market is on the bottom floor. Tiong Bahru (the name means "new cemetery") was established as a market and community center in the early 1950s. In the 1960s, hawker centres were developed as a way to consolidate street food vendors and control them to establish hygienic conditions. Tiong Bahru underwent a massive renovation and reopened in 2006 as a 2-story structure. Some of the food stalls on its top floor have been around since the 1950s. Hawker centres have become an institution in Singapore. In fact, Singapore is bidding to get their hawker centres listed with UNESCO.
To enhance community pride, Singapore has initiated several art programs to allow the production of street art and art installations. Grafitti is still illegal except in designated areas, but as long as the proper permits have been granted, street art is flourishing in Singapore.
Singapore also has several initiatives relating to instilling the values of thoughtfulness, consideration, compassion, and sustainability. Apparently, cartoons are the best way to get the point across to people.
We finally connected with the other two members of our tour group for the day, a very nice couple from New Zealand. Our Hawker Centre Discovery tour guide was Natalie Chai from Wok 'n Stroll. Natalie was an exceptional tour guide; she is fun and quite knowledgeable about the ins and outs of Singapore and, of course, its food. She navigated the hawker centre like a pro and introduced us to all kinds of new delights.
Since it was breakfast time, we started out with breakfast beverages – coffee and tea. In Singapore, coffee is called kopi. In as orderly a city as Singapore, there are, of course, rules on how to order kopi.
If you order Kopi, you get a cup of coffee with condensed milk (no sugar as there's enough in condensed milk). Order Kopi-O, you get coffee with sugar – for less sugar, order Kopi-O Siew Dai. Order Kopi-C and you will get a cup of coffee with evaporated milk and sugar; tag on "Siew Dai" to the order for less sugar. If you're not sure whether you want coffee or tea, don't worry there's an order for that as well. Order a Yuen Yeung and you get 1/3 coffee, 1/3 tea, and 1/3 condensed milk.
It sounds confusing, but you'll get used to it once you've ordered a few times. Coffee connoisseurs will detect an aftertaste of charcoal – the coffee beans are roasted with sugar and butter using charcoal as the heat source. A bit bitter for my taste, but I enjoyed the Yeun Yeung.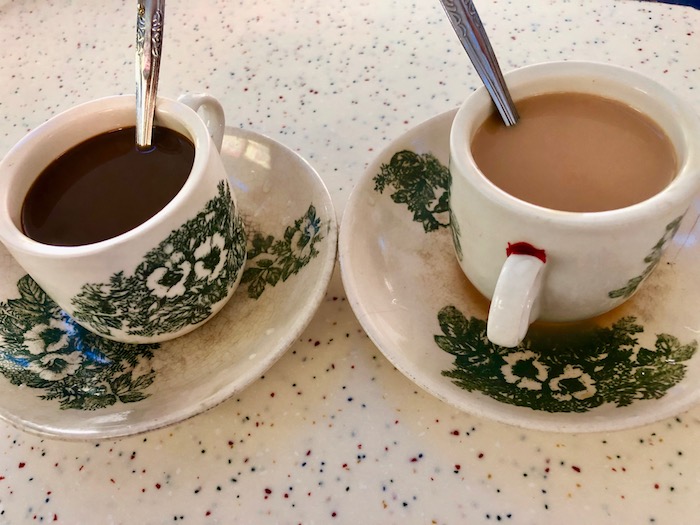 As caffeine coursed through our veins, Natalie introduced us to a variety of Guo – savory steamed rice cakes filled with daikon, glutenous rice, taro, etc. I particularly liked the ones filled with taro (didn't know I liked taro). Don't let them sit around too long as they will get a bit hard and stick to the paper underneath. She also brought us Shui Kueh, steamed rice cakes topped with pickled radish, and Chee Cheong Fun, rolled rice flour noodles in a sweet sauce (nickname – Piggy Gut Noodles). I enjoyed the pickled radish but not the consistency of the steamed rice cake underneath and found the piggy noodle dish to be a bit sweet. I went back for seconds of the taro and daikon guo.
Picking the type of food you want to try is easy as usually there are pictures of the variety of food on offer. The most important thing though is picking the right food vendor. That's also easy though – just look for the ones with the longest lines. Also important is saving your seat while you stand in the long lines. Save your space by putting something on the table and the seat – even a napkin will do. You won't see locals wandering around with their tray looking for a seat after purchasing their food – they've scoped it out and saved it ahead of time.
After breakfast, we headed down to the main floor of the market. Our first stop was the restroom, which was surprisingly very clean, to wash up. Don't forget to bring tissues and wet ones with you to any meal in Asia as napkins are not always available. I loved the signs indicating the restroom genders. The phoenix was used for females; a dragon denoted the men's room.
And, just in case you haven't learned bathroom etiquette, there are cartoons to let you know what you should and should not do in the toilet.
The flower market is the first thing you see as you walk in on the ground floor. Orchids are the national flower and they are everywhere. They're also pretty inexpensive as orchids go. Singapore is one of the biggest exporters of orchids. A pretty big feat for such a little country.
Behind the flower market are the vegetable, meat, fish, poultry, and dry good markets. Anything you need to cook a meal is somewhere in the market. There's definitely something for everyone. I was surprised at the lack of the open-air market smell that is usually pervasive, i.e. it didn't stink. With as hot as it can get in Singapore, it was comforting to see that meat is refrigerated, which lends to the lack of bad odors.
Along the sides and in the back of the market are the hard-good vendors. The most interesting of these vendors were the ones selling items to be burned on the anniversary of a loved one's death. If a person loved riding his/her motor scooter, there's a paper replica for you to burn. If they were a fashionista, there are paper clothes for you to burn. If they liked to drink beer, there are paper six-packs for burning. There are even paper packs of cigarettes to burn for that relative who liked to smoke – the irony would not be lost if that same relative died from lung cancer. It's an interesting ritual that is big business. It's also interesting that the same vendors sell red money envelopes that are given to wedding couples – they're in the business of life and death.
One of the best things about the markets in Singapore is that there is no touting allowed. That means you can walk around "window shopping" without being called or pulled into a stall. It is so much different than the markets in places like Turkey or Morocco.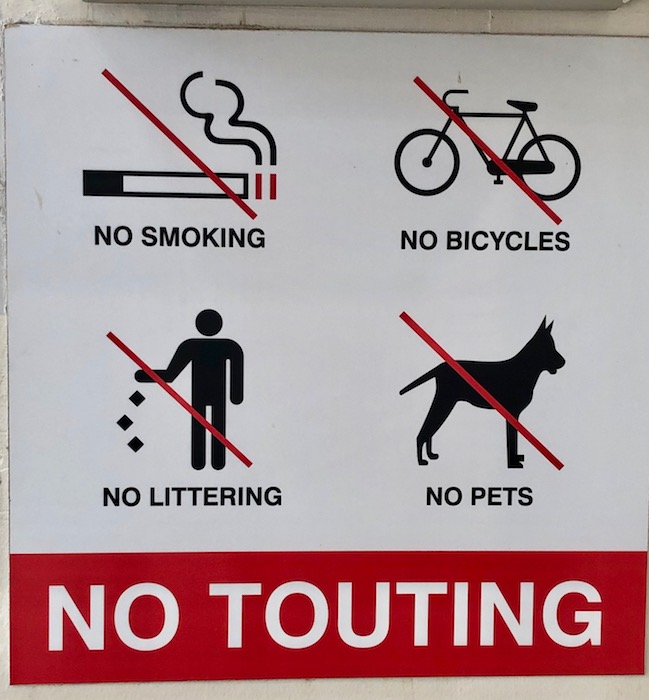 We hadn't had a bite to eat in at least an hour, so it was time for an early lunch. Natalie plied us with laksa, bak cho mee, Hainan chicken rice, and lormee. Laksa is a Singaporean curry noodle soup chock full of fish cakes, cockles, tofu, chili, and Vietnamese mint. It was so good and was my favorite of our lunch-time dishes.
Bak cho mee was a combination of noodles, greens, and pieces of pork cooked in all sorts of ways (including liver). It wasn't as flavorful as I would have liked, but it was tasty except for the liver (I just don't like liver). I was looking forward to trying chicken rice as I'd heard all sorts of great things about it. There's even a Michelin star chicken rice hawker in Singapore. Natalie advised that you know a good chicken rice vendor if they offer the trinity of sauces with the dish – dark soy, ginger, and chili sauces. I loved the combination of the sauces; I thought the chicken was a little bland. Maybe I just wasn't in the mood for chicken.
The last dish, lormee, is a soup that is prawn based that is thickened with tapioca and contains prawn noodles, garlic, and black vinegar. I liked the vinegar tang but didn't like the goopiness of the soup due to the use of tapioca. For me, it was a texture thing. Lemon/lime and hawthorn berry juices cleansed our palates at the end of the meal.
We were full by the end of the food tour, which is why one goes on this type of tour after all. Natalie filled our heads with information and our bellies with lots of yumminess. I'd call that a very successful tour. We were so happy to hear that she will be our guide tomorrow as well.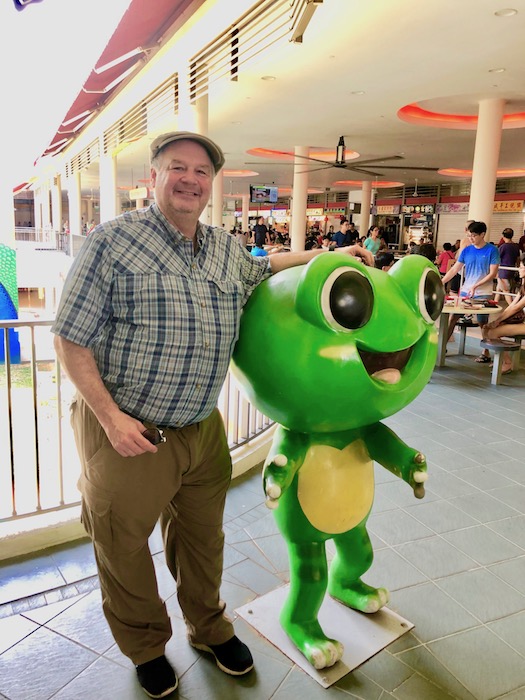 After a nap to counteract our food comas, Steven and I headed off to find Haji Lane. We met up with a friend of Steven's from Scouting who recently moved to Singapore. He suggested Haji Lane because it is a vibrant, bohemian area with lots of bars, restaurants, and shops. It is also a fabulous place for people watching. It was great catching up and learning the ins and outs of Singapore from an inside source.
Steven and Carey in the universally popular "selfie pose"
Haji Lane also has great street art at every turn; I love me some super street art!
The chairs were even street art in their own way.
A few beers and non-alcoholic beverages later, we caught a Grab to the Paragon shopping mall on Orchard Road (the preeminent shopping street in Singapore). There's a store in a mall for everyone on Orchard Road, from reasonably priced to out of this world expensive.
I'm not much of a shopper, but I was a fan of all the cool restaurants in the malls. There are even Michelin star restaurants in malls in Singapore. It's a whole new foodie world. Since we weren't starving, we decided to go to Din Tai Fun for dim sum – wontons, soup dumplings, and shumai. The food was very good and hit the spot.
In case the sticker isn't clear, these soup dumplings contained chicken
After drinks, dinner, and lots of conversation, Steven and I were fading fast. Carey was a great host and offered to take us to a club, but we called it quits on the day. We took a raincheck for a future trip. We must be getting old, it wasn't even ten o'clock. But, tomorrow's another food-filled day.