October 8, 2019
For the first time in our stay in Singapore, we didn't have a food tour scheduled in the morning. Instead, we were able to take advantage of the hotel's free breakfast. Afterward, we spent some time on the rooftop deck looking out at the skyline and watched a few people swim in the interesting infinity pool. Our lazy morning culminated in packing our bags as we were moving residence to the famous Marina Bay Sands.
The Marina Bay Sands is huge and as awesome as one would hope. When we checked in, they didn't have a room with a king bed available, but if we would take a room with two queens, we could check-in right away and receive an upgraded room. Yes, please! Our room was expansive, very comfortable, had balcony access, and the most incredible views over Gardens by the Bay and the Super Trees. It was all that we had hoped.
We had planned to join an afternoon free tour of Chinatown, through Monster Day Tours, so we hopped in a taxi and were off. [Note: we could have taken the MRT, but we didn't think there was a station close to the hotel. In fact, there is an MRT station in the shops attached to the hotel. Information tucked away for next time.]
We met the tour guide, Colin, and the very large tour group (sometimes happens when the tour is our favorite price – free) on Pagoda Street. Singapore's Chinatown, established in 1924, is quite large, but then again, 75% of Singapore's population is of Chinese descent so its size isn't surprising. It's a bustling part of town and definitely worth a stop on any sightseeing itinerary. And, of course, there's great food.
During our tour, we passed the Sri Mariamman Temple, Singapore's oldest Hindu temple, built in 1927. The entrance to the temple is crowned with an incredibly tall, multi-tiered, ornately carved structure that depicts deities, floral decorations, and other holy figures. It's incredible to see, although the placement of the sun was such that we couldn't see all the details. We also didn't have time to go into the temple, which I will put on my list of things to do on my next visit. I hear its interior is striking.
As we meandered, I was struck by Chinatown's street art, which seemed to pop up in the most unlikely of places.
Food is a focus in Singapore and Chinatown is no different. There's a Food Street with a wide variety of vendors and, of course, there are hawker centres. It is Singapore after all. The Complex in Chinatown is home to the first street food vendor/hawker ever to obtain a Michelin Star. HawkerChan's specialty is chicken rice and the lines of people waiting to try the famous dish are legendary. Unfortunately, by the time we made our way to the Complex, HawkerChan had run out of food. We weren't expecting to arrive in time as this wasn't a food tour. Colin did, however, take a break to get a few dishes from various vendors for the group to try. It was a nice touch.
On our way to the next site on the itinerary, we passed a crowd of men intensely playing board games. Not really sure what kind of games they were playing, but they seemed to involve a large number of spectators. That is until one of them needed a nap.
Our next stop was at the Buddha Tooth Relic Temple, a temple built to house, what else, the tooth relic of a buddha unearthed in Myanmar in 1980. We didn't get to see the tooth, which is displayed on the 4th floor, but we did walk through the gorgeous ground floor level. I could have spent a lot of time taking in the intricate details and fascinating stories/backgrounds of each of the idols. Another place to put on the list of those to return to on the next trip.
Durian is a large, obnoxious smelling fruit grown in various places in Asia. In our walk, we came across a vendor selling durian ice cream. We decided it was an easy way to try the "king of fruit." Despite being hidden in ice cream, it was still a bit stinky and a little "off" in taste. Now that I've tried it, I don't think I need to try it again. Next door, there was a store selling strange things to be used in herbal remedies and medicines, including dried lizards, bats, and other creepy-crawly things.
It's the Year of the Pig, which was clear by the extremely large mural on the side of a building we came across. The pig is the twelfth of the zodiac animals and is a symbol of wealth/fortune in the Chinese culture. Up next is the Year of the Rat.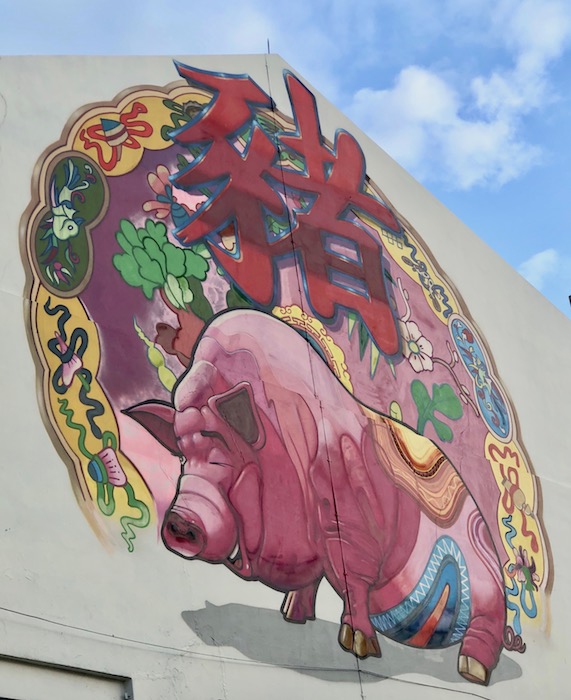 As our tour of Chinatown came to an end, we were close to the skyscrapers of the Financial District. Dinnertime was sneaking up on us, so we headed over to the hawker centre we visited on our first food tour to dine on satay again. At 70 cents per stick for the chicken and $2.00 per shrimp, we had a very yummy dinner for not that much money.
As we arrived back in our comfy room at Marina Bay Sands, we saw the Super Trees at Gardens on the Bay shine in the nightly light show. It was so pretty from above, but I'm sure it will be so much better when we stand among the trees tomorrow night.
After the show was over, we took the elevator up to the very top to sit by the pool and look at the lights of Singapore. It was relaxing and so beautiful. We pledged to get up early to watch the sunrise from the pool, acrophobia be damned.