October 9, 2017
I am a lover of art – not all of it, but I like what I like. And I love Van Gogh. The last time I was in Amsterdam (with my hubby), we were lucky to have the Van Gogh museum pretty much to ourselves. It was Christmas, and we were there right when it opened. With Rod's one museum rule in place, I suggested we make it the focal point of our day today. We made sure to purchase tickets in advance (you don't want to stand in line, particularly in the rain).
We were up in plenty of time for Rod to take a walk to Patisserie Kuyt, one of the best pastry shops in Amsterdam. I was allowed to be a lady of leisure until he returned, croissants and apple pastries in hand. My croissant was delicious (they do say to have bread when you have an upset stomach, don't they?!). Apparently, the other pastries were just as yummy. I took a look at the patisserie's website. It looks like it is the go-to place for desserts of all kinds. We can highly recommend a stop at this shop.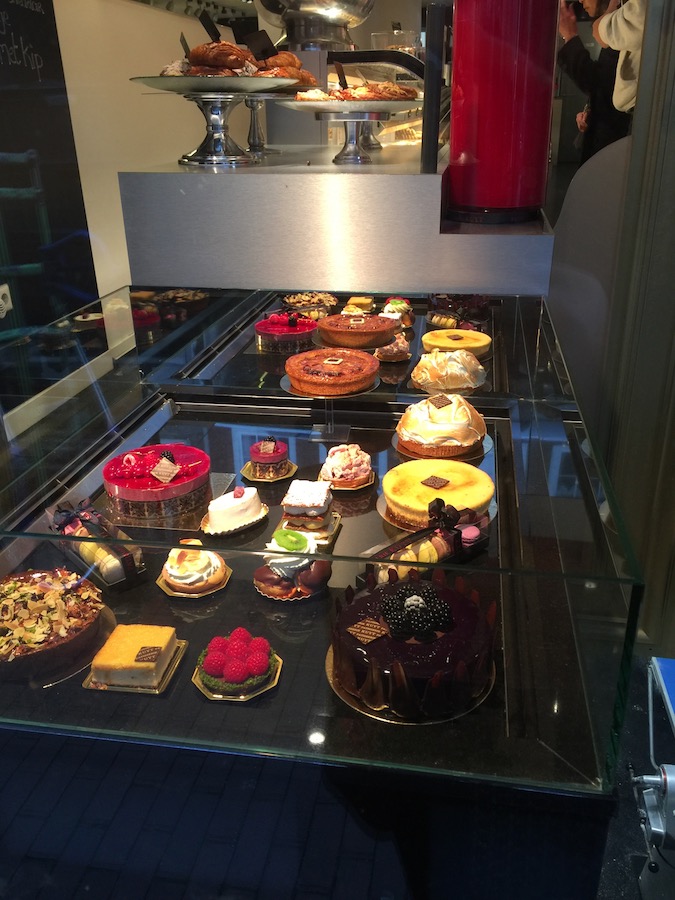 We left in what we thought was plenty of time to get to the museum for our 10:30 a.m. time slot. (You're only given a 30-minute window, so time was of the essence). It would have been just right if we hadn't come across a closed walkway crucial to how we knew to get to the museum. You'd think three people with many degrees amongst us, and directions could find their way – not so. We ended up going the wrong direction, which put us off the map we had, so we were lost. Although getting lost is not a bad thing when it's in Amsterdam.
After asking directions from a couple of locals, we were set back on the correct path. And then it started to rain; we had one umbrella between the three of us. All those degrees and not a lick of common sense among us. The forecast was for rain; where were our rain jackets and the other umbrellas? In the room, of course.
Damp and a little worse for wear, we arrived at the Van Gogh Museum at 10:56 a.m., just squeaking under the 30-minute grace period.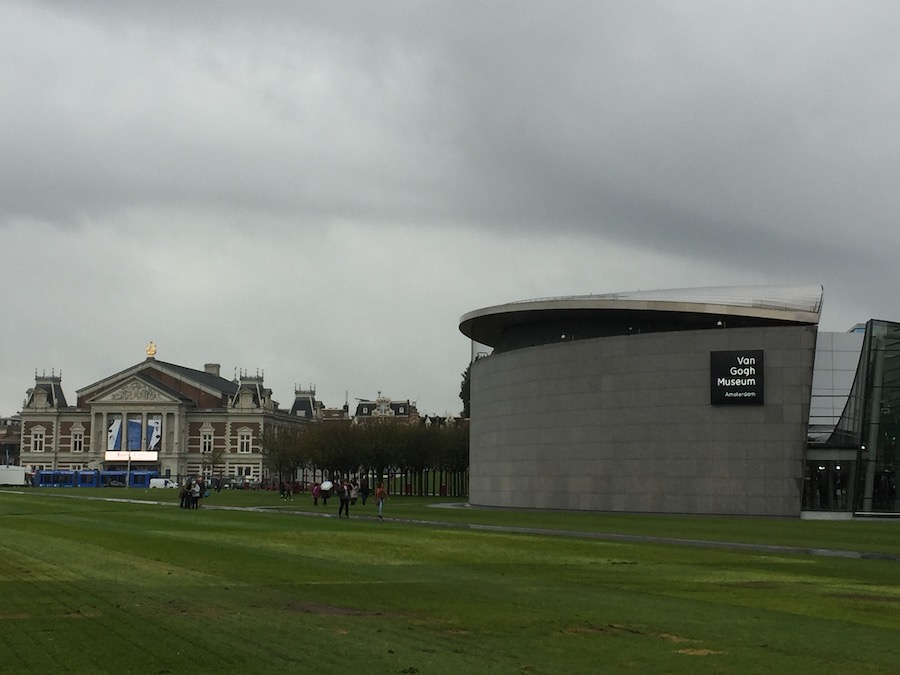 What can I say about Van Gogh, other than he was a little crazy. (OK, so he was a lot crazy since there was that ear incident.) But he was so good at his chosen profession. It's hard to imagine he created all of his art within a 10 year period. Several of those years were spent in an asylum where he only painted when he wasn't depressed (hello… asylum, I think he was depressed a lot).
His initial work was dark, but after studying in Paris, his use of color was so full of life and expressive. The museum takes you through the periods of his career. It does a great job of setting forth his influences, which were the artists he most respected. And then there was the tumultuous relationship he had with Gauguin that ultimately led to the ear incident and commitment to the asylum.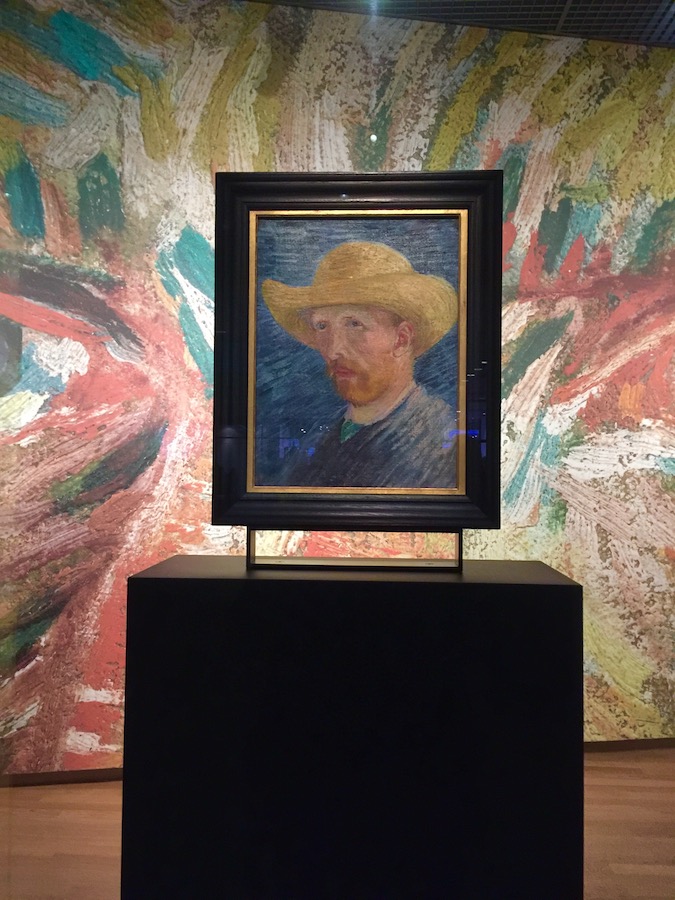 Through it all, he had the calming influence of his younger brother Theo (who also supported him financially for many years), to whom he wrote hundreds of letters detailing his moods and whims. The museum has it all, and it is fascinating.
Although it was far more crowded than my previous visit, I didn't enjoy it any less. Don't forget to get the audio-guide as it fills in so many gaps of what is available to read on the placards.
Van Gogh's nephew Vincent (obviously named after his uncle) founded the museum. He inherited all the works his mother amassed after his father (Theo) died the year after Van Gogh died of a self-inflicted gunshot. Not only does the museum have a terrific collection of Van Gogh, but it has a room full of paintings by Van Gogh's friends and influencers. This museum is one of my happy places.
[Please note: photographs are not allowed in the museum. Rod said he didn't see the signs, so…]
By the time we left Museumplein, we were hungry so we went off in search of Foodhallen, a food hall Rod saw on the internet. More wrong turns were taken, but we made it to our destination in time for the lunch crowd. Foodhallen is situated in a really cool warehouse turned trendy business park, art film forum, and gourmet slow-fast food market.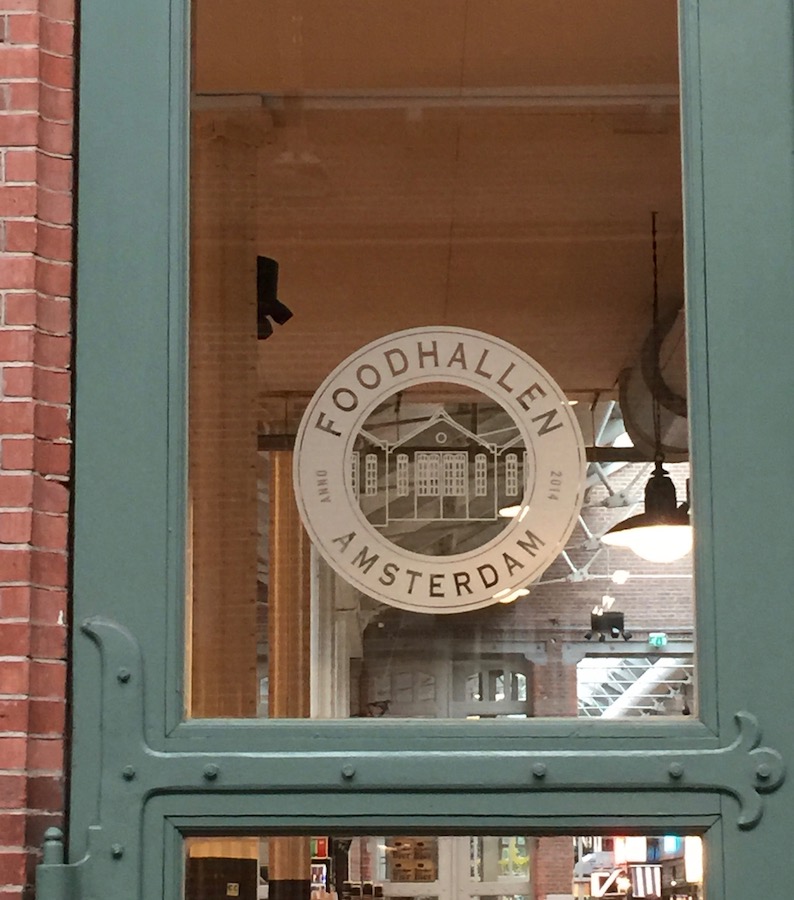 Drinks are obtained from a huge bar in the center of the vast space. Around the edges, are a multitude of food stalls offering anything from sushi to sausages, from burgers to smoothies, and beyond.
Although the sights and smells were tempting, I nursed a ginger ale while the rest of the group went off in search of deliciousness. They came back with a truffle burger, a pork belly sandwich, and Belgian frites. I asked the guys at the next table if I could photograph their food. It was their second helping of the exact same food choices, so I figured it had to be good.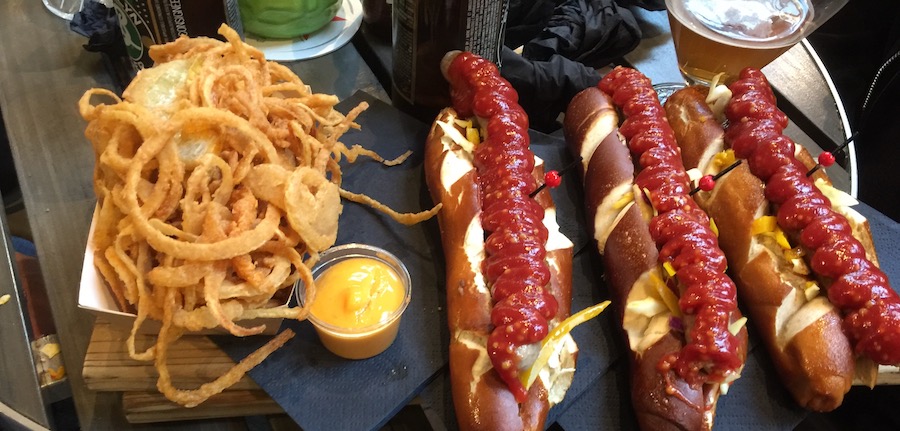 Then we were off again (this is a city for exploring). Although it was still a bit rainy, we headed to the Albert Cuyp Market, touted as the "longest market in the world." A flea market open Monday through Saturday, you can buy pretty much anything you need (or don't really need). You need a new shirt, they've got several. Jonesing for a herring snack, several vendors will fulfill your desires. A new chair in your future, they've got a variety. Your head calling for hair extensions, the next stall over has them in a multitude of colors. A waffle sound tempting, they've got piping hot ones and someone's probably also selling a waffle maker so you can make them at home. There is something for everyone.
Some of the vendors had closed due to the weather, but there was enough to keep us amused for over an hour. After being turned around for most of the day, we actually made it back to the hotel without getting lost.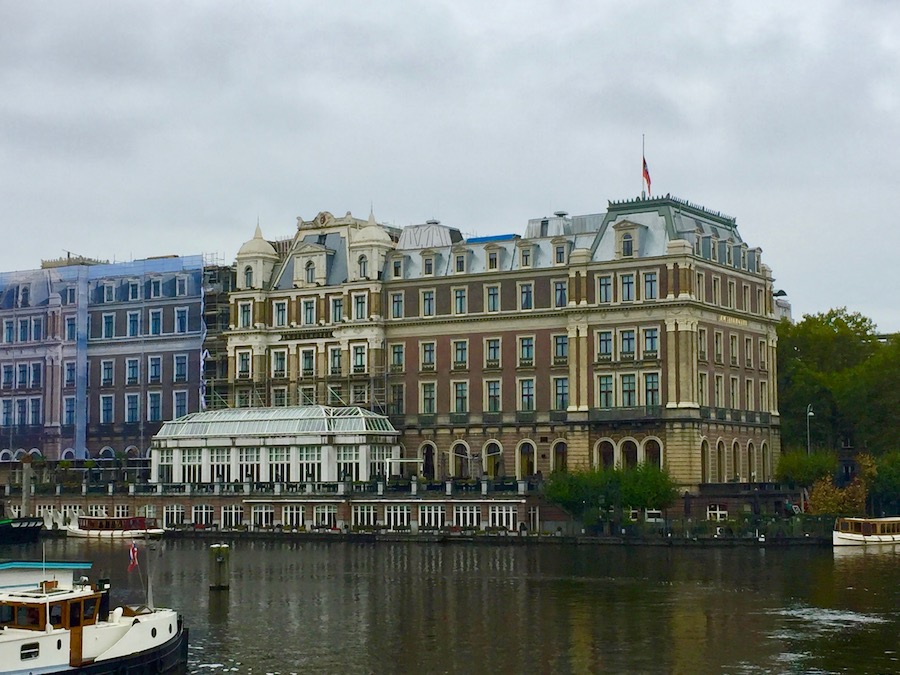 In all, we walked 8-9 miles. A nap was well-deserved before heading out to dinner. Rod's reservation for the evening was Vermeer, located next to the NH Barbizon Palace Hotel.
According to its website, "Vermeer's cuisine is characterized by passion and ambition." Not sure what that means, but Michelin star chef Chris Naylor offers a dinner menu of 4, 5, or 6 courses. We chose the five-course selection, but with intermezzos and an amuse bouche, it turned into nine. It probably wasn't the meal I should have had after my stomach malady, but hindsight is 20/20.
Does the menu give you any sense of what we were about to eat?  If so, you are a better person than me.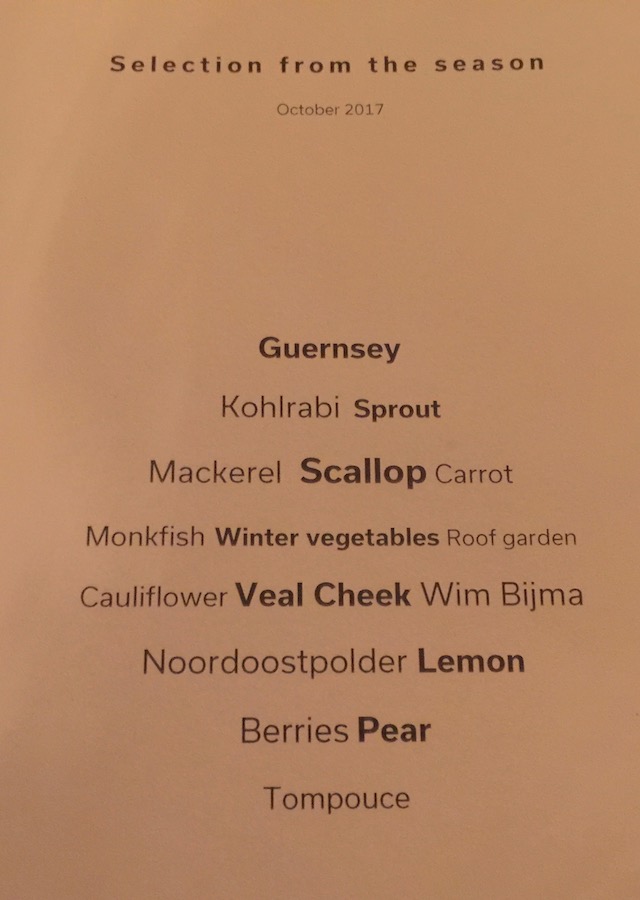 We still aren't sure what the amuse bouche contained, except it was an emulsion of something with a slice of thin vegetable on top. It was to be "eaten like a taco." It was good but forgettable. Next, they rolled a huge stalk of Brussels sprouts out on a rack, from which the waiter sliced one for each of us. They had been caramelized in something so yummy it was like eating vegetable candy (yes please!) – our portions came on a bed of frothy cheese sauce or pumpkin purée (depending on allergies or dislikes).
Our first course was mackerel done three ways – pickled, puréed, and in a bouillon. Not my favorite fish, but the preparations were lovely. I must admit, I had an extra piece of bread, which was delicious, to get the fishy taste out of my mouth.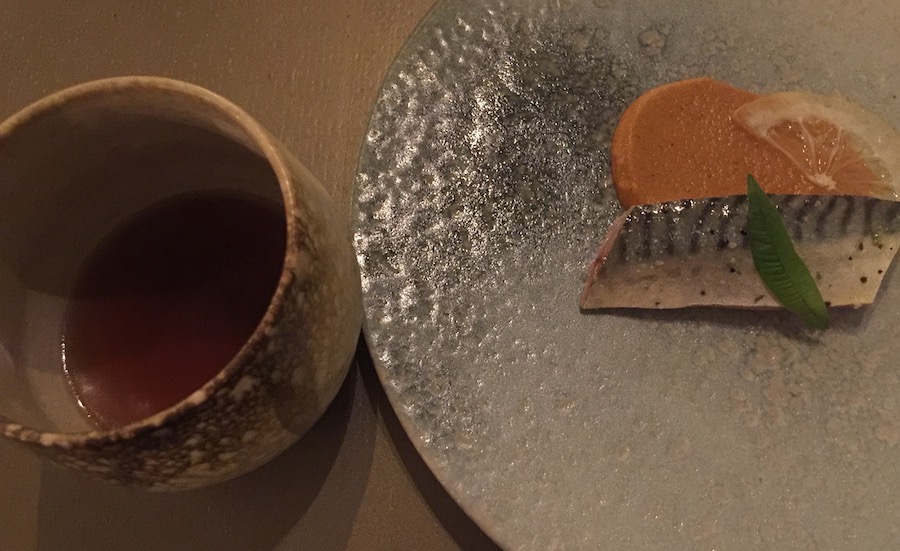 Course two was a scallop that came in a giant shell encrusted in bread. A little stick had been inserted in the side of the shell. The trick was to use it to slice the bread at the opening of the shell to get the prize inside (the scallop). I was a little more successful at the task than the others, but a knife worked just as well for them. The large scallop was perfectly prepared and sat in a pool of broth.
The third course was Monkfish with carrots; the fish was surprisingly meaty and a little sweet from the sauce made from something I didn't understand. Then there was an intermezzo of roasted cauliflower done in an unknown sauce topped with crispy onions or crispy kale (again, depending on dislikes). A delightful bite – just what an amuse bouche or intermezzo should be.
Our fourth (main) course was the leanest duck breast imaginable, cooked rare but not so much that it was bloody (which I would not like). It was accompanied by a "typical" duck sauce (whatever that means), thin slices of potatoes and beetroot, topped with mushrooms dusted in beet dust and, oh, there was a hidden quail egg tucked under the mushroom hat. A very complex flavor profile, but yet simple at the same time. Although it was tasty, I didn't enjoy it as much as the duck we had in St. Petersburg.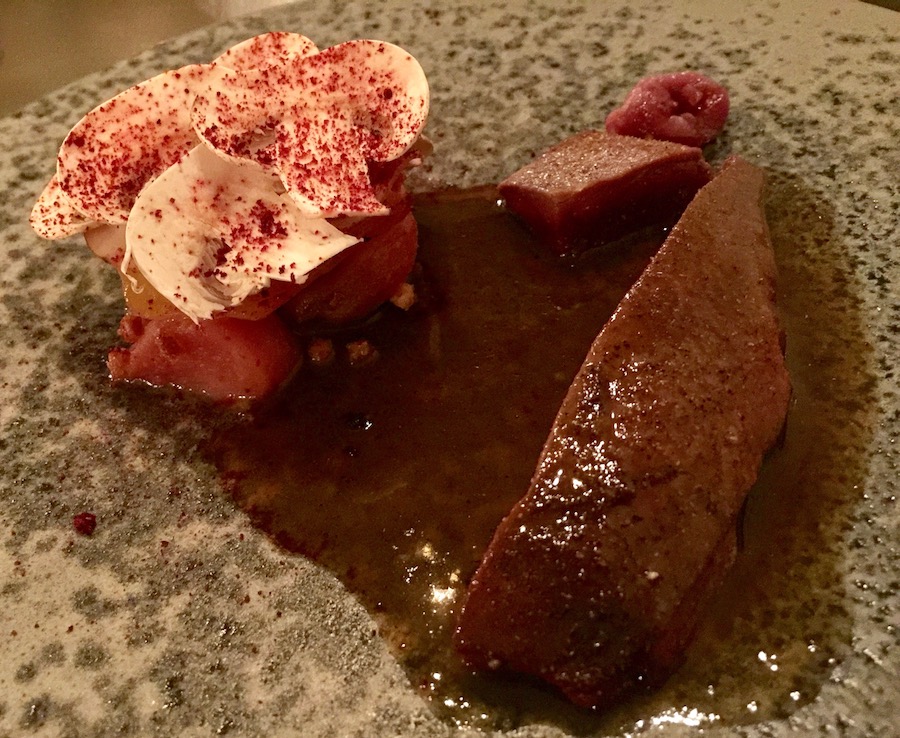 Of course one has to have an intermezzo before dessert, so out came something that sounded like "chocolate … foam …. sponge … with yogurt ice cream." We aren't quite sure what it was that we ate, but no crumb remained. After a pause (clearly for effect), we were graced with our fifth course, dessert – a poached pear with chocolate ice cream, meringue, sauvignon cream, and a toffee/burnt caramel crisp. You wouldn't think the flavors would meld, but they did. I think the waiter was a little disappointed when we weren't as thrilled with the Sauvignon cream as he thought we should be.
All in all, it won't go down as my favorite, but it was an interesting meal in an extremely nice restaurant whose ambiance was comforting and refreshing. Oh, and the company and conversation were stellar!