October 10, 2017
Our day started with a taxi ride back to Hotel Barbizon to pick up my glasses, which I'd left at Restaurant Vermeer last night. That errand completed, we went off to Cafe Papeneiland to join Eating Amsterdam for the Jordaan Food and Canals Tour. We met our guide, Renee, an Amsterdam resident for the past 30 years, and a former chef.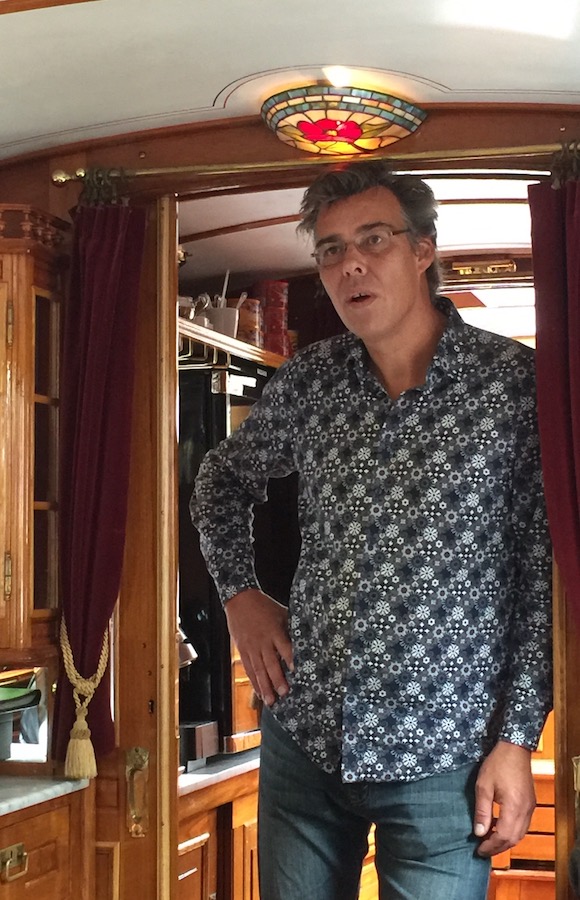 Our group was made up of seven other Americans, including husband and wife Josh and Ashley, travel vloggers for The Way Away.
Cafe Papeneiland is one of the oldest bars in Amsterdam, but it is well-known for its apple pie. One of its most famous patrons, Bill Clinton, once ordered 14 apple pies to take to his staff in Washington after stopping by. (He had several slices and took two huge pies back to his hotel.)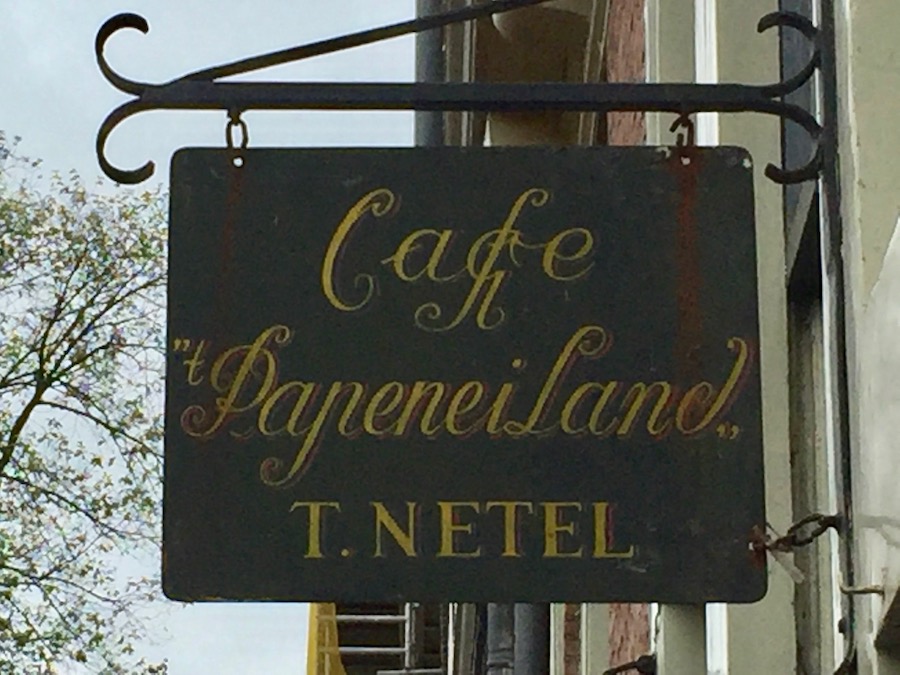 Approximately three inches high, the crust is more like a dense cake, with a crispy exterior. The apples inside are not too sweet, and retain their crispness after baking (i.e., they aren't mushy). Teamed with moderately sweet whipping cream, this is a dessert that I could eat and eat and eat. I don't think there was one crumb left on anyone's plate – a testament to the tastiness of the pie. Scrumptious pie for breakfast – count me in!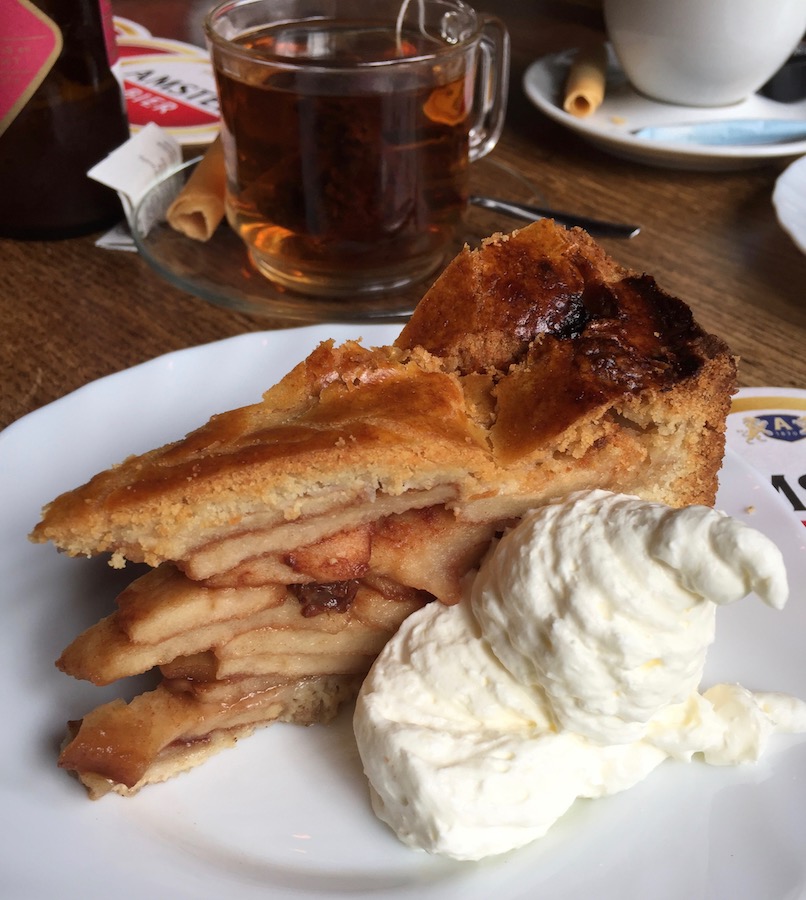 When our plates were scraped clean, and our tea cups (and beer glasses) were empty, we were off on a walking journey through the Jordaan area of Amsterdam. Once a hot bed of strife and corruption, this region has been gentrified, and is one of the more expensive places to live. It is an area of little shops, and really cool architecture.
There is a large Asian influence in Jordaan. Our next stop was a little Indonesian take-away shop, Swieti Sranang. We sampled sate ayam (chicken satay) with peanut sauce and fried onions, kroepoek (prawn crackers), and ajar (pickled root vegetables). The chicken satay was juicy and smother in one of the best peanut sauces I've ever tasted. The sauce was so good, we used the leftovers as a dip for the prawn crackers.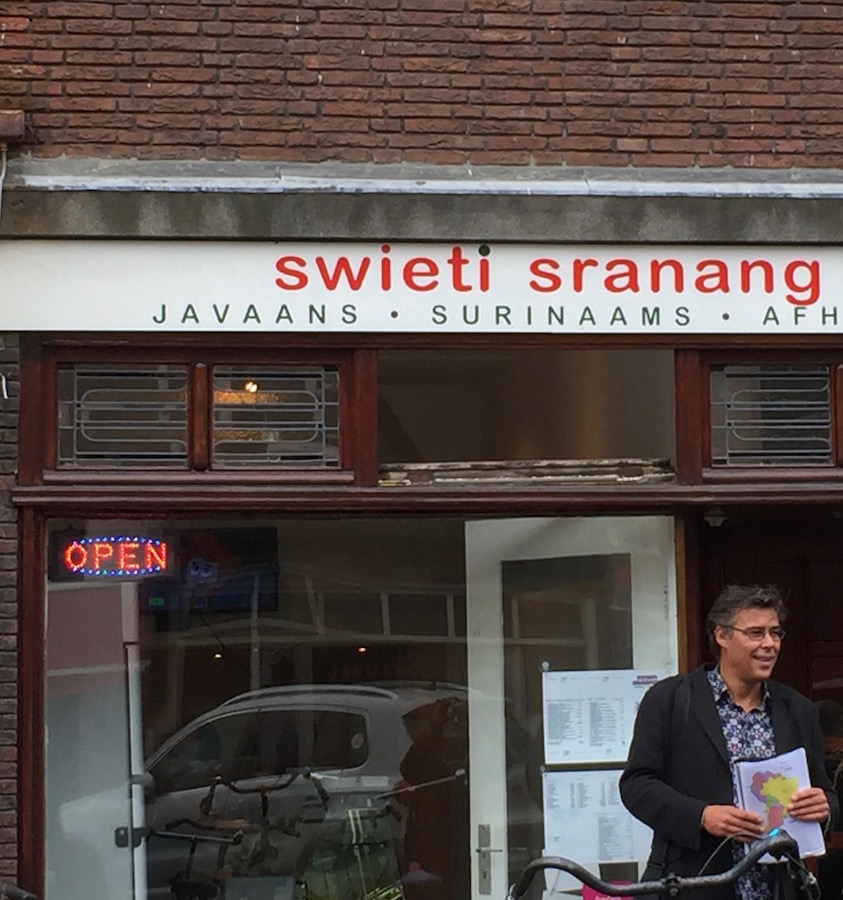 Off on foot again, we wound our way through the side streets of Jordaan while Renee pointed out interesting landmarks, and told stories about former residents of the area. Not far from the store opened by the author of the popular children's book The Mouse House, we stopped at a butcher shop, Slagerij Louman. We sampled various types of house-made sausage and ham. My favorite was the friese boerenmetworst, a semi-dried pork sausage with cloves. It had just enough spice to make it interesting. As we stood sampling little slices of meat, the shop's daily patrons wandered in and out around us. Life goes on even when you're on holiday.
Another stop on tour was Urker Viswinkel, reportedly one of the best Haring (brined herring) and Kibbeling (deep fried cod) places in the area. My stomach was still doing somersaults, so I decided to forego the herring and tulip vodka, and sampled the kibbeling. Although a bit salty, the batter was crisp and delicious; the fish inside was cooked to perfection and tasted almost creamy. Paired with fresh tartar sauce for dipping, it was well on its way to being the best fish and chips ever, minus the chips. Rod said he liked the herring, which he had thought would be vile. The tulip vodka received mixed reviews.
On our way to our next stop, we walked down a side street to look at a building with large statues of musicians on its eaves. A neighbor woman came out to tell us the history of the building, which was part of a former musical instrument factory. She was filled with neighborhood pride and happy to share her knowledge while trimming the bushes outside her apartment. I love meeting locals and hearing their stories.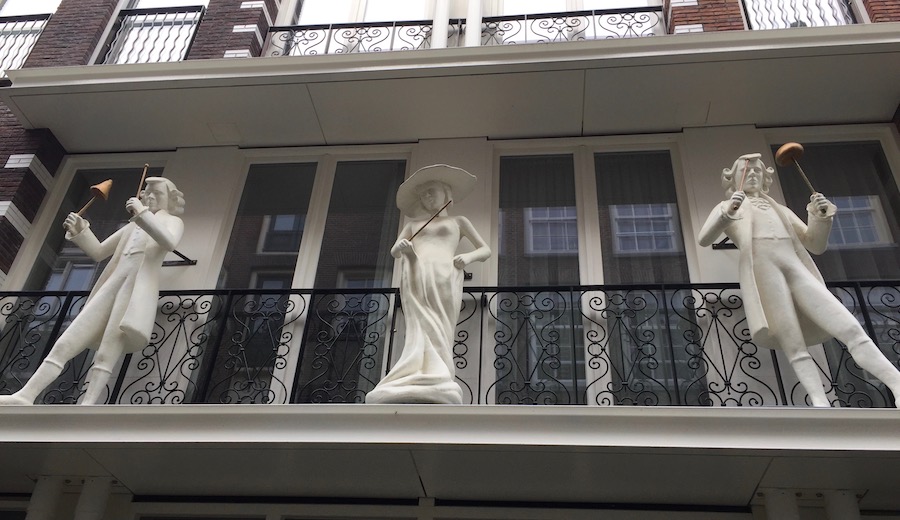 Sprenkels bakery was the last stop before our canal tour – this time for stroopwafels (caramel waffles), which are thin crispy wafers filled with caramel. The shopkeeper warmed them for us, so the caramel in the middle was ooey gooey deliciousness. A little too sweet for some of our group, I loved them – but, then again, I loooove caramel.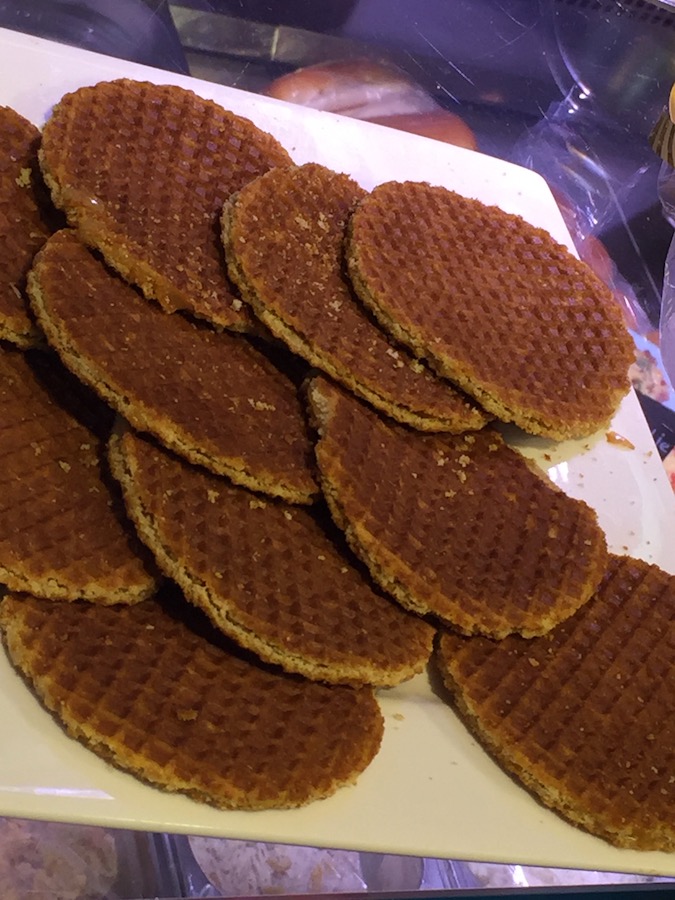 Around the corner, across from the Pulitzer Hotel, we met the captain of the salon boat The Tourist, for a one-hour canal tour. This was my favorite non-food part of the tour.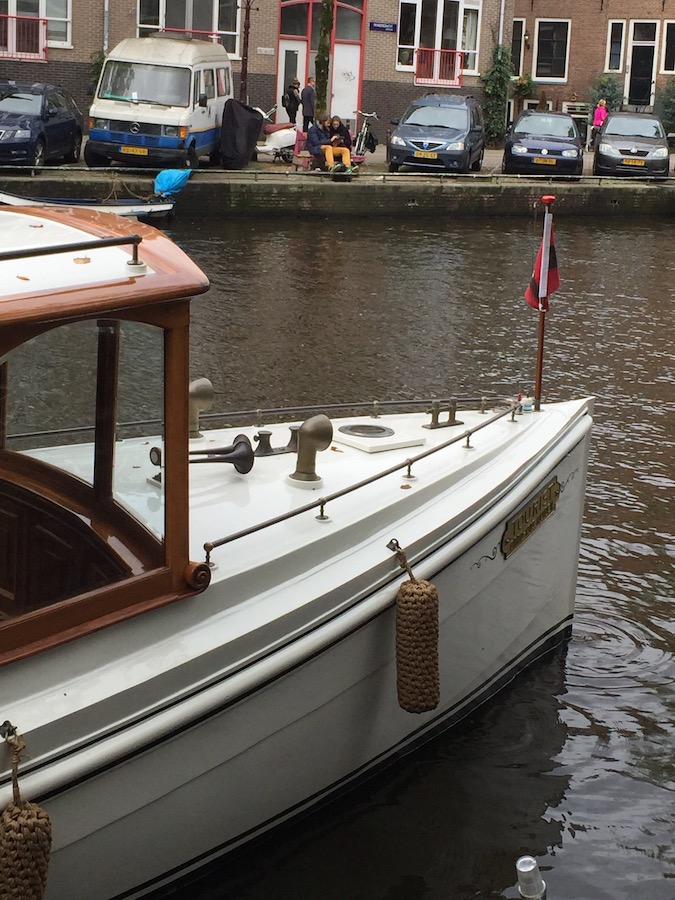 We traveled along small canals, the Amstel River, and then into an area near the Port of Amersterdam. The perspective of places where we'd previously walked was much different from the water. It was relaxing and educational at the same time since the captain regaled us with stories and history as we traveled. Of course, while we were floating, Renee provided more snacks – various types of cheese (including Gouda), bitterballen, and other bar food.
All too soon, the canal trip was over, and we were walking to our final destination, Cafe de Prins, for Poffertjes (small puffy pancakes with butter, powdered sugar, and syrup). In a word – delicious. But then again, what isn't good covered in butter, sugar, and syrup. I paired my pancakes with a cup of tea (it was cold and rainy), while most of the others tried the local beer.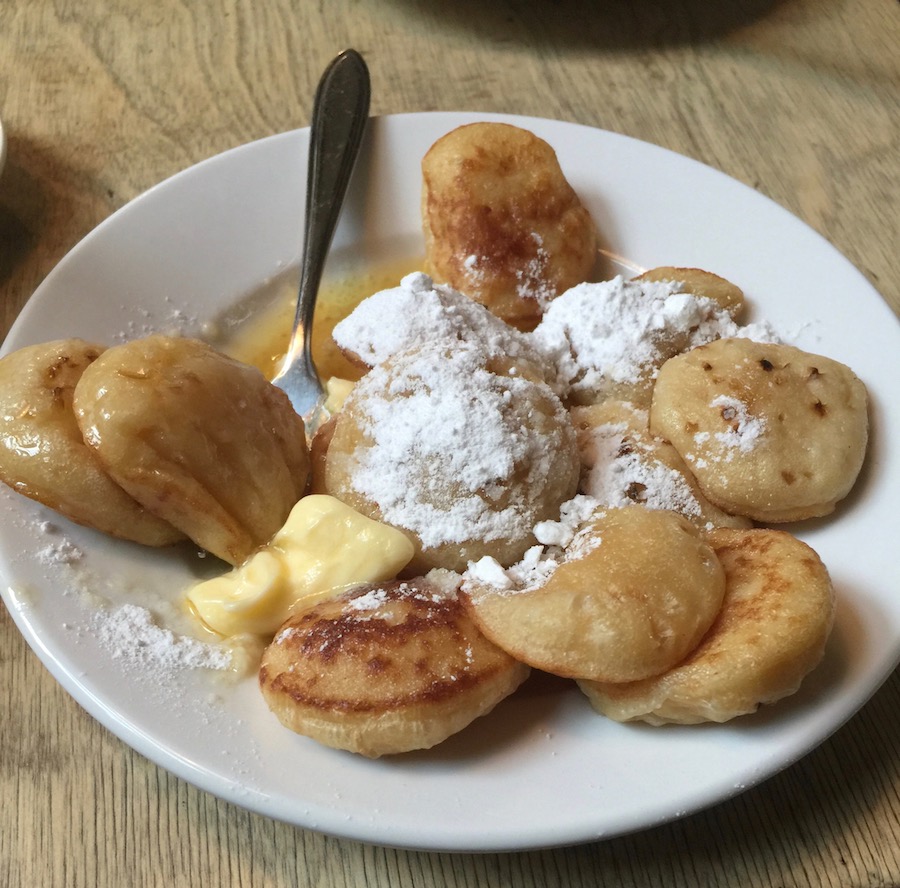 With full bellies, we bid a sad farewell to our new found food lovers and went off to the Tulip Museum to buy souvenirs.
In the last bits of daylight, we wandered the streets of Amsterdam again, looking at architecture and marveling in the city's beauty.
Unfortunately, we leave tomorrow. Amsterdam is a city in which I could be happy staying for a while, which is interesting because the first time I visited Amsterdam as a teenager, I couldn't wait to leave. At that time, the city was rough around the edges and hadn't been cleaned up. Now, the city has retained its heritage but looks toward a bright future beyond all the tourists. If you haven't been here, make sure Amersterdam is on your bucket list.