October 8, 2017
When the alarm rang at 2:45 a.m., we were not happy, but that's when you have to get up to make a 3:15 shuttle to the airport. The front desk was adamant that we needed to leave the hotel three hours before our 5:45 a.m. flight. We shaved a bit of time off so we could sleep an extra half hour; luckily, we didn't shave any more time off our departure.
The ride to the airport was quick. It didn't seem like there were too many people milling around the terminal, so we thought we'd have oodles of time. Not so.
Prior to getting to the ticket counter, we went through a security screening, which took a bit of time. They kept removing luggage from the conveyor belt and putting it back through the screener again and again. Luckily, neither of us had luggage issues on this go around.
We made a last minute decision to pay extra to upgrade to business class. We thought it was a good idea to have more space to sleep and because I was still feeling under the weather. Best – Decision – Ever. There was one person in front of us in the business class check-in; there were about 100 people in line for economy. If we kept our economy tickets, I'm not sure we would have made it to our plane in time based on what was to come.
We got our tickets and checked a bag each (I don't usually check bags, but another good decision). Then we went through yet another security screening where they pulled a lot of carry-ons off to do hand searches. Rod flew threw, but my carry-on was searched intensively. Of course, nothing was found, but it wasted a lot of time. That wasn't even the end of it.
Prior to getting to passport control, we entered another "check station" where our tickets and passports were reviewed. We still aren't sure why, but I was waved through while Rod was told to stand off to the side. My next stop was passport control, where the lines were long. While standing in line, I saw Rod enter the area looking unscathed. We were finally able to meet up on the other side of passport control, our bodies and luggage intact. We even had a bit of time to hit the lounge.
Business class on the plane had several empty seats, so we were able to have a row to ourselves. My stomach was still flip-flopping, but I was able to get some sleep during the 3-hour flight to Amsterdam.
The line for economy in St. Petersburg was nothing compared to the line at passport control in Amsterdam. Several international planes arrived at the same time, so everyone funneled into a small area and chaos ensued. Half of the room was devoted to fast pass for EU citizens; however, there were very few EU travelers on any of the flights. That meant everyone was in our queue. It took a little about an hour make it out of the airport terminal to the taxi stand.
A 30-minute taxi ride delivered us to the Amstel Intercontinental Hotel, which is understatedly elegant. (Thank you IHG points).
After offering us hot tea, the lovely receptionist advised that our room was not yet ready. We tucked ourselves in a corner of the lobby to drink our tea and wait for one of Rod's friends to arrive. An hour and a croissant later, she arrived to receive the same news about room availability.
With nothing else to do with our time, we decided to go for a walk. We walked up and down cobbled streets, over bridges, down side streets, all the time avoiding collisions with bicycles. There was no destination in mind; we just enjoyed the scenery ~ the boats in the canals, the architecture, the people, and the bicycle culture. (Bikes rule the streets in Amsterdam.)
Almost four miles later, we came back to the hotel to find our rooms ready. Our room was large with twin beds, two dormer windows, two sitting areas, and an oversized bathroom with a huge tub and the best rain shower. At first, the toile decorating the walls and the beds was a bit much, but it grew on us and became very soothing. The beds and pillows were so comfy and soft, making for great sleep ~ which was awesome because we all needed a nap before dinner.
Since I was still not feeling well, Rod changed our dinner reservation to a restaurant that was more likely to have something I could eat. We ended up at Mama Makan, an Indonesian restaurant not too far from our hotel. Even though it should have been a straight shot, we got a bit turned around and added some steps to our daily total.
Due to my stomach issues, the waiter suggested I have the Soto Madura, Indonesian chicken soup with a side of rice. We all know chicken soup is a cure for what ails a person, and this was mighty tasty (it didn't cure my ails, but it was still delicious). Rod and friend shared the Terong Sambal Balado, fried eggplant with chili sauce, mixed vegetables, and Tunis Sapi, sliced beef with mushrooms, chili and sweet soy sauce.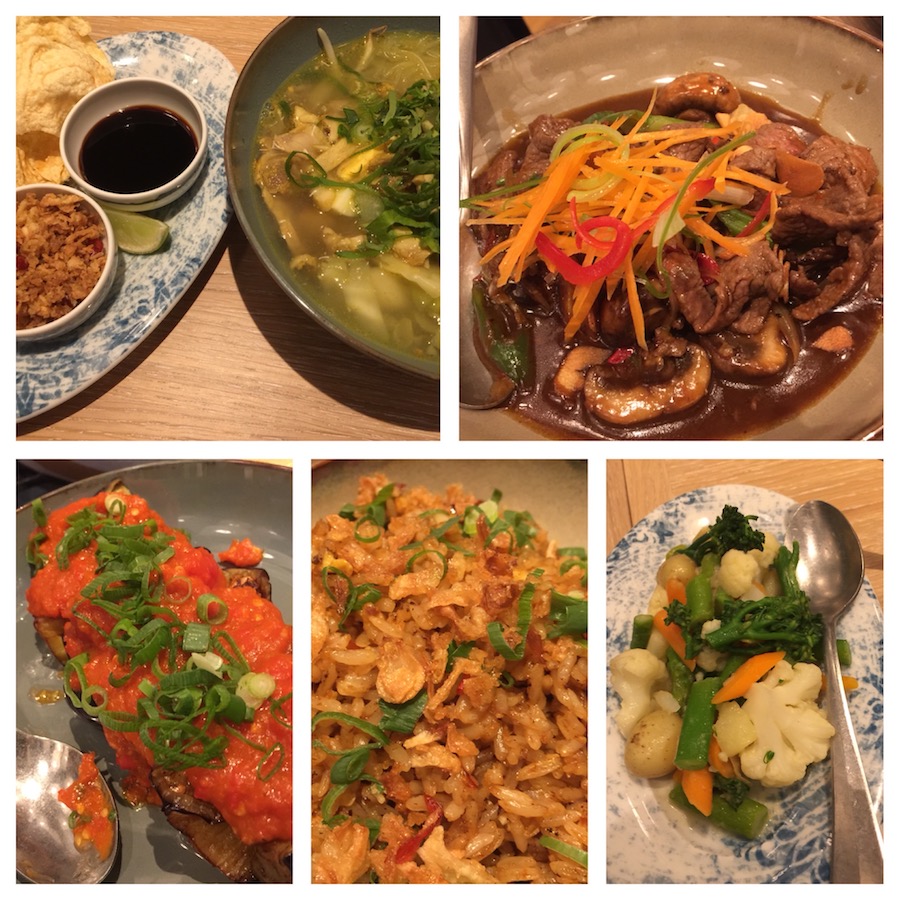 There wasn't a morsel left. Amsterdam is off to a delicious start