April 29, 2016
We heard that the Atlas Mountains outside Marrakech made a great day trip, so it was up early to meet our guide for the day (we'll call him Sam). We had no idea what we were going to do on our road trip and went on the trip with no expectations.
Sam was a fountain of information and spoke English pretty well, although he prefaced everything with "I tell you…"  As we were to learn during our ride out to the mountains, he is the oldest of 14 children of his father's two wives.  It appeared he wasn't too fond of his father casting aside his mother for a second wife, mainly since wife No. 2 is ten years younger than Sam. As we drove, we talked a little family life, a little politics, and a little about how Morocco is changing.  
During recent years, it is mandatory that children go to school from age 6 to age 15, even if the family lives in the most rural of settings.  Since more children are going to school than before, schools are being built at a rapid rate – the King has pledged to build more than 900 new schools.  
The average salary for a man in Marrakech is 2500 to 4000 dirhams per month (approx. $260-$415 USD at the current exchange rate).  If you don't live in a family-owned home, the average rent is $160 USD per month).  It doesn't give a lot of leeway for consumables, especially if you have kids.
Sam expressed concern with how changes in the country are affecting the family unit. The country has instituted a plan to make small loans to first time home buyers to spark the economy and construction trade.  However, as younger people take advantage of the program, they are leaving their family homes and becoming more isolated.  It used to be that multiple generations lived in one house.  While there was a lack of privacy, there was always someone around to help.  Even with a wife and two young sons in his apartment, Sam misses the rest of his family dearly (well, everyone except his father's No. 2 wife).  
We also talked about how crazy traffic is and how the police don't monitor road traffic.  However, we spoke too soon because as we came around a corner, there was a police blockade.  The police officer indicated Sam should pull the van over. Luckily, before starting on our trip, Sam had us fill out the paperwork required to be kept in tour vehicles.  
Somehow, even though you know you haven't done anything wrong when the police stop your vehicle in a foreign country, you begin to panic a bit. The police officer did a walk around of the van pointing at the tires, looking at the paperwork now in his hand, and speaking rather quickly and loudly. A lot of things pass through your mind at times like this.
One minute, two minutes, five minutes passed, and then Sam hopped back into the vehicle, and we drove off quickly.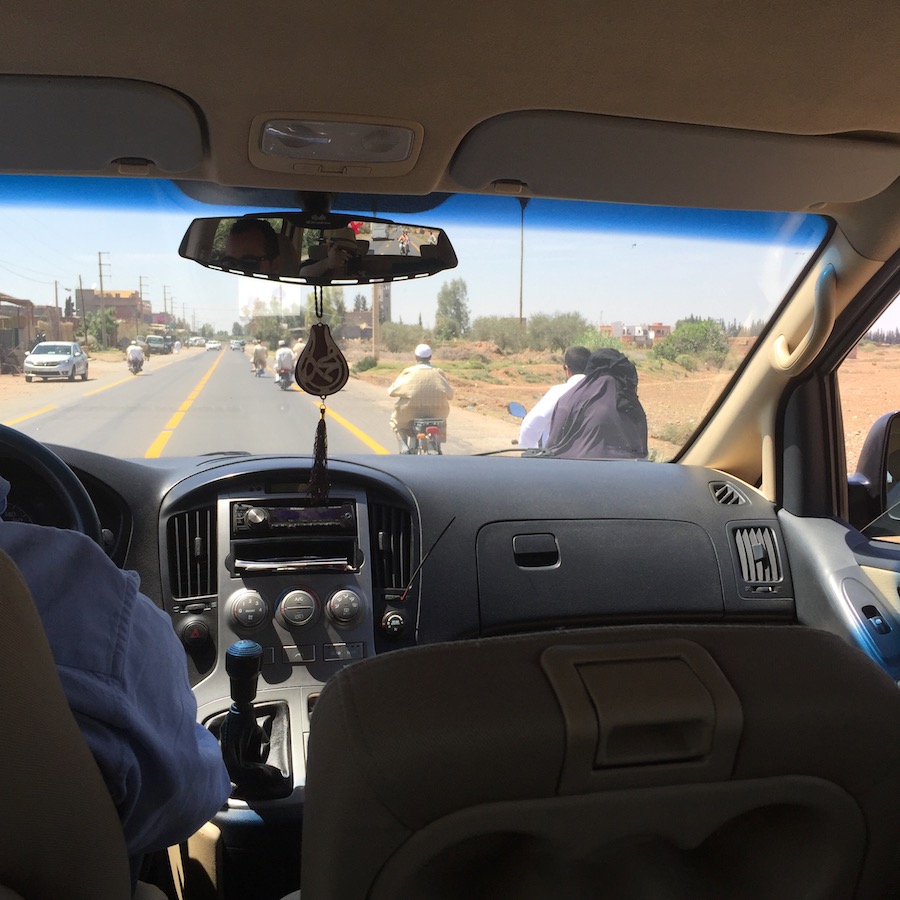 It seems that the officer was concerned about whether or not the vehicle's tire pressure was adequate for driving up into the mountains.  Sam went on to tell us that this branch of the police was OK and did a good job at checking tour driver credentials, passenger manifests, and the quality of the vehicles. If Sam hadn't filled out the paperwork correctly, didn't have the proper credentials, or the van wasn't in good working condition, he could have received a fine, had the vehicle impounded, or he could have been imprisoned for 2-3 days.  Yikes!
As we left Marrakech, we saw a lot of development.  Some of it was the new housing and apartments Sam had talked about, but there were also vast compounds built by the wealthy – oasis after oasis in the desert.  As we drove further and further toward the mountains, the terrain got rockier and steeper, and the road got narrower and twistier.  
We headed for the Ourika Valley in the foothills of the Atlas Mountains, home of Berber villages and known for their pottery.  Out of our windows, we saw mud and clay villages clinging to hillsides.  If there were at least one or two homes, there was also a mosque.  Sam explained that the mosque is always the first building to be built after the first few homes because it is the center of the community.
The Berber people speak Berber, they do not speak Arabic.  Much of the older population is illiterate and cannot converse with anyone outside of their immediate community.  The younger generations, particularly the ones being raised now, also learn Arabic in school.  We learned though, that there are not enough teachers, so the Berber children only attend school half days – one group in the morning and another in the afternoon.  We saw groups of children trudging off to school as we drove the mountain road. We also saw a very large school where some children board during the week because their villages are too far away to walk.  They haven't developed a "busing" system.
Our route took us along the Ourika River which was calm in some areas and rushing rapids in others.  
In each of the little communities we went through, entrepreneurs had set up restaurants along the river. When I say along the river, I mean there were chairs and tables inches away from the bank of the river.  Some even looked like living rooms; they had been set up with couches and comfortable chairs nestled among olive and walnut groves. I'm not sure what they do with all the furniture during the season when the river floods. Sam told us that the water could rise to the level of the road, which at some points is 20 feet above the River.  

There were so many restaurants all along the river. I guess there is enough tourist dirham to go around as the Ourika Valley gets very busy during the summer. It can be a good 20-25 degrees cooler than Marrakech, so everyone comes to escape the heat.  The interesting thing is that the restaurants were all on the other side of the river from the road, so to get to them, footbridges had been strung up. There was the odd bridge made out of steel but, for the most part, they were made up of logs and wooden planks.  The word rickety springs to mind or, being a bit more diplomatic, one could say they were "rustic."
When we reached Setti Fatima, Sam pulled the van over to the side of the road and introduced us to Mohammed, our guide for the next portion of the adventure.  Mohammed is Berber and was raised in the mountains (we called him Mountain Mohammed to distinguish him from Medina Mohammed, our food tour guide from two evenings before).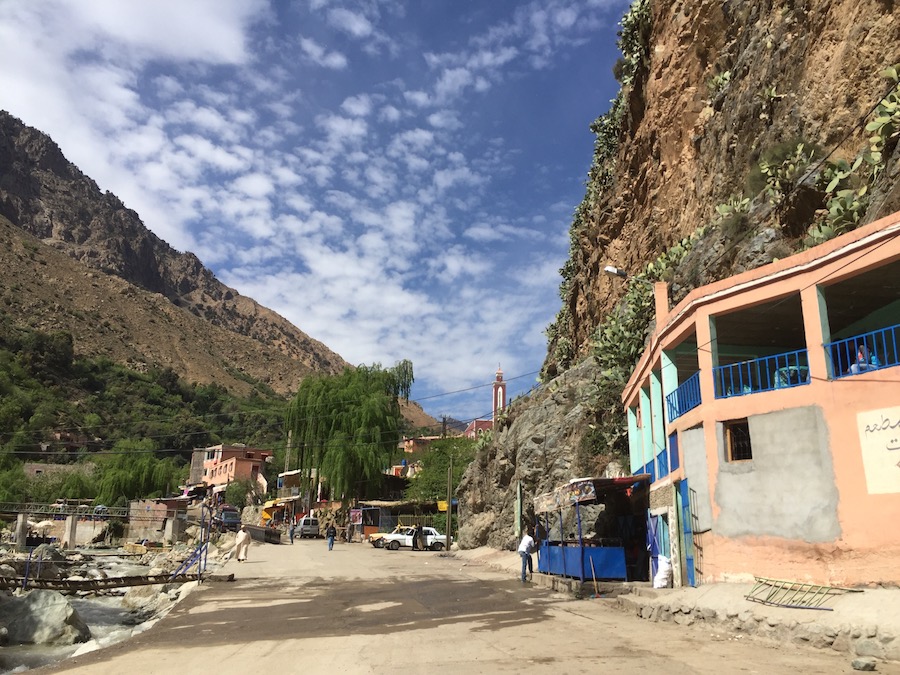 Mountain Mohammed is in his twenties and during all seasons, except summer, he leads several groups of tourists a day up to the waterfalls. He speaks fluent Berber and Arabic and is self-taught in French, English, and Italian so he can be a better guide.  During the summer, he leads hikers up into the mountains, including treks up Mount Toubkal, North Africa's tallest peak.  
Our trip up to the waterfalls started by walking across one of those "rustic" bridges.  I wanted to say to myself "don't look down, don't look down," but I had to look down as some of the wooden slats were not exactly stable or they were missing altogether, so I had to look where I was going.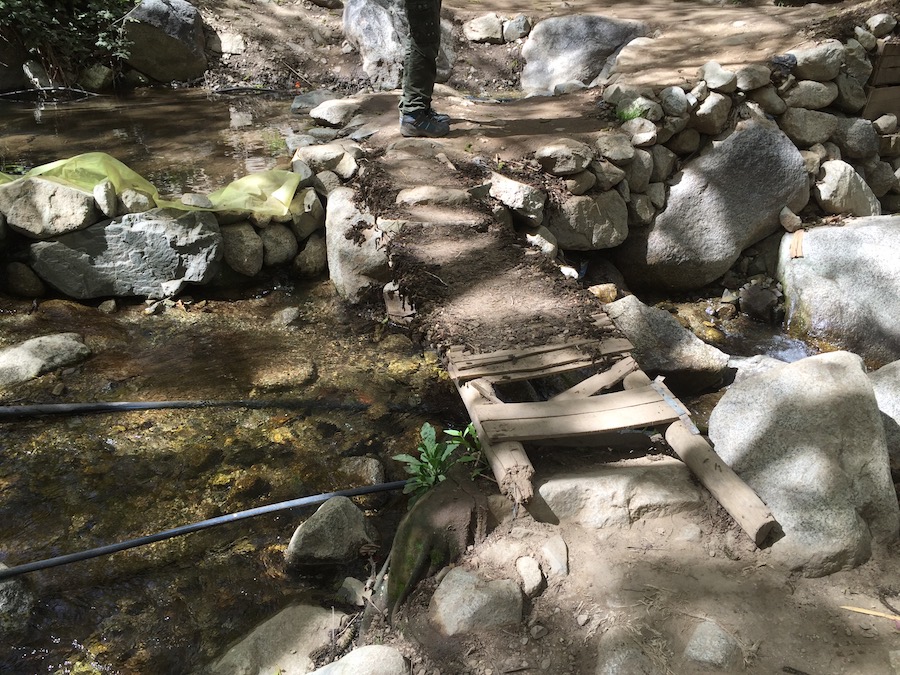 Then we started climbing uphill. Sometimes there were steps, sometimes there weren't and we clambered over the rocks, sometimes we were hopping precariously from one stone to another crossing the river.  All the while, Mountain Mohammed was there with a hand up. He bounded from rock to rock very gracefully.  I said, "You're like a mountain goat," to which he replied, "Ah yes, I'm from the mountains, so I'm half man, half goat."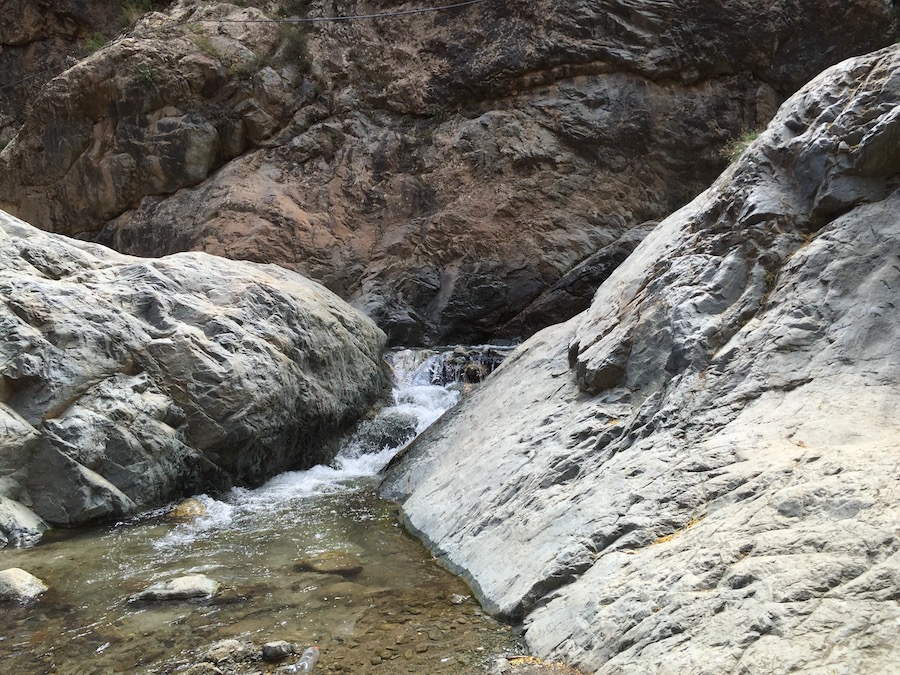 As we climbed, there were small Berber agricultural encampments and arts/crafts cooperatives.  We watched as one older man carved stone figurines with hand and foot driven tools (no power drills here, but they do call him Mr. Black & Decker).  Quite interesting and beautiful, but we didn't purchase anything as we'd already done our souvenir shopping.
Water is everywhere – little streams and waterfalls abound.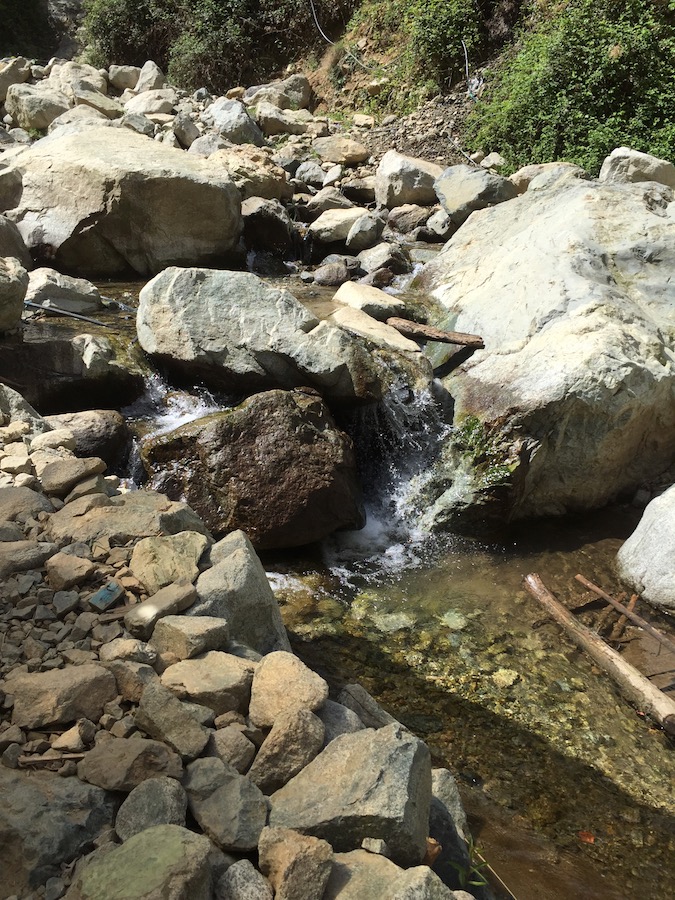 The entrepreneurial spirit of the people showed clearly in the development of environmental refrigerators where they harnessed the energy and temperature of the water to cool drinks and snacks for the many tourists who pass by.  Some of the "refrigerators" were ingenious with spinning parts and sprayers made out of old plastic bottles and pipes.  Awesome inventiveness!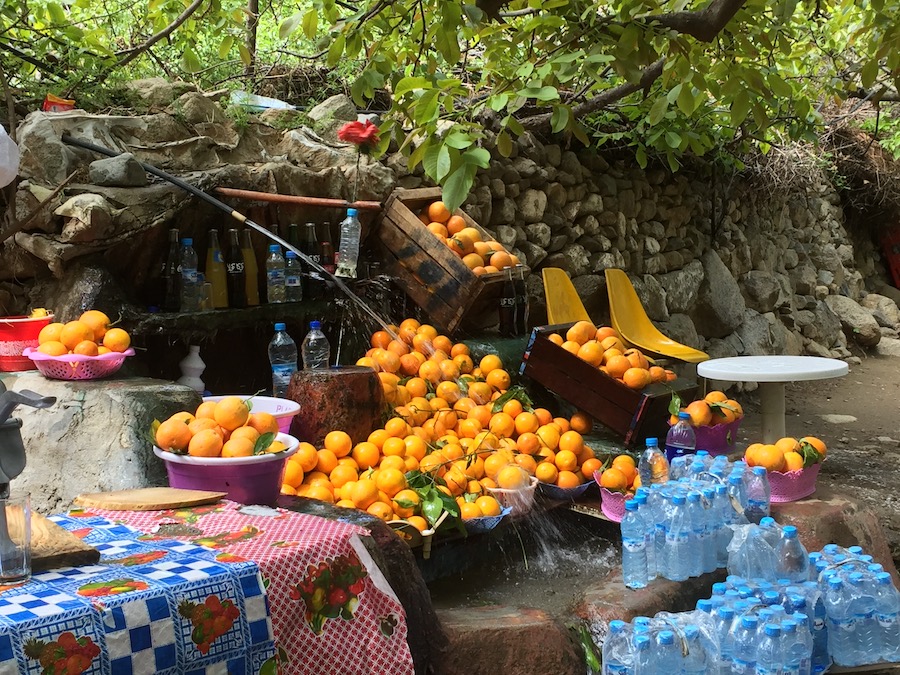 Up we climbed.  We were lucky we started early in the morning because it wasn't too busy with other tourists. Well, there were a few, stopping every ten feet for another photo opp.  Selfie sticks have been omnipresent on our trip.  We are not impressed with the ever-present "look at me; I have to take a picture of me; now you take a picture of me; then I'll take a picture of you taking a picture of me" phenomenon.  Oh no, am I getting to be a grumpy older person?  No comments, please.  
We made it up to the third water and decided to stop. The terrain was getting a little steep for us and we decided we would leave the upper falls for our next trip to the Marrakech area.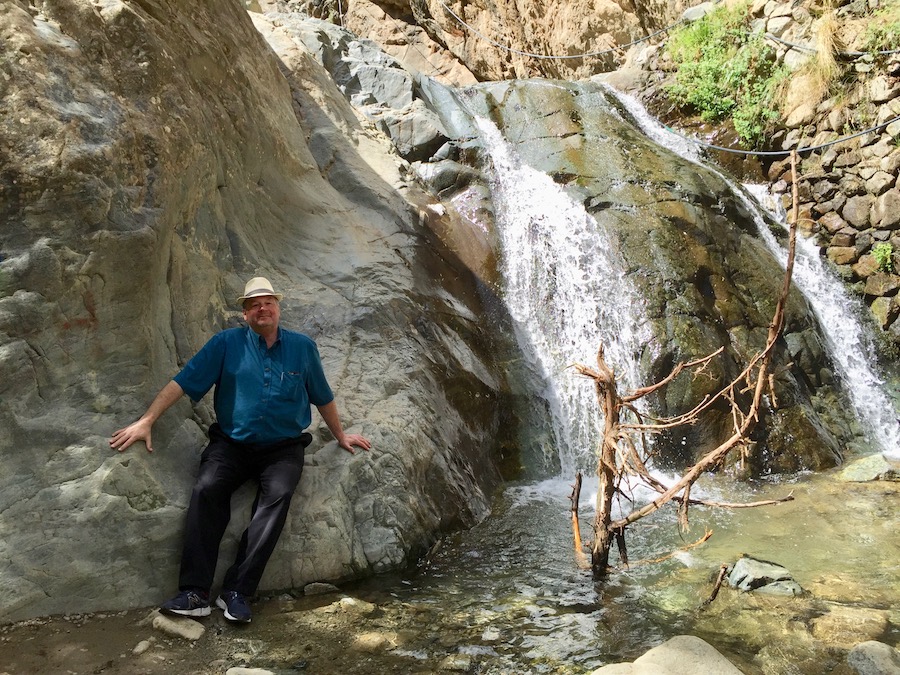 Of course, what goes up, must come down. We picked our way down the rocks, which in some places were very slippery.  However, we made it back down without injury and then across not one, but two "bridges" to the road on the other side of the river.
It was about lunchtime, so Mountain Mohammed asked if we wanted to eat before handing us back to Sam.  We crossed one of the more secure bridges and dined in a riverside restaurant underneath a bunch of walnut trees. The food was good – our starters were vegetable soup and a small mushroom omelet (the Spaniards also eat omelets as an appetizer – very peculiar). Our entrees were a kafta (meatball) tagine and mixed meat skewers with the best French fries we've had in a long time. Dessert was chocolate mousse and oranges with cinnamon.  The service was very attentive, and our waiter insisted we have mint tea "on the house" following dessert.
We relaxed on our comfy riverside sofa drinking our super sweet mint tea, listening to the rushing water and watching a new wave of tourists stream into the area to embark on their treks to the waterfalls.  
The scenery on the way back to Marrakech was lovely and we even got to see a few camels (although I'm not sure how I feel about the ethics of camel rides).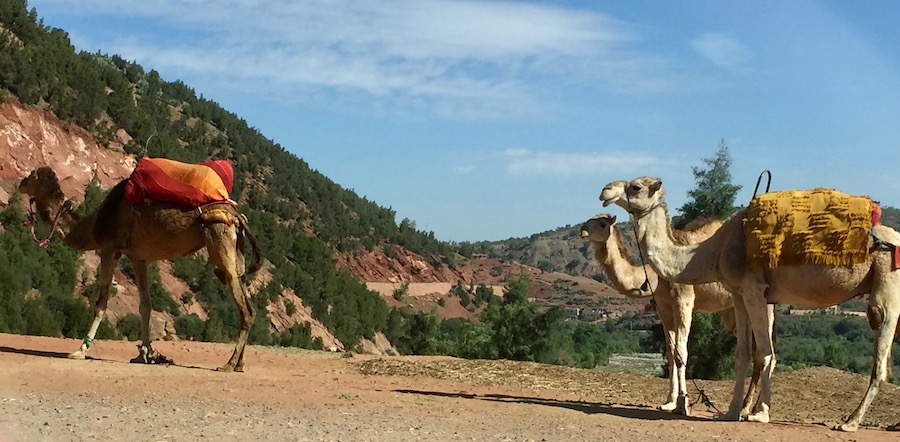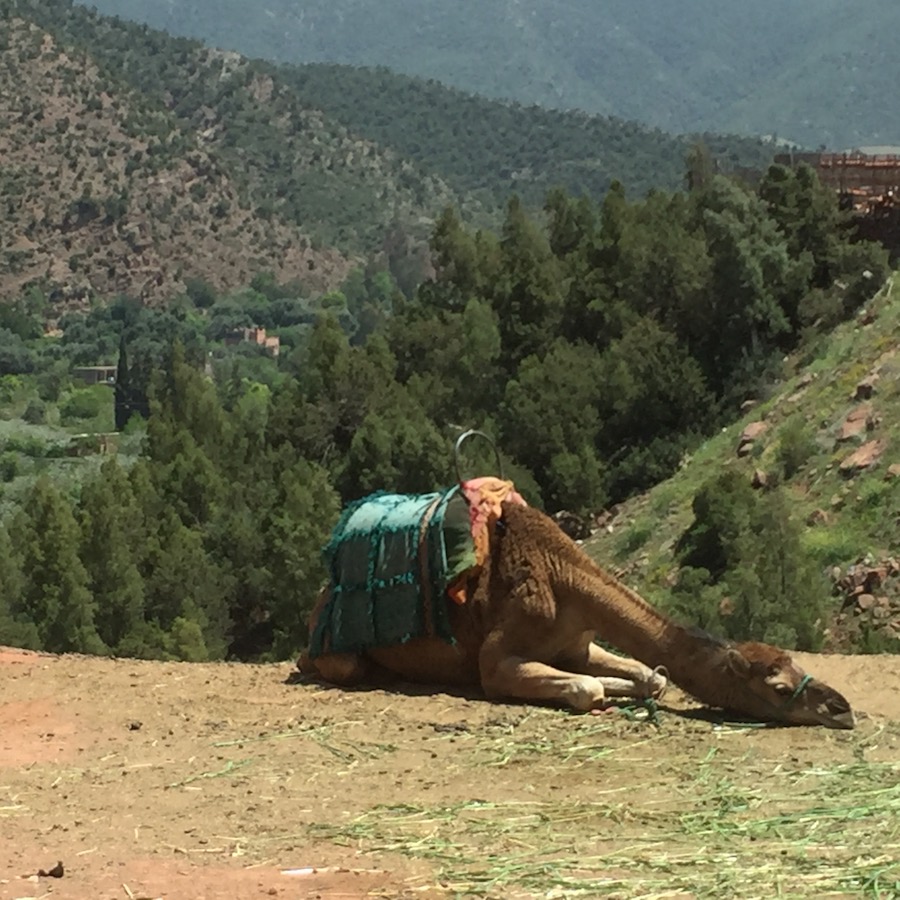 I'd love to say we did something fantastic and fascinating once we were back in Marrakech, but I can't. We were tuckered out after all the walking and climbing (Steven's iPhone pedometer said we climbed 17 stories and walked over 17,000 steps). Steven napped, I wrote, I napped, we took a walk to get wallet refills at the ATM, and picked up yet more bottled water from the local store.  Steven did make a mean meal of leftovers for dinner. Sometimes you have to have a quiet night every once in while on vacation.