April 27, 2016 (part 2)
We ducked our heads when we crossed the threshold into our Riad (later I forgot to duck and regretted it immensely). The woman in the purple caftan's name is Azziza and she turns out to be the woman who will be looking after us while we are in Marrakech. She makes our breakfast, cleans the Riad, and makes arrangements for anything we want to see or do while we are here. She's nice and is learning some English words from us while we learn a few more French words from her.
A Riad is a traditional Moroccan house built around a courtyard (or courtyards if you have a big Riad) which is open air. All the rooms branch off of the courtyard. The ground floor of our new home had a small soaking pool, two bedrooms with en suites, and a 1/2 bath. The first floor had a lounge, breakfast nook, fireplace, and a kitchen. The rooftop terrace housed a dining area, a pergola covered lounge, and a utility room with a washer/dryer. The house was tastefully decorated and very welcoming.
Azziza showed us around, asked us to select a bedroom, and proceeded to make us mint tea. Morocco = mint tea. You are offered mint tea everywhere. Go to a person's home, you get mint tea; go to someone else's hotel, you get mint tea; go to a shop and interact with a shopkeeper, you get mint tea; go to the pharmacy, you get mint tea. The tea is served nuclear hot and with a healthy dose of sugar. They've elevated "sweet tea" to a whole new dimension.
Shortly after our arrival, the owners of the Riad, Anne and Philippe, stopped by to get us acquainted with the house and Marrakech in general. Anne is British; Philippe is French. They moved to Marrakech about four years ago, purchased and renovated a couple of Riads near the Medina (main square) as investments, and live closer to the new part of the city. Anne asked us what we wanted to do while we are here and made some suggestions. She also started marking things on a map, circling places to go and marking with things like where to catch a taxi, where to go for water, etc. Unfortunately, when she was done, we had a map with a bunch of Xs, Ts, and circles. Now, we can't figure out what any of them mean.
We talked about some excursions she could arrange for us and then we asked about money. Credit cards are not widely accepted here, except in major hotels or larger shops. Euros are accepted in some places, but mostly they use the Dirham. Approximately 100 Dirham = 10 Euros, which is a little easier to convert to USD. We were told that there were several banks along a major street where we could exchange money or use the ATMs. The street is aptly named Rue Banque.
Anne started to tell us how to get there on the marked up map, but Philippe just volunteered to take us there so we knew the way. After all, we had to figure out how to navigate the maze of alleys to get to and from the Riad. With keys to the house in hand (we are the only ones staying here, so we don't have to share), we followed Anne and Philippe along the high wall of a neighboring Riad (wealthy former French actor owns it) until we got to the high wall of the new palace (the reason for all the armed guards). We then followed the palace wall out to the busy side street where we had been deposited an hour ago by our driver. It was a lot simpler than we thought. Down the side street along another of the palace's walls and we were at the major road – simple. Philippe collected his car and drove us to Banque Street. Then, we were on our own. Gulp.
This isn't Kansas anymore Toto. We stuck out like sore thumbs and were clearly seen as tourists. So, of course, people asked us to buy things or yelled at us from across the street to buy things. While some were persistent, most stop bugging you if you said a firm, "Non, merci." But there's a lot of people, a lot of hustle/bustle and a lot of motor scooters whizzing by you, even in pedestrian-only sections.
Oh, and by the way, they don't slow down for pedestrians. Crossing the street is a death-defying sport. We eventually determined how to do it "safely" – stay close to a local while they are crossing the street. They have more experience with it and they know what they are doing. We just tried to do it in a non-stalkerish way.
We made it down Banque Street and found an ATM that was working (the first two weren't) and took out Dirhams. We wandered a bit further down until we found the entry into the Medina – it's big and there are a lot of people.
We weren't quite ready for it on our own. We went just as far as we needed to find the post office where we were to hook up with our evening food tour in a few hours. Then it was a matter of retracing our steps back to the Riad. We actually found it on our first try. We felt triumphant.
Although we felt more comfortable with our route, we left extra early to make our way to the main square, Jamaa El Fna (we'll just call it the Medina), to meet our guide.  The directions were to meet near the yellow mail boxes in front of the post office, so we decided to sit right next to them. About five minutes later a British couple walked up, looking a bit lost.  The next to arrive was our guide Mohamed and then another couple from Wales.  Mohamed gave us a brief overview of what would occur and then we were off for our first stop – a snail vendor in the middle of the Medina.
Snails are a big thing in Marrakech, which is interesting because this is a desert.  Not sure where they get all the snails they cook, and I probably don't want to know.  Boiled in a spicy broth, you pick the snail innards out of the shell with a toothpick, and down the hatch it goes. Escargot these are not. There is no yummy garlic or butter sauce.  These snails are a bit harsh tasting, but each of us got one or two down before passing on the remainder.  We also passed on the offer to drink the cooking broth.  The first stop not great, but doable.
Off across the Medina we went to some permanent stalls which house in-ground fire pits where legs of lamb and various meats in clay pots are cooked for use in restaurants and as "to go" for locals.  We were shown one of the fire pits, which looked like a very deep dark hole in the ground and was very, very hot – hit a 9.5 on the sweat meter.  
The restaurant above the stall was our next stop. We walked up several flights of steep stairs until we were on a balcony overlooking the medina. Before being served, we washed our hands since we would be enjoying communal dining, using our fingers as utensils.  The restaurant owner brought lamb cooked two ways.  The first was just plain, no sauces or seasonings – straight up lamb.  It was served with a bowl of salt and cumin to be added to taste.  And tasty it was – so juicy.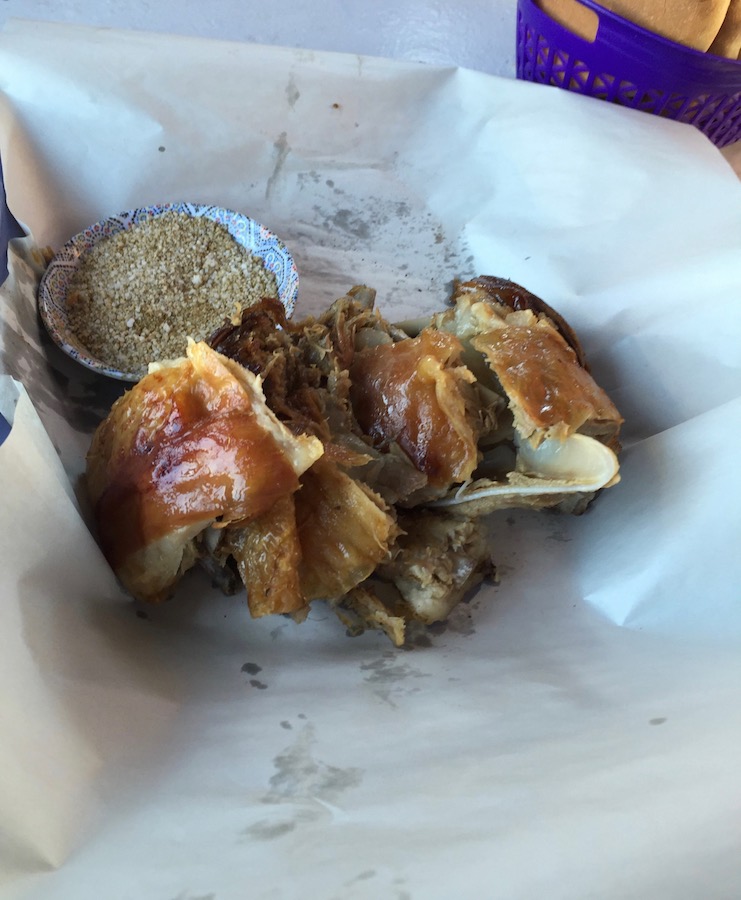 The second preparation was lamb in a sauce of too many seasonings to remember, cooked underground in a clay pot for many hours.  We burned our fingers tearing away at the meat chunks, but it was so aromatic and enticing to the senses that we wanted to taste it right away.  The meat was so tender it came apart in your fingers and was so well seasoned.  Fantastic. The dishes also came with bread which we used to sop up the sauce and juices – delicious.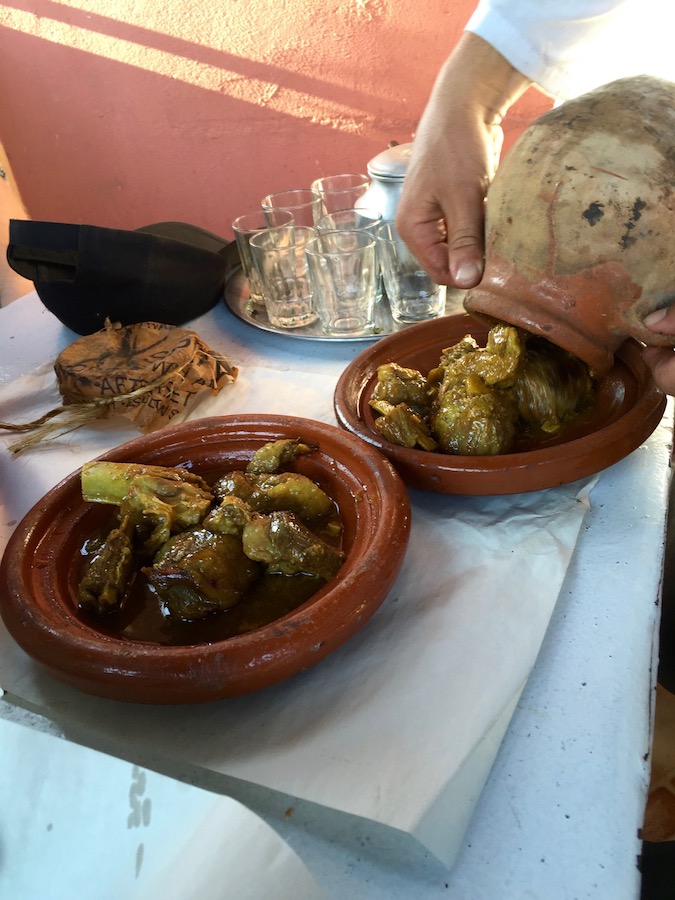 Mohamed was very happy that we were enjoying the lamb.  Then he said, "I have a surprise for you." The owner brought out half of a sheep's head.  Well, isn't that nice!?  He urged us to dig in.  We sat looking at each other to see who would be the first to try.  Turned out the Welsh guy's father was a butcher so, he isn't afraid to eat anything. He went first.  When he didn't turn blue, we each took a taste of the cheek and jowl meat.  It was pretty good.  Then Mohamed turned the head over to expose the tongue and offered it to us.  As Steven says, "in for a penny, in for a pound," so we tried it.  Not half bad.   Nobody, not even Welsh guy, was daring enough to eat the eyeball.  I drew a line.

After washing up, we headed back down into the Medina and then into the back alleys of the souks.  Whatever you need or want to buy, you can find it in the souks. There's a souk for everything.  There were stalls upon stalls selling mint and other herbs, stalls upon stalls selling olives, each stall selling the same goods as their neighbors.  Some stalls had cages with pet turtles or iguanas out front so that you would stop at their stall and they would ask you to buy from them instead of the next stall down.  I'm not sure how there is enough business to go around for all of the vendors.  
We went up and down alleys looking at the different foods and things for sale until we came upon a street vendor selling crepes.  These aren't the French kind you automatically think of when you think of crepes. These are like flatbread on top of which the cook adds a tomato and onion mixture and a clarified butter product which Mohamed described – I stopped listening to him after he said it could be kept on a shelf for up to five years.  I might be better off not knowing what it is I'm eating.  Despite questionable ingredients, the crepes were excellent and we took them to go and ate as we walked deeper into the souks.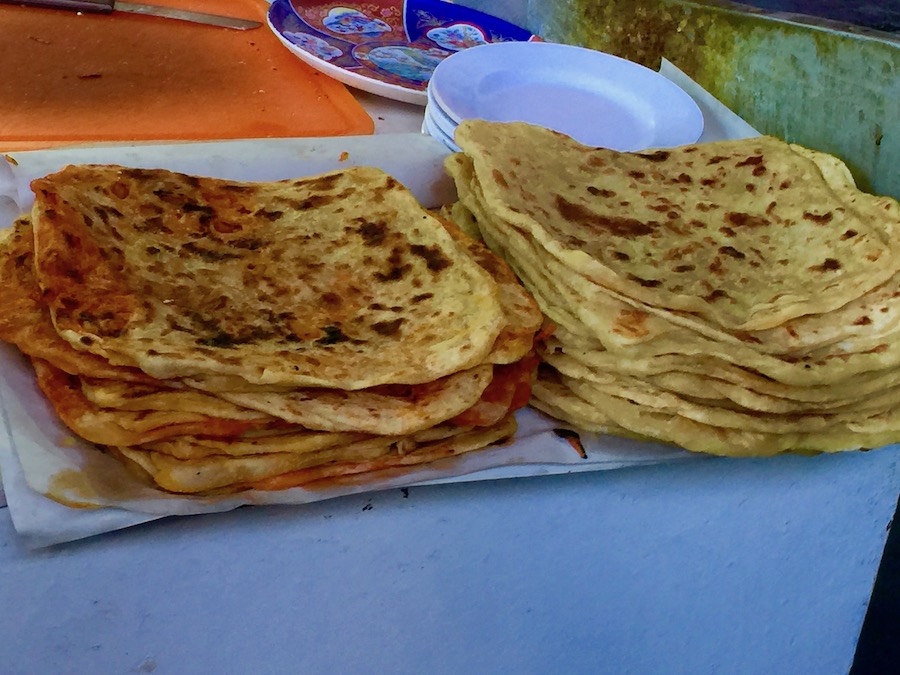 Our next stop was a street vendor famous for his sardine meatball sandwiches.  I'm not a fan of sardines, so I opted to have a taste of Steven's – he loves sardines.  The meatballs didn't taste fishy at all, but I was still not convinced to eat my own sandwich.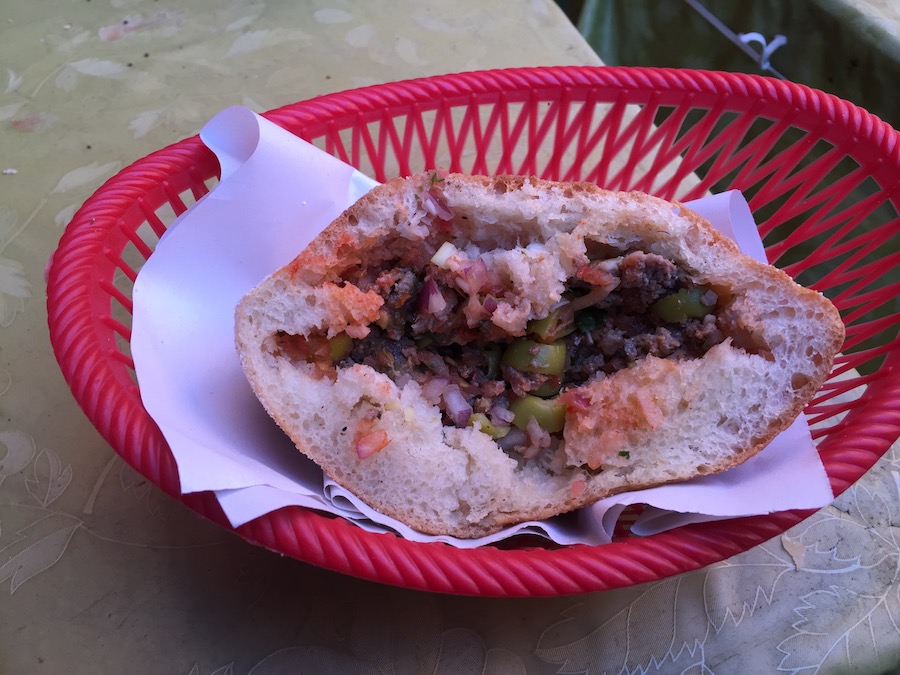 Our main stop was at Restaurant Naima, a little hole in the wall run by a little old lady and her daughter.  There is no menu, you simply eat what she cooks, and what she cooks is a mean couscous.  Here, couscous is not a side dish, it is a main event.  It takes a lot of time to make a proper couscous and some of it is prepared ahead of time.  But what comes out of all that work is incredible.
Mama Couscous (our name since we didn't catch her real name) can cook! She prepared a huge vegetarian couscous for us – enough to feed an army. The couscous was so light, fluffy, and tasty and the vegetables were delightfully seasoned and tender.  Eaten together,  it was heaven in an earthenware bowl.  Alongside the couscous, we were served a traditional Moroccan salad containing stewed tomatoes, onions, and eggplant, which was also very good.  
Of course, there was mint tea. Mamma Couscous adds rose hips to her mint tea and it was the best we've had so far.  Even though we hardly made a dent in the platter of couscous, she served us a traditional dessert of orange slices topped with caramelized sugar and cinnamon.  I will never eat an orange any other way.  Who knew a little bit of sweet and cinnamon could do so much for citrus.  And I don't normally like orange slices. Transformative meal.
To work off some of what we had just eaten, Mohammed led us further into the souks to show us where the different artisans made their wares – tinsmiths, tanners, potters, leather workers, etc.  It was now fairly late in the evening and all of them were still hard at work.  I'm sure it isn't an easy life.
It felt like we had walked miles and, in fact, our pedometers confirmed we had.  We passed by another street food vendor whose specialty was Morocco's version of haggis (bits and pieces of various animals cooked in another animal's spleen).  The Welsh guy tried it first. When he didn't make a funny face or gag, the rest of us tried a tiny bit.  Again, not half bad.  We've certainly been more gastronomically adventurous on this trip.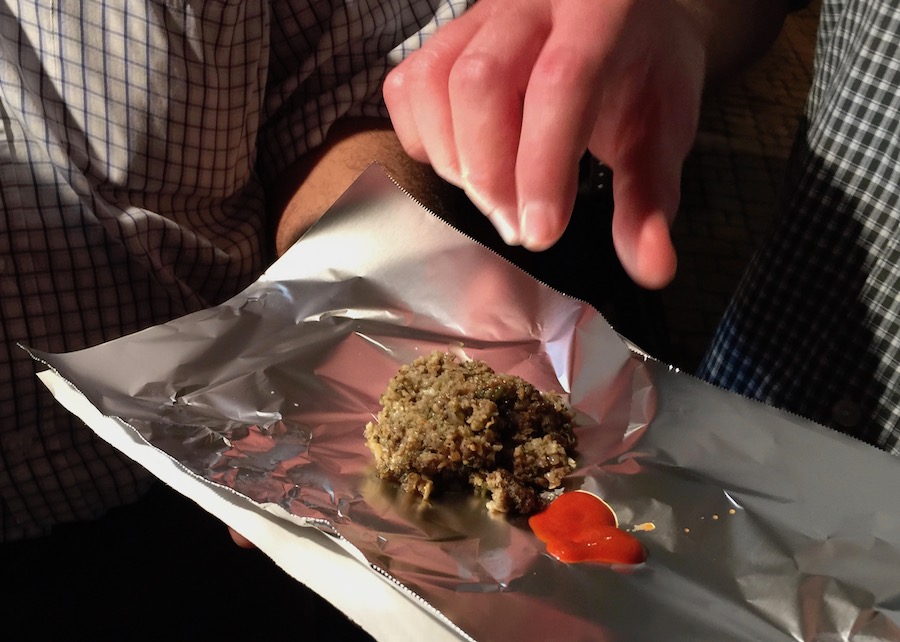 As the last stop for our evening, Mohammed took us to a juice and pastry shop. Moroccans like fruit juice and will make the oddest combinations. We each selected the fruit we wanted juiced and then sat outside waiting for our concoctions and our cookies – you have to have cookies with juice after all.  The adventurous Welshman got the weirdest combination – avocado and fig. Steven and I stuck with strawberry, orange, and pineapple. An excellent little nightcap (this is a dry country).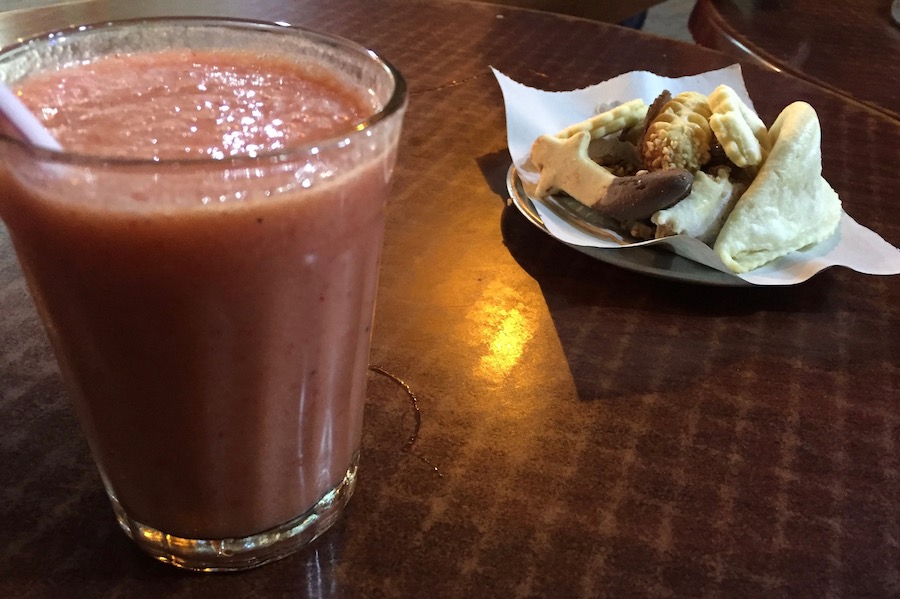 All in all, the food tour was eye-opening and gave us a great overview of the Medina and souks, which was wonderful because we didn't want to do it on our own the first time.  We bid Mohammed and the rest of the group farewell and headed back to the Riad. We didn't even get lost.