April 30, 2016
Our last full day in Marrakech was for wandering. There were so many places circled on our map that we hadn't yet seen, so we decided to just head out and see what we could see.
We headed out to the main street and turned right instead of left, in search of two of the city gates. Marrakech is circled by about 10 miles of sandstone walls. There used to be about 20 different gates or entries into the city, but now there were only about ten still functioning as ways to get in and out of the city. We were lucky to have two close by.
We first came upon Bab Agnaou, which is gigantic and has intricately carved arches around the gate opening. We were trying to get the best angle to take a picture, but it happened to be in the middle of the street with traffic whizzing by on either side. Since we have gotten more adept at navigating our way through traffic, it wasn't as scary as it would have been a few days ago.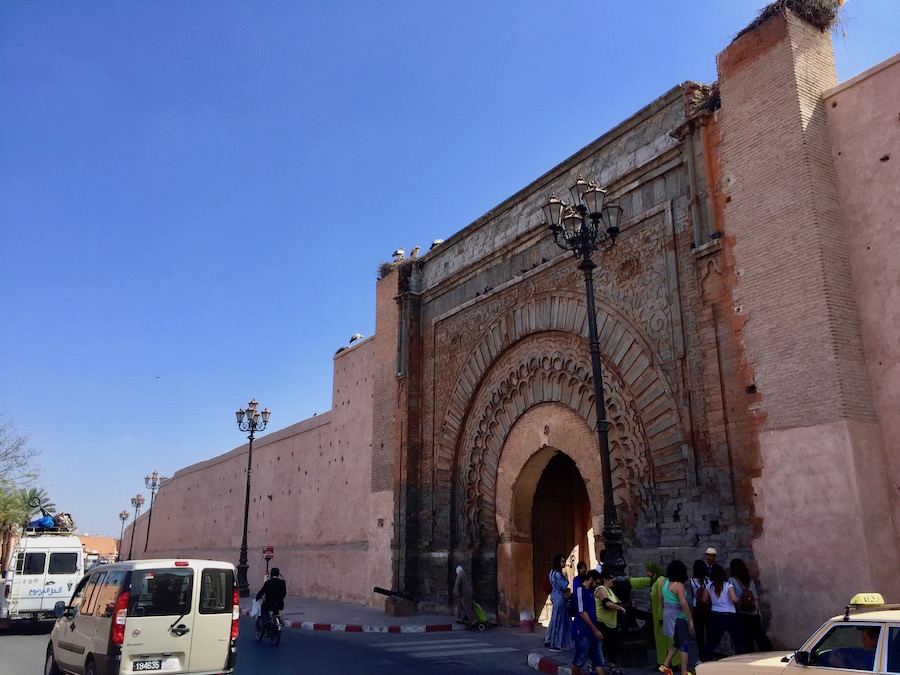 Right around the corner is Bab Er-Rob, another plainer gate which leads right out into the desert. Through the walls, there are holes, which you might think had been used to aim guns through against invaders, however, the holes were used as a kind of air conditioning system for the inner city, allowing the breeze to pass through the walls. Ingenious.
We continued our walk toward the Kasbah and the Jewish section, where we'd previously gone with Azizza. On our prior trip, we forgot to get a picture of the old Synagogue, so that was our first objective. We did well recalling which streets we had gone up and down with Azizza and found the homeopathic pharmacy. Using it as our landmark, we turned around, looked to the left, and there was the Synagogue. It was almost like we knew where we were going. We didn't linger too long because if you stop and look around too much, vendors will start calling to you to visit their stores, using all sorts of lines and platitudes.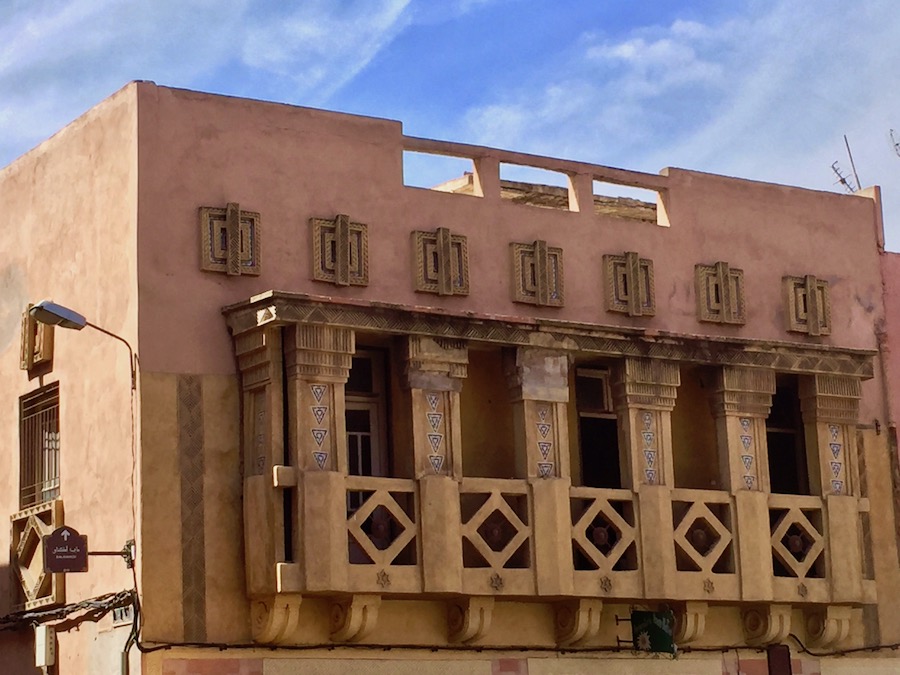 So off we went, now in search of El Bahia Palace, which we'd heard was full of beautiful tile work and plaster carving. On our way, we came to an intersection where we'd seen some road construction two days before. What we saw today was utter mayhem. The construction area had grown and now a section was blocked off, which made the intersection a dead-end roundabout. It was evident that no one had given advance notice to drivers. There was a large flatbed container truck, a tour bus, multiple taxis, numerous motorbikes, and various other cars trying to get into the area and then back out. But, there wasn't any real direction. There was one lone police officer attempting to direct traffic, but from what we could see, he was making it worse. We stood on the street corner for a long time watching the inefficiency of it all – it was like a really bad comedy routine, with a lot of honking.
Further along, we located El Bahia Palace. Built in the 19th century for a grand vizier to a sultan, it was seized by someone jealous of the vizier and stripped all the fancy accouterment from the structure. What is left behind, however, is a lot of beautifully intricate tile and plasterwork, and fabulous carved and painted wood ceilings.
Upon entering the compound, we purchased tickets for 10 dirhams each (approx. 1 euro each) but, when we got to the turnstiles to enter, they were not in service and there was no one taking tickets or checking if anyone had paid.  I guess they just assume everyone will do the right thing and buy a ticket.  
As we entered, there was a group of school children visiting the complex – they looked like any group of school children from anywhere in the world – more interested in what was on their iPhones and gossiping with each other than experiencing art and culture.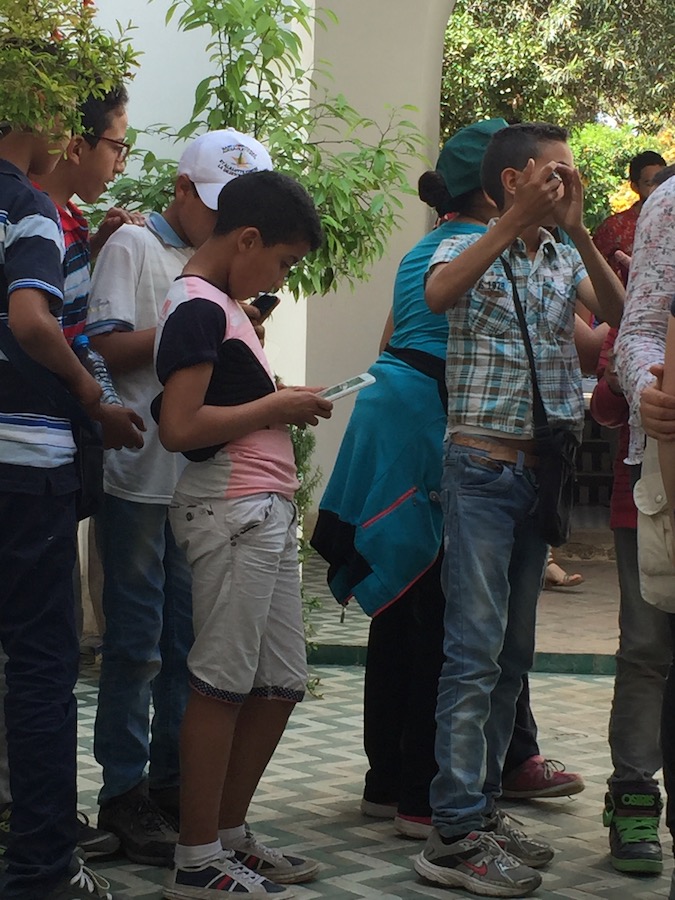 It wasn't wasted on us as we spent quite a long time going from one room to another marveling at the lavishness of the decorations.
Our next objective was to locate the Jewish cemetery on the eastern side of the mellah (Jewish quarter). We located where we were and where it was on the map and headed in the direction. The funny thing is, there are very few street signs and many roads and alleyways look the same. Despite walking for an hour and what felt like many miles, we never found the cemetery.
We did find several silversmiths and artisan studios on inside edges of the city walls, saw amazing architecture and doors, and discovered areas where it was evident the locals didn't think we belonged. Of course, there were several enterprising young men you wanted to guide us out of the area and toward the medina, for a price.
We persisted in our explorations until even we knew we were lost. At just about the right time, an elderly Caucasian man on a motor scooter drove by. He knew the city well and probably had lived there for a long time. He asked us what we were looking for, told us we were quite a long distance from the cemetery, and then gave us correct directions to get back to the main portion of the medina.
We headed off again and finally found some overhead signs pointing us in the right direction. As we headed toward the medina, another enterprising young man told us we couldn't go down one alleyway because that area of the medina was closed for prayers, but he would show us a better way. Yeah, nice one. I'd actually read about that scam, so I forcefully said no and we continued on our way only to come out of the souks into the medina a couple of minutes later. And no, it wasn't closed for prayers.
We decided that our last night would be spent in Jemaa El Fna and the night market. This is the center of Marrakech where locals and tourists come to see and be seen, eat, shop, and be amazed. There are snake charmers, henna tattoo artists, trained monkeys, fortune tellers and everyone in between, and lots and lots of people.
During the day the huge square is busy, but at night it has a life all its own. We decided to try and get a bird's eye view up on one of the restaurant balconies above the square.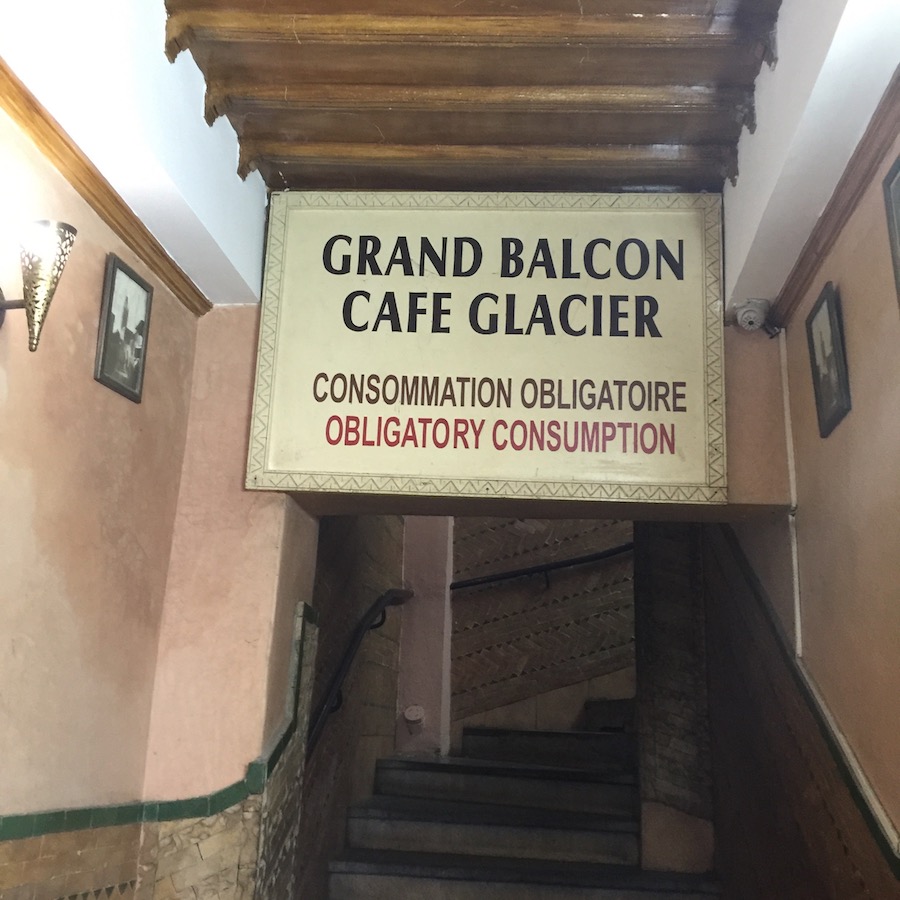 For the price of a soda, we got ringside seats at Le Grand Balcon Du Cafe Glacier. There was no pressure to move on once the soda was gone, so we sat looking down on the bedlam below as the sun set over the horizon, and the night market emerged in all its glory. It's something you have to experience as it is difficult to describe.
Once the sun was sufficiently down and we had seen the night market light up, we decided to get down on its level and see it from street view. We took a seat out front of Restaurant Chegrouni, which was off to the side of the medina, and watched the parade of people over a kafta tagine, a chicken pastila and, of course, a pot of mint tea. A great way to spend another hour or so. From our vantage point, we watched as the last call to prayer was made and the faithful filed into the small mosque just off to the side of the restaurant. It was interesting to see how the pace and energy of the medina changed around prayer time.
After prayers, the pace sped back up again. As it gained full speed, we began to slow. After a day of getting lost and walking a lot of miles, we were tired and had to begin packing for our trip back home. As we walked back along the now familiar route, we silently said our goodbyes to the places we had used as landmarks and the local stores we had frequented. Marrakech can be completely chaotic, but there is something very hypnotic about it as well. Marrakech, you have us under your spell.