April 27, 2016 (part 1)
Our flight out of Madrid was mid-day and we really didn't know what to expect at the airport, so we left several hours early.  It was a good decision. We've been in some big airports, but none as spread out as Madrid.  
The first thing you do when you enter the terminal is to check the big reader boards for your flight to determine which ticket counter you need to go to have your passport reviewed and your bag checked. The board gave us a wide range of about 40 ticket counters we could go to, or so we thought.
We went to one section which was well within the range on the reader board only to be stopped by a very impatient agent who said "not here, you go around there and on the other side" with a big shooing motion.  Actually, she was much nicer to us than she was to two people from a tour group. They kept speaking more slowly in English in raised voices when they didn't get the answer they wanted. It was like they thought the person was deaf and they would get their point across by raising their voices and talking really slowly.  She was not appreciative of their behavior.  
When we finally got through the line and up to the counter, our agent was great.  She wanted to know where we'd been, how our vacation was so far and, most importantly when she learned we were from California, she wanted our opinion as to whether she and her husband and four other couples should try and rent a house on the coast of California for their next vacation and, if so, where.  
At one point during our protracted conversation, she looked up from her screen and asked if we wanted to upgrade to business class for 150 euros each; we declined.  She said that she wouldn't spend the money either as it's not that long of a flight and it's too much money for what you get.  You have to love her honesty.  It wasn't the fastest check-in, but it was quite enjoyable.  
The first security check was pretty quick, but then we had to take a series of escalators down into the bowels of the airport to catch the airport train to go out to T4S – the S standing for satellite.  For as long as we were on the train, I thought we were riding it all the way to Marrakech.  Another security check and we were finally in the terminal.  
We tend to always fly out of one of the furthest gates.  As we rounded the corner, we ran into Mark (from SF) who pointed in the direction of the gate where David was sitting.  We still can't believe we met these two by coincidence on the tour to Toledo and Segovia and that our travel plans synced up.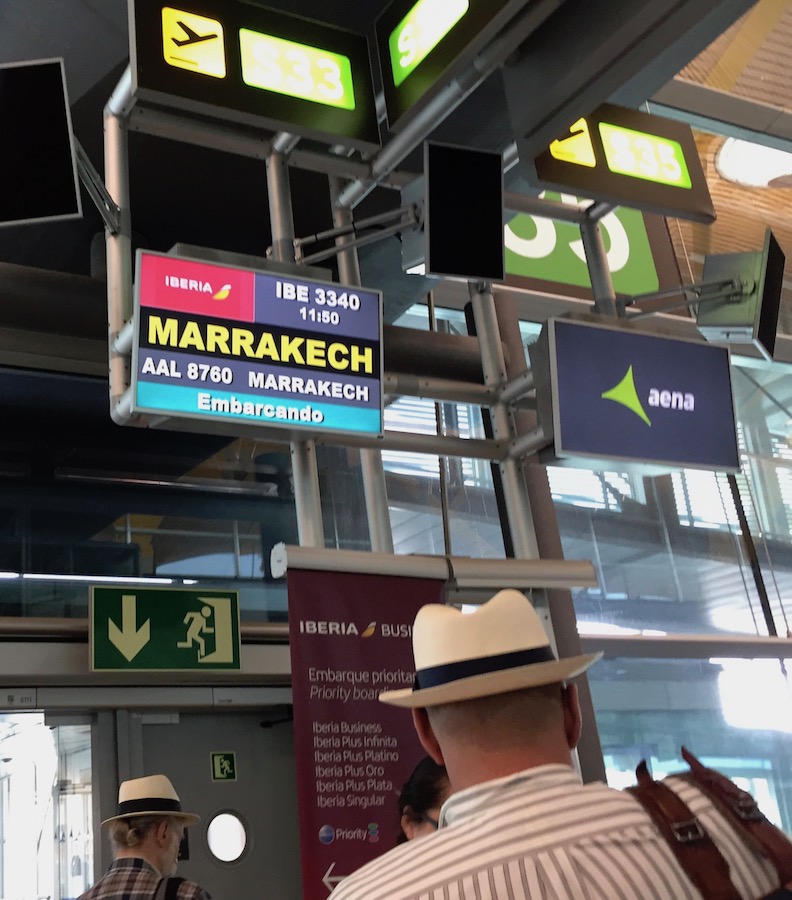 The plane was jam-packed.  Although on the aisle, Steven was wedged into three seats with a mother, father, and their lap child, who was way too big to qualify as a lap child.  Thank goodness the family was very nice.  Later, we saw them in the diplomatic line at passport control, so maybe the diplomatic corps can bend the rules when it comes to ticketing children.  
I sat beside a college-age girl from the US who was on her third consecutive flight. The minute we started to taxi, she was out cold for the entire flight. Since this was a cheaper Iberia flight, everything cost extra (water, soda, etc.) except for the use of restrooms, which was free.  
An hour and 40 minutes later, we landed in Marrakech.  The difference in temperature between Madrid and Marrakech was quite evident the moment we stepped off the plane. It was hot!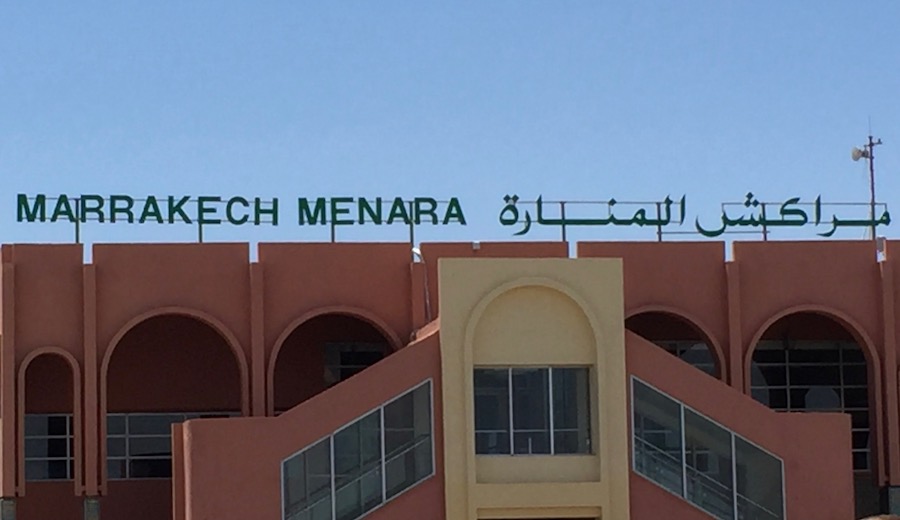 Passport control was confusing.  There was one line for diplomats and crew. One line for EU and African citizens, and then the general line. It seemed, however, that the EU/African line and the general line melded together at some point.  There was just a bunch of people standing in a big group trying to get to their luggage.  
Instead of letting the line siphon off to the next available window, there was a guard directing people to form mini lines at each of the windows.  Of course, I always get in the line that goes the slowest (I'm doomed in grocery stores).  The San Francisco guys were through their line way before we even got our turn at our window.  
We had been provided forms on the plane, which we filled out to the best of our ability.  In the section where it asked for an address in Marrakech, I wrote in the address given by our Airbnb host.  The passport control agent looked at my papers and asked me where I was staying (it was only me because he wouldn't let both of us go to the window at the same time).  I pointed to the address I had written down.  He said, "no, where are you staying?"  I again pointed to the address. He said, a little louder, "no, where are you staying?"  I gave him my best blank look and pointed to the address. He sighed very loudly and said, "what is the name of the place where you are staying?"  I told him we were staying at a Riad through Airbnb, to which he simply said "The name?"  I whipped out my iPhone, showed him my confirmation and he pointed and said, "This is the name!"  What he was pointing to was something that said "Riad in the Heart of the Medina."  OK, I thought that was the description of the place (which it was) and not the name (which it wasn't), but since it seemed to make him happy for me to write it down on the line, I did so.  Steven took heed and wrote it on his form.  
After all this, he pushed a few buttons on his computer, stamped my passport, and waved me through.  Steven's issue was that he was wearing his nine euro hat from Spain and I guess the agent didn't think he looked like his picture with it on. He had him take it off and put it back on several times.  Alrighty then, whatever gets us through.
Our luggage took a bit of time to come out, but finally, the four of us (the two of us and the San Franciscans) walked towards the entrance hoping that our respective drivers would be on the other side of the doors.  Mark spotted our driver first – his handwritten sign simply said, "Lynn."  It took a few more seconds to find theirs, which was much fancier with the name of their hotel on it (our travel style is much more budget friendly than theirs). With promises of emails to arrange a get-together in Marrakech, we were off to our respective vehicles.
Another city we will not drive in.  Lines on the roadways are just for decoration and merely a suggestion of which way to go.  Additionally, there are trucks and cars and mopeds and motorcycles and scooters and bicycles and horse-drawn wagons and donkey driven wagons and people walking all on the same road.  Yikes!  Close your eyes and hope your driver knows what he's doing and where he's going.  
Off the main road, he zigzagged down several tiny roads, past numerous armed guards and then he stopped the vehicle in the middle of a busy side street where several merchants were going about their business.  He said, "OK, you get out – lady come and help you to where you go." Ummm, I have a few questions like, what lady, when will she be here, where the heck are we …  
Luckily, a Moroccan woman wearing a bright purple caftan, a headscarf, and sunglasses suddenly appeared beside the van and seemed to be the one to meet us.  She spoke Arabic and French, but very little English.  Steven and I speak English and have a little Spanish and French between us. I soon realized, however, that I speak even less French than I thought.  Through a bit of sign language and some of the French I do remember, she urged us to follow her across the street with our baggage.  
Off the busy side street, we walked down an alleyway, around a corner to the right, down an alleyway, around a corner to the left, around another corner to the right, down another alleyway, and then took a left.  By this time, I felt like we were in a maze and that we may never find our way out as the alleys all looked the same. I thought we'd surely made a mistake by not leaving breadcrumbs to follow later.  
Luckily, we finally stopped in front of a big wooden door, with another smaller door cut into it.  The brass sign on the door read "Riad Dar Al Azhar" – apparently, that's the name we should have written on our forms.  Oops!