October 25/26, 2018
Why are you going to Helsinki, and why are you going to Helsinki in October? It's a question I was asked over and over prior to departure. My answer – why not? I love to travel and experience new places, new people, and new cultures, despite being more of an introvert than not. So why not travel to a place I've never been in spite of the onset of a chilly Fall?! While I'd like to say my trip was merely for the love of travel, there was an ulterior motive – elite airline status.
Both Steven and I traveled a fair bit this year. Since we now live in Dallas, those miles have been logged on American Airlines.  Nearing the end of the year, we found ourselves within reach of the next level up. Faced with the dilemma of whether to make a grab for the brass ring, we decided to go for it.
Armed with the knowledge of how many elite qualifying miles (different from redemption miles) we needed and Google Flights filtered for OneWorld, I made a list of destinations that would give each of us the miles we needed. Without breaking the bank or having to do a mind-blowing number of multiple segment runs, my search came up with Dublin (been there and not quite enough miles), Beijing (just been there) and Helsinki (never been). Ding, ding, ding – we have a winner. Itineraries were developed.
Although it has been unseasonably cold and rainy in Dallas in the last month, research (and common sense) indicated Fall in Finland is colder. Trip preparations meant long underwear needed to be located in the depths of our drawers and flannel shirts purchased from our local Walmart. Warm jackets and gloves also needed to be dug out of the back of the closet.
Clothing and necessities were laid out for my 10-day trip (Steven's trip is shorter); it looked like everything would fit comfortably in my carry-on.  Then I checked the allowances for Finnair – the carrier for my London-Helsinki-London segments ~ 8kg.  Not just 8kg for my carry-on, but 8 kg for my carry-on and personal item combined.  Yikes!  Wasn't going to happen using my totally cool purple hard-side, so I pulled out my old Rick Steves travel backpack, which weighs very little. 
I packed, unpacked, pulled items out, repacked – and repeated the process several times. I'm known to be a pretty light packer, but cold weather clothes just tend to weigh more. No matter what, I couldn't get under 9 kg total. Argh!
At check-in, I was far under the carry-on allowance for American Airlines, but still wondered whether I would be pulled aside boarding the Finnair flight. I consulted the American check-in agent, who consulted another check-in agent, who Googled the requirements and looked up some reviews for Finnair (it was a very low volume time at the check-in and, apparently, I was the most excitement they'd seen in a while).
After much discussion, it was decided that I shouldn't risk the penalty for violating the carry-on allowances (the reviews, which I had already seen, spoke of very strict compliance and high prices for checking baggage at the gate). So, despite best efforts, I checked my bag. Not happy.
After a short respite in the new Amex Centurion Lounge in Terminal D, I wandered down to the gate. I was No. 2 on the upgrade list but First and Business class checked in full. Instead, I made my way to my aisle seat in Premium Economy, which was pretty comfortable.
A late evening departure meant jet lag wouldn't be as much of an issue because sleep patterns wouldn't be disrupted (if I could sleep). To my surprise, after a quick dinner and a dose of Zzzquil, I slept on and off for the better part of seven hours – a record for me on a flight. A light breakfast and a chat with my Swiss seat mate later, we landed at Heathrow.
A five hour layover at Heathrow can be a bit much, but my status with American got me into the lounge at Terminal 3. The lounge is huge and, according to others, is often very crowded to the point of crushing. Today, however, I was one of a lucky handful of people enjoying its quiet comforts.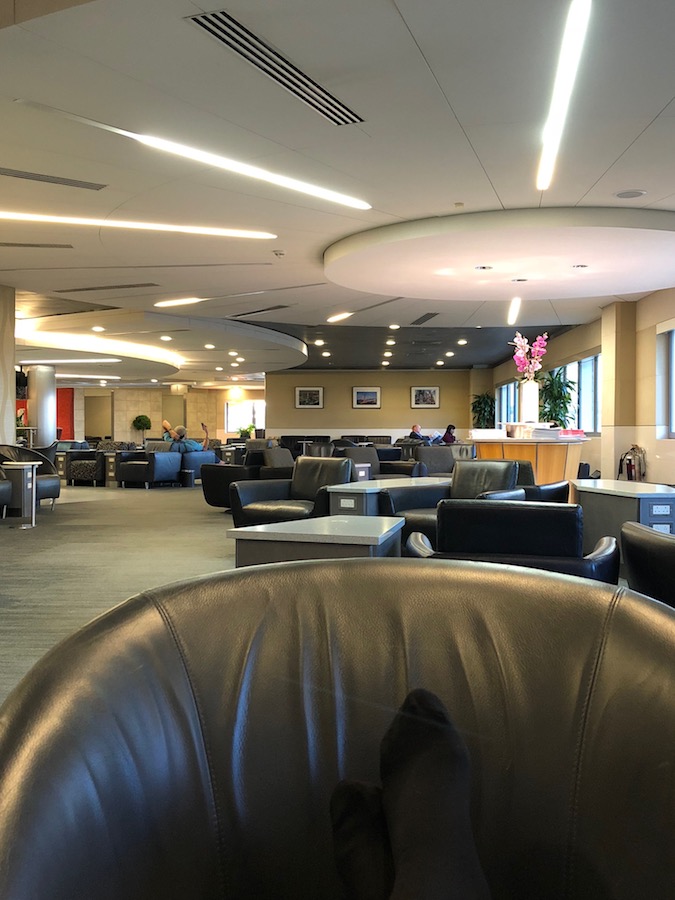 Boarding my Finnair flight, I noted carry-on bags were not being scrutinized as closely as the reviews had said. I'm sure I could have gotten my extra 1kg through but, as long as my bag arrives in Helsinki, I won't play the "what if" game.
As with most European airlines, the flight was efficiently loaded and ready for take-off within 25 minutes of the first boarding announcement.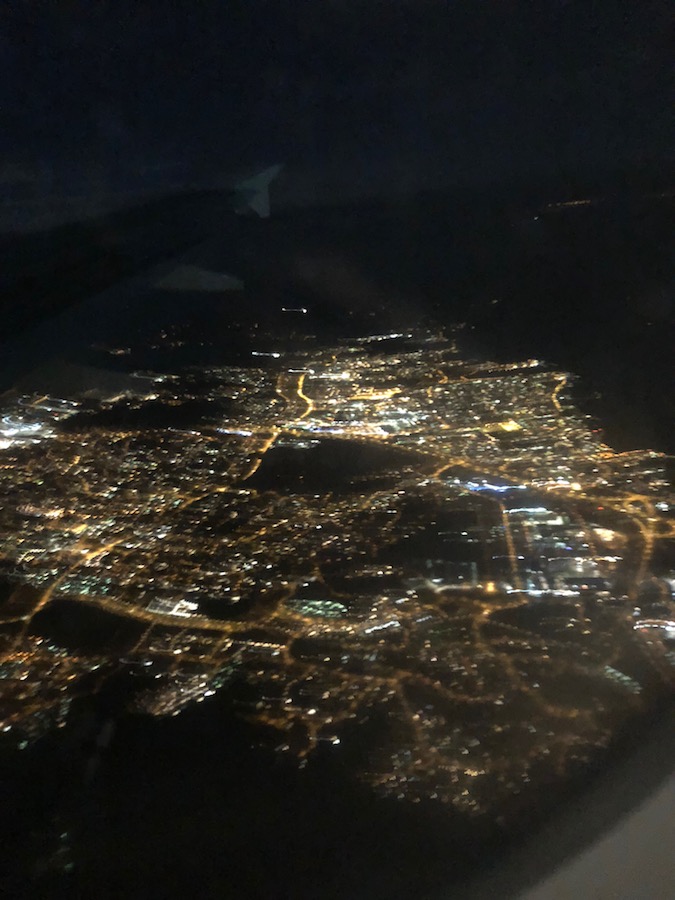 Two hours and 45 minutes later, we landed in Helsinki under the dark of night, which isn't difficult since the sun sets around dinner time. It took all of ten minutes to walk through the terminal, five minutes to get through immigration, and five minutes to get my bag (Yay! It arrived).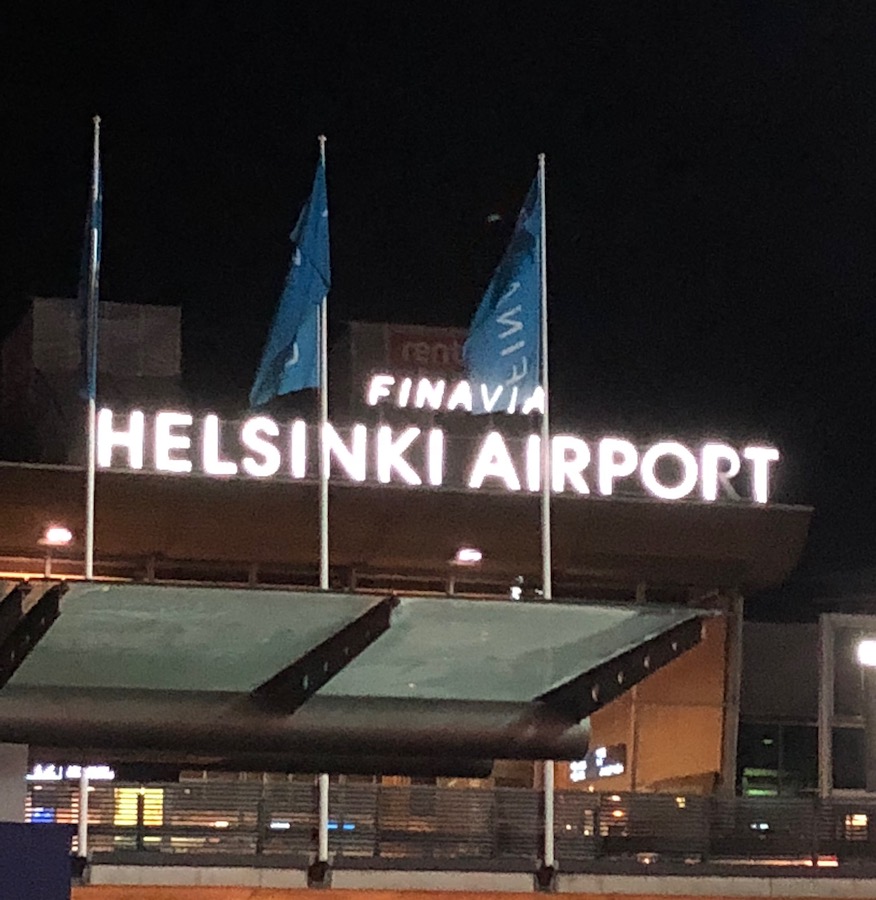 Within 25 minutes of touchdown, I was in my pre-arranged taxi speeding toward the Hotel Indigo. So far, so good.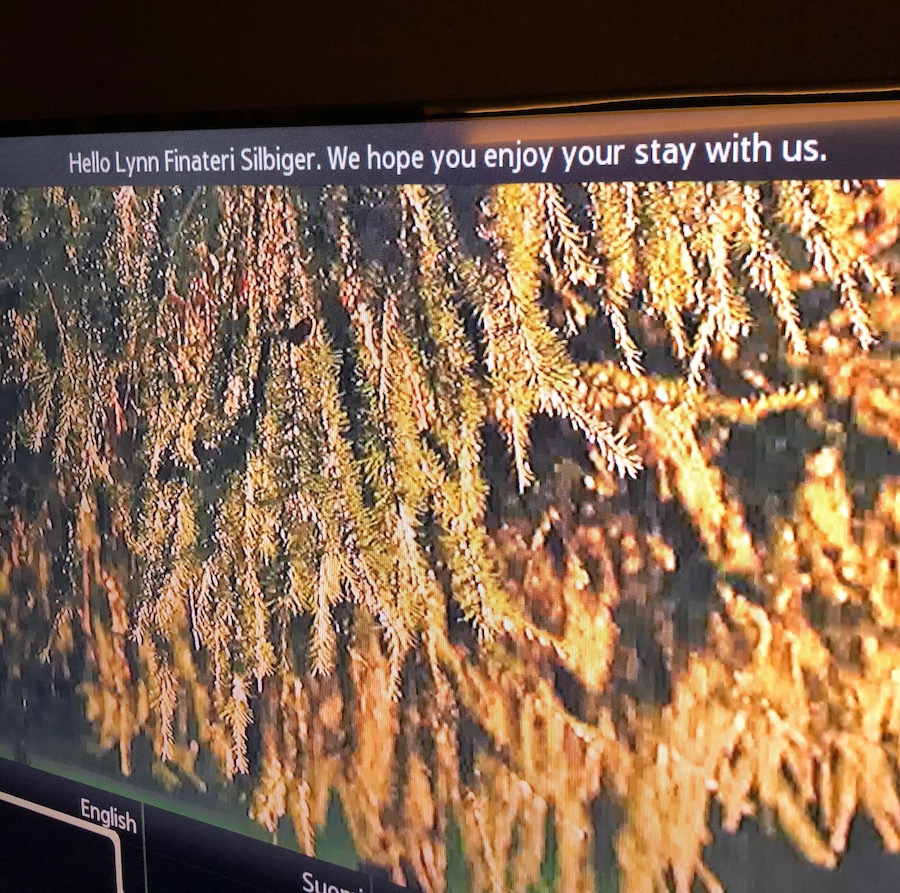 Not sure what tomorrow holds as I haven't made any advance plans, but I'm sure it will be an adventure. Good night – sweet dreams.