August 25, 2019
Although my flight out of Stockholm was in the afternoon, I didn't feel like I had enough time to go anywhere for sightseeing. So, I slept in, leisurely packed, and did some photo editing. By the time I called my Uber, I was well relaxed. I was a bit sad to say goodbye to my high-rise apartment.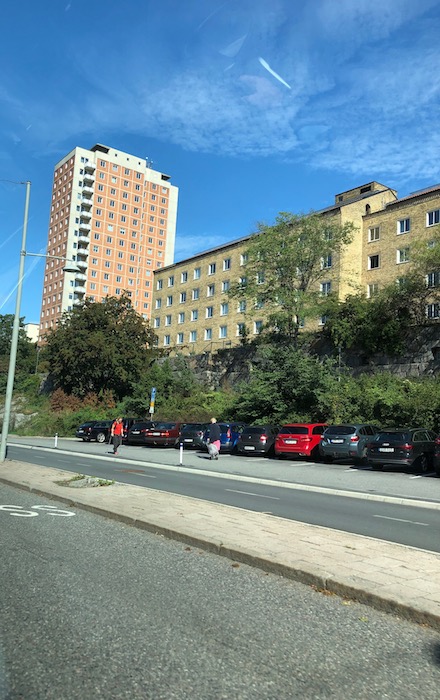 I could have taken the train to the airport, but chose to use the more expensive Uber just because I didn't want to lug my bags around the train station. Lazy, I know, but everyone once in a while, you have to take the easy way out.
As with most of the airports I've experienced on my trip, I was checked in quickly and through security in a flash.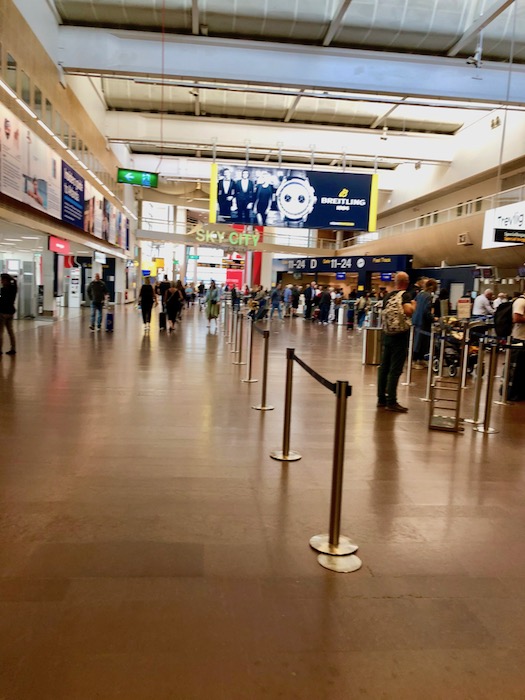 Since I had loads of time before my flight had to leave and I already knew which gate I was flying out of, I decided to check out one of the lounges. Although my Priority Pass app said there were three lounges available to me, I only found one – so it got my business. The woman at the check-in desk was a hoot and made me feel right at home.
The lounge was small with a small refreshment area, but it was enough to keep me occupied for 90 minutes or so. I enjoyed the on tap Coke Zero liberally and made a lunch of the soup, crackers, and cheese on the buffet. I used the time to catch up on a few travel podcast episodes.
About 30 minutes before the flight, I headed back down to the gate.
Since I was flying Norwegian, I had paid the extra for priority boarding hoping that it would once again allow me to take both of my bags on with me as cabin baggage. Unfortunately, this flight was full and the gate agent made a unilateral decision that all passengers would only get to take one item on board with them – all other bags were gate-checked at no charge. People were not happy, but as long as they weren't going to charge me, I was compliant. Since I had priority boarding, I headed to the gate agent to have my big backpack tagged. Instead of putting my bag in the pile that had already been tagged, she told me to put it off to the side in a corner. I worried the entire flight that they would overlook that corner when collecting the bags.
I continued to listen to podcasts during the flight and we were landing in Riga before I knew it. The airport isn't large, but the baggage claim area was slammed with people as several airplanes had come in around the same time.
Patience levels were being tested left and right. I chose to stand away from the crowd, crossing my fingers that my bag had made it. Twenty minutes after arrival and watching most of the bags from my flight come off the conveyor belt and into the waiting hands of passengers, I spied my bag – I uncrossed my fingers and let out a sigh of relief. Welcome to Latvia!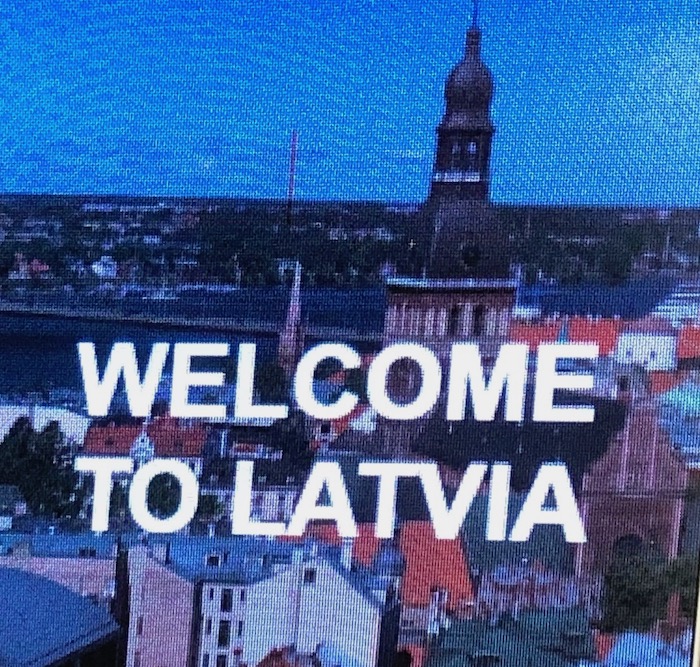 Prior to arriving, I had Googled to see whether Uber was available in Riga. It is not. I downloaded Bolt, which has a similar phone app, but can use taxis for transportation. You can either pay via credit card in the app, or cash to the driver. Like Uber, however, it has set prices so you don't have to worry about being scammed. I definitely recommend checking out which ride-sharing programs are available in the city you're visiting prior to your arrival.
It took me about five minutes for the Bolt driver to arrive and we were off to my Airbnb apartment close to the old town.
My driver was a bit confused when I said I wasn't staying at the hotel in the next building over from the address I'd given him; he hesitantly let me out in front of the gate of the apartment building.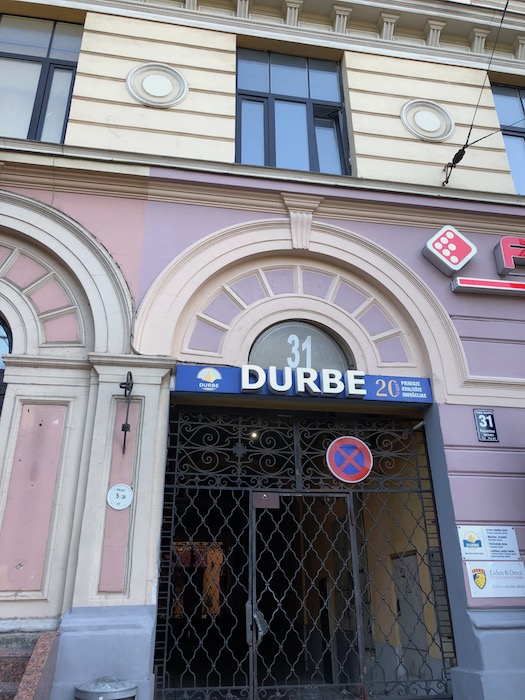 I had pre-arranged a check-in time with my Airbnb host, so I waited only a few minutes before she arrived and let me in through the gate.
The apartment is very spacious.  It has a mudroom where coats, umbrellas, and shoes can be left (shoes are not worn inside homes in these parts).  The large great room contains the kitchen, dining room and living area.  The bathroom has an extremely large, deep tub and a shower, and a washer/dryer combination.  No hanging my laundry around the room to dry.  Yippee!  The large bedroom has a very comfortable bed, large closet and a desk and chair for writing. My host even left a large bottle of still water and some Latvian chocolates as a welcome gift.  A warm welcome indeed.
After getting the lay of the land, I ventured out to find the supermarket. As I turned left out of the gate, I laughed when I saw the department store on the far corner – it was Stockmann. If you've read any of my posts from my Finland trip last year, I made the statement that all roads lead to Stockmann – I guess it's true.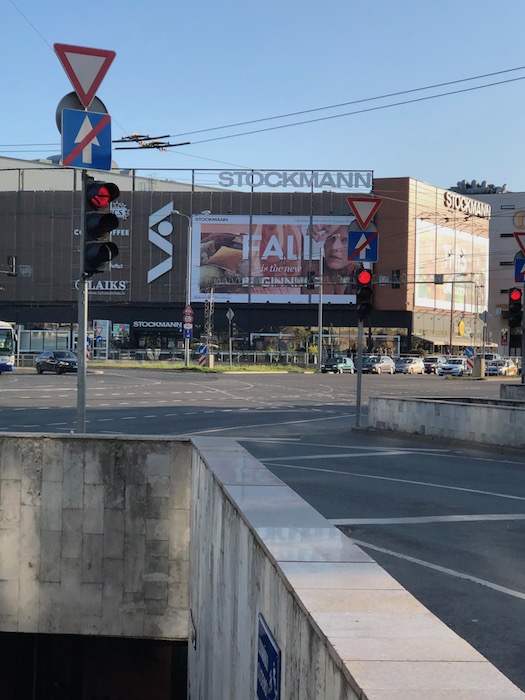 I walked to the corner and realized that I couldn't cross the busy street; instead, I had to take the underground tunnel. I picked the correct exit (they are always so confusing), and came up the other side of the street. I saw my target, the Rimi supermarket off in the far corner, right next to the main train/bus station. Now that's what I call centrally located.
Groceries for breakfasts, snacks and light dinners cost me less than $15 – prices are really inexpensive. Back through the underground tunnel and half a block down, I was back at the apartment. I heard the washer/dryer calling my name – time for laundry.