October 29, 2017
I'm not sure why, but I've always wanted to go to Mont Saint-Michel.  Maybe I'm just drawn to churches or maybe I'm intrigued by a church that sits on an island part of the time and on dry land part of the time.  I'd thought about going it on my own out to MS-M, but when I found out how many trains and buses it would take and that there weren't a lot of options for either on Sundays, I signed up for a bus tour that would take me to and from, throw in lunch and provide a guide while there.  The only problem was that I had to be at the pickup location at 6:45 a.m. for a 7:15 a.m. departure.  
I asked for a 5:30 a.m. wake-up call specifically because of the time change and I didn't want to get the time wrong. (The millennial at the front desk confirmed that I meant a.m. and not p.m. several times.)  Up with the call, I got ready and then trudged off in the direction of the pickup location.  I will tell you, it was a bit eerie because there were so few vehicles or people on the street at that hour, plus it was drizzling just a little bit, which added to the spookiness.
We had a large two-story bus for about 24 people, so there was plenty of room to spread out and nap on our 4 1/2 hour journey.  Luckily a pit stop was planned for the mid-point.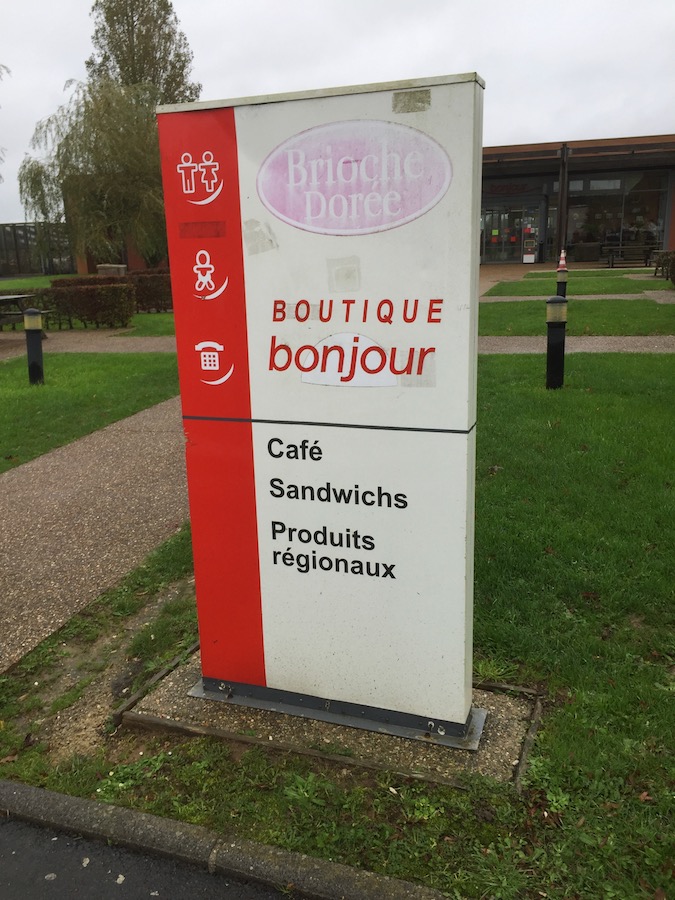 Along the way, our guide imparted information regarding France and, in particular, Normandy and Brittany, both of which are regions in France.  Not too long ago (like a few years ago), there used to be 22 regions, but now there are 13; apparently, combining regions cut down on administrative expenses and save the government a bunch of money.  
Mont Saint-Michel is situated between Normandy and Brittany.  It was actually in Brittany for centuries, but when the river naturally changed its flow plain, the island/not island was then part of Normandy.  They argue back and forth as to whom it belongs.  
Normandy is home to three million people and six million cows; obviously, cattle breeding is big business in the region and so is the production of butter, cream, and cheese.  The Normans raise four different breeds of cows – two for milk and two for meat.  Meat cows are the Charolais, which are white and the Limousins, which are all brown.  The milk cows are the Holsteins, which are white and black, and the Normans, which are white and brown, with brown around the eyes. Norman people say they are wearing sunglasses, which is funny because it is rainy and drab most of the year.  
Normandy is also known for its apples – low apples are big and good for eating, high apples are small, bitter, and used for cider.  Since there are no vineyards and, thus. no wine in Normandy, they are known for their cider called Calvados.  The Calvados bought in the stores can be up to 45% alcohol (Yikes!), but the Calvados made by the farmers and kept for home use can be a much higher alcohol content (double Yikes!).
So, the legend goes that Auber, the bishop of Averance, had several visions of the Arc Angel who requested he build a sanctuary on the mount in the middle of the sea. Actually, he said the forest; however, by the time Auber believed his visions, the river direction had changed, and the mount was in the middle of the water.  Supposedly, Auber had three visions of the Arc Angel but shook off the first two thinking he was going a little mad.  During the third vision, the Arc Angel put his finger through Auber's forehead to leave a mark so that he knew he had had a vision. Auber immediately set the plan in motion.  I guess this was a 10th-century version of "build it, and they will come."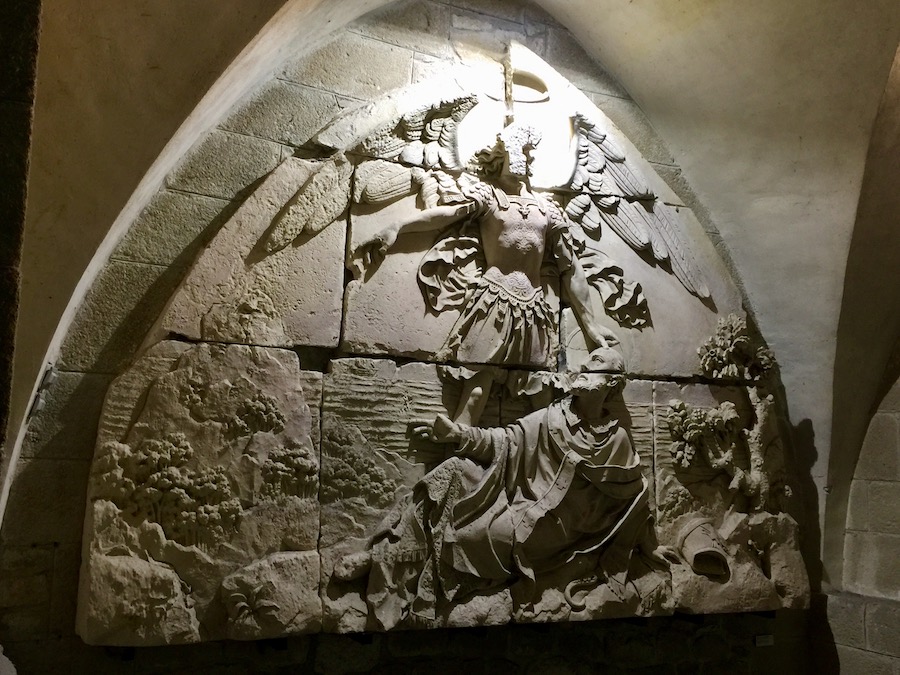 The Benedictine Monks settled on the mount in 966 and didn't leave until the French Revolution.  They stayed away until 1966 (no, that isn't a typo), and then wound up leaving again in 2001 because there were too many tourists and too much noise.  Today, there are only ten monks and nuns that live on the island.  There are an additional ten people from two families who live in Mont Saint-Michel full-time.  Since it is an actual city, there is a mayor, who is elected every six years.  The two families switch off electing one of the members of their families.

At about noon, we got our first view of Mont Saint-Michel off in the distance through the fog and rain.  There was something magical about it rising out of the land and sea. It was low tide, so there was more land than sea.  At first, it just looked like a mountain, then as we came closer, you could see that there were buildings and a large church rising out of the rock; the light glistened off of the statue of Saint Michel located at the very top of the church.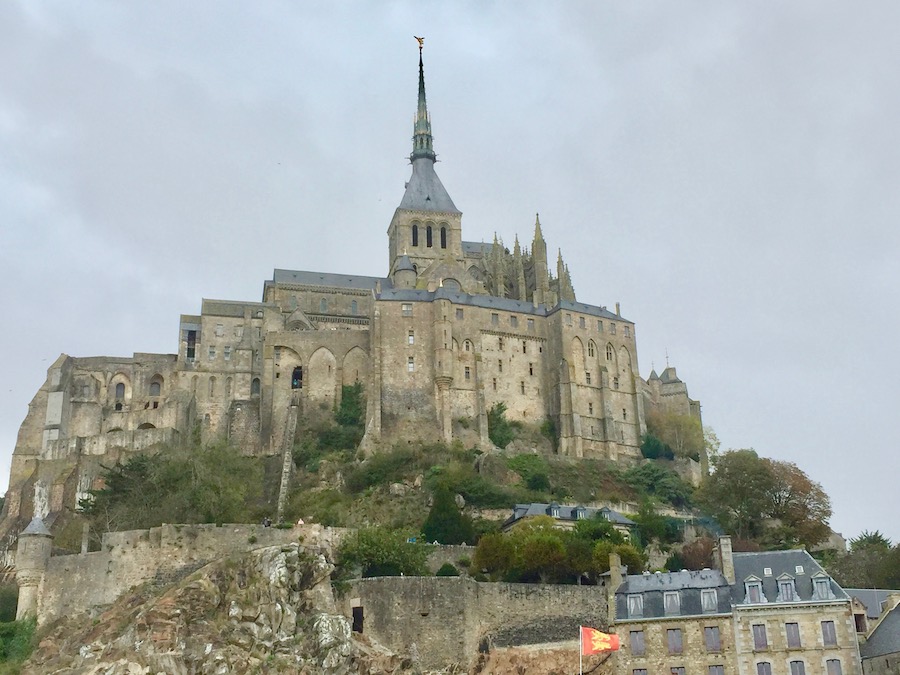 Private vehicles are no longer allowed out at the mount, so our bus let us off just before a shuttle stop so we could go in for the lunch included with our tour. 
After lunch, we shoved our way onto the already crowded shuttle and were driven to the base of the mount.  And then we climbed, and climbed, and climbed.  Part way up, we had to leave one of our group because her hip hurt too badly. Her husband forged on ahead without her with the promise of taking photographs for her.  
We climbed stairs, then more stairs, then walked through the lower town and the upper town, and then we climbed more stairs.  The stairs were steep and slippery from the mist.  By the time we reached the base of the church, even the younger, more in shape people in our group were gasping.  
Was it worth it?  Yes.  Even though there are no fancy decorations and the interior is very plain and austere, something is soothing about it. Maybe it's all the history, perhaps it's the echoes of generations of prayers, or it might be because it was the destination of hundreds of thousands of pilgrimages.  Not sure the draw, but it was palpable.
Our guide took us on a one hour tour through all the levels of the sanctuary and then let us go for free time.  I teamed up with a 30-something from New York. We started to make our way back down through the village, had a cup of tea part way down, and then headed toward the shuttle area. 
Just as we got to the bridge, the sun came out and lit up the mount, giving it an ethereal glow.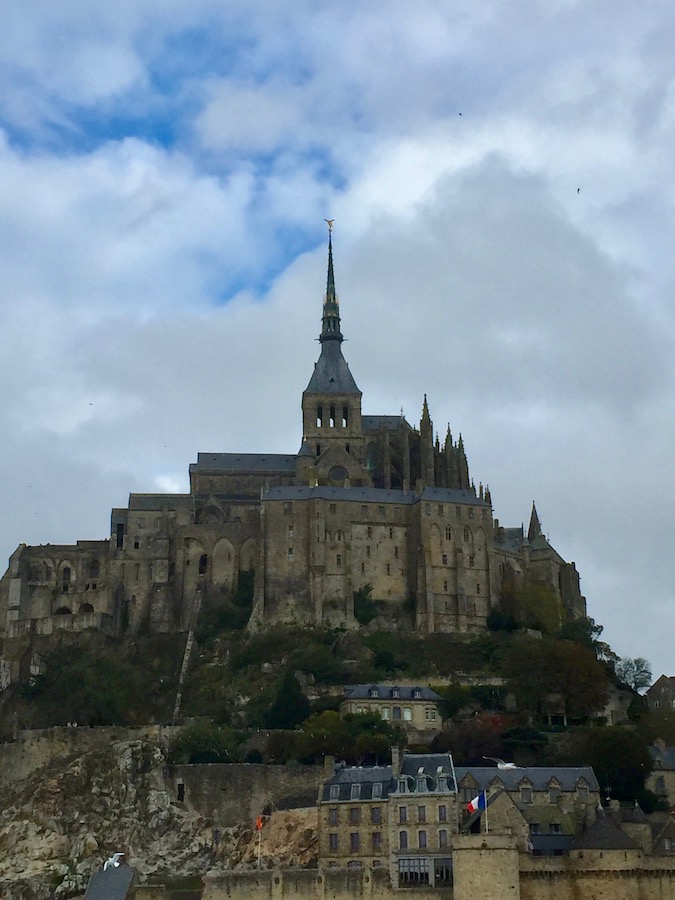 It took a little over 4 1/2 hours to get back to Paris (with one stop) because of Sunday night traffic, so we got back a little late. I have another trip out of Paris tomorrow, which starts at the same time as this morning. Let's hope I can nap on the bus.