July 20, 2019
The nice thing about Envoy Hostel Tbilisi is that not only is it a great place to stay with warm, inviting staff, it also runs several great tours. Today's tour was called "Enlightened Georgia" with stops at Jvari, Mtskheta, Gori, and Uplistsikhe.
I met our guide, Qeti, in the lobby of the hostel. You couldn't miss her with her bubbly personality, shocking red hair, and her favorite Flintstones t-shirt. Another guide, Angela, from the hostel in Yerevan, Armenia was also along for the ride. As for guests, we were a band of four ~ Alessio (Alex) from Modena, Italy, Takumi from Japan but now living in Germany, Eric from New York City but now living in Portugal, and me. We all got along very well and had a great time. With Alex's infectious laugh and antics, it was hard not to.
About 15 minutes outside of Tbilisi, overlooking the city of Mtskheta, we stopped at the Jvari Church, one of the holiest churches in Georgia. 
Built between 586 AD and 604 AD, it stands on the spot where Saint Nino set up her cross overlooking the pagan temples of Mtskheta.  Although simpler and more sparsely decorated than other churches I've seen in Tbilisi, the church is old Georgian architecture at its finest.  Since the church is not that far outside of Tbilisi, it is heavily touristed.  Qeti told us that it is always busy. 
As with all churches, women must cover their hair (a hat will do) and wrap something around their legs for the appearance of a skirt.  Men must also cover their knees if they are wearing shorts.  Coming prepared can save you from the hodgepodge of scarves available to cover yourself up.
Since the day was going to be very hot, we bypassed stopping in Mtskheta until later and headed to Uplistsikhe, which is best done when it is cooler because it is exposed to the elements. Arriving, I was skeptical that there was much to see because it looked like a bunch of large rock formations. We started up a path carved into the stone, which appeared to be well-worn from centuries of use. As we walked further and scrambled up big boulders, then up a staircase, I remained skeptical. Yes, it looked like a cool alien landscape, but I wasn't sure the possible heatstroke was worth it.
Then, around a corner a fortified wall appeared and then over the rise there was Uplistsikhe, a cave city initially settled in the second half of the 4th millennium BC. 
Uplistsikhe became a religious center in 1000 BC and by the Hellenistic and Roman periods, it had a population of up to 20,000.  As it became more isolated, the area was inhabited by monks until it was destroyed in the 13th century.  What remains are a series of caves where people lived, worked, prayed, and drank wine (it's Georgia, there's always wine).
They even had a prison.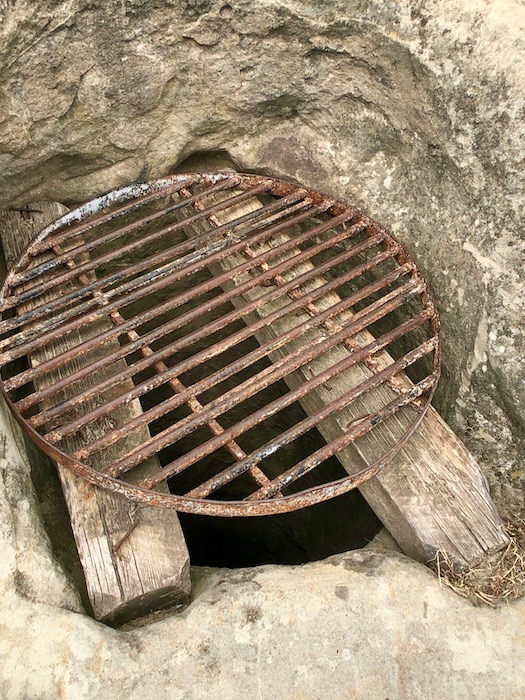 Many of the caves are in poor shape and some are in danger of collapsing. It's best to stay on the outside unless you can make sure the roofs are secure. Near the top, there is a basilica built in the 9th-10th centuries. We were told that all of the frescoes in the church were whitewashed and restoration has not been attempted.
The thought of scrambling down the rocks we had ascended wasn't appealing, but we didn't have to as we descended through a long tunnel (with a staircase) designed for water carriers and used as an emergency exit in case of attack.  Sturdy shoes, strong legs, and good balance are necessities for this visit as there is a good amount of walking in areas where there are no handrails or staircases.  Always look down as there are many holes in the rocks that could be nasty ankle turners.  Also, bring water; out in the open, it can be a scorcher.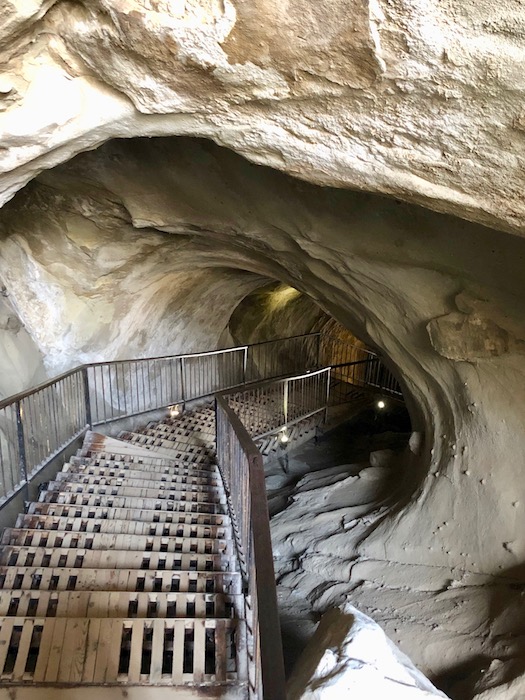 All the scrambling built up our appetites, so we were more than ready to stop outside of Gori for a home-cooked meal with a local family.  We were welcomed warmly and shown to a table set under a pergola of vines.  We were dining al fresco.  There was homemade khachapuri, chicken stew, beets, herb salad, tomato and cucumber salad, roasted potatoes, bean soup, and cake for dessert.  Everything was fresh, homemade, and delicious. 
To drink there was water, fresh berry juice with tart cherries at the bottom of the glass, and, of course, homemade wine. Although the gentleman of the house is usually the tamadoba (toastmaster), we each took turns giving a toast. Unlike a normal Georgian gathering, we all sipped the wine with each toast rather than draining the glass for a refill before the next toast. On special occasions (birthdays, holidays, etc.) it is not uncommon for a tamadoba to drink 3-4 liters of wine in a 3-5 hour timespan. You really have to like to drink wine here.
Although we all wanted to take a nap after the delicious meal and wine, we headed to Gori, the birthplace of Stalin.  The average Georgian is not proud of Stalin's accomplishments, but they are proud that he was from Georgia even though he showed no mercy to Georgians when he was in power.  Georgians are very proud of their people and history, so even though they don't like what he did, they respect his position in history.  Gori is not a pretty city by any stretch of the imagination.  The only decent architecture I saw was the city hall and the Stalin Museum.  Everything else is stark Soviet-era structures.
Our guide, Qeti, was not allowed to lead us through the museum. You either have to do it alone, which is difficult since not much is in English, or you have to wait for an English tour. Luckily one was starting as we entered. I'm still not sure how the docent feels about Stalin as her delivery was so monotone that there was no palpable feeling one way or another. The museum is definitely all Stalin all the time. Lots of photographs, lots of documents, a copy of his death mask, and even some of his furniture from the Kremlin.
The museum actually stands on the area where Stalin's home was built.  The one-room home, with his father's shoemaker shop underneath, still stands and can be viewed from the outside.  There is a structure around it to protect its integrity.  With the docent, you can also get a look inside Stalin's railroad coach.  He was afraid to fly, so he traveled overland as often as he could.  The interior was very basic.  I'm sure there was some opulence back in the day, but there is no evidence of it now.
We left Gori and headed back to Mtskheta to the principal and the most revered church in Georgia – the Sveti Tskhoveli Cathedral of the Twelve Apostles.  Built with a fortified wall around it, you can feel its importance.  It is said that Jesus' robe is buried here.  The exterior of the church is decorated with carvings of red stone in limestone.
It was the interior, however, that had the wow factor.  Frescoes from the 17th century, although badly damaged, cover several of the walls.  There's even a fresco of the zodiac wheel.  The altar is dominated by an enormous fresco of Jesus.
Since it was Saturday, the church was crowded with people attending one wedding after another, and a baptism off in a side chapel. The child being baptized didn't look amused. It was interesting to watch the services, as they were very different from those we have in the US. For one of the weddings, the priest was not amused that the groom appeared not to be in control of all his faculties – I suspect there was some wine, chacha, or cognac involved in the wedding preparations.
Although I could have walked around the cathedral longer, the group moved on into a little market place outside the walls of the church to get back to our vehicle for the short ride back to Tbilisi.  Since it was very hot, a stop for wine ice cream seemed to be in order.  Eric volunteered to hold my ice cream while I took a photograph and then photobombed it.  As I said, our group was a lot of fun.
Oh, and by the way, not surprisingly, the ice cream tasted like grape.