July 18, 2019
I did not give myself enough time in Istanbul. I'm not sure you can even graze the surface in a full week. Plus, I didn't get to do any sightseeing outside the area, and I really want to go to Cappadocia. A future trip to Turkey definitely has to be put high on the list. So it was with a heavy heart that I said goodbye to Cheers Hostel and its great crew, the fish tank, Zaman the dog, and the wonderful view of the Hagia Sophia at the end of the street.
My ride picked me up just before 8:30 am. My flight wasn't until 1:00 pm, but since it takes just under an hour to get to the new airport, I didn't know what the traffic would be, or what the security lines would be like, I wanted to get there early. Of course, on the day I chose to be extra careful, there was no traffic and very few lines to check-in or go through security.
The new Istanbul Airport is enormous; however, I think 75% of it is a very high-end shopping mall. Not that there's anything wrong with shopping, but when you put that much retail space in an airport, you push the gates where the airplanes are – the purpose of the airport – further away making for extra-long treks for weary travelers.
I immediately went to the departure board to see what gate my flight was assigned, but it was blank for my flight.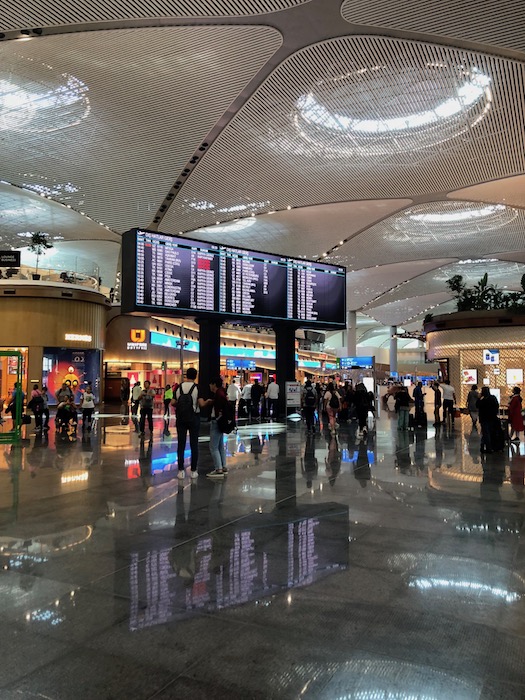 There were plenty of "ask me a question" volunteers wandering around, so I tracked one down to determine how far in advance gates were assigned. The volunteer I selected was having a difficult time communicating with a couple from Nigeria. Overhearing their conversation, I quickly ascertained where the gap in conversation was and intervened. The volunteer sighed with relief when the light bulb finally went off in the woman's head and all was understood. My good deed had been done for the day. I also determined that gates were assigned two hours in advance of departure.
With oodles of time to kill, I had a little breakfast and people watched – two of my favorite things.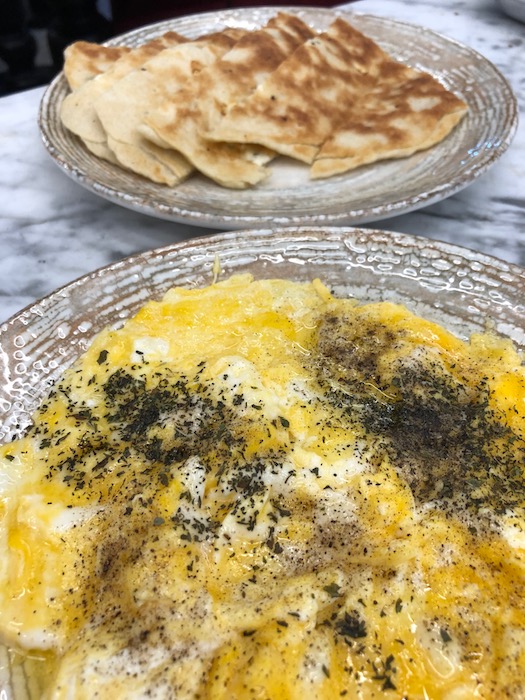 Just under two hours before my departure, I checked the board and determined I was flying out of gate F12A. Of course, my chosen breakfast spot was at the A gates. And so my trek began.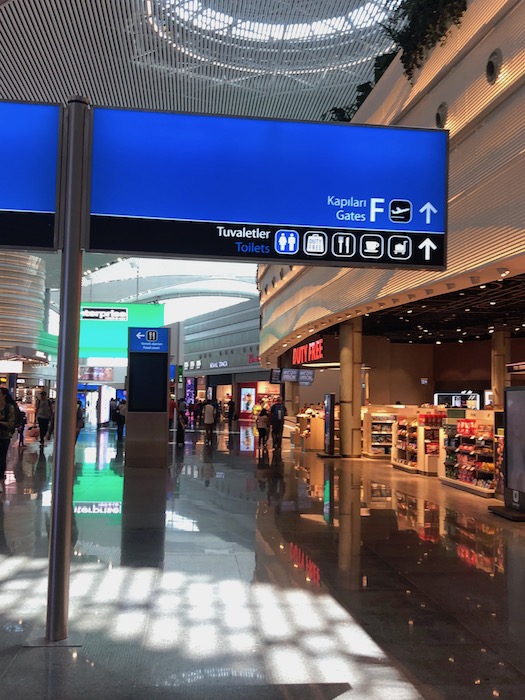 I wish I had tracked my steps for that portion of my day because it had to be quite a distance. It took me almost 25 minutes to walk to the other end of the international wing. There are a few moving walkways, but all in all, it was a long walk. For those with difficulties walking, they have really cool electric wheelchairs where the traveler sits in the chair up front and the attendant stands on the back. I could see some epic after hour wheelchair races with those.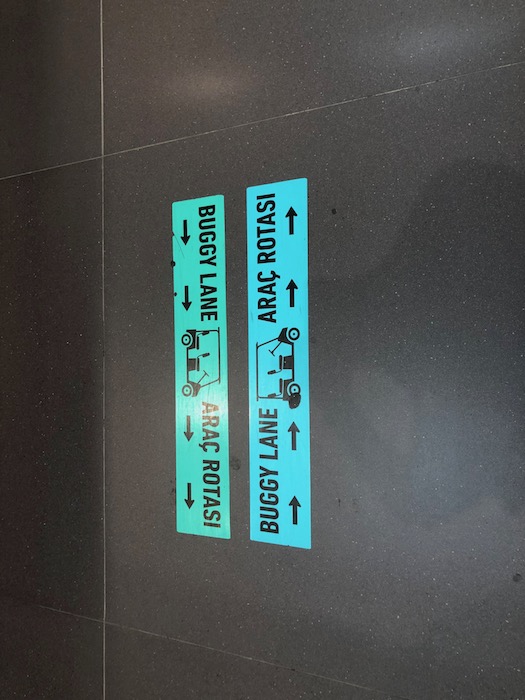 As I walked, I passed store after store. I don't think I've ever seen that many duty-free shops in all of the airports I've flown through combined.
After having our passports and papers checked, it was time to board. I was assigned seat 6D – the aisle seat in the economy bulkhead row. When I scanned my boarding pass, the gate agent notified me that my seat had been changed to 5E. I was a bit miffed because that meant a middle seat. Why pre-book if it is going to be changed last minute. As I walked down the jetway, it occurred to me that 6D was in the first row of economy; ergo, row 5 had to be in business class. Had I really scored an upgrade on Turkish Airways?
When I got to my new seat, there was a woman sitting in it with a tiny baby in her arms. Would I mind switching with her husband so they could be together and close to their nanny (sitting in my old seat), she asked? I moved to the seat he had been assigned, but there was a young lady sitting in it. Would I mind moving to her seat, her father (I hope it was her father) asked because they wanted to sit together. I moved the last time to 3B, and set up shop.
Not only did I score an upgrade, but also I hit the jackpot in the seat companion lottery. I was seated beside a wonderful gentleman who is a bartender/flight attendant for United Airlines. Based in New York, he was going on a quick 2 day holiday to Tbilisi simply for the reason that he hadn't been there yet. My kind of guy! We bonded over having to leave our spouses at home, our love for travel, and a variety of other topics. By the time we landed, I felt like we were old friends. I gave him my card; I hope he stays in touch.
As for the flight itself, the seats were wide and comfortable with nice retractable footrests, the safety video was hilarious (Lego Movie version), the movie selection was adequate (how can I have seen all the good ones?!), and the mozzarella, tomato and eggplant appetizer was delicious with a little salad dressing splashed on top. The main course of beef and potato gnocchi was not so successful. In another life where the meat had not been cooked to a state this side of shoe leather, it might have been acceptable. This was not that life. Luckily, the lemon mousse dessert was better than average.
The line at Tbilisi Airport's passport control was almost non-existent except I picked the line where someone had difficulties with their papers. With only carry-on luggage, I was out through the doors in under ten minutes and was immediately greeted by my driver (pre-arranged as I like to do). Georgian money is impossible to get prior to landing in the country, so I hit the ATM and then we were on our way into town.
On the outskirts of the city, I saw Soviet-era buildings and wondered whether I had been misled that the architecture in Tbilisi was interesting. However, it was not long before I saw fantastic homes built on the side of cliffs with interesting architectural features and medieval churches on hilltops.
My home for the week is the Envoy Hostel & Tours.  I thought it was pretty convenient to have a place to stay and a tour operator all in one.  Although the road on which it is situated is steep and a leg burner and I have to share a bathroom (not really a fan), my room is spacious, the air conditioner works well (absolutely necessary during the summer here), and the bed is reasonably comfortable. 
The fact that the hostel is located right in the middle of the old town, around the corner from the sulfur bathhouses, down the hill from the fortress, and up the hill from several churches doesn't hurt either. The views from my balcony are pretty fantastic.
Georgia, I think I feel a crush developing.