July 19, 2019
The free walking tour I had pre-arranged was canceled, so I set about looking for a new one. Thank goodness for Google – one was found, all would not be lost.
After breakfast at Envoy Hostel, I headed out with instructions to meet my guide from Tbilisi Hack Free Tours in front of the Burberry store – yes, they have designer stores in Tbilisi.
I followed the street I had walked the previous evening, so the surroundings were familiar. Partway to Freedom Square, I met the wonderful gentleman from the flight to Tbilisi. He is my sightseeing hero. After arriving at his hotel yesterday afternoon, he hit the ground running and went about town until about 1 a.m. He was back up early and by 11 a.m., he had seen more of Tbilisi in 16 hours than I will in a week. His energy is unending. After a short conversation and a hug, he was off to continue seeing the sights. I really hope to meet him again in the future.
I found Freedom/Liberty Square with its tall column in the center on top of which a bright gold statue of St. George slaying the dragon sits. A statue of Lenin used to sit at the top of the column, but like many things Lenin, it was replaced. St. George is the patron saint of Georgia and his likeness can be found everywhere. The name George is so beloved, 22.5 percent of the boys/men in Georgia are named Giorgi (or some variation). The beloved Saint Nino lends her name to 24.5 percent of the women/girls in Georgia. If you want to get someone's attention, just yell Giorgi or Nino and many heads will turn.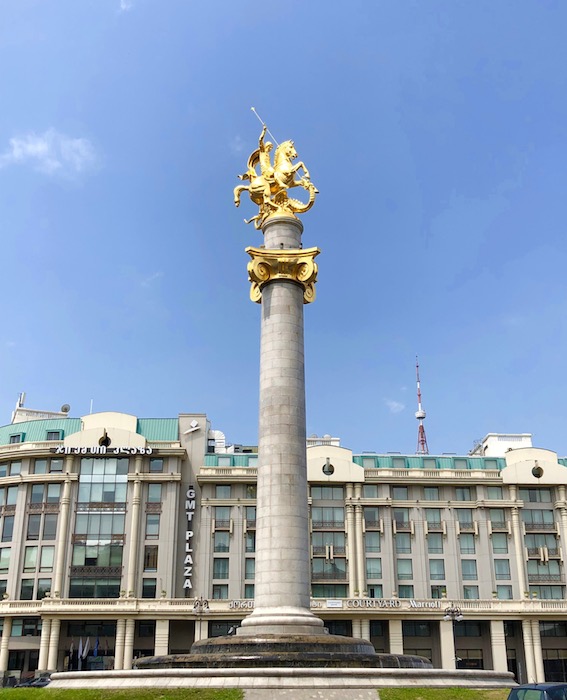 City Hall dominates one side of Freedom Square, while the other sides house shops, a hotel, other official-looking buildings and, if you're missing it from back home, a Dunkin Donuts.
Our guide for the day was Zura. Born in Tbilisi, he has two masters' degrees in history and is very knowledgeable about his city. He was a great tour guide. He was also very energetic.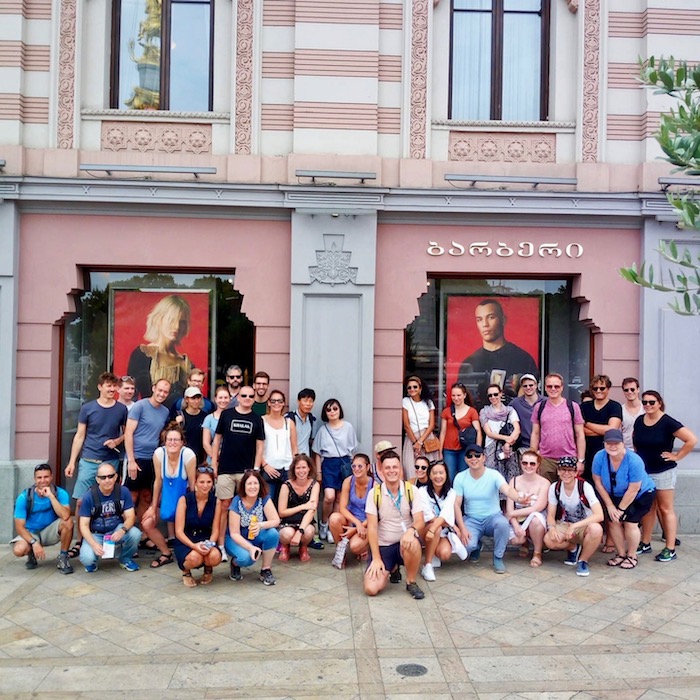 Our large group gathered and then set off walking through the backstreets of Tbilisi, a city established in the 5th century. We stopped at the Catholic Cathedral of the Assumption of the Holy Virgin Mary, which was built in 1805 on the site where the first Catholics settled in the 13th century. The cathedral has lovely mosaics inside and out and has a very soothing pastel color palette inside. The mosaic behind the altar is beautiful; unfortunately, it's not clear in the photographs.
Tbilisi, home to 1.2 to 1.5 million people, has been destroyed approximately 40 times throughout its history. It seems to be going through another period of development with an eye to increasing tourism. There were a lot of buildings under construction, but there was very little activity at the sights. Zura says that it is because the workers don't like to work much, they just want to enjoy their wine. Georgians have an 8000-year history of winemaking – believed to be the oldest winemakers in the world. Believe me when I say wine is very important in Georgia.
As we walked the streets of the older sections of Tbilisi, we saw several different architectural styles from Soviet-era to more classic styles incorporating fancy balconies. Everything just seems to mesh.
Our next stop was the Jvaris Mama, a tiny church sitting on the site where a church has stood since the 5th century. It shares a courtyard with a much larger Armenian church, which is supposedly being renovated and is not in service. The interior of the Jvaris Mama church is covered in recently restored frescoes. They are magnificent and should not be missed.
The courtyard between the churches is also home to one of the hundreds of fountains you will find in the city. The water in Georgia is clean, crisp, and good for drinking. You will see people filling up empty water bottles, washing their hands, cooling their brows, or just grabbing a drink from these fountains. No having to use bottled water to brush your teeth here – yay!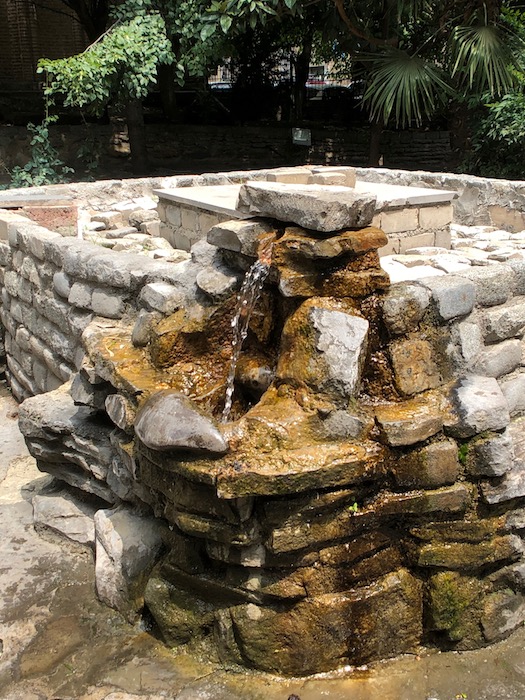 Since you can't go long here without being offered something to eat, we moved on to a local bakery located in an underground cave. According to Zura, this bakery is the best. The workers bake as much bread as they want and when they run out, that's it (kind of like Texas barbeque). The bread is baked in huge round clay ovens and comes in several different varieties; the most popular is Khachapuri – basically cheese bread. Khachapuri is found in all restaurants and is made in all homes. I think it could be named the official bread of Georgia. And, it's good. I had to get a small one, just to try it.

We took our khachapuri and sat on the steps above the Sioni Cathedral, a Georgian Orthodox church. Initially built in the 6th and 7th centuries, it has been destroyed and rebuilt a number of times. The current church was built in the 13th century with modifications in the 17th and 19th centuries. We were told that it is beautiful inside; however, we were not allowed to enter. They have a very strict dress code and none of us met it. If I have time to return, I will have to wear a dress covering my legs and make sure my shoulders and head are covered.
Our wanderings took us through a very boho-chic alleyway with bars and restaurants and ending up in an old housing block. Zura told us about living in one of these buildings where everyone knows your business and different nationalities and cultures live side by side harmoniously. An old lady living in the building wasn't exactly happy that we were nosing about, so we were quickly asked to leave.
We crossed the Kura River on the Peace Bridge. An undulating 150-meter long steel and glass structure that illuminates with thousands of LED lights at night, it has been nicknamed the "Always Ultra" bridge because of its resemblance to a giant maxi-pad. It's a little out of place for its location just outside of the old town, but when viewed in context with the Presidential Palace, with its glass egg-shaped dome, looming on the hill not too far away and a tubular-shaped abandoned building nearby, it doesn't look out of place.
As I came off the bridge, I saw a feeding station for the city's stray dogs. Like Istanbul, Tbilisi takes care of its animals. You have to love a city that loves its animals.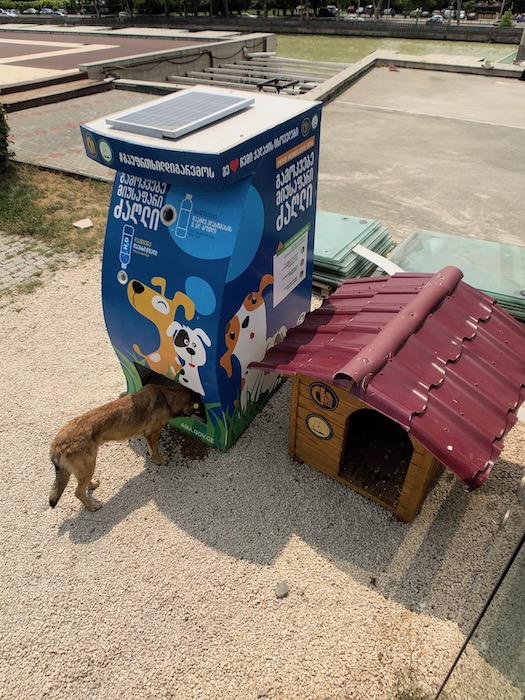 On the left bank of the Kura River, we sat in Rike Park while Zura gave us a primer on Georgia's history and politics. The park wasn't too busy, but it comes alive at night, with lots of families strolling around, getting ice cream, or taking the cable car up to Narikala fortress.
Crossing over the bridge back to the old town gave us a good look at the Narikala fortress.
Our last stop before ending in the square just below my hostel was in the Abanotubani area where some of the most popular sulfur bathhouses are located. Tbilisi was initially settled by the King back in the 5th century primarily due to the presence of the hot sulfur springs. In fact, the word Tbilisi means "warm city" – from the warm waters of the sulfur springs (not because it is extremely hot here in the summer). Just beyond the sulfur baths, we walked a path back to a waterfall hidden just below fantastic houses clinging to the side of the cliff. In front of the waterfall, hanging off the cliff are two are lengths of heavy chain link. Legend has it, if you bang the chains against the cliff wall three times, you are destined to return to Tbilisi. Of course, I smacked those chains against the cliff so I get to come back.
The heat and humidity had done me in; thus, a nap was in order. Later, I decided to take a walk through the neighborhood including walking back over the Peace Bridge to the cable car.
Despite my fear of heights, it was the only way I was going to get up to the fortress as I wasn't going to walk up the extremely steep streets to get there. Riding the cable car as the city lights came on was magical despite having to share my car with four selfie-happy young men.
The fortress itself was built in the 4th century and was Tbilsi's stronghold until the 19th century. I wandered around for a while watching the city illuminate and then started the long walk down (I chose not to do a return cable car ride).
I passed a doorway in the fortress wall, entered and took the steep walkway up to find the newly rebuilt St. Nikolas Church.
The views from the walls around the church were spectacular.
I continued to pick my way down the street. I thought some of the streets in San Francisco were steep – these put those to shame. Luckily, my hostel was halfway down the hill, so I didn't have as far to go. Tomorrow's a tour day, so a good night's sleep is in order – off to bed I go.