October 17, 2017
Since our hosts were busy with their normal lives, the rest of the group decided to walk into Destelbergen, get fixings for a home-cooked dinner, and do lunch. First, however, we had to stop and talk to the donkeys across the lane.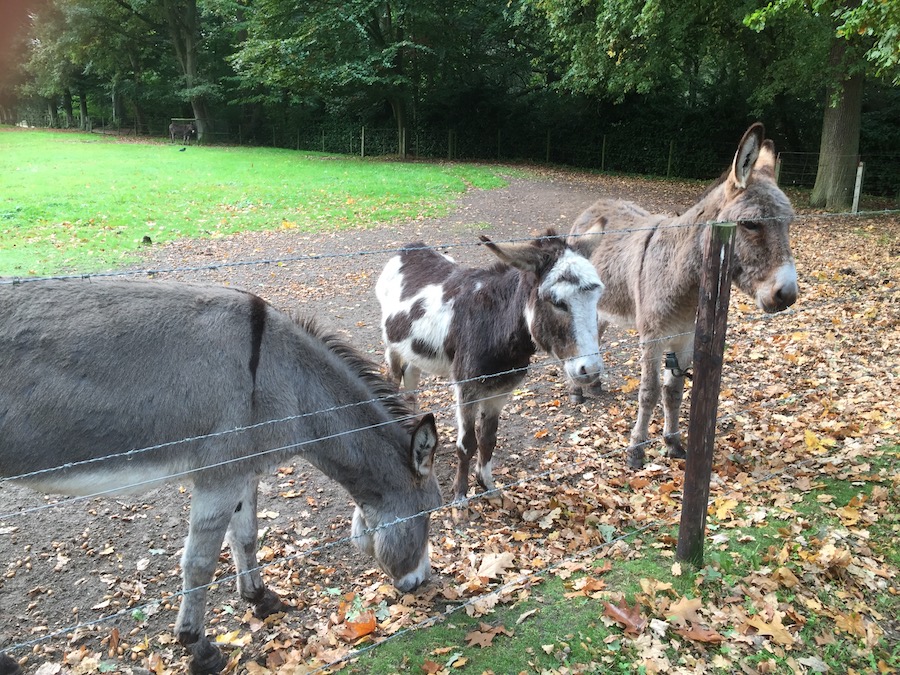 As we walked along the main road into town (Dendermondesteenweg), we peeked into properties set well behind gates and those just off the relatively busy road. There are a few homes for sale – anyone want to pitch in and buy one? I don't mind taking one for the team by living in and taking care of it. Takers? Anyone?
We had to be careful as we walked because the path is shared with bicycles and scooters. Since bicycles rule the roads here (as they did in Amsterdam), we had to jump out of the way as people urgently rang their bells while passing very closely.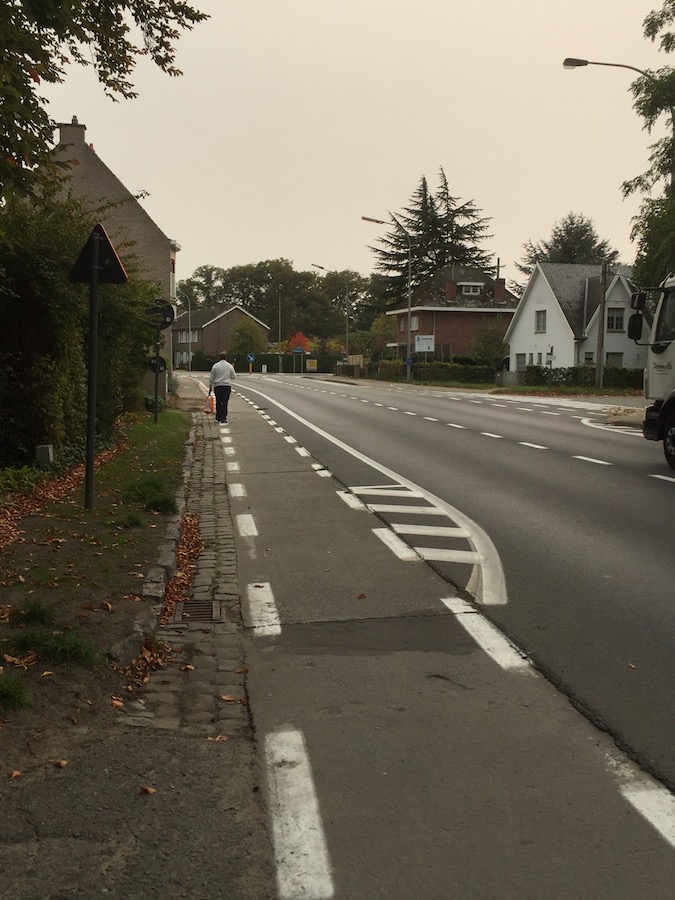 Destelbergen has a very quaint town hall, church, and shops along its main drag. I think there are only two stop lights. I can't recall how many people live in the town, but it is less than 10,000 spread out into the countryside.
We initially planned on having lunch at the wine bar in town, but then we were also presented with choices of Italian, sandwiches at the boulangerie, or Mexican. Sandwiches and Mexican were vetoed quickly, and the Italian restaurant didn't serve anything but pasta, which was what Rod was making for dinner. So, after 30 minutes of walking between our different choices, we returned to the wine bar.
We arrived at 12:01 p.m., one minute after they opened, to find the parking lot packed. Luckily for us, we got the last table in the restaurant even though we didn't have reservations. There were white tablecloths, lots of flatware, and several wine glasses on each table. These indications alone should have been a foreshadowing that the lunch was a bit more than we wanted and would take way more time than we allotted.
Our first waitress firmly shook her head no when we asked if there was a menu in English, and then disappeared forever even though we ordered a bottle of still water from her. It was apparent she did not want to wait on the foreigners. She didn't even look our direction for the next two hours (lunches are long here). About ten minutes later, they rallied up someone who spoke English to wait on us.
The amuse bouche was pickled mackerel – not to bad. Rod started with the soup of the day (cauliflower), and I had the best tomato soup ever ~ it had a bit of cream on the top that made it so silky when mixed in. Main dishes were steak tartar for Rod, a seafood salad for his friend, and a chicken salad for me. This wasn't any normal chicken salad. It was beautifully prepared with pieces of brie, prosciutto, mango, radishes, walnuts, eggplant, mixed greens, and little unidentifiable peppers (or maybe they were tiny tomatoes, I just don't know). it was so good and more than plentiful – I only ended up eating half. The other salad was also good and Rod loved his steak tartar. It came with the biggest bowl of frites ~ really, it looked like a large mixing bowl full of fried potatoes.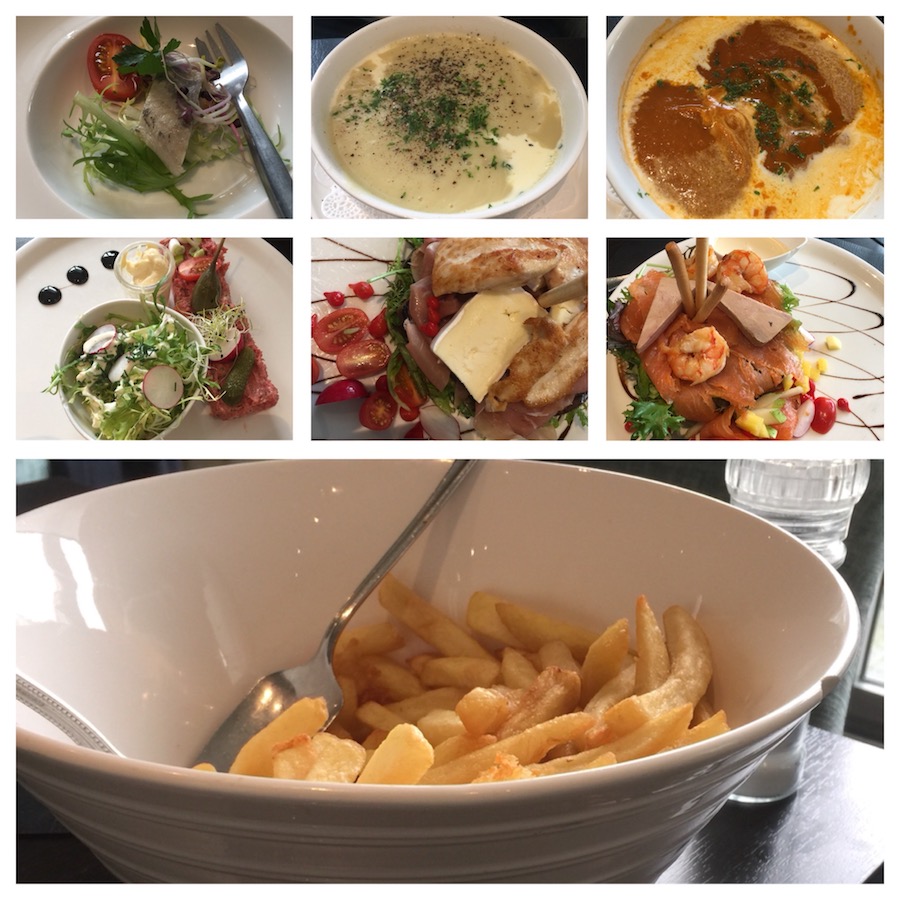 The entire meal took a shade over two hours. They believe in giving you plenty of time to digest and are used to people having 4-5 courses (we only had two including the amuse bouche, so we were in the minority) and lots of wine (we had none). When we were ready for the check, it seemed as if all the wait staff had gone to lunch themselves as it took about 15 minutes to find someone to take our money.
Our tour about town continued back at the boulangerie, where we picked up a baguette and some pastries for dessert and tomorrow's breakfast. Next, we visited the cheese store for parmesan (the store smelled heavenly), the butcher to check out what might be available for dinner, and, finally, the fishmonger where we decided on salmon for the pasta. The fruit/vegetable market was closed for lunch (stores close for 1-3 hours to allow for a leisurely lunch with family), so we decided the remainder of the items would be picked up later at the larger grocery store.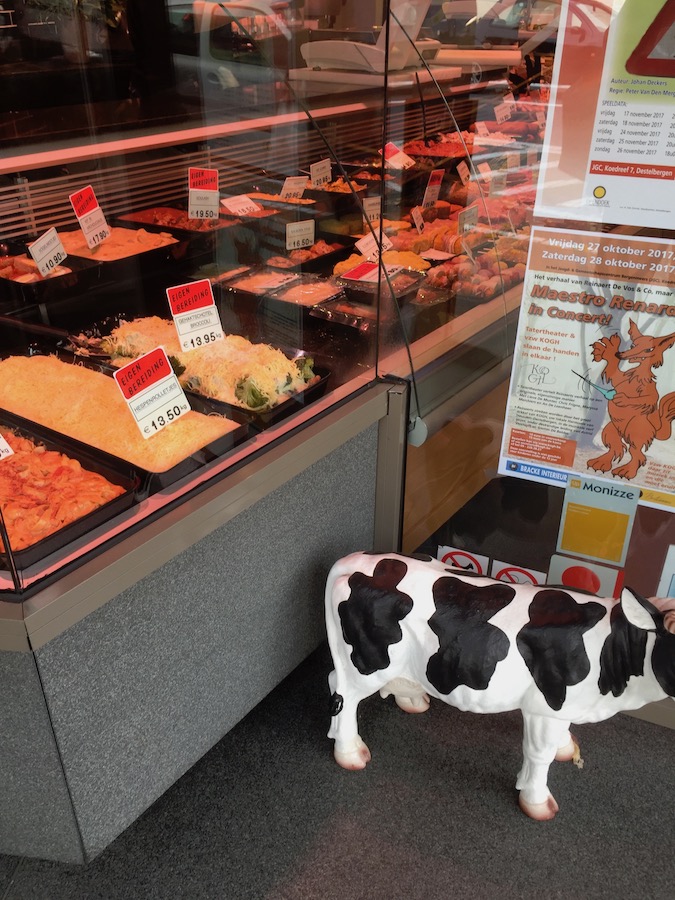 On the way back to the house, we found a large map outside the library, which had all of Destelbergen and the surrounding area.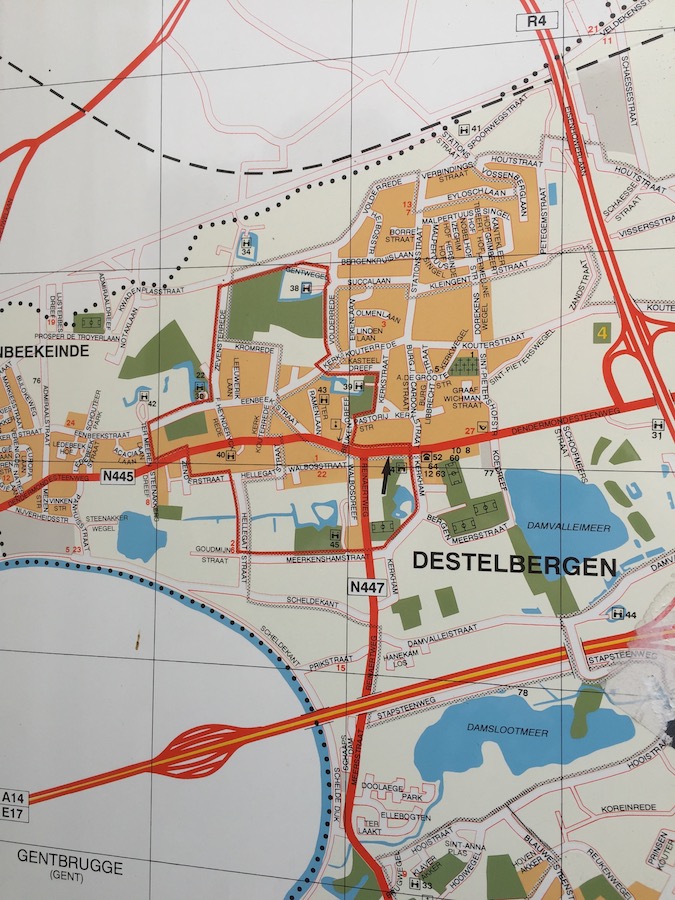 Back at our humble abode, I started a load of laundry and then set to writing for a bit while the others went to the grocery. Later in the evening, everyone pitched in to make bruschetta, pasta with salmon and sun-dried tomatoes, and to set the table in the dining room.
The homemade meal was just the right way to end our wonderful time with new friends in Belgium.