April 19, 2016
Transit days are always a bit up in the air since we never know if more time will be needed than we thought; thus, we usually keep travel days unplanned. We left the Cotton House a bit teary-eyed as we loved the beautiful surrounds and the people and loved Barcelona.
We luckily built in a bit of wiggle room in our timing to the airport as we were met with some rush hour traffic – mind you, it wasn't LA standards of rush hour traffic, but enough to slow our taxi down. Check in was a breeze and we even checked our backpacks since it was included in the price of the ticket (unheard of on budget airlines – we flew Vueling).
If ever flying out of Barcelona, give yourself extra time to get to your gate, particularly in Terminal 1. Between security and your gate, there are a lot of shops, and I mean a lot of shops. I think you could buy almost anything in T1 except construction supplies and heavy equipment, although maybe I just didn't see those stores. And, if your gate is in the 60s, you will have a long, long walk with very few moving sidewalks in between.
Luckily our gate was in the 40s, so it was just a long walk, not a long, long walk. As for the travelers themselves, you will see anyone from the hippiest of vagabonds traveling the world with backpacks to uber stylish business people who look like they just stepped out of the pages of Vogue. People watching is fantastic at Barcelona airport.
Our 1 1/2 hour flight was uneventful except for a bit of turbulence on landing. The Sevilla skies were gloomy and the air humid – looks like rain (and it did later in the day). We fetched our bags, walked into the greeting area, and located the man holding up a sign with our names on it. We were thankful I had pre-arranged a taxi through our AirBnB host so we didn't have to determine whether the taxi drivers at the curb were legit.
Our driver was less than friendly, but he drove the narrow streets of Sevilla like a champ. Another city in which I don't believe I'd like to drive. As we rounded a final corner, the plaza opened up to reveal the Cathedral, an important landmark for our stay as our apartment is situated directly across from it. An imposing behemoth, the Sevilla Cathedral is the 3rd largest cathedral in the world, behind St. Peter's in Rome and St. Paul's in London. It makes for a lovely view from our 3 Juliet balconies and our rooftop terrace. Our taxi driver was kind enough to wait with us on the street until our host Maria arrived to check us in.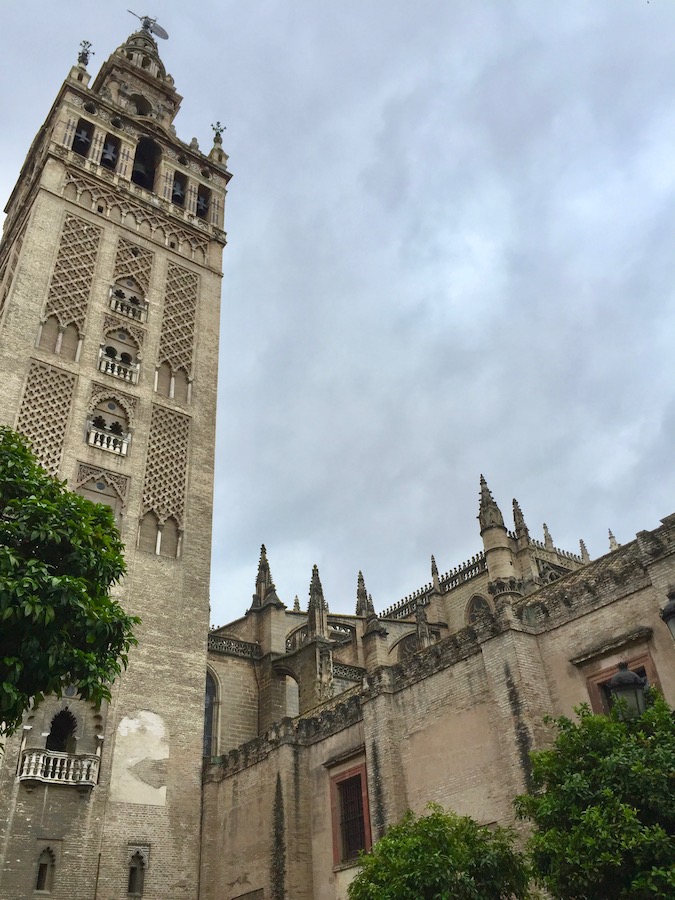 Our apartment is lovely, light, and airy with comfortable, but not too comfortable, seating, a small kitchen, a queen bed with a firm mattress, and a nice big shower in the bathroom with good water pressure and nice hot water.
Of course, the very best part of the apartment is the view out of the three sets of French doors.
Maria gave us the lay of the land in the apartment, the laundry area, and our private deck. Our apartment is on the 1st floor (which to North Americans is the 2nd floor), the private laundry area is on the 3rd floor (NA – 4th floor), and then up one more set of stairs to the rooftop deck. Phenomenal view!
After unpacking what we will need for the next few days, my first order of business was laundry. Since Europeans usually only have washing machines and no dryers, you have to plan enough time to make sure your clothes air dry. Up I trekked with our laundry, made my way through the locked gate into the laundry room, and began to decipher the symbols on the washer. With no directions on what the symbols meant, I selected what seemed to be "in the middle" and hoped for the best.
With clothes in the washer, we headed out in search of one of the restaurants suggested by Maria – a tiny 8-10 table tapas bar named Ovejas Negras around the corner and halfway down the street from us. The only place available to sit were two stools at the same bar top used by the kitchen's expediter to finish off the plates of food. These turned out to be the best seats in the house because it was like a mini chef's table. We were treated to an ever-changing show of all the available dishes.
We chose the Caprese salad with fresh burrata, the mushroom risotto and, the piece de resistance, the slow-braised pork cheeks with mashed potatoes and pig jus. The burrata was the perfect balance of firm and creamy, which played well with the acidity of the fresh tomatoes, olive oil, and a touch of balsamic. The mushroom risotto was rich with the earthy goodness of fresh mushrooms and the perfect firmness of the rice.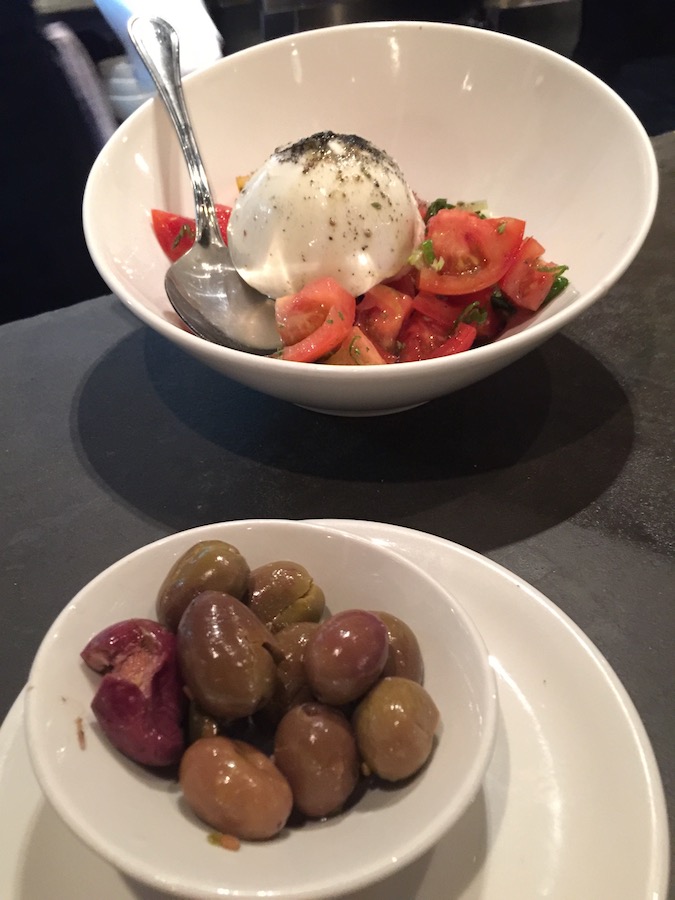 However, it was the pork cheeks that will have us coming back to this tiny find a few more times while we are here. They could very well be a reason to make a return trip to Seville (besides the beauty of the city). The pork cheeks were so tender that a knife was not necessary to cut into them, and the flavor was deep, rich, and delicate all at the same time. The creaminess of the mashed potatoes, with no added flavors other than butter, and the headiness of the pig jus combined with a forkful of pork cheeks to make a perfect bite. My mouth waters just thinking about them. Let's take a moment of silence as I savor the memory.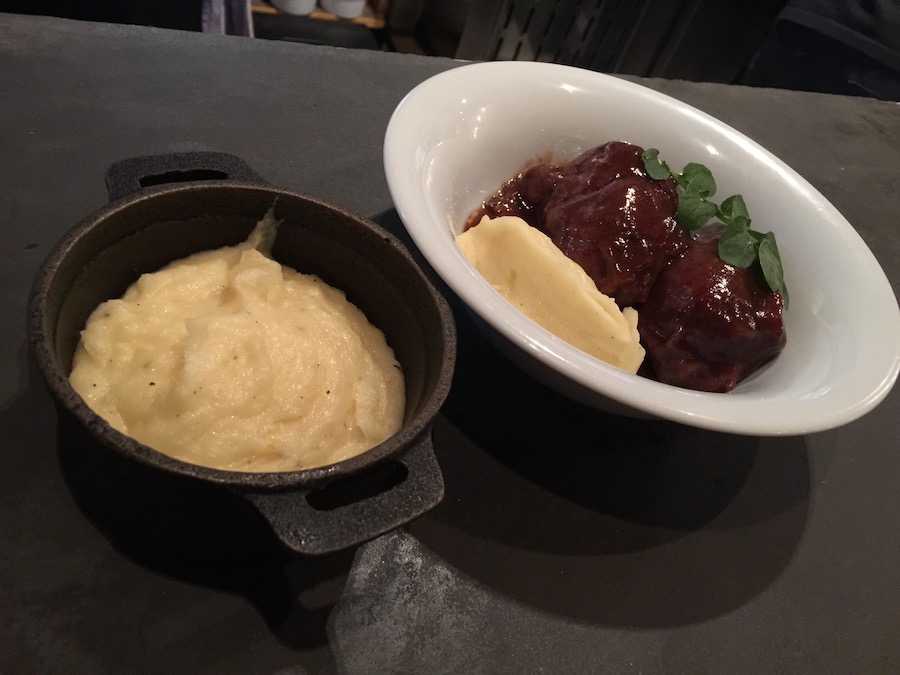 It had begun to rain while we were at lunch; however, it did not deter the hordes of people standing in line to get into the restaurant. We smiled silently as we walked by knowing they were in for a delightful gastronomic experience.
While on the topic of food, we went off in search of the supermarket to buy a few basic supplies for our apartment stay. Since bottled water can be expensive in restaurants, it's always good to pick up a few large bottles to refill smaller bottles you carry around throughout the day. It's good to stay hydrated.
Using the directions from Yelp on my phone (no data usage since I was able to queue it up on my iPhone before leaving the apartment), we made our way through the narrow streets to Mas. Next time we will have to remember to bring our own grocery bag so we don't have to pay for plastic. It was then back to the apartment to continue some domestic chores (hanging laundry and doing more wash), a nap, and a little downtime for writing.
After another stroll around the local plazas, we stopped for dinner at a tapas bar just down the street. We love tapas because they come in shareable sizes to try multiple dishes without going overboard.
We tried small portions of the Russian salad (a mixture of fish, vegetables and potatoes topped with caviar), salmorejo (tomato soup thickened with a bread purée – dairy free, but definitely not gluten-free), seafood paella, and braised and deconstructed oxtail.
We weren't going to have any dessert, but our waiter proclaimed he had the best desserts in all of Spain and perhaps the world, so we just had to try one. Our selection was a light crema with a chocolate mousse center drizzled with caramel and topped with an almond caramel biscuit. It was out of this world! The waiter was right.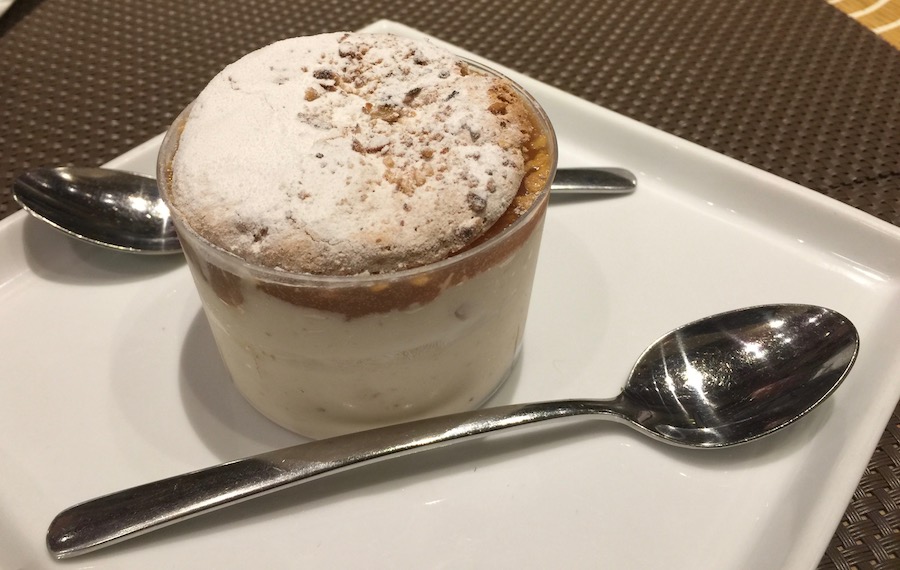 As we walked home, we caught the moon peeking out beyond the Cathedral's bell tower and we thought just how lucky we are to be here together.  Good night moon.