April 15, 2016
Me: For your 50th birthday, you can have a big party or a BIG TRIP!
Him: Hmmm, that's a tough choice…
Me: Again, the choice is a big party or a BIG TRIP!
Him: I guess I would like a BIG TRIP!
Me: Yay! Good choice.
And so it began, planning for Steven's big birthday trip. He selected Spain and Marrakech, Morocco. We'd always wanted to go to Spain. It wasn't until an old friend (RIP Mike Rez) came back from Marrakech with rave reviews that the destination had gone onto the list. (There are still so many places on "the list.")
Since we were using airline, hotel, and credit card points, the bones of the trip were set in place about 11 months ago. The finer points of the trip had waited until last month when we had time to concentrate on details, but not too many details. We've learned over our travels not to plan too much as it stymies spontaneity and doesn't leave room for lazy afternoons (or days) along the way.
With an itinerary sent off to family members "just in case," we were off to the airport. (Of course, there was an itinerary. I know I said we don't over plan, but I am Type A after all. That means there has to be some type of itinerary. I mean really!)
We splurged by having a sedan take us to the airport, even though Uber would have gotten us there. We were happy to have an experienced driver, as traffic was bad, even by LA standards. Thank you, protesters, for slowing LA to a crawl – even Obama doesn't slow the entire city when he's here. We weaved to and fro through and around downtown to make it safely far enough down the 110 to access the freeway only to sit in another traffic jam. Who knew Thursday afternoon was a big travel time at LAX.
Using airline miles meant we weren't taking as direct a route to our first destination, Barcelona, as I would have preferred. American routed us through Denver on a regional jet to connect with our British Airways flight to London Heathrow and then onto Barcelona. We boarded a bus to be schlepped out to the remote gates for our regional flight – it took so long, we thought they were driving us to the Van Nuys airport.
Flying out of the regional terminal usually means you are stuck sitting in the rejects of airport terminal seats, and having the culinary choice of water and an overpriced bagel. Not so this time.
A not so helpful AA customer gate agent told us that we were not eligible to use the Admiral's Club, despite seats in First Class on AA and Business Class on BA. Steven was not deterred and decided to stop into the lounge just to check. By dropping the fact we were traveling for his 50th birthday, and his wife had slaved for months in the planning, he successfully schmoozed the lady in charge of entry. She granted us access. Although small in comparison to lounges back at the mothership, it was quaint, quiet, had free, reliable wifi, and had delicious soup (mushroom Brie bisque).
The flight to Denver was only a couple of hours, but we were treated to hot towels, assorted nuts, and a first class late lunch – choice of salmon mango salad (me) or a charcuterie plate (him). The first of many meals on our way across the Atlantic.
We had no time to hit a lounge in Denver as our connection time was a little tight, so it was onward to check in for our flight on a 747 to Heathrow. (I didn't know BA was still flying 747s.)
This was Steven's first time flying in a lay-flat seat. He was like a kid in a candy store…pushing buttons, turning levers…but it's only fun until someone gets hurt. He turned one too many levers and his footrest smacked straight down onto his shin – that's gonna leave a mark.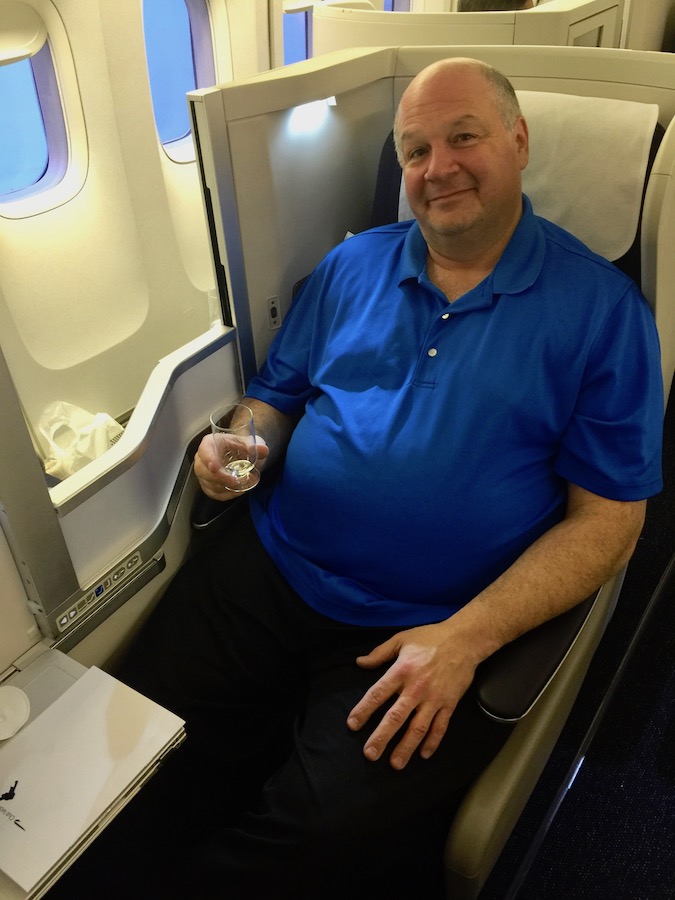 Our cabin crew was British "cool" but nice (particularly since we brought them a box of See's candy). They offered a never-ending array of drinks and food (filet mignon for dinner, thank you very much) until we deemed it time to sleep. BA doesn't have my favorite lay-flat seats as they are a little on the hard and unforgiving side. They also don't come with sheets and a blanket, only a covering that looks a bit like a furniture pad used by movers. (I know, first world problems.) Nonetheless, we were able to sleep. And then, we were at Heathrow (after another meal, of course).
We'd planned to freshen up in the Arrivals lounge in T3 before heading to T5 for our flight, but (a) the T3 Arrivals lounge was closed for renovations, and (b) our flight ended up taking off from T3, not T5. The second part of the news was a benefit as it meant we didn't have to take a bus or train to get to the next gate.
We were able to find the BA Galleries Lounge between the two gates, which meant we didn't have to huddle with the masses in the terminal waiting for our gate number to light up. The lounge was quite modern with an assortment of soups, mains, and goodies (of which we did not partake since we were already stuffed to the gills). Steven did a happy dance when he saw the vast number of magazines and newspapers to choose from – he loves him some good print media.
When we checked into the lounge, a schoolmarm looking BA agent told us in no uncertain terms that our "hand baggage" was just too much and would have to be checked through to our final destination. She was "shocked and appalled" the agents on our previous flights had not required us to do so. I was not happy.
As most of you know, we fly with our backpack suitcases and a smaller computer bag so we don't have to check our luggage (unless flying RyanAir or Lufthansa, both of which have ridiculous baggage requirements). Over our objections, she assured us that the bags would go immediately on the plane so there was no risk of losing them. Insert frowning emoticon here. The unpleasant agent even went so far as to note on our reservation that the gate agent should have us surrender our hand baggage – tattletale!
When it was time to embark, we casually sauntered up to the gate agent who didn't appear to be looking at her computer. She took a look at our bags, had Steven insert his suitcase into the "baggage size checking thing" and passed us through without another thought. There would be no lost luggage today!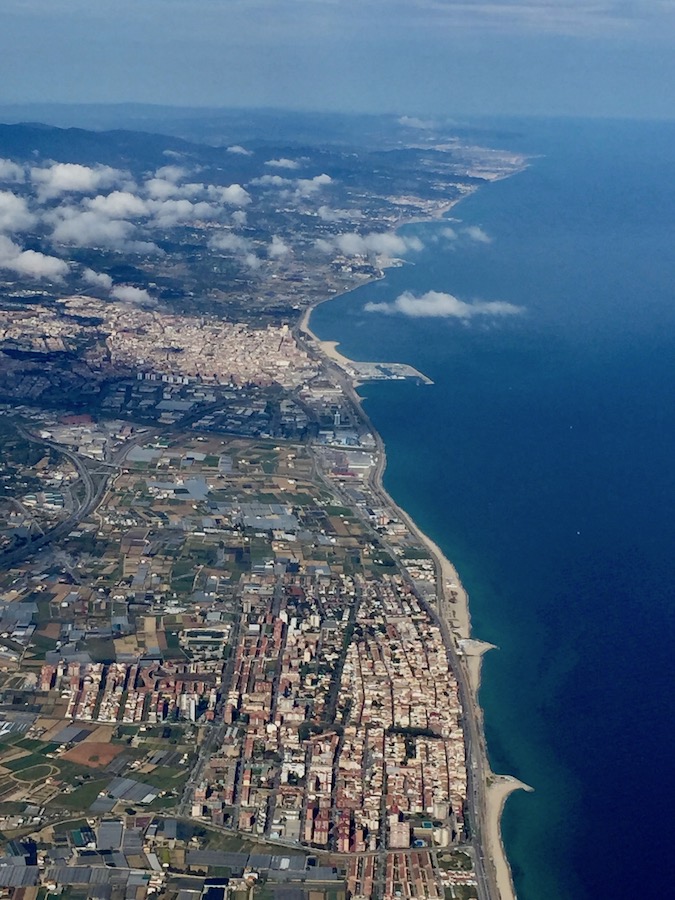 Another meal (it was, after all, tea time) on the plane and we were finally in Barcelona.
We decided to take a taxi to our hotel, which ended up costing exactly what the hotel concierge quoted me (a pre-trip planning tip).  The staff at the Cotton House, part of Marriott's Autograph Collection, welcomed us with smiles, an offer of a chilled glass of water, and an afternoon sweet.  Housed in the old cotton manufacturer's guild, the hotel is comfortable and classy all at the same time.  Our room is large, by European standards, and has his and hers walk-in closets many times the size of all of our closet space at home.  And, the beds are so, so comfortable.  
We tried not to nap, so we could stay on local time, but it didn't mean we didn't take a load off for a bit before going out to wander the neighborhood – after all, we were nearing dinner time and we hadn't had a meal … in a couple of hours.
We walked the Gran Via for an hour or so to get our bearings and finally decided we should have a bite to eat. It was only 9:30 p.m. – very early by Spanish standards. A plate of fried eggs, Iberian ham, and fries (Catalan bacon, eggs, and hash browns) later, and we called it quits for the day.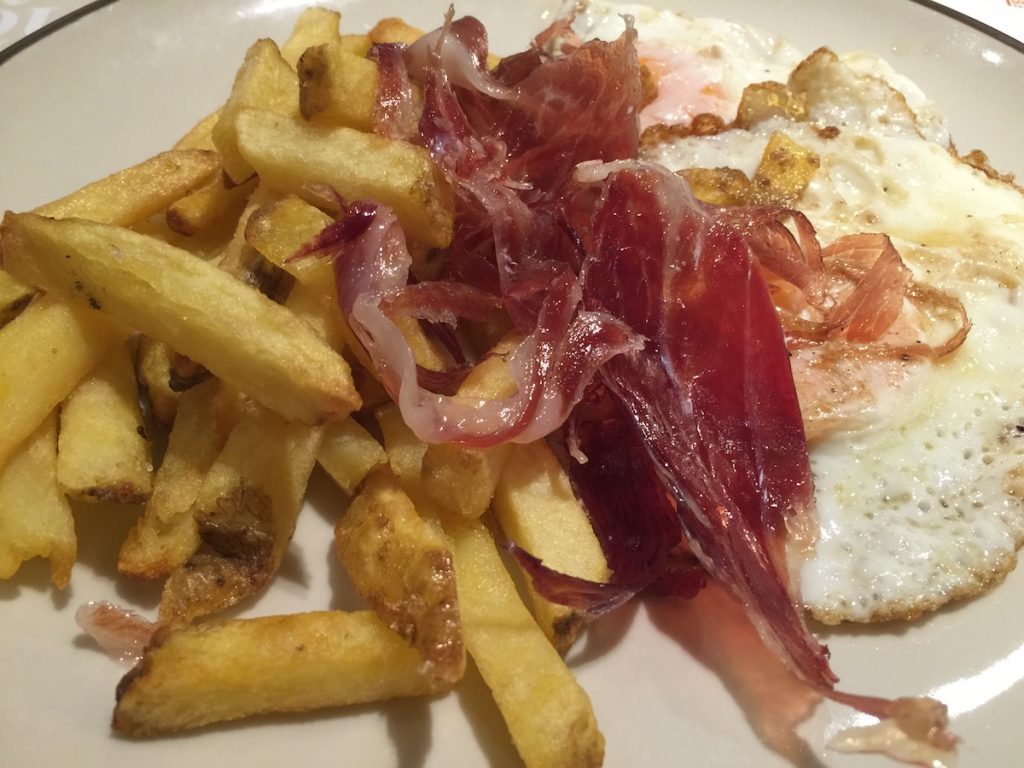 Well, except for the nightcap sweet we were offered when we arrived back to the Cotton House. Thank goodness we plan on doing a lot of walking on this trip – it's definitely not going to be light on the calories.