April 20, 2016
The clouds threatened rain as we awoke in our comfy apartment in Sevilla. However, they didn't stop the city from awakening below us or from the Cathedral's bells from ringing. And ring they did, signaling the beginning and the end of mass.
The main activity of the day was a tour with Devour Seville called Tastes, Tapas & Traditions. It received high ratings from TripAdvisor, so we had high hopes and were not disappointed. Learning a tip from our first food tour, we ate very little for breakfast knowing we would likely not go hungry for the remainder of the day (like that could happen in Spain).
Since we weren't really sure how to navigate the narrow alleyways to where we needed to meet our guide, we hopped in a taxi at the end of our block. I'm sure the driver took us out of our way because I didn't confirm the price beforehand, but the trip only cost five euros, so no big loss. We arrived at Plaza de la Encarnacion, known for the huge Metropol Parasol monument which has been dubbed as "Las Setas" or "The Mushrooms" by locals. It's a large wooden structure that is supposed to provide shade and houses a nice market in its base (which I'll discuss later).

We met our guide Jaimie, a very jovial guy from Ireland, who has been in Sevilla for three years. During college, he did semesters in Seville and Granada and pledged that he would return to Andalucia after college. The day after he graduated, he boarded a plane to Sevilla and hasn't looked back. Besides guiding food tours, he works in the business office doing marketing and running the company's social media. He was fun, very knowledgeable, and likable.
Besides Steven and me, our group consisted of one other person, Jung, a digital marketer from New York who was in town for a conference. It's nice to have a small group for this type of tour.
Our first stop, near the monument, was Bodega El Picadero for a typical breakfast of Tosta de Pringa, or, pork stew on toast, and cafe con leche. The pork stew is such a family recipe that for decades, if the woman who makes it was ill, busy, or on vacation, they couldn't serve the dish. She didn't trust anyone with the secret. Age must have mellowed her as has now trusted the recipe to one other person who is sworn to secrecy. So, if neither of them is available, there is no pork stew for you. Oh, and by the way, it's delicious.
Our next stop was to the Mercado de la Encarnacion, inside the base of the Mushrooms. Strictly regulated and monitored, this market of 40 stalls is known for produce, meat, and fish of high standards and freshness. It's a testament to their dedication to the quality of the merchandise because, despite the number of fishmongers, there's none of that fishy smell that can permeate an indoor marketplace.
Jaimie showed us around the market and brought us to Corta Y Cata, a purveyor of ham and sausage, to watch a slicing demonstration and taste Iberico Bellota Ham. The business has been in Maria's family for generations and all of the pork is raised on her family's farm. Davide showed us how to properly slice the ham, a technique in which one is an apprentice for years before being sent out on their own.
The trick to slicing Iberico ham, which can be extremely expensive, is to cut it as thin as possible. So much so that you should be able to see the knife through the ham slice. Additionally, the special blade used is very flexible and can get away from an inexperienced. There are many slicing related injuries tended to at local hospitals during the year. We'd had some delicious jamon in Barcelona, but this was succulent, with just the right amount of fat to mellow the flavor and wasn't too salty. It had aged very well (up to 5 years).
As we walked, Jaimie regaled us with stories and factoids about Sevilla, its inhabitants, and rulers over the centuries. It's obvious he's been a teacher (he taught English in Japan and here in Spain) because he makes learning fun and effortless.
Along the way, we stopped at a building that, at a time before Jews were run out of Sevilla in 1492, was a Synagogue. Repurposed as several different businesses through the years, it is home to the Convento Madre de Dios de la Piedad and some really tasty sweets. The convent is mostly cloistered. Once a nun goes into the convent, she only comes out to pass through to the church through a sheltered alleyway or, when she ultimately leaves to meet the Heavenly Father.
To fund the convent, the nuns run a cookie bakery. To get your goodies, you enter through a side door of the convent into a portico and ring the buzzer. A young nun will greet you (only in Spanish) through a barred window and take your order. You pass your money through the slot below the window and receive your sweets.
The nun working the window is allowed to converse with patrons, unlike another convent close by where the nuns aren't allowed to have outside contact. Those nuns take your order via a speakerphone and deliver your sweets through a chute. Complicated, but the nuns sure know how to bake. Our tasty treat was a naranjitos cookie made simply with oranges, almonds, and a few other ingredients that I don't remember.
Moving on to savory, our next stop was Bar Fresquita, a tiny hole in the wall place that continues the Holy Week celebration all year long.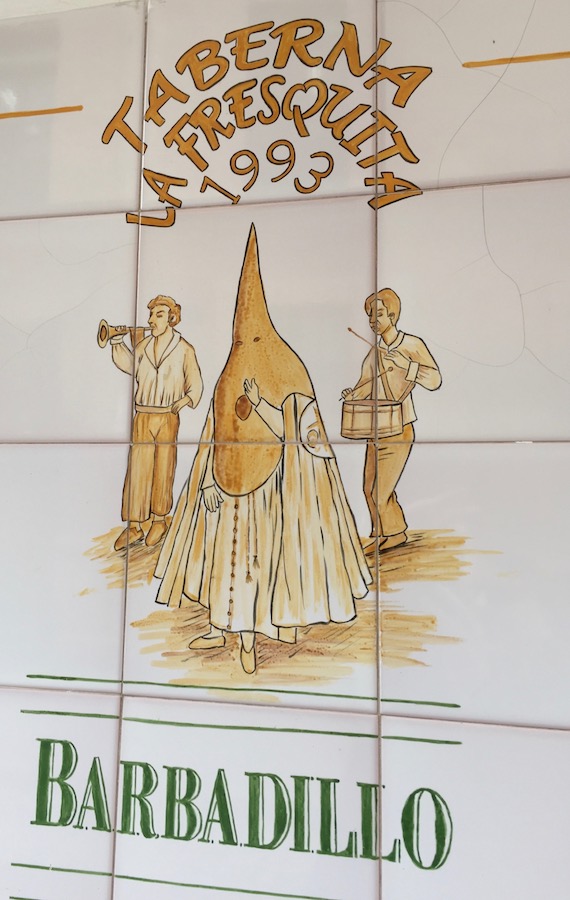 In fact, the owner of the bar has a sign changed daily indicating how many days it is until the next Holy Week (as of today, it's 353 days away).  Holy Week (Semana Santa) is big all over Spain, but it is HUGE in Sevilla. As soon as Holy Week is over, people start preparing for the next year's event. This bar is the hangout of several of the groups who consider the preparations over a glass or two of beer. The owner's devotion to Holy Week is also evident by the photographs, paintings, and other artwork depicting the processions crowding every spare inch of every wall.
At the bar, they welcomed us with two different types of montaditos (bread mounted by an ingredient) – one with carne mechada and one with spicy chorizo and Roquefort cheese. We also received and a glass of Tinto de Verano, one part red wine and one part lemon/lime soda. The small sandwiches were tasty and the Tinto refreshing, although I only took a sip and passed it along to Steven.
Spaniards love their wine. This was evident at our next stop, Taberna Peregil well-known for their orange wine. Although the color is burgundy, it is actually a white wine that is aromatized with oranges and other natural flavoring giving it the rich color. And, it is strong – approximately 15% alcohol. Again, one little sip and I was passing it along.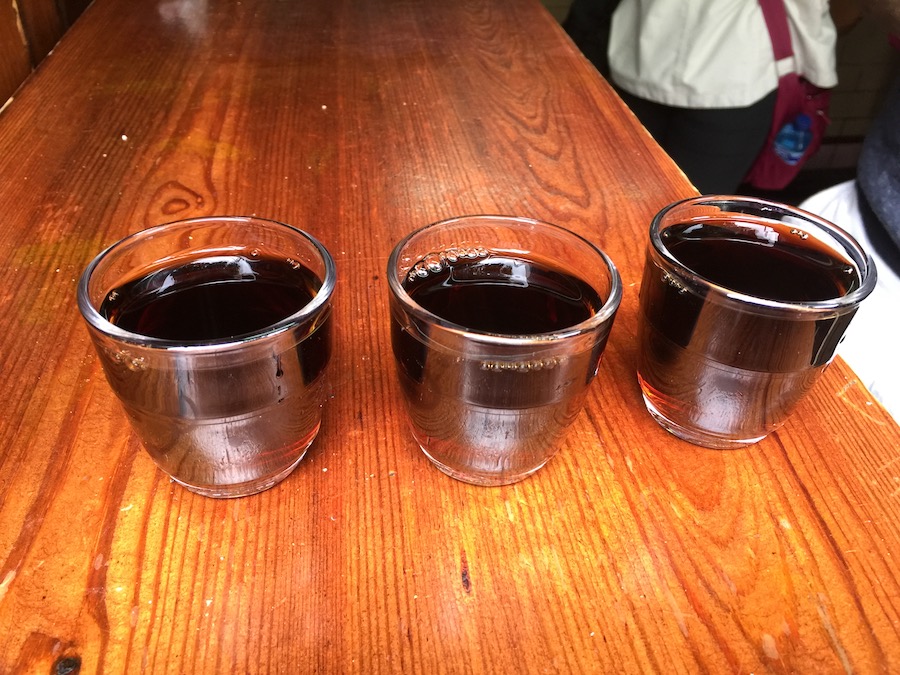 This little bar has been in the owner's family for decades. His father, besides running the family bar, was a famous flamenco singer and broke into song quite frequently while tending bar. The current owner, not so much. In fact, there is a sign in the bar that there is no bad singing allowed, which is apparently directed specifically at him. The bar also houses the smallest WC in the city. It's literally a corner closet big enough for one average sized gentleman and one urinal. When it was originally built, only men frequented the bar, so ladies are out of luck.
After another walk and much more history about Seville, we came across Freiduria La Isla, in the business of making potato chips, fried almonds, and fried fish. We weren't subjected to the fried anchovies (thank goodness) but were offered fried dogfish, also known as sand shark. Dogfish is a very mild, almost bland, whitefish that takes on the flavors of marinades very well. Before lightly coating the fish in flour and frying it in fresh olive oil, they marinate the fish in adobo and boy is it tasty. The batter is light and not greasy and the fish very flakey. Fish and chip places at home and across the pond should seriously get this recipe.
As if we hadn't indulged enough, we still had "lunch" to eat at La Taberna, a cute little family-run tapas place around another corner and down another street. We had a reserved table in the back and could pick two tapas each from a menu fixed especially for the tour. I chose the salmorejo (the tomato soup) and roasted pork shoulder. Steven chose the arroz del dia and the huevos frites con patatas y chorizo. Luckily the portions were relatively small as we were definitely getting full.
Of course, we weren't full enough that we missed the last stop – La Fiorentina, an artisanal Sevillian ice cream shop. The owner is renowned in Spain for his ice cream flavors and is quite a celebrity across Europe. He often consults with high-end chefs on ice cream pairings. Steven had the chocolate orange, and I had a flavor, the name of which I cannot recall, but as per my palate, it was caramel based.
We bid a fond adios to Jaimie, with him promising to email us the names of his favorite restaurants in Córdoba, and to Jung, with wishes for his safe journey back to Madrid and then New York. It was time to trek back to the apartment to check on the status of the drying of our laundry and regroup.
Our rest was cut short due to a desire to check out the Church of the Savior and, possibly, the Cathedral and bell tower before closing. We had seen that the queue for tickets at the Cathedral was very long at all times, but we found out that a combination ticket could be purchased at the Church of the Savior for it and the Cathedral and there was hardly ever a line. We started off in what we believed to be the general direction of the Church but got a bit turned around and came around in a full circle before we found the proper street/plaza.
This took a little bite out of our time, but we were able to get the combination ticket without any fuss. It turned out to be valid for seven days – which is good because we missed getting into the Cathedral before closing. We were, however, able to spend time in the Church of the Savior.
Iglesia del Salvador is Sevilla's second largest church. As with most of the churches in town, they built it on the site of a mosque (which I believe had been burnt down during one of the many conquests). This church is a beautiful example of Andalusian Baroque and is dripping with silver and gold. It also houses some of the most beloved statues which adorn floats (carried on the shoulders of many sturdy men) during the Holy Week processions. I could have spent hours in the church and continued to see something new every minute. It was mesmerizing.
As the rain had stopped and the sun peaked out, we opened the French doors of our apartment and stood on the Juliet balcony watching the world go by. We are right on the corner where people walk to get to both the Cathedral and the Alcazar. It appears the entire population of the city and all the tourists have to pass our windows. We spent an hour people watching – a great way to pass some time.
About 9:30 p.m., we decided to get a bite at a tapas bar, El Pasaje, I'd found on Yelp that had received 4.5 stars. Since it didn't open until 9:00 p.m., we beat the dinner rush. By the time we left, it was beginning to get crowded – it doesn't close until 2:00 a.m. (3:00 a.m. on Friday and Saturday).
We'd read that the Sangria was excellent, so that was Steven's beverage of choice. It lived up to its reputation and was so smooth it would be dangerous after a glass or two. We'd also read that their pork cheeks were delicious, so we had to do a comparison with the pork cheeks from yesterday. These were stewed, while yesterday's were slow-braised. While we agree with the reviewers on Yelp that they were tender, juicy, and delicious, we much preferred the full-bodied flavor of the braised pork. We also tried a glass of gazpacho (don't usually drink soup from a wine glass) and a tomato, olive oil, and avocado cream cracker for which the restaurant had received Sevilla's Tapas of the Year award. Everything was yummy.
And with that, we had our last meal of the day.  Actually, it felt like the entire day was one big meal with a church break 3/4 of the way through. Despite eating on and off for much of the day, it wasn't like we were eating full meals and we walked 5 miles. Hopefully, we burned some of it off.  We have an early day tomorrow as we are getting out of Sevilla for the day via train.  Let's hope we can find the right track at the right time.  Buenas Noches amigos!