November 3, 2018
Earlier in my trip, I had such a wonderful Korvapuusti experience at Cafe Succes that, instead of going to somewhere new, I decided to take Steven where I knew the pastries were exceptional. Having checked the opening hours for Saturday – 10:00 a.m. (who waits that long for breakfast!), we took our time leaving the hotel.
We arrived at the cafe exactly at 10:00 a.m., but it was dark. Believing they might just be running a little behind, we walked around the block (basically to keep warm), and ended up back in front of the cafe at 10:10 a.m. Seeing movement inside, but no lights, we tried the door – it was unlocked. We walked in but were greeted by an older man who started talking to us in Finnish or Swedish (not sure which). When I asked in English when they would be open, he responded that the cafe was closed due to the holiday and they were only there to have a family meeting.
Holiday? What holiday? Turns out, today was All Saint's Day, which in the US doesn't mean anything for consumerism, but in Finland apparently it does. We would find only the larger stores and restaurants and tourist traps were open on the holiday. We were assured later that we were not the only ones caught unaware as many locals also forgot about the holiday and didn't remember to buy their alcohol for the weekend in advance – oh, the horror!
A second failed Korvapuusti attempt. The Quest has been thwarted at every turn. Disheartened, we walked back toward city center but were able to find one of the Gateau franchise shops open – we shared a Korvapuusti and an apple danish.
Not bad for a chain pastry.
Steven had set up a meeting with people at the Finnish Scouters' Headquarters for this afternoon, so this morning seemed the perfect time to get our "shopping" done. Neither Steven nor I are big on shopping, but there were a few things we needed to pick up here and there. Our trek took us through City Center, Stockmann Department Store (of course – I think life itself revolves around Stockmann), the Forum, Kamppi, down the Esplanad and then back up it again.
So many miles to purchase so few things. Oh, and it started to rain again while we were out.
We were a little short on time before we had to be across town for Steven's meeting, so we took a chance the Market Hall down the street from the hotel was open on the holiday. We were in luck, a few of the stalls were open and one was serving… you guessed it… salmon! I had a bowl of salmon soup (of course) and Steven had the salmon special of the day – grilled salmon with shrimp sauce and salad. Steven's lunch was very fresh and yummy and my salmon soup was light and satisfying.
We decided not to walk to the Scout Headquarters and took a taxi instead, which turned out to be a very good decision because it started to rain even harder part way through the ride.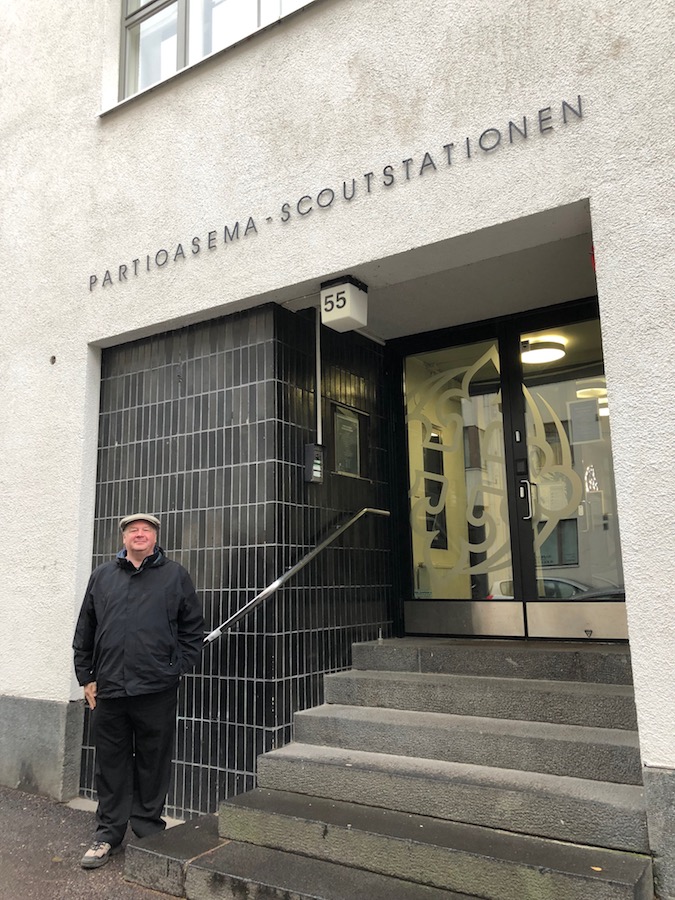 When talking about joining me in Helsinki, Steven mentioned he wanted to meet with members of the Finnish Scout delegation that would be coming to the World Jamboree next year (in the US). He got an international letter of introduction and was put in touch with senior members of the Finnish group. Anna and Juho were so welcoming and impressed that Steven had wanted to meet with them while he was on vacation.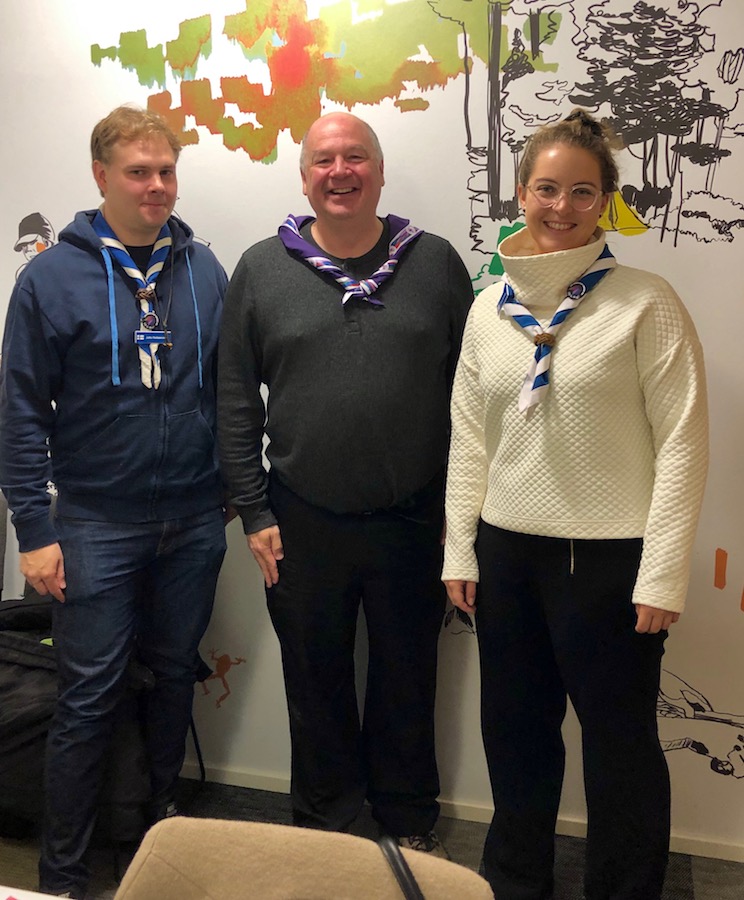 Their "brief" meeting turned into well over an hour as each side peppered the other with questions about the international delegations and the upcoming world gathering. Finland is sending more than 925 Scouters (male and female) to the Jamboree next year – that's impressive. As I sat in the lobby waiting for them to complete their meeting, I was impressed with the number of kids at the headquarters, all engaged in a number of activities. They take scouting seriously here.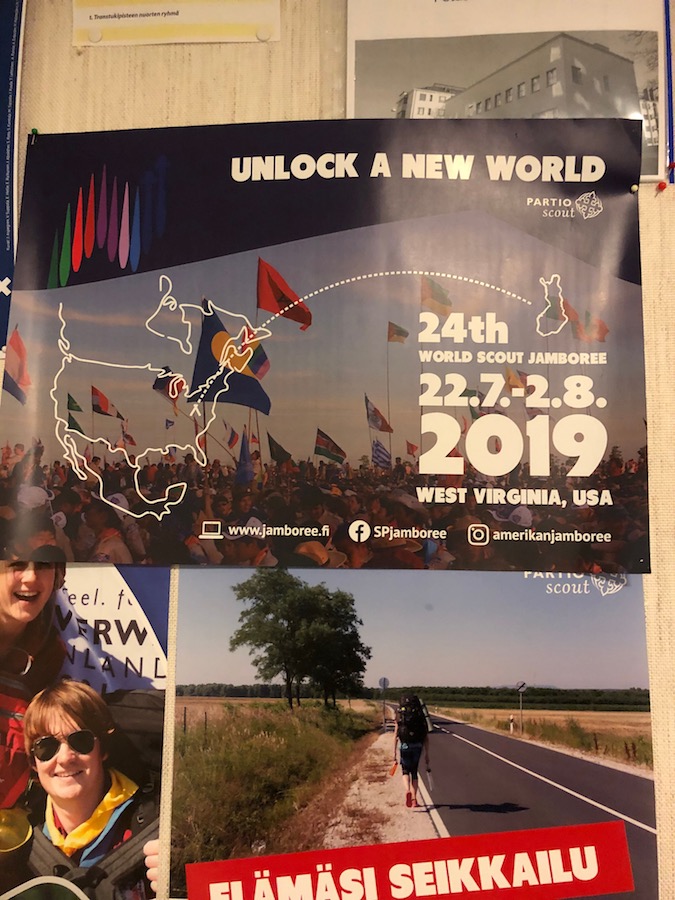 The rain had stopped, so Steven and I set off on foot back towards our hotel. We walked through several neighborhoods, stopped to watch children playing on the numerous playgrounds, and generally people-watched. We also stopped into the marketplace under Stockmann's and the Lidl grocery store to wander around, look at all the different brands of food on offer, and to, again, people watch (our favorite activity).
With all the walking we've been doing, a bit of a nap was in order before deciding on dinner plans. Our choices were slim due to the holiday, so when I saw that Salve was open, we decided to take a chance on getting a table. We got the last table available without a reservation. The head waiter, Max, apologized that they were so busy and that our table wasn't better (it was right by the kitchen), but with the holiday, they were swamped.
Salve's focus is primarily on traditional Scandinavian cooking, so we went all in. Steven had the traditional meatballs, potatoes and pickled beets and I had shaved reindeer with cranberries over mashed potatoes. Both dishes were hearty and really good.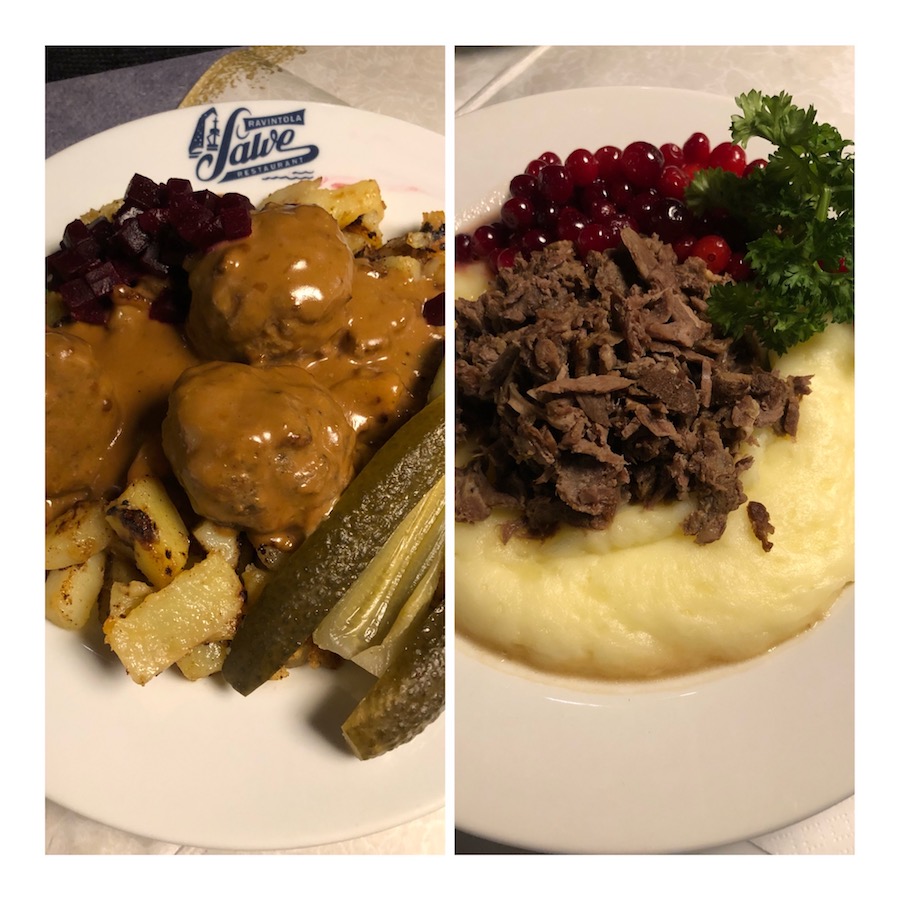 However, it was the appetizer before our mains that we can't stop thinking about – pickled cucumbers with smetana and honey.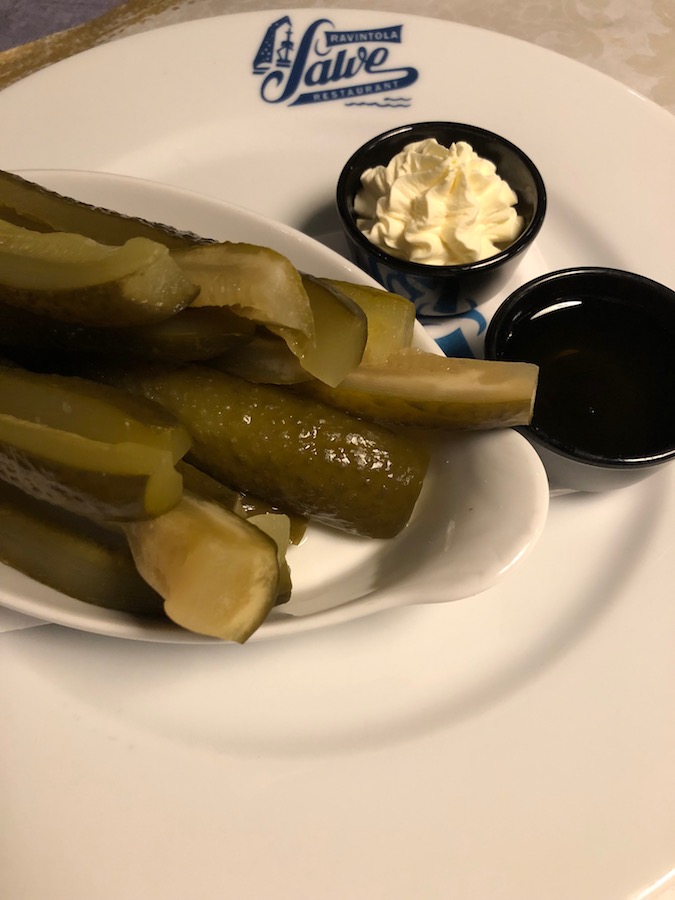 Basically, we got a large bowl of sour pickles that we were supposed to dip into a sour cream sauce and then into honey, or first into the honey and then into the sour cream sauce. You should have seen the look on Steven's face ~ pickles and honey? No way!!! And yet… the combination is surprisingly good. Just think – it's salty, sour and sweet all in one bite. Not sure I'd go to a New York deli and order this dish, but in the confines of my own home, I might try it again. Anyone out there craving pickles and ice cream, you just might want to try it at home as well. Yum.