November 2, 2018

This morning, we started off in blustery weather to continue the pulla battle. We were in search of a cafe called Fleuriste. We followed Google Maps to where it said it should be, but it wasn't. Then it began to rain. We tried another navigation system; it took us around the corner and then right back where we started.
I really wanted to include Steven in the search for the best Korvapuusti, but it wasn't going our way. I consulted with Yelp for another option and we set off in the direction of Kakkugalleria, a small bakery I'd seen previously on one of my walks. When we arrived, it wasn't open yet – I love everything about Helsinki except the hours shops keep. Who opens a bakery, particularly one that sells breakfast pastries, after 10:00 a.m.? I mean seriously, does no one get up early here?
Frustrated, we ran between the raindrops back to Cafe Ekberg, which I knew would be open. We shared a Korvapuusti over coffee and contemplated our day.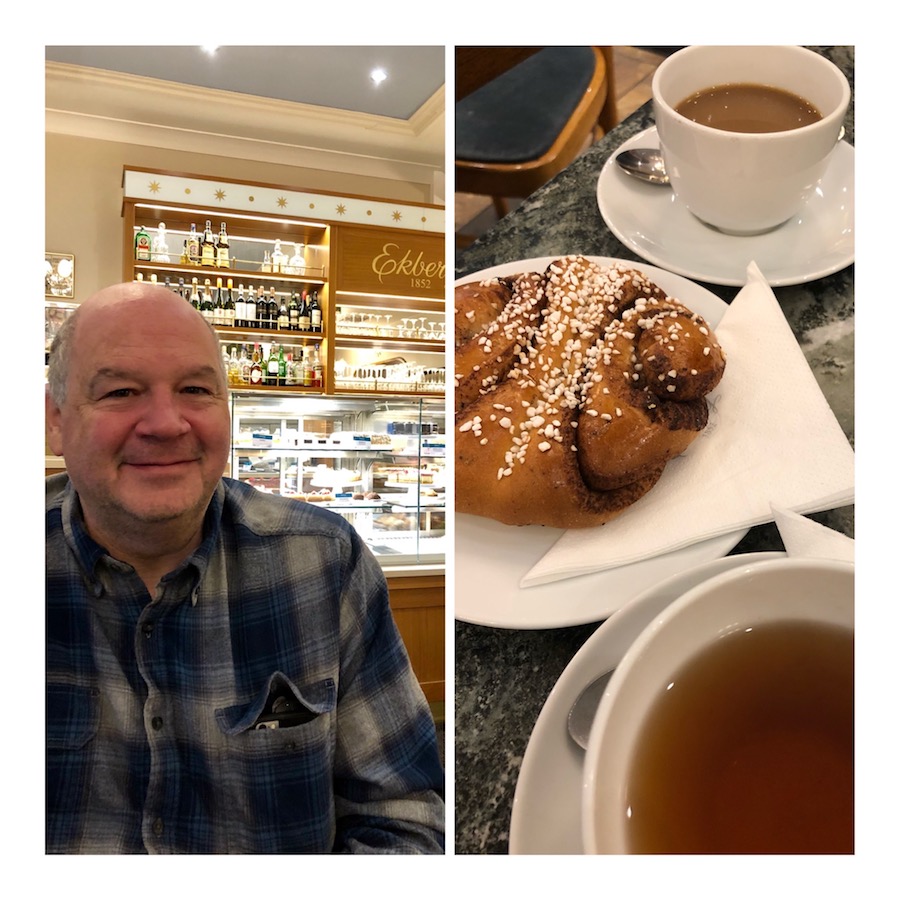 As we sat in Ekberg and saw other delicious items floating by, we decided to have a "brunch" of open-faced grilled salmon and shrimp sandwiches. Delicious – and with that, we were no longer hangry.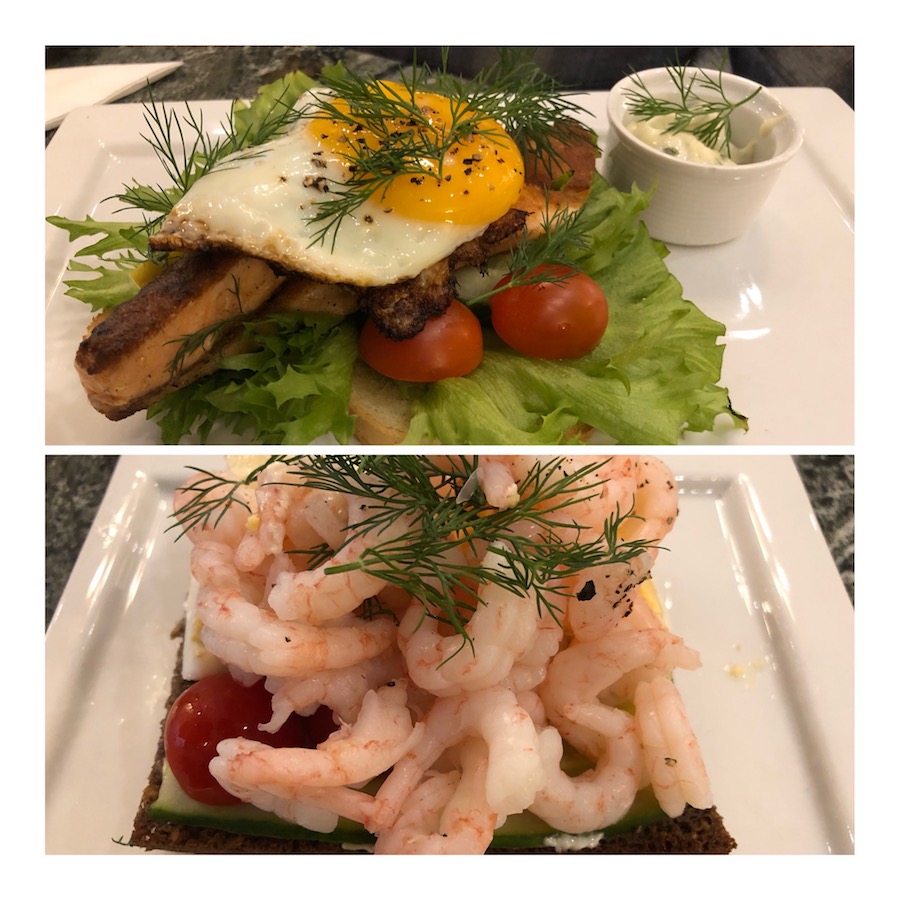 Steven had done a little research in advance of coming to Helsinki and determined that one of the outdoor stores was the exclusive supplier of Boy Scout paraphernalia so, of course, we had to check it out. Off we went in the rain past the city center and over to the Kamppi shopping area where Scandinavian Outdoor was located. Turns out that the hype was a little much because down on the lower level, all of the scouting stuff was wedged into a tiny corner. Steven still found things to read though.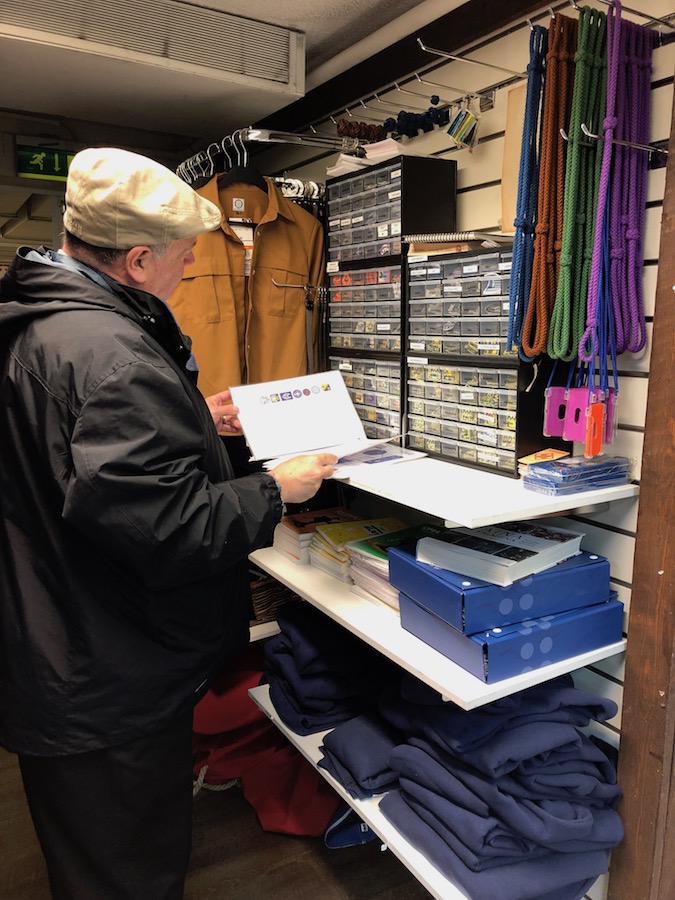 We only had one thing planned for the afternoon, so we just wandered the streets of city center and the design center, taking in the sights and then stopping into stores every once in a while to get warm and out of the rain. Our meanderings eventually lead us to the "beach" area, where we found the winds and turbulent water had not deterred some fishermen and boaters.
This area of the shoreline was our ultimate destination because it's the location of one of Helsinki's famous public saunas – Löyly.
We arrived early so we could enjoy a bowl of the adjoining restaurant's famous Lohikeitto (salmon soup). It was excellent. I've started to look up recipes for salmon soup so I can attempt to duplicate it at home.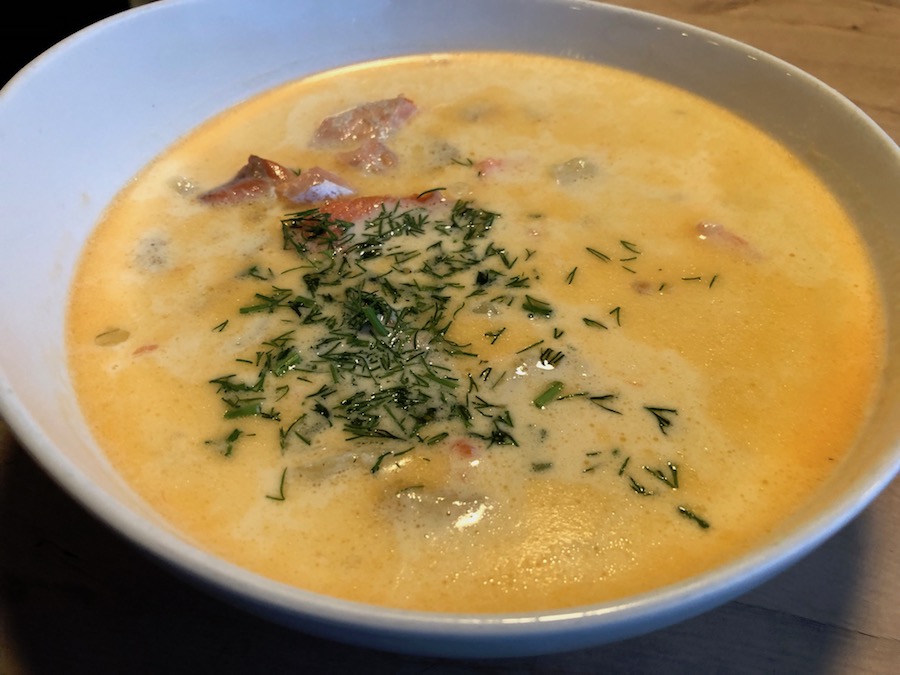 We pre-booked a time slot for our sauna experience. For 19 euros each, we got a two hour block of time to enter the sauna facilities, a towel, and a napkin sized cloth to sit on. Although the shower and locker facilities are gender-specific, the saunas (dry and smoke) are co-ed, therefore, the wearing of "swimming costumes" is mandatory.
We were instructed to leave our outerwear and shoes in the closets in the main hallway, then given our keys for our lockers. Steven went his way and I went mine with the promise to meet in the common area after changing and showering (mandatory to shower before going into the sauna).
We entered the dry sauna, which holds 15-20 people depending how everyone sits. When you find an available bench, you sit on your cloth, which eventually becomes soaking wet – because you sweat… a lot.
We ended up sitting next to two guys who were originally from Finland, but had moved to Norway with their families. They were in town for the NHL game being played at the arena (Winnipeg Jets vs. Florida Panthers) – well, actually, they were just in town for the parties associated with the games as they hadn't been able to get tickets.
Anyway, these guys (we'll call them Bill and Ted), were a wealth of information regarding Finnish sauna culture. At one point they showed the group in the sauna (including a rowdy group of Canadian hockey fans) how to properly ladle the water on the sauna stove to create steam (even though it's called a dry sauna, there's still steam). The process didn't just create a little bit of steam, it created a lot of steam – steam that felt like it would sear through your nostrils and lungs. And we sweated some more.
Once you've had enough of one sauna, the next step, if you choose to do it, is to run outside, down a long ramp, and fling yourself into the ocean to cool off, before running back to enter the next sauna, which will heat you right back up again. So, when in Helsinki …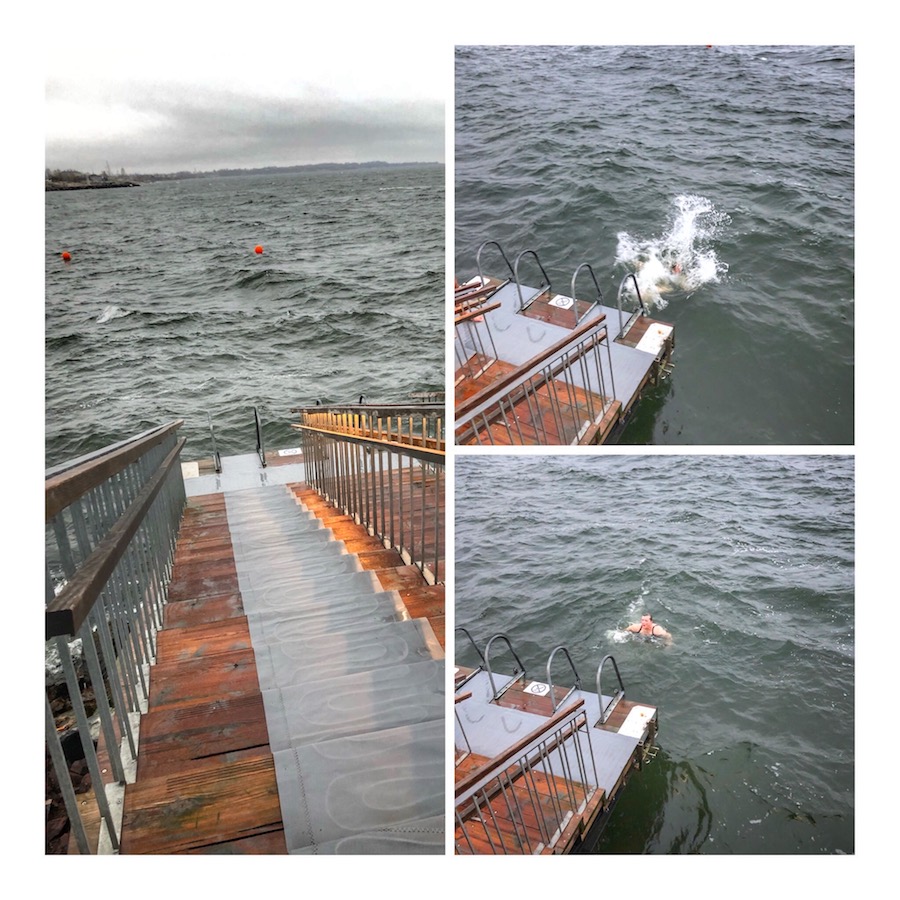 We flung ourselves in the icy (well, no ice but it sure felt like it could freeze over at any time) Gulf of Finland … twice.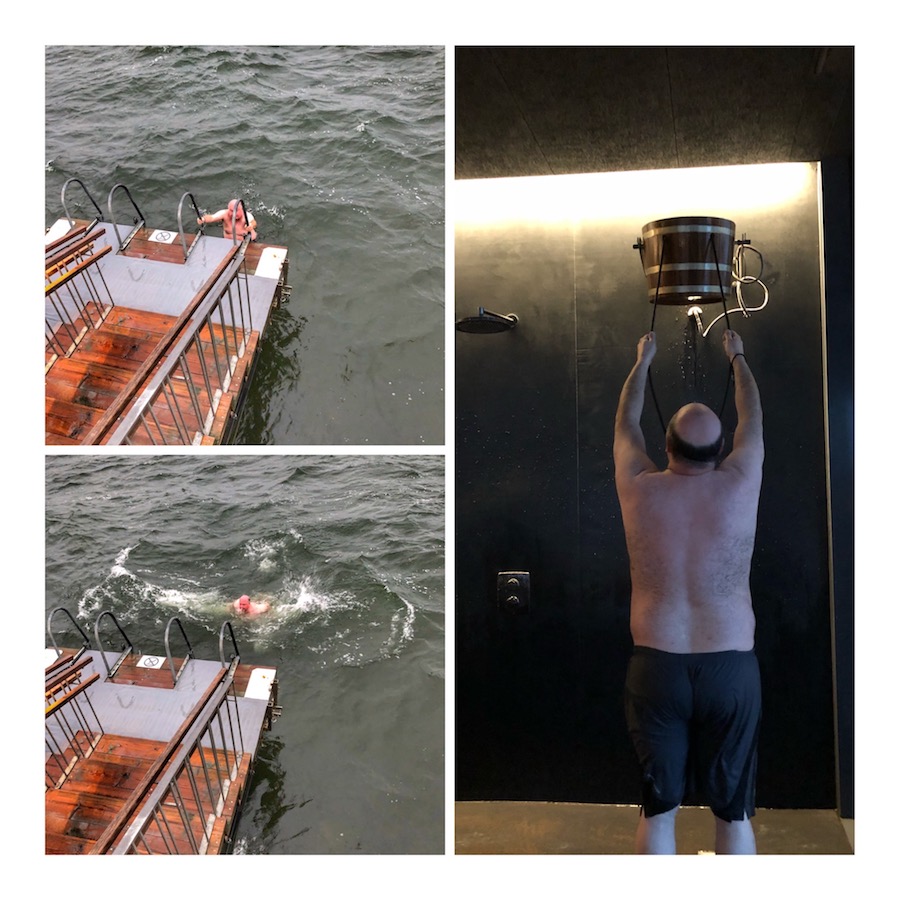 The first time, we just dipped our bodies in quickly. Then, we decided, if we were going to do it, we should document it. I ran back to my locker to get my iPhone for pictures. Our new friends Bill and Ted thought we were nuts – they didn't brave the water.
The second time, we actually jumped in the sea, swam out a few strokes, and then immediately came back to the ladder through the force of the waves to shiver ourselves out of the water and back up into the warmth of the sauna. Let me tell you, the smoke sauna was very effective in thawing out our frozen, numb bodies. It was an interesting and invigorating process.
For the price of admission, you can go in and out of the saunas as much as you want during your two hour time block. Or, you can hang out around a fire in the common area drinking beer and vodka (or both), which is what a lot of people did including our new friends Bill and Ted and the Canadian hockey fans.
Sauna culture is big in Finland. According to Wikipedia, there are 5.3 million people in Finland and 3 million saunas. Finns think of saunas as a necessity, not a luxury – a place to relax with friends and family. Steven and I agreed the public sauna was fun and should be tried at least once, but we would prefer our saunas to be a bit more private, like the ones at the hotel. The only problem (or not) is that the hotel is not next to the sea – so there will be no more flinging ourselves into a cold body of water (probably a good thing).
For our 17th wedding anniversary, we made reservations at a nice restaurant as a splurge. Through some of my travel/food blogging contacts, we were put in contact with a small six table (18 person) restaurant called Spis that offered a 6-course tasting menu on the weekends.
The meal took two hours and, with all the added little extras in between actual courses, it ended up being 11 courses (we opted not to have the cheese course). Each course was inventive, artfully presented, tasty, and small, which turned out to be a good thing when there's 11-12 courses. Oh, did I mention that bread was also offered no less than six times throughout the meal … with butter churned in-house.
As each course came out, one of the two chefs described what we were about to eat. Sometimes the description translated well from Finnish to English, and sometimes we didn't really know if what we thought we heard him/her say was actually what we were eating (for the first half hour, Steven thought he was eating "turnip butter" on his bread, not "churned butter" as the chef's accent made it really difficult to understand).
I'll break the meal down into (1) appetizers/soups/salads, (2) entrees/mains and (3) desserts in the order they were presented:
(1) [some type of] puffed cracker with mayo and a parsley-like herb (didn't translate) dust; a trio of potato chip with garlic mayo, pickled cucumber, and candied beet; cauliflower soup with almond oil; beetroot, pickled radish and caramelized yogurt; roasted and pickled carrots with brown butter and mineral oil infused sour cream (not sure this description translated well).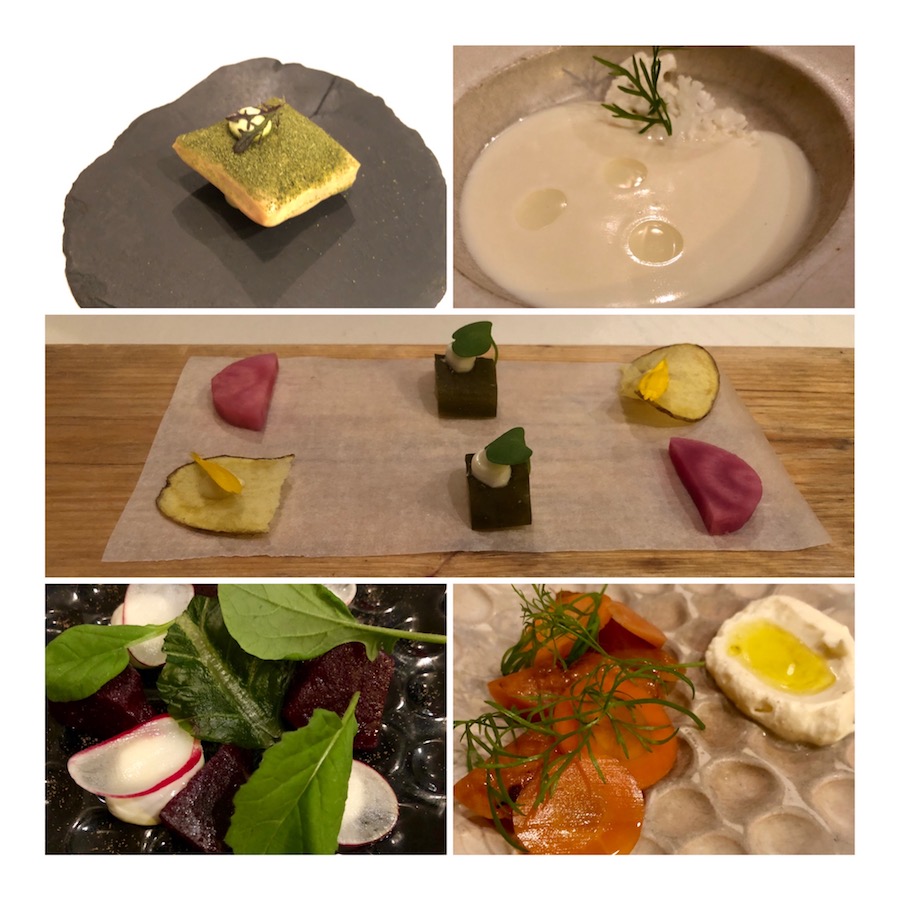 (2) sliced duck with pear, daikon and chanterelle dust; scallops with scallop/leek sauce and mashed potato purée; intermezzo of cranberry sorbet over juniper berry dust; lamb two ways (including lamb shank), grilled cabbage and wheat grass purée.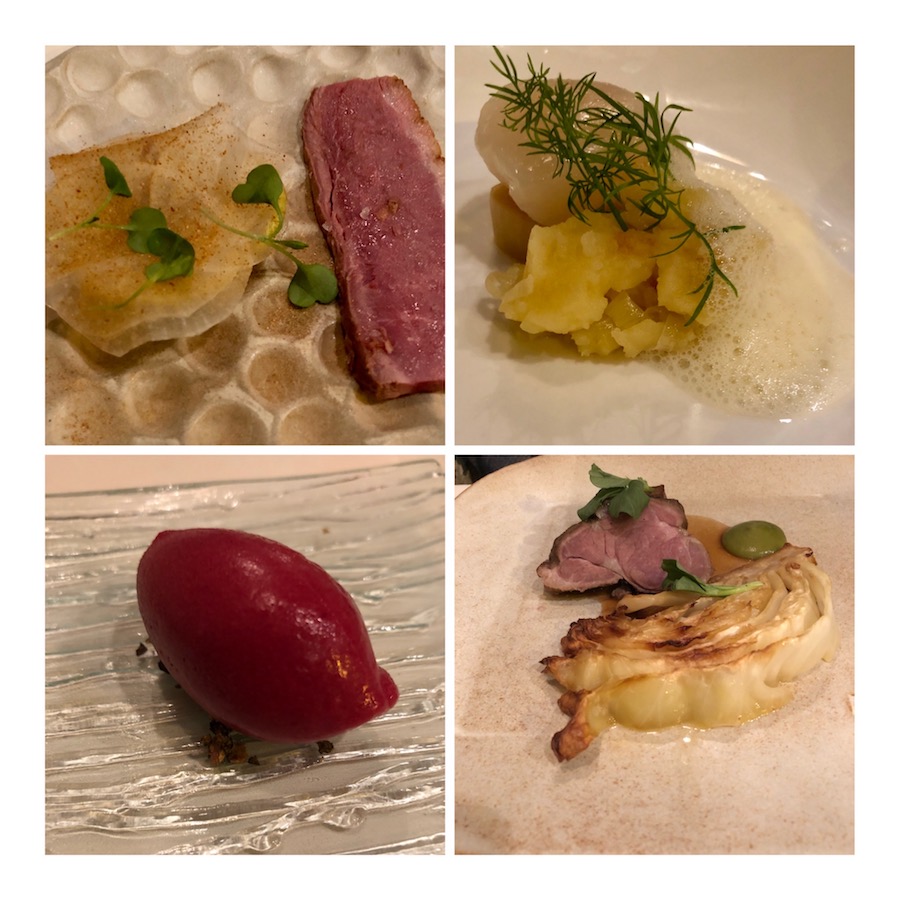 (3) pre-dessert: salted caramel enveloped in lingonberry foam and dust; dessert: sea-buckthorn berry sorbet with white chocolate; post-dessert nibbles (came presented on a big lego brick): sea-buckthorn berry marmalade jelly, potato cake dusted in cocoa, and meringue.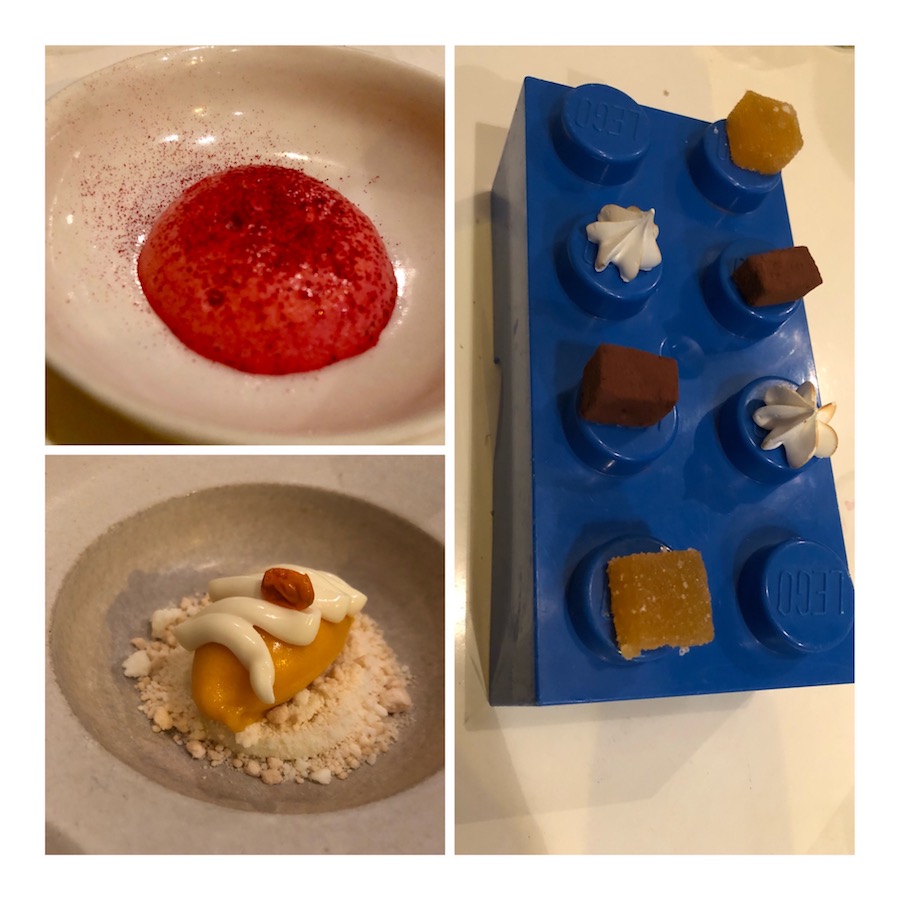 Standouts were the bread and butter (all six rounds of it – but they were tiny pieces), the cauliflower soup, the beetroot/pickled radish and yogurt appetizer, the lamb two ways – the lamb shank melted in your mouth, and the salted caramel/lingonberry foam. The service was wonderful, other than some of the difficulty in understanding exactly what we were eating. It was a lovely, intimate dining experience and a wonderful way to celebrate our anniversary.