October 29, 2018
I awoke to bright sunshine … and snow flurries. It looked like it was going to shape up to be a magical morning with a light dusting of nature's confectioner's sugar.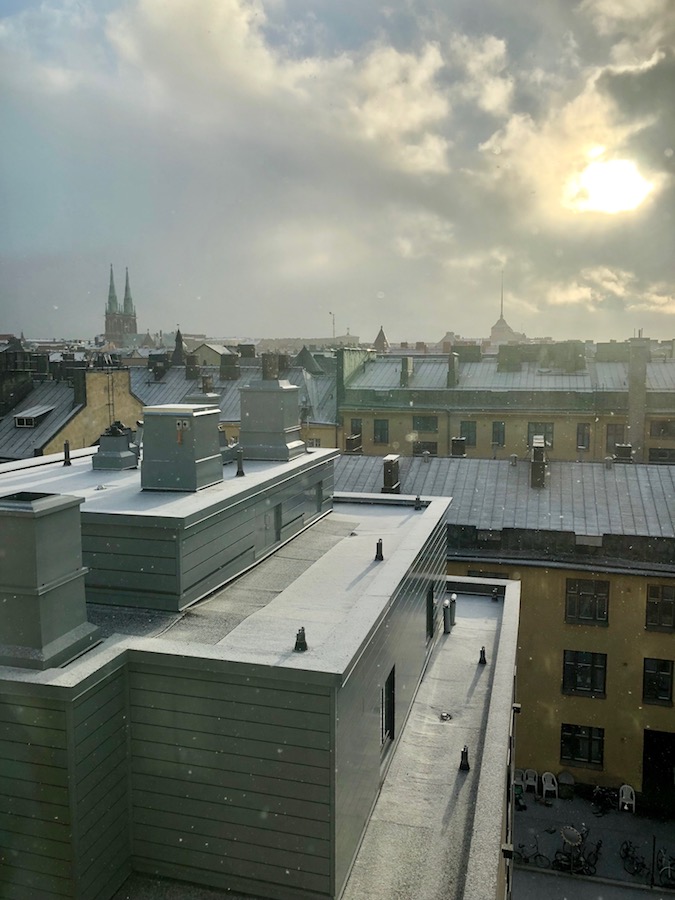 But, it kept snowing and then snowed some more.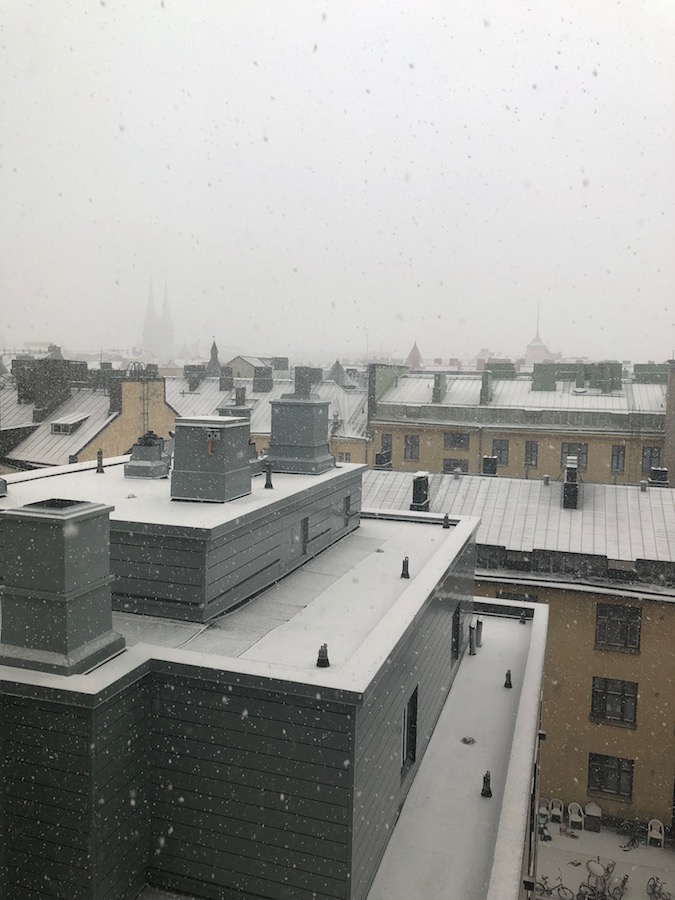 Since it didn't look like it was going to stop any time soon, I knew I had to brave the elements to forge onward with the Quest.
I had decided to do a bit of neighborhood walking today, which is what it sounds – I get off the beaten path and into the real world where people live, go to school, and work. Steven and I have found the best restaurants and most memorable moments on these jaunts. So, this morning, I turned right out of the hotel and then right again with the goal of finding the church whose twin spires I could see from my window. Lucky for my taste buds, Google located a cafe in that area for me to try for the next round of the pulla battle.
Café Succes was out of the way, small, toasty warm, and smelled of deliciousness when I entered. It was a definite locals' hangout with a handful of business people, a few road workers, "women who lunch" types, and mothers with young children (it's amazing how many baby carriages can be smooshed into a small space). I was the only tourist – but I tried not to look too out of place.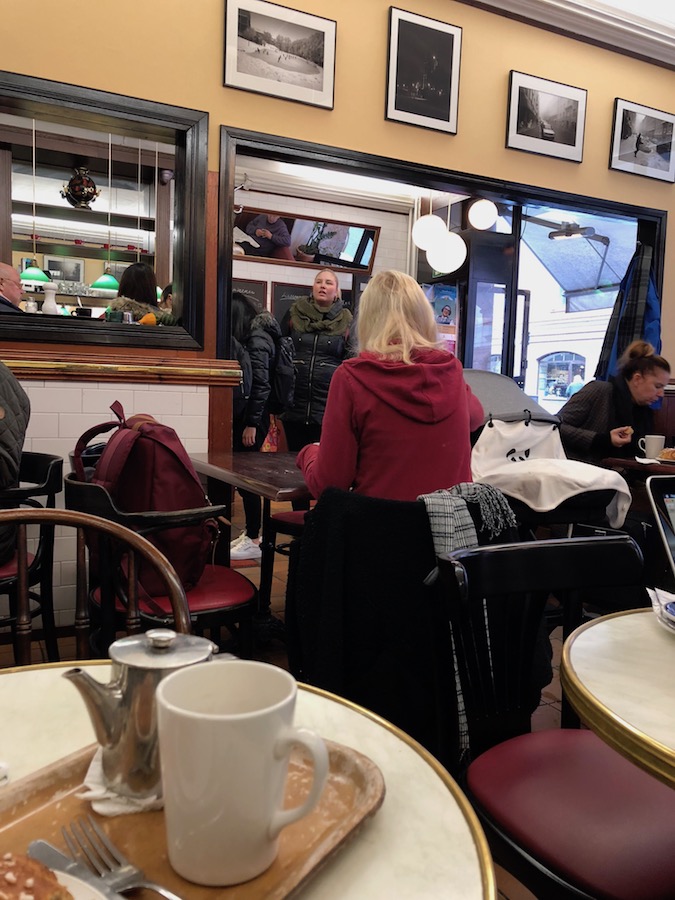 This morning I went with a pot of black currant tea and, you guessed it, a Korvapuusti. Right off the bat, I could tell this was going to be the one to beat.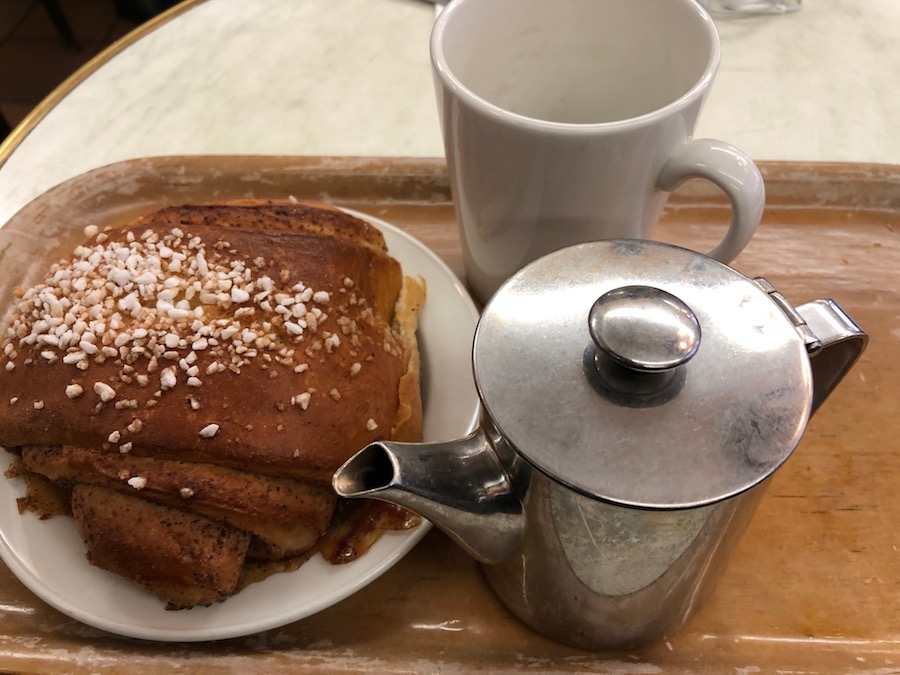 It was the size of a large bear claw (the pastry, not the wild thing), the crust ranged in color from cafe au lait to caramel to cocoa brown, cinnamon peaked out of every nook and cranny, pearl sugar clung to the surface precariously, and the aroma was tantalizing. Did I mention it was still warm and that some of the sugar had caramelized on the sides resulting in small bits of caramel-like brittle. Oh, heck yea! I almost swooned when I took the first bite.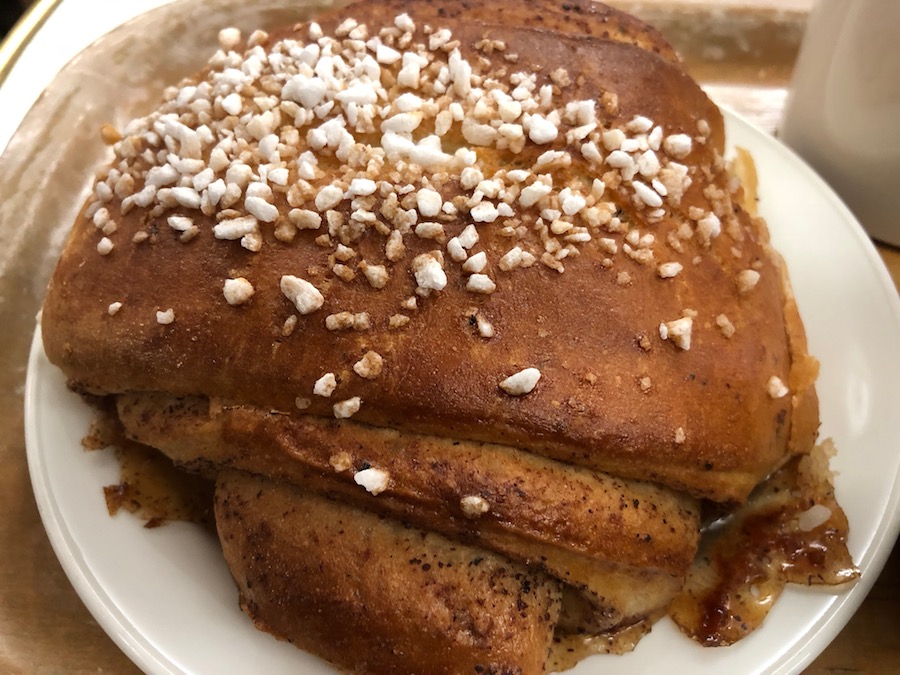 If love has a taste, it probably tastes like this. Round 3 definitely goes to Café Succes and goes on the list for a return visit when Steven arrives. It's also a great place for people-watching and the salmon soup ordered by almost everyone coming in for an early lunch looked delicious.
It had continued to snow while I was in the warmth indulging my breakfast sweet tooth, so the sidewalks were a bit slippery. I slip-slided my way back up the street and over to Johannesksenkirkko (St. John's Church), the large Lutheran church I'd seen out my window. As it turns out, St. John's is the largest stone church in Finland by seating capacity (seats 2,600), with twin spires 74 meters in height.
I arrived just after morning prayers and was the only person in its vastness for 20 minutes. Another opportunity for private reflection. The interior was not overly embellished and its simple beauty was elegant and soothing. I only wish I'd been there when the organ was playing – it's supposed to be magnificent.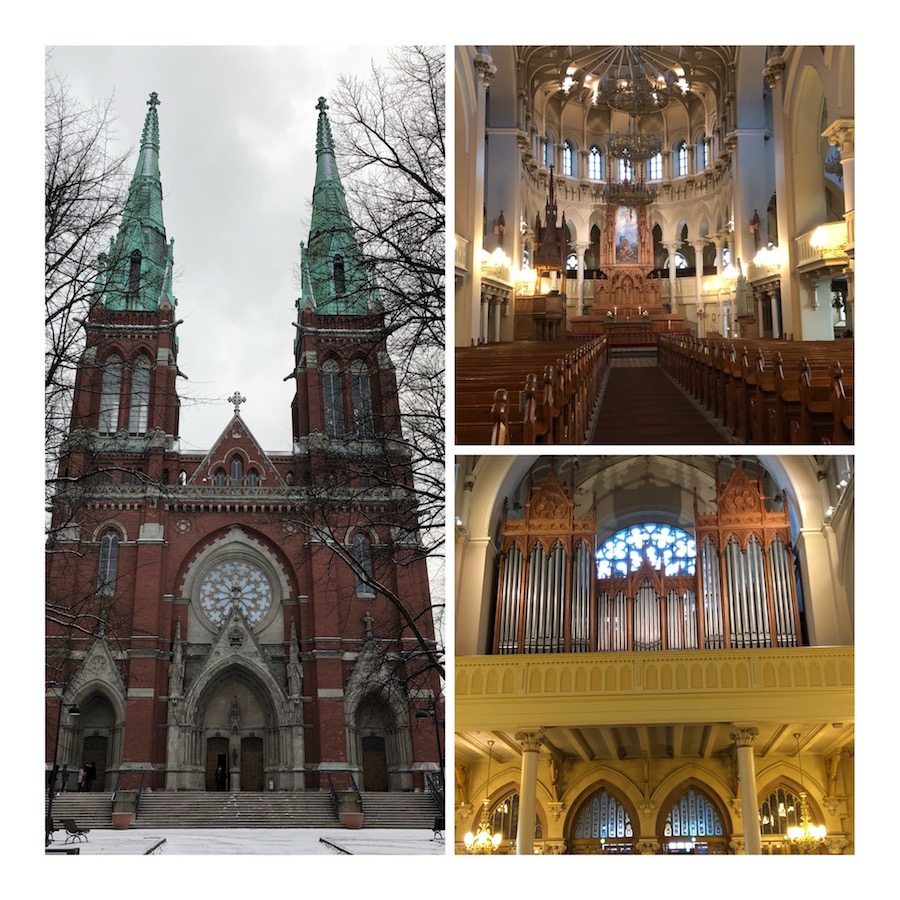 I continued to walk through the streets behind my hotel as the snow fell. Although lovely, I decided to change course a bit and head for a monument I hadn't been able to get to the last couple of days. Since it was on the other side of town, I figured I'd see enough neighborhoods on the way, which I did. In retrospect, with the snow, cold and the distance, I should have opted to hop the tram.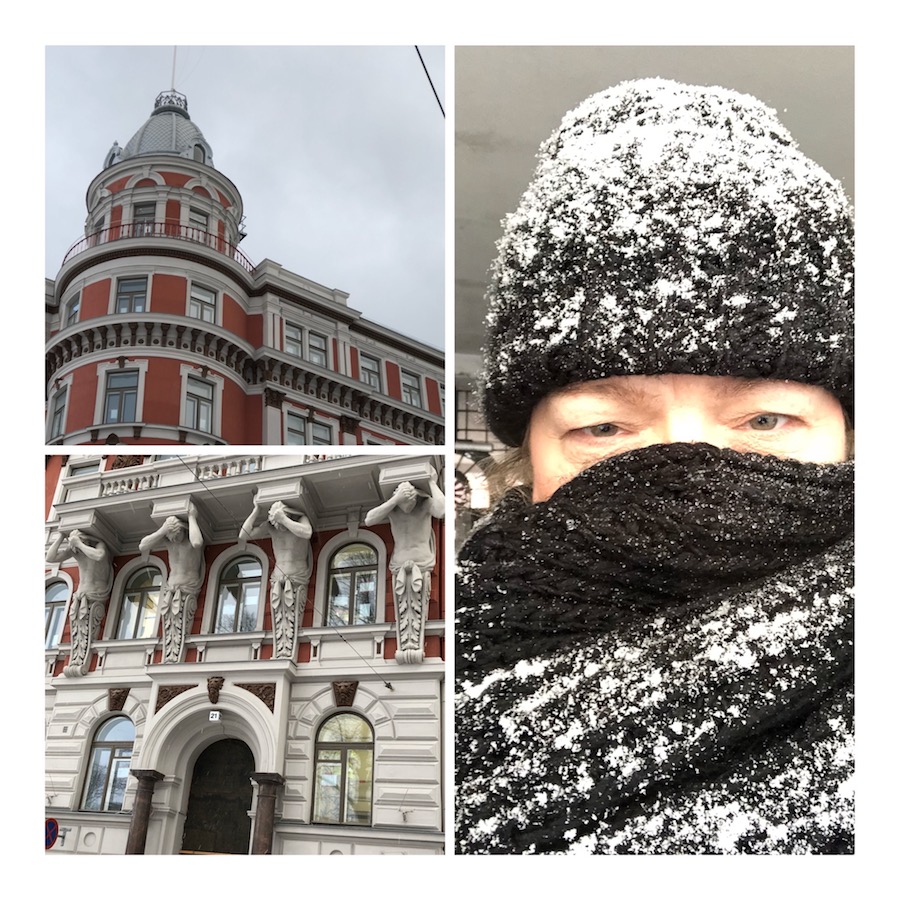 On my way through city center, I passed one of the only museums open on Monday. I'd walked by the Amos Rex yesterday, but the line was around the building. The line didn't look too long today, so I wandered in to see what all the fuss had been about. I am so glad I did.
I won't go into detail about the building housing the Amos Rex (google it for a fascinating story beginning with an Olympics that wasn't), but as for the exhibitions, one was a lovely collection of post-impressionist art acquired by Sigurd Frosterus, the architect of the Stockmann Department Store (I've decided that all roads here lead to Stockmann). Mr. Frosterus was quite a guy – not only an architect but "an essayist, a critic, an art theoretician and a passionate connoisseur of colour." This collection was right up my alley – pieces by Paul Signac, Alfred William Finch, and Magnus Enckell, to name a few.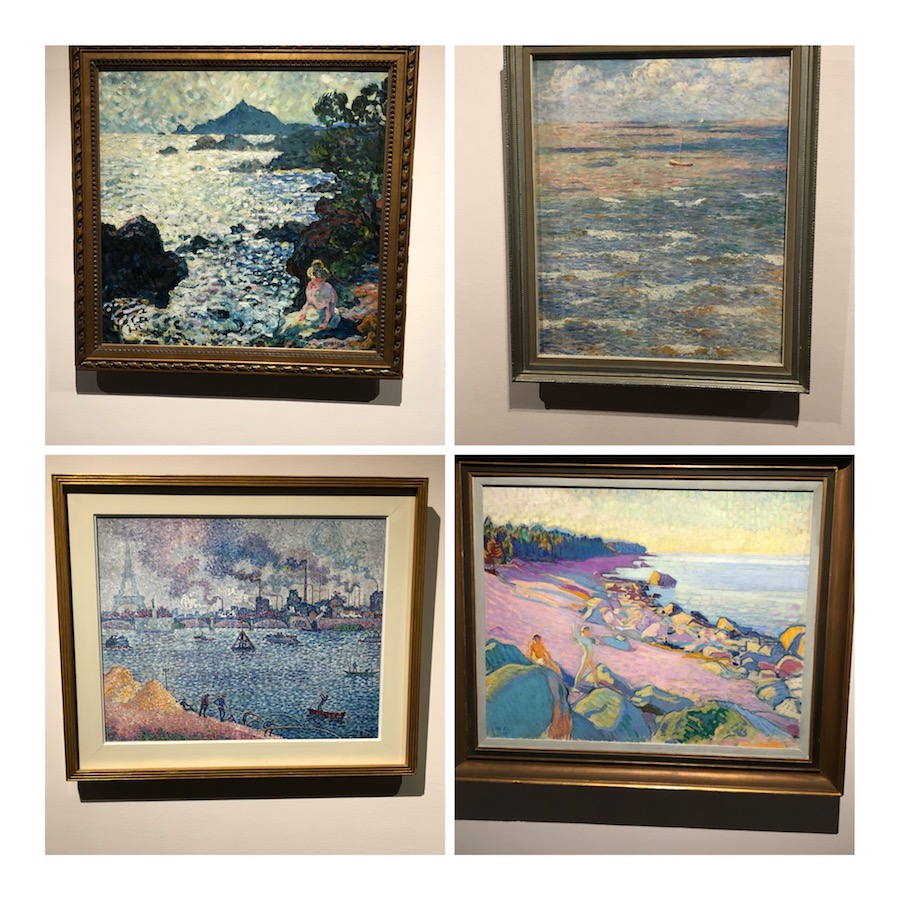 The piece de resistance, however, was the exhibition of digital artwork by teamLab, a Tokyo-based cooperative of 500 artists, programmers, CG animators, and graphic designers. Known for artwork that "moves about the room freely, forming connections and relationships with people," this is the group whose installation "Borderless" is featured at the Digital Art Museum in Tokyo. The installation at Amos Rex is the mini-me of the one in Tokyo.
Housed in 5 totally blackened rooms, the "artists" create fanciful light shows forming waves, vines, flying birds and the cosmos all in time to music.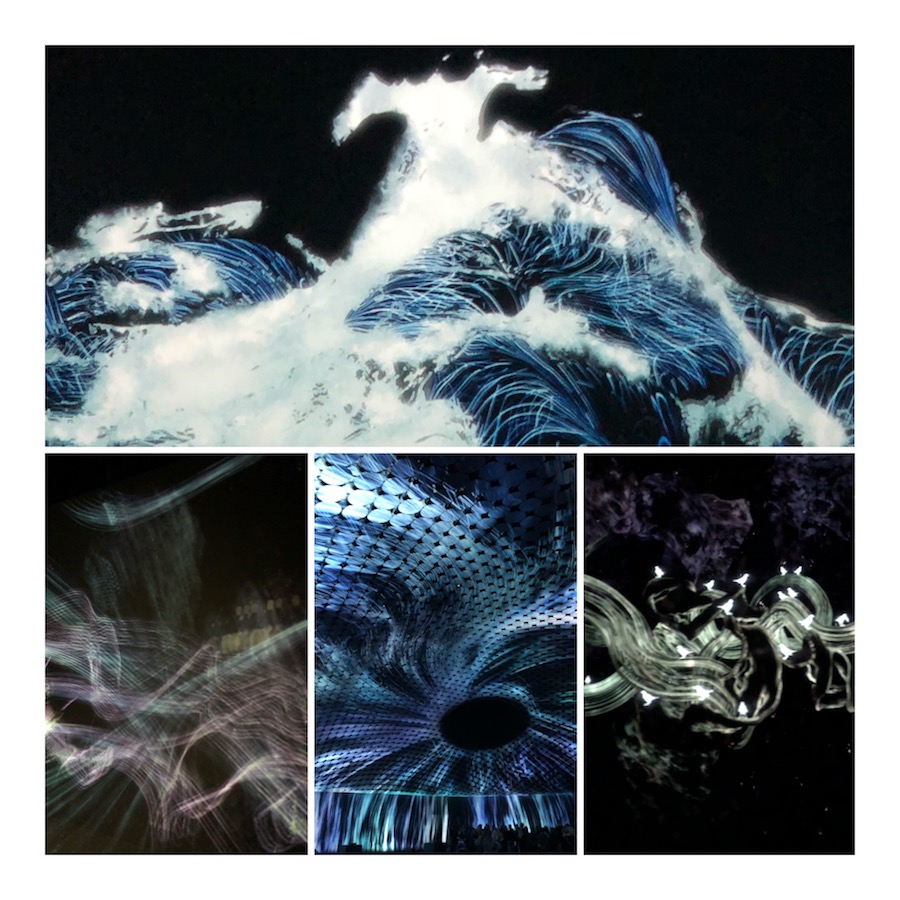 The main event occurs in a large mirrored maze-like room where artwork created by museum-goers (children and adults alike) come to life as you walk through the room or run your hands along the walls. Not sure how the technology works, but once my sunflower was digitized I saw it bloom and then deconstruct all over the room along with everyone else's drawings.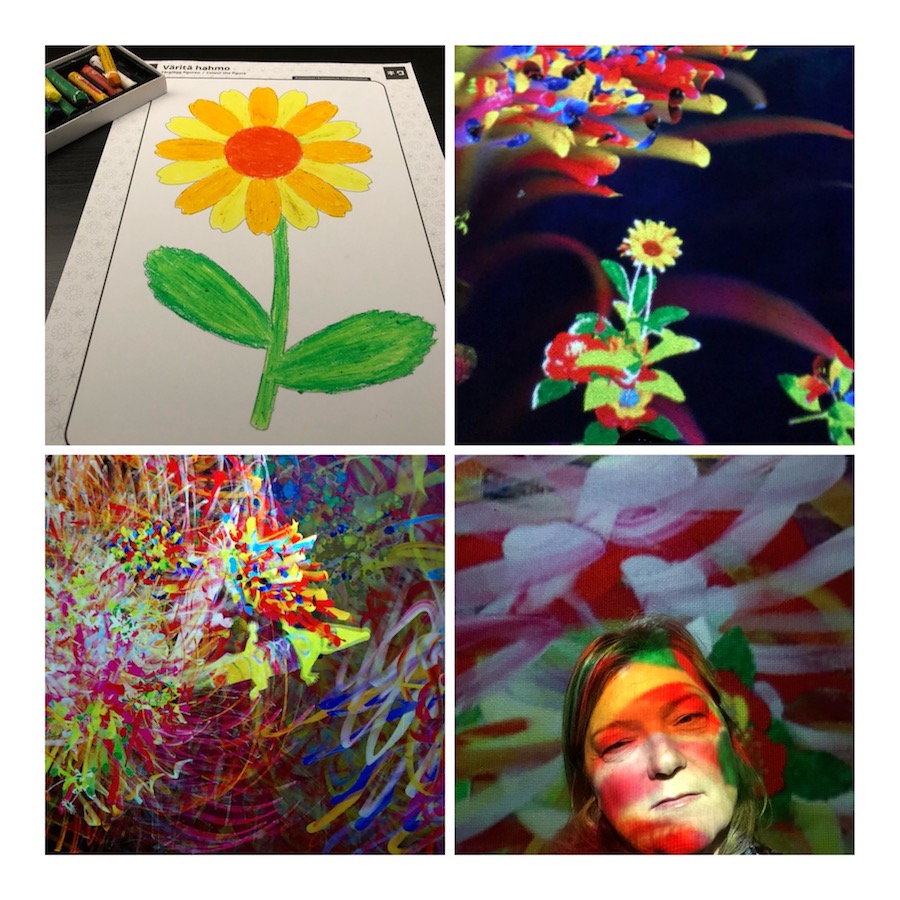 So, so cool. That room kept me thoroughly entertained for well over an hour. If anything like this ever makes it to your city, you have to go – it's fun for the entire family (I saw all ages hunkered down coloring with crayons).
My psychedelic artistic detour threw me off schedule (well, I really didn't have much of a schedule), so I had a quick bite to eat ~ salmon, of course,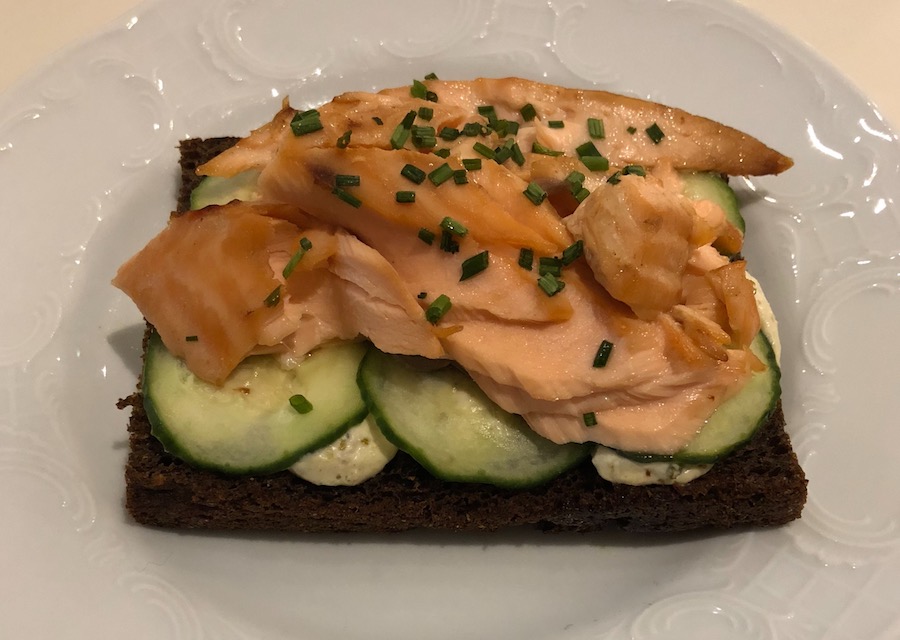 and then continued my hike to the Sibelius Monument ~ "a forest of pipe-organ pipes in a forest of trees" honoring Finland's greatest composer, Jean Sibelius. Off to the side is an abstract bust of the composer's face. Not sure why the artist used six hundred stainless-steel pipes in her work entitled "Love of Music" or why it stands alone in the middle of a clearing in that particular park, but it's interesting to look at.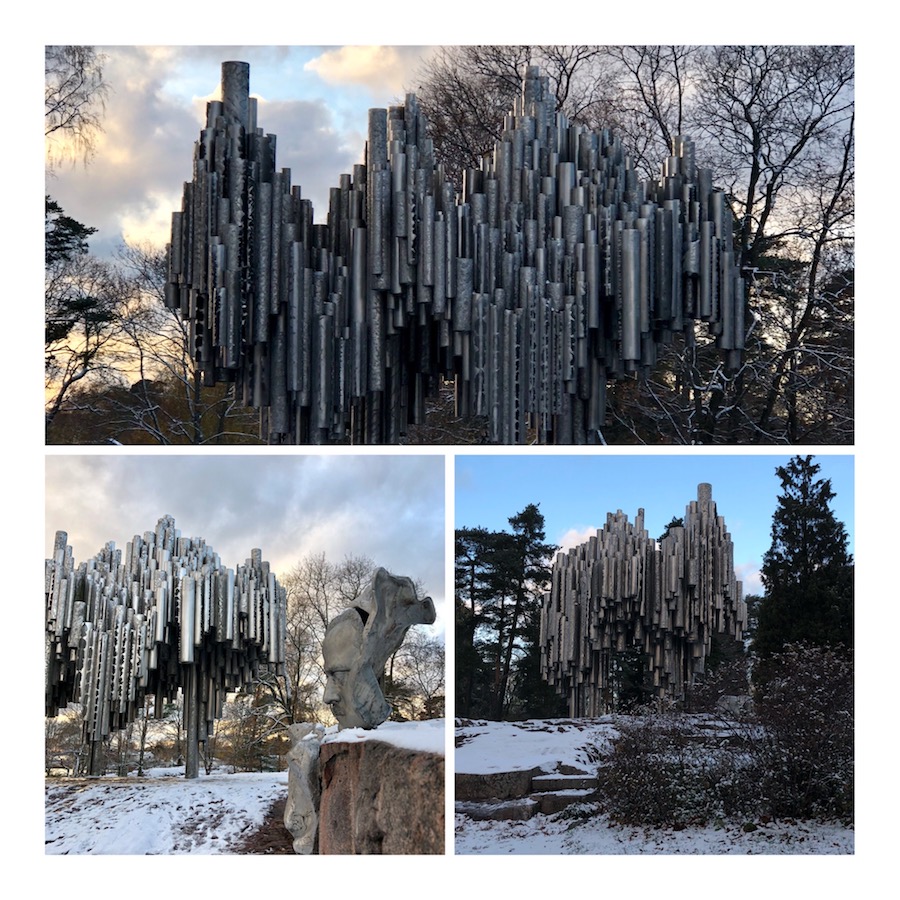 I had intended on going to another park along the bay over near Embassy Row, but it was cold, the sun was setting, and I was a long way from my starting point. So, instead, I told Google Maps to set a course back towards the hotel.  Along the way, I passed the well-known Regatta Cafe, a coffee house on the bay,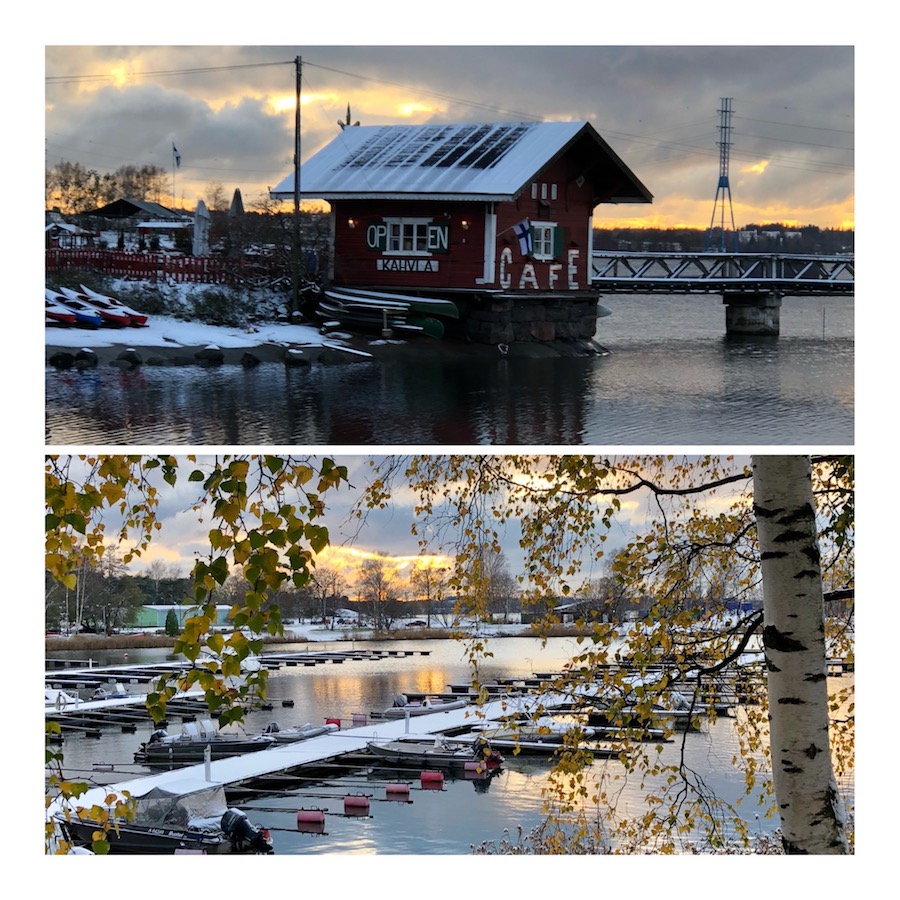 people out for a walk,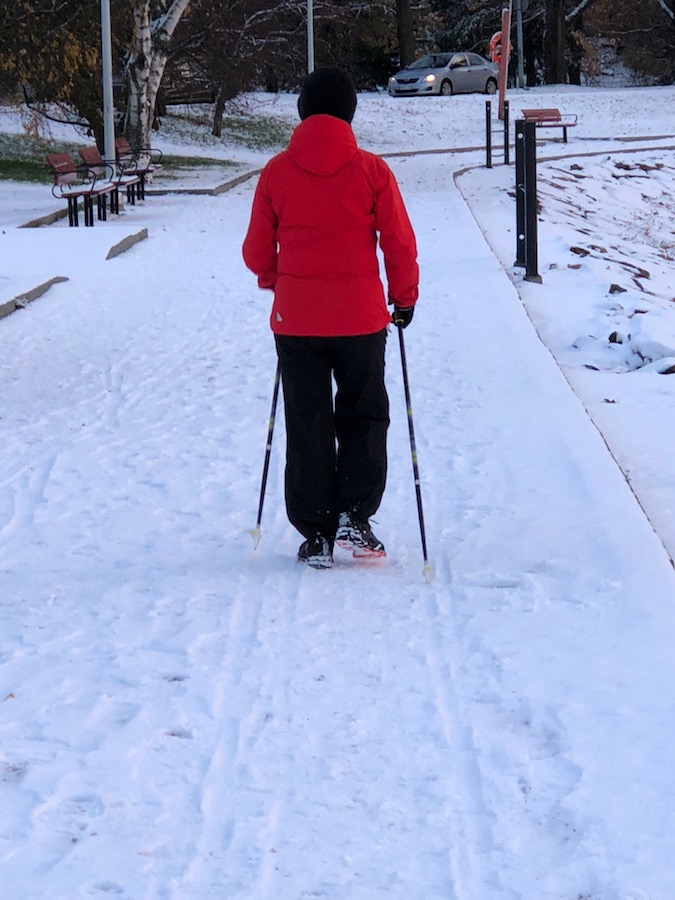 children playing in the snow,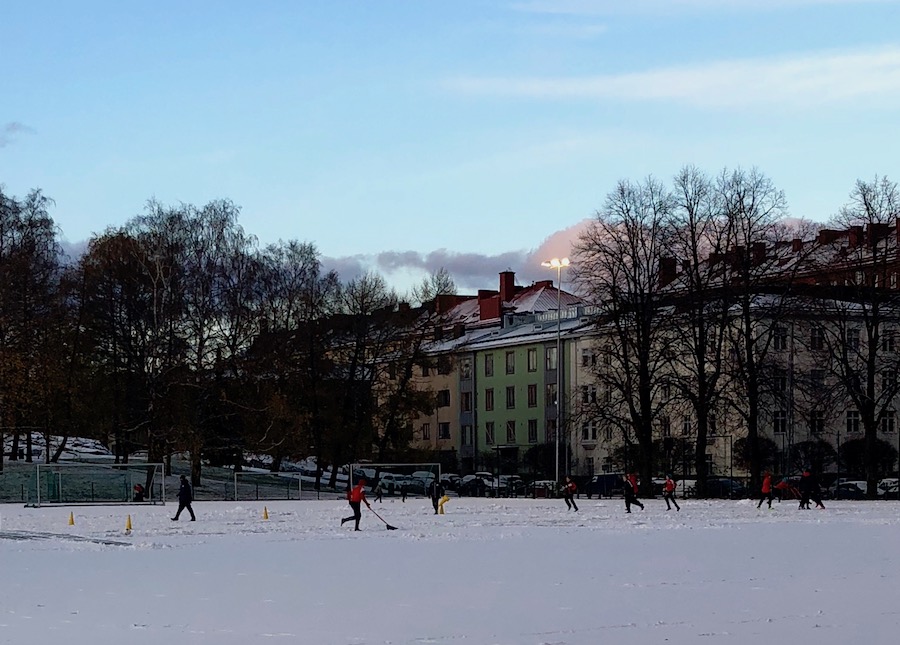 and the world-famous Fazer Cafe ~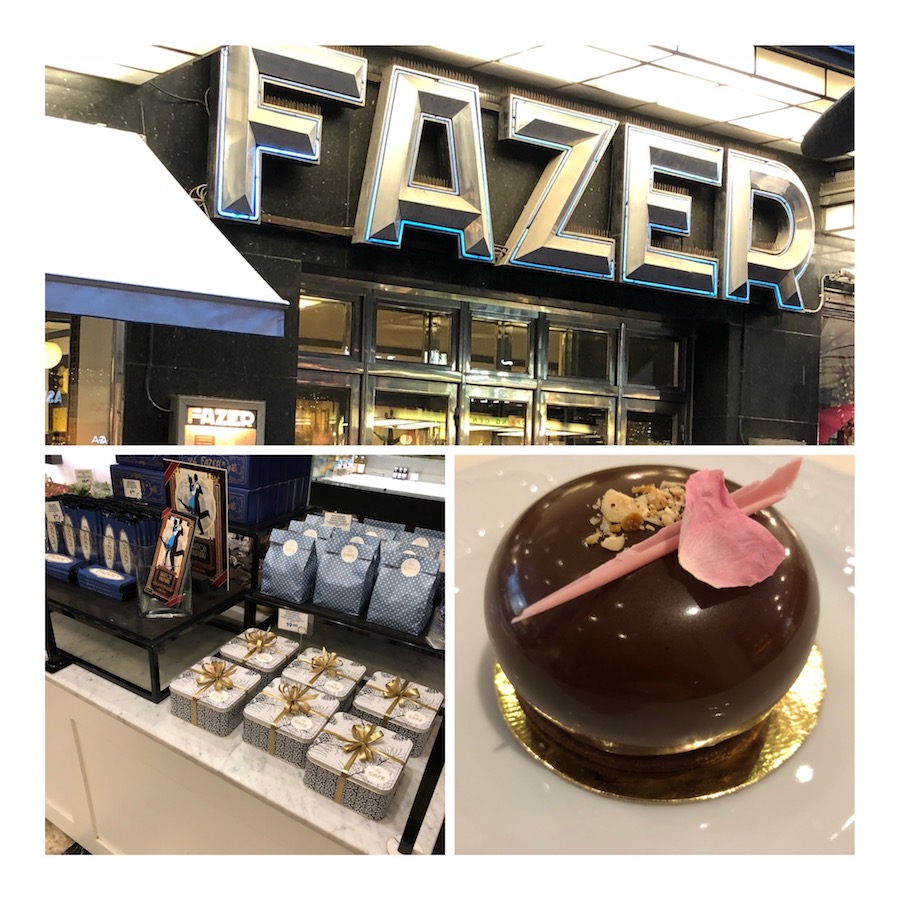 at which pointed I paused long enough to look at all the chocolate goodies for sale (and potentially taste one – not saying I did, not saying I didn't).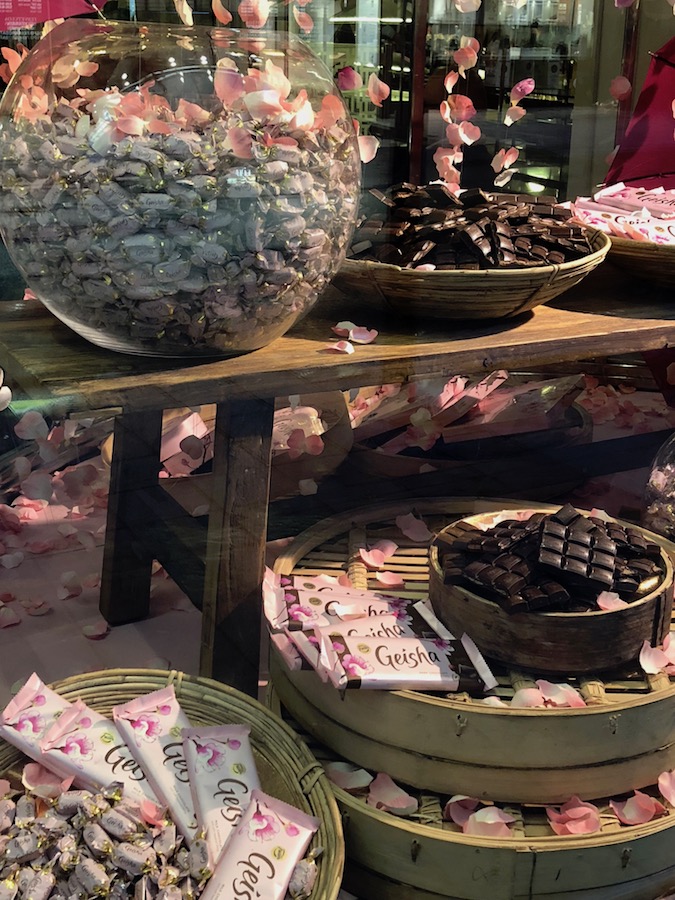 As familiar sites came into view, for the first time, I realized parts of my body were numb from the cold and my legs were a bit wobbly from all my walking. Nothing that a quick nap and a sauna wouldn't cure. Unfortunately, neither came to fruition as I allowed myself to get sucked into social media and online research for the next part of my trip. Ah well, best laid plans.
Not wanting to go out into the cold once more, I opted to stay in for dinner at the Brod Restaurant located in the lobby of the Hotel Indigo. The menu was interesting, if not a little froufrou. In the end, I ordered a starter of Reindeer Toast and a bowl of Black Salsify soup.
What is Black Salsify you ask? Well, according to Wikipedia, black salsify "also known as black oyster plant, serpent root, viper's herb, viper's grass or simply scorpion era, is a perennial member of the genus Scorzonera in the sunflower family, cultivated as a root vegetable…" What?!
Basically Black Salsify is a long turnip, black on the outside and off-white on the inside. And, it's good when made into a creamy soup peppered with chives. (Apologies for the poor quality picture, but the lighting played havoc with the camera on my phone – the soup was a lot better than the photo).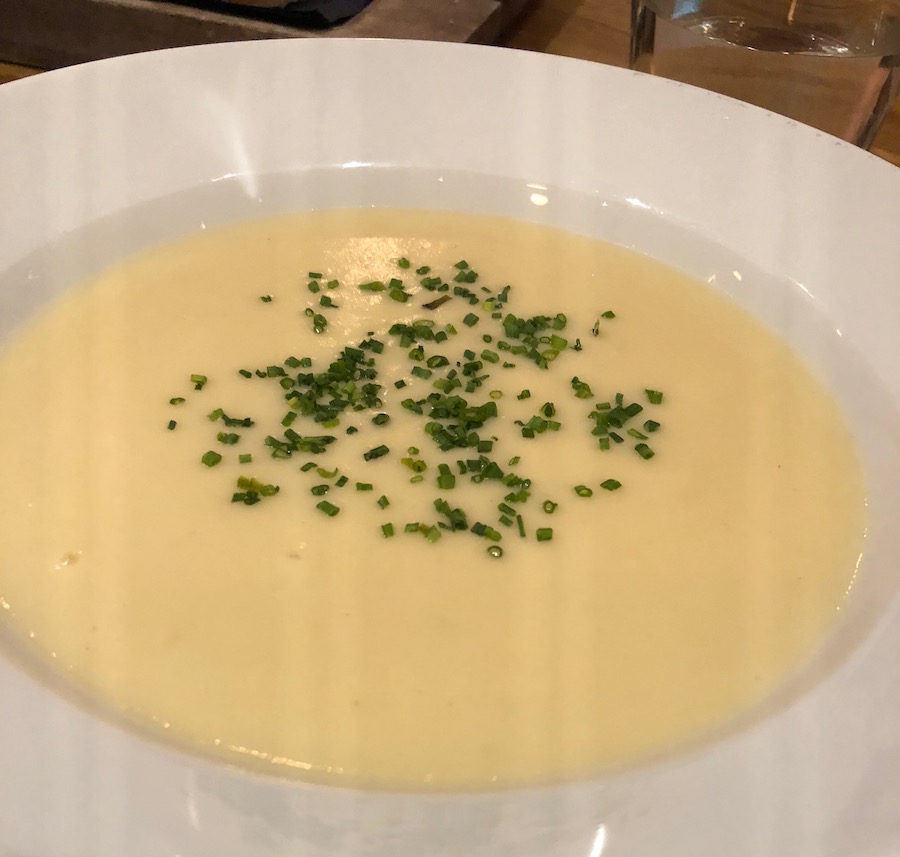 Now on to the Reindeer Toast … which didn't involve bread, toasty or otherwise. This was thin slices of smoked, medium-rare reindeer meat garnished with herb sprigs, baby cauliflower, marinated cranberries, grain mustard and creamy horseradish. Let me tell you, this was as tasty a dish on the tongue as it was a feast for the eyes. The reindeer was tender and not gamey like venison can be; the combination of the tangy cranberries and mustard with the spicy horseradish made each bite pop with flavor. All too soon there was nothing left on my plate – I mean, nothing (no I didn't lick it clean – I was tempted, but didn't).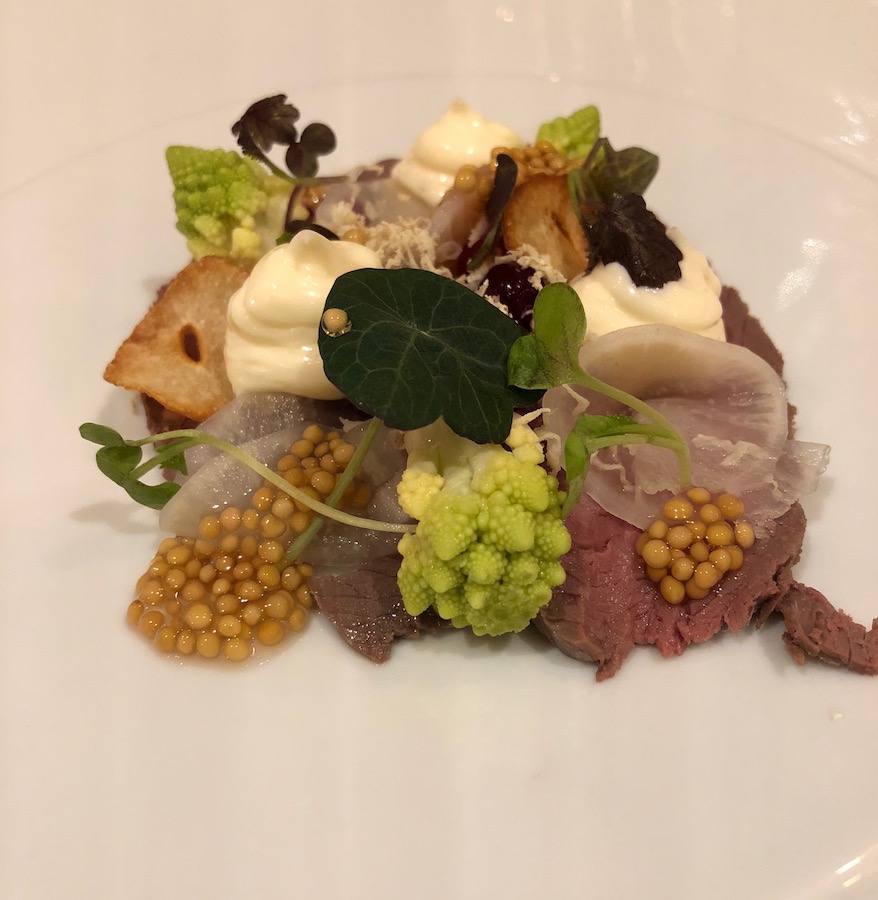 Early to bed as I'm early to rise to catch a ferry to Estonia. Hope the seas aren't too rough.