October 14, 2017
Our day started with a 1 1/2 hour drive to Brussels. We parked in the upper part of Brussels, near what is known as the Sablon. It is named after a sandy portion of land that covers the old River Senne. The area has large marble buildings, wide streets, and several old palaces that have been converted into museums, military housing, apartments, and offices.
Since it was a beautiful, sunny Saturday, people were out in droves vying for seats in the outdoor cafes. We went directly to Au Vieux Saint Martin for lunch. It reportedly has the best Vol au Vent in Belgium and doesn't take reservations. We wanted to get in before the crowds, and boy did the crowds come.
While we were at lunch, the queue started. By the time we left, there were dozens of people waiting to get a table. They were not going to leave hungry or angry about their wait because the food was fantastic.
It was definitely the best Vol Au Vent I've ever had. Think luscious chicken a la king in a delicate puff pastry without the frozen vegetables of your youth. Instead, the sauce was graced with heavenly herbs and slivers of carrots. The chicken was so tender and the sauce light and creamy. The side dish? You guessed, frites. It seems the Belgians eat fries with everything. The waiter appreciated our simple order – 5 Vol Au Vents for lunch, 2 Dom Blanches for dessert, water, and, of course, wine.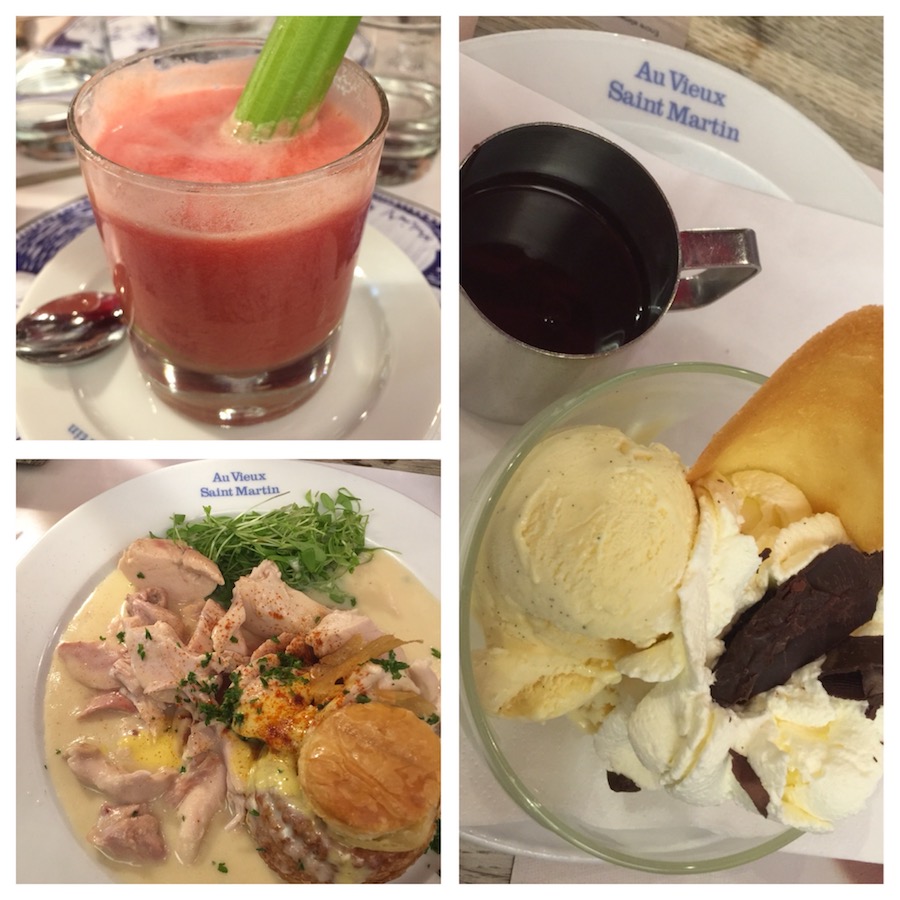 After lunch, we perused the local antique market where our hosts found a set of 19th century books for their library. They also found an 18th century painting they liked, which will one day grace the walls of their home.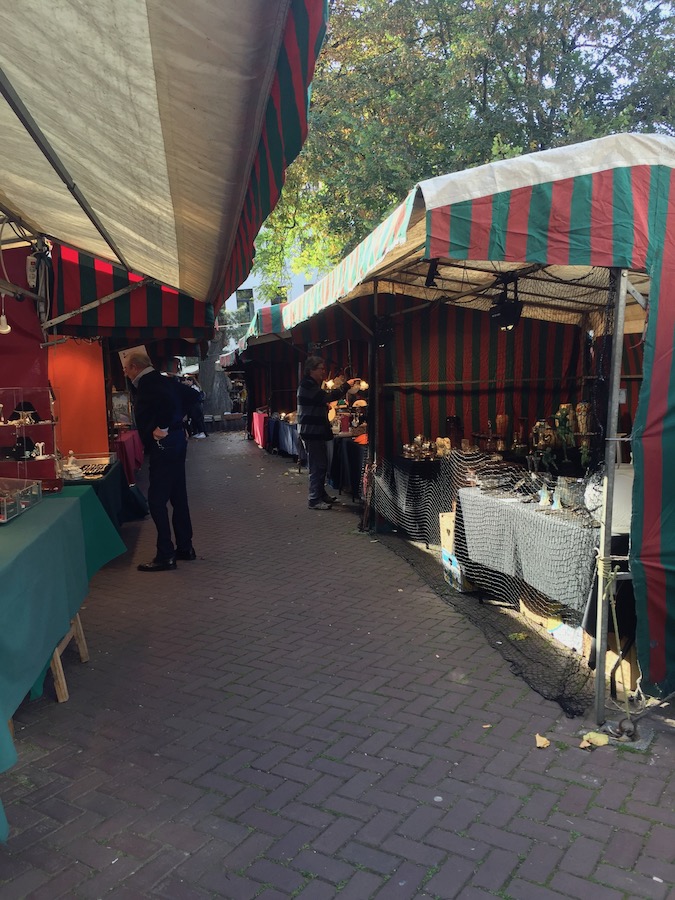 Brussels' main square is the Grand Place. In medieval days, it was where the markets were held; today, it is the place to go to see and be seen. The square is rimmed by the town hall, the King's House (now a museum), and several guild halls. Each building was more fabulous than the next. Always remember to look up as there are statues, plaques, and reliefs galore marking each of the buildings.
I love going into the square to watch people, and there were a lot of people out today wandering around and sitting in cafes that spill out of the buildings surrounding the square. Sometime in the future, I want to come back to Brussels when it showcases a flower tableau in the square. It is a huge "painting" made completely of flowers that takes up a vast amount of the square. I hear it is spectacular.
Our sightseeing took us into St. Nicolas Church, with beautiful stained glass inside; then into a tiny cheese shop favored by our hosts (spoiler alert – the cheese was for tomorrow's brunch).
A bit more wandering down side streets and window shopping brought us to the corner graced by the Manneken Pis. Like the Mona Lisa, Manneken Pis is much smaller than you imagine. Standing at approximately 2 feet tall, the statue is of a naked little boy (although he has the musculature of a man) – a never-ending stream of water flowing from you know where.
There are legendary and not so legendary stories surrounding the history of the little statue; I'm not sure what is true. The one thing I know is that the statue is clothed much of the year. He wears various costumes depending on the holiday, season, or whim of whomever it is that dresses him. When we arrived, he was very dapper in a jacket, trousers, and what appeared to be Gucci loafers. The crowds were immense. (Watch your valuables, it is a popular place for pickpockets.) Also, look for nearby chocolate shops where you can get Manneken Pis look-alikes made of solid chocolate.

The guys wanted to stop for a beer, so we sat for a bit at a cafe before one of our hosts headed off by himself to go back to the antique market to pick up the books and get the car. The idea was that the remainder of our group would continue our walk and then meet him at a specific square. Anyway, our little group headed off to the Galeries Royales – Europe's oldest operational shopping mall/arcade. It's a cute shopping area with several high-end specialty shops and several chocolatiers, including Neuhaus, which is said to have "invented" pralines (filled chocolates, not the pralines you get in New Orleans).
We were supposed to go to mass at the local cathedral but missed it due to a mix-up in meeting back at the designated square. It was a shame because it was going to be said in French, which interested me. Oh well, we had extra time to chat and sightsee.
We had dinner at L'Ecailler du Palais Royal, an elegant restaurant known for seafood. Since we had a fairly heavy lunch, we chose fish dishes we believed to be light. We all got our wish, except for Rod, whose fish was poached in a heavy cream sauce. I enjoyed my grilled John Dory immensely.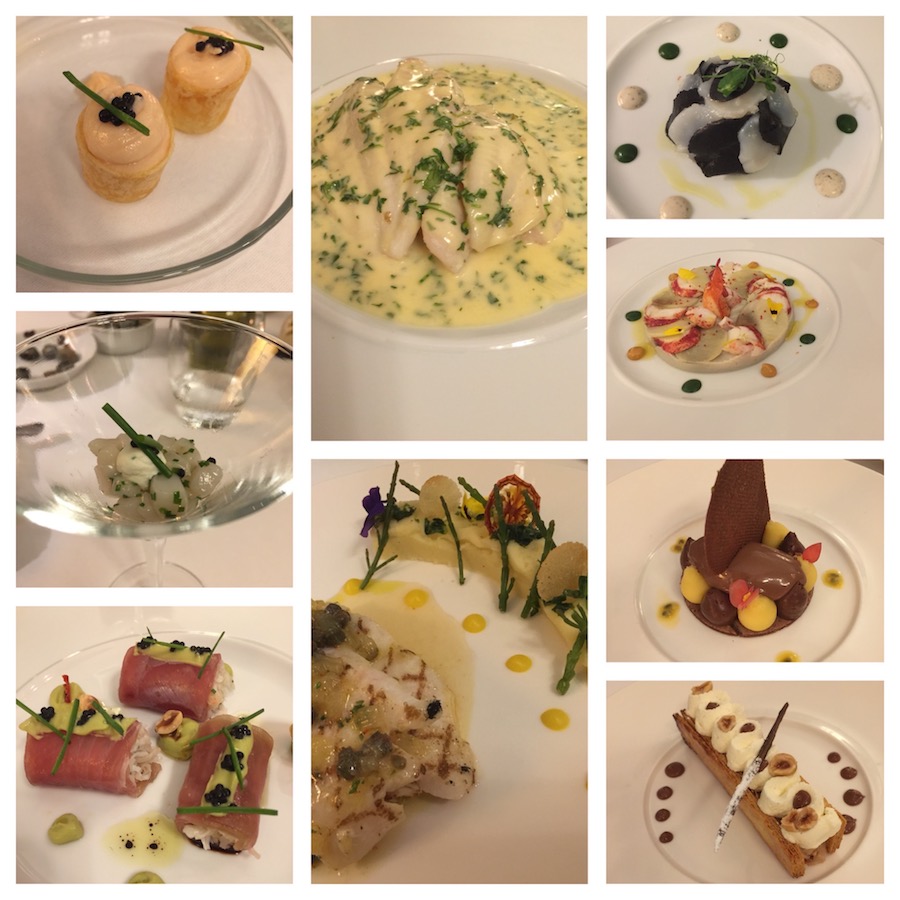 What made the meal even more enjoyable was the people watching. At the next table, there was an older woman/younger man combo who were quite entertaining. She had a high pitched, but throaty voice (likely from smoking packs and packs of cigarettes in her day) and spoke in highly animated and expressive French (most of which I understood). There was a lot of tee heeing and tittering, so it was apparent she was trying to impress the younger man. Unfortunately, I couldn't discretely get a photograph of her, but think jet black bobbed hair, heavily stenciled brows, extraordinary lines of rouge on her cheekbones and bright red lips.
When we arrived, I noticed a table on the other side of the couple that was set for one diner. It was set a bit differently than all the other tables and the extra chair had already been removed. Part way through our meal, a casually dressed older woman with white blond hair came in, deposited her coat in the hands of a waiting waiter, and was escorted to the table. She was a bit disheveled but looked quite at home at the restaurant. It was obvious she was a regular because dishes not listed on the menu landed on her table without her asking. She didn't have a book or a handheld device to occupy herself; she made herself quite at home starring at the other patrons and even interrupted the conversations of the tables on each side of her. She was the queen of the room. We didn't ask who she was or what her story was, but I'm sure if you go to L'Ecailler on a Saturday night, there will be a single table with her name on it (figuratively).