October 15, 2017
Our hosts went to mass this morning while we caught up on some travel planning and chores. When they returned, we had an impromptu cheese tasting for a light brunch. We enjoyed Camembert, Vacherin (not allowed in the US), Epoisse (Louis XIV's favorite cheese) and Belval (made by local Trappist monks) with oat crackers and fresh, hot bread on beautiful china using Louis XIV silverware. My favorite cheese was the Epoisse ~ it was mild, but a little tangy. The monk's cheese was pretty good, although we chose to cut off the somewhat suspect outer rind. It was a delightful light meal ~ well, less substantial than others we've had.
After brunch, we traveled to Antwerp for our day's sightseeing. Antwerp is the biggest city in Flanders (the Dutch portion of Belgium) and is best known for its diamond trade. Once an important trade city, it was all but destroyed in World War II. It was rebuilt and is stronger than ever. While Brussels is more cosmopolitan, Antwerp has a smaller town feel. It is the home of Peter Paul Rubens; Antwerp's churches and museums hold the largest number of known Rubens' paintings.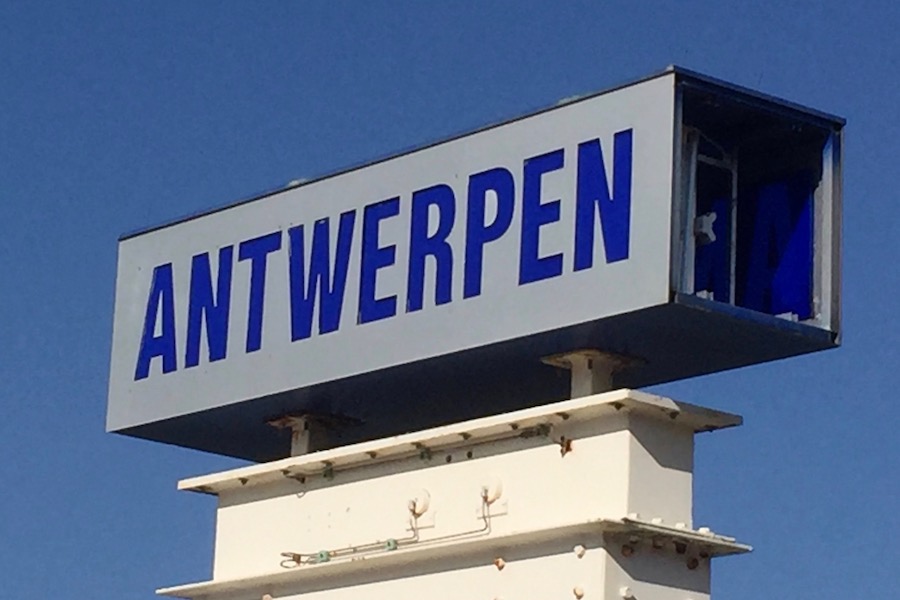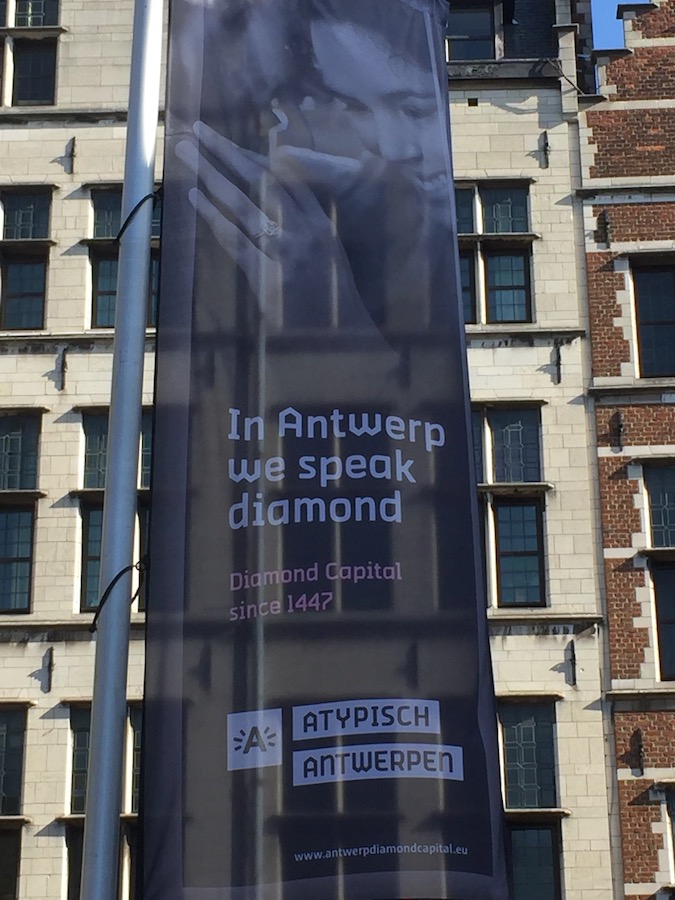 We found a parking space near the dockyards and walked toward Grote Markt, the main square in town. The Cathedral of our Lady sits at one end and city hall at the other. In the middle sits a large statue depicting a Flemish tale about a giant, a Roman soldier, and a severed hand. A gruesome story, but the fountain is beautiful (in its own way).
The Cathedral, built starting in 1352, is immense with a 400 foot tall spire.
Inside, the church is gorgeous. The church normally houses a handful of Rubens paintings, including some of his triptychs. Since the museum is undergoing renovations, however, it currently houses too many to count. There were several large canvases by Van Dyck and other similar artists as well. Any fan of the Flemish masters will love this church. I could have spent several hours staring at the details in each of the Rubens – dark and sometimes a little disturbing in interpretation, but phenomenal.
In the front of the cathedral, amongst the works of the old masters, stood a modern sculpture. It was meant to show the balance of religion one has to do in his/her life – stunning and thought-provoking.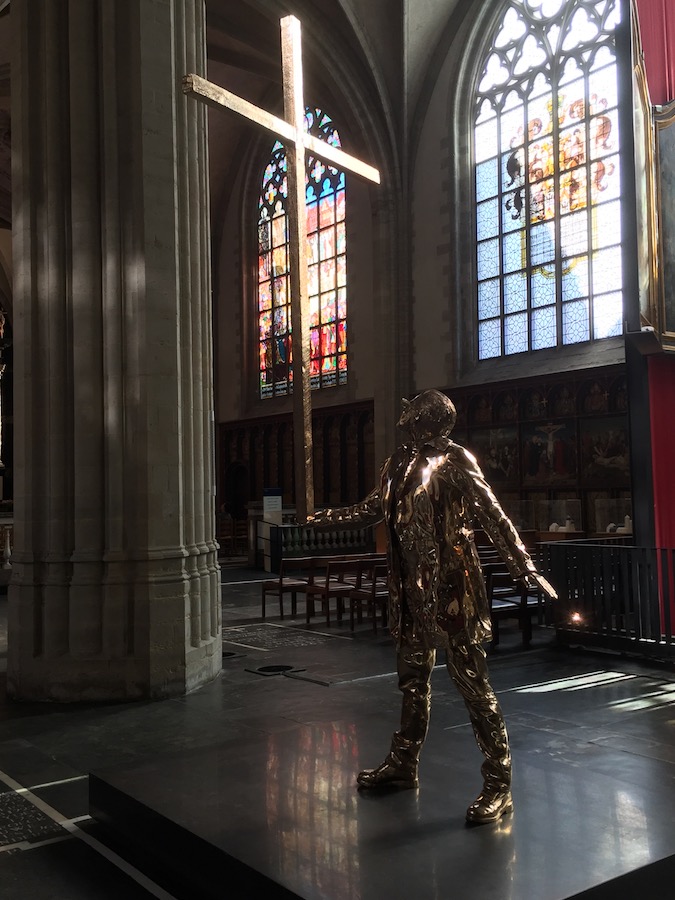 Back outside, we stopped at a frites shop to a snack for a member of our group – we've had our fill of Belgian frites (not so of waffles, but we still have a few days). There were a multitude of different sauces for the frites. We thought that perhaps the one marked "American" might be ketchup, but it wasn't. Turns out to be the one that was marked "Ketchup."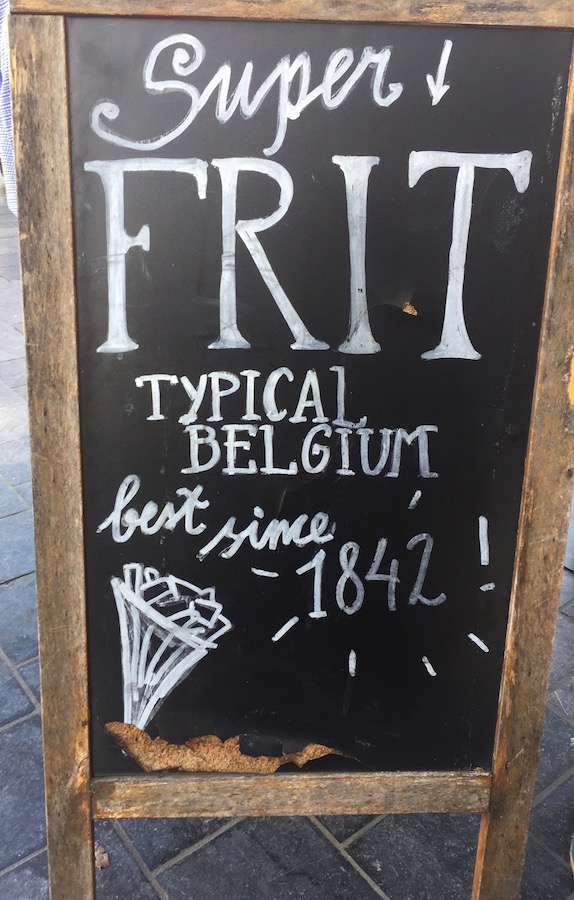 After our quick break, we walked the length of the old town down to the train station. We had very little time to look at the station as we ran through it during our seven-minute connection from Amsterdam. It has one of the most beautiful exteriors I've seen on a train station; the entrance is spectacular.
Our return walk took us through streets filled with awesome architecture.
The group (minus me) wanted to stop for a beer before heading to dinner, so Yelp to the rescue. We found "Billie's Bier Kafetaria" with dozens of beers on tap. The boys were happy. We even got to meet Billie, the bulldog.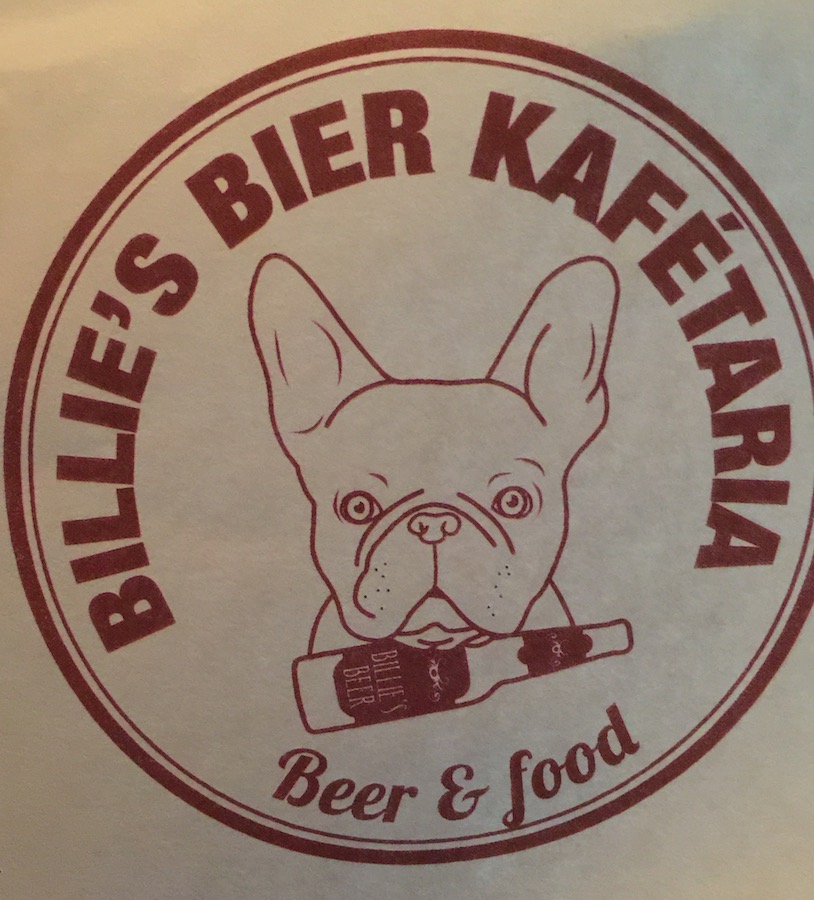 Our restaurant of choice for dinner was Lam & Yin, the only Michelin star Chinese restaurant in Europe. We ordered all of the appetizers offered on the menu for the table (except the caviar). One each of the main dishes (duck, lamb, waygu beef, fish, and pigeon) was ordered for the group to share.
Everything was excellent, but the scallop appetizer was to die for. It was unanimous among the group that we could make a meal of several of the appetizers. This has turned out to be a true gourmand holiday.