April 24, 2016
We waited what we believed to be a sufficient amount of time after the front desk clerk from yesterday clocked in for his shift before making our way down to the lobby.  With a little bit of attitude, he said, "Oh yes, I remember you." I asked politely whether he was able to upgrade us.  He checked his computer.  He had a sidebar conversation with his associate. He checked his computer a second time and stared at it as if it would change at any second.  With a sigh, he looked up and said, "Are you packed?"  "No, but if you give us eight minutes, we will be."  "Very well," said he, "I will give you a double upgrade and keep you on the same non-smoking floor.  The bellman will be up in eight minutes to exchange the keys."  We politely said "Thank you," with just a tinge of glee in our voices – a double upgrade!  We were not sure what that meant, but it had to be oceans better than what we had.  
We were packed in less than five minutes and waiting like little children on Christmas morning for the bellman to arrive.  The key exchange made, he took us down the hallway and around the corner. Our new room, although a little tired looking, was at least three times the size of our first room, had a separate shower and nice deep tub, and a large terrace.  Score!  We were much happier with our accommodations. Insert smiley faces here.
After arriving in Madrid, Steven read that the Rock n Roll Marathon, 1/2 Marathon, and 10k Run started at 9:00 a.m. and 10:00 a.m. respectively.  It was now 9:20 a.m. and guess what was passing right by our front door. Yes, you guessed it, the marathoners – slews of them.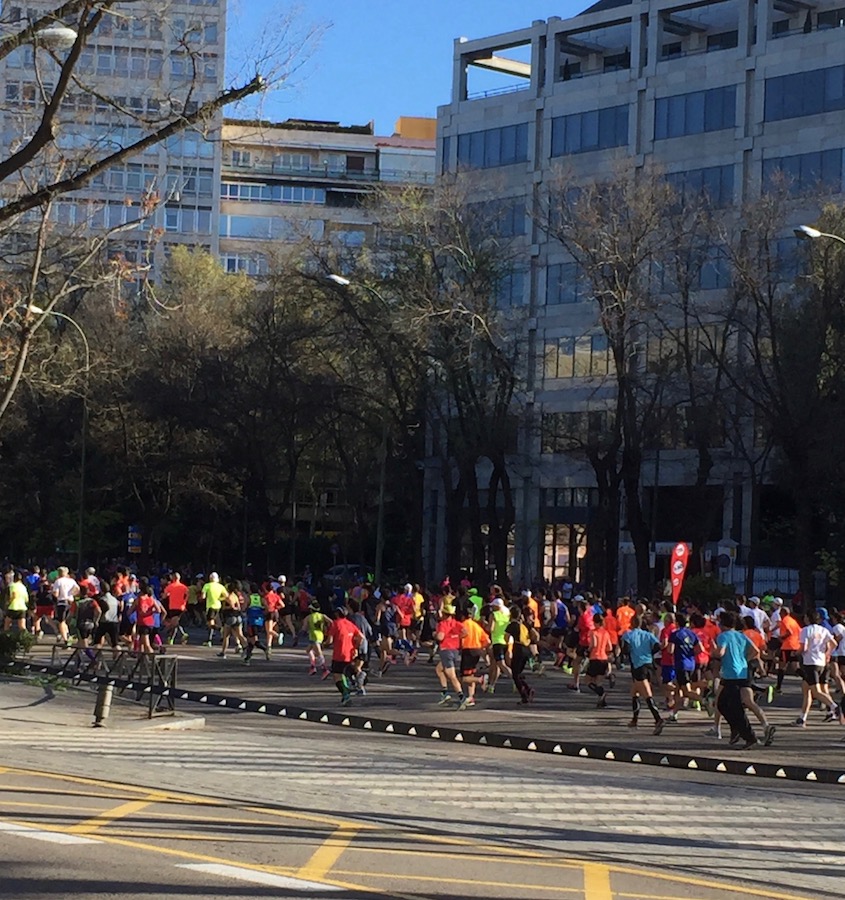 The doorman looked skeptical when we asked for a taxi and said we were headed for the Prado.  With a glance at the marathon route, he shrugged his shoulders and whistled for a cab.  Our driver seemed a bit more positive that she knew a route to get around the runners. We were walking distance from the Prado within 10 minutes.  
Coincidently, the driver let us off directly in front of a Starbucks (they are taking over Madrid) and Steven hadn't had his coffee and neither of us had had breakfast (we chose to opt out of the 32 euro breakfast the hotel tried to upsell).  
And then it was off to find the entrance to the Prado, home of some of the world's most famous masterpieces, particularly of Spanish artists. Unfortunately, there are no photographs of our time in the museum, because none are allowed to be taken.  I didn't even try to sneak one since there were guards in every room.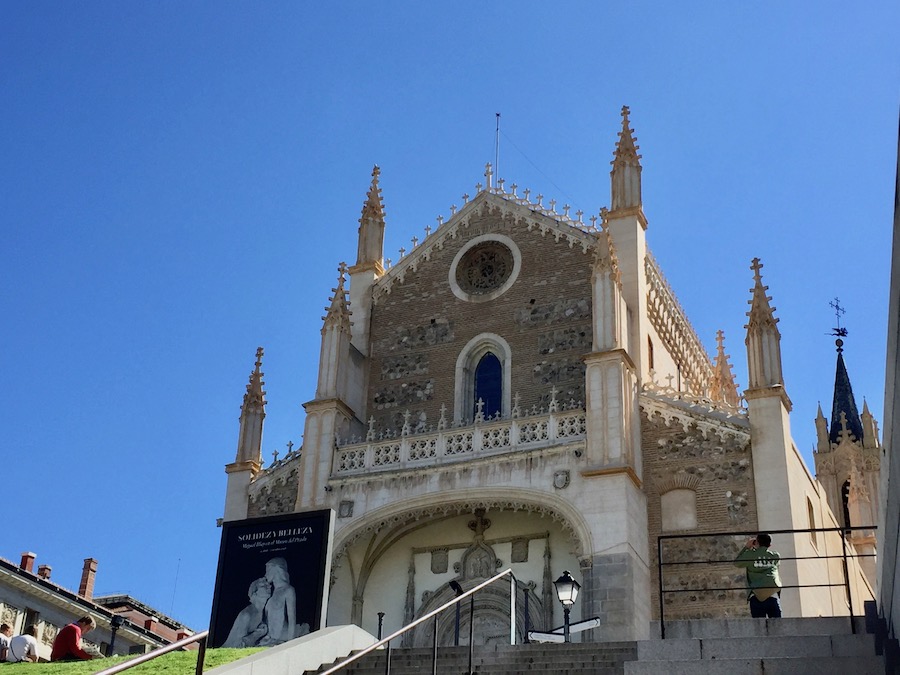 In my opinion, the Prado rivals the Louvre in Paris and the Uffizi in Florence.  We walked miles through at least 50 rooms marveling at artistry up to 500 years old.  We even got to see one of the Prado's newest acquisitions, an altarpiece by Fra Angelico – absolutely gorgeous.  We were treated to pieces by Raphael, Rubens, Goya, Durer, Bosch (that guy was brilliant, but had to have been either wacky or on something to dream up his subject matter), Titian, Velazquez, Goya, and El Greco.  Four hours was just not enough to see everything, but it was enough that our feet were sore from walking and standing.
Time for lunch.  We consulted Yelp and found a little tapas restaurant not far away – 17 de Moreto.  We shared beef cheeks over skillet potatoes, Russian salad, and goat cheese wrapped in phyllo with honey.  The beef cheeks were tender and mildly seasoned. They were tasty, but we were still pining over the pork cheeks from Sevilla, so a comparison cannot be made. The Russian salad was as good as any we've had, but the goat cheese tapa was the crowning moment of our lunch (other than the great company). The cheese was smooth and tangy, but the addition of the honey (not too much, just a small dollop) gave it that extra kick to put it into yummydom.
As with most of the restaurants we've frequented in Spain, the service was a little aloof.  The servers appeared to resent that we lingered over our glasses of expensive still water, so we paid the bill and left.
Retiro Park is Madrid's answer to New York's Central Park, although Retiro is a lot older.  Originally designed for royalty, it was opened to the public in the 18th century.  It is 350 acres of woods, walking paths, and awesome people watching.  Without a map, you can definitely get lost wandering around.  Luckily, we happened across an information station and got our bearings.  
We walked through wooded glens until we found the lake which was a buzz of activity.  Families and groups of friends were out in force on this beautiful Sunday afternoon.  There was a huge line of people wanting to rent rowboats, many of whom had no business out on the water because they had no idea how to row a boat. We sat on a bench on one side of the lake (actually nothing more than a big pond) watching as rowboats collided into one another and people in the rowboats took endless selfies.  
Our bench view was also great for watching the families stroll by.  Such a communal activity.  We finally gave up our bench and walked part way around the pond to the monument of King Alfonso XII, where we found a new location to sit, talk to a few locals and watch the never-ending antics of the rowers.  We spent no less than three hours watching the world go by. What a lovely way to spend an afternoon.
Our walk back to the hotel was long but took us along streets filled with interesting architecture.
Once back in our new large hotel room, I spent some time out on the terrace writing, and Steven went to find the local supermercado to buy water, drinks, and a few snacks.  When we travel, we make it a priority to find the local market to at least buy bottled water.  At this store, small bottles of water were .21 euro, while the same bottle of water at a street vendor or venue will cost 1 euro.  It's a great tip to save some money.  
Around 10 p.m., we decided it was dinner time (I know it seems like all we do is eat, but really, our meals are spaced far apart). Again, we consulted Yelp for a restaurant that was open on a Sunday night – a difficult feat. After going through about 40 restaurants, all of which were either closed or outlandishly expensive, we came across 29 Fanegas, a tapas restaurant about a quarter of a mile away.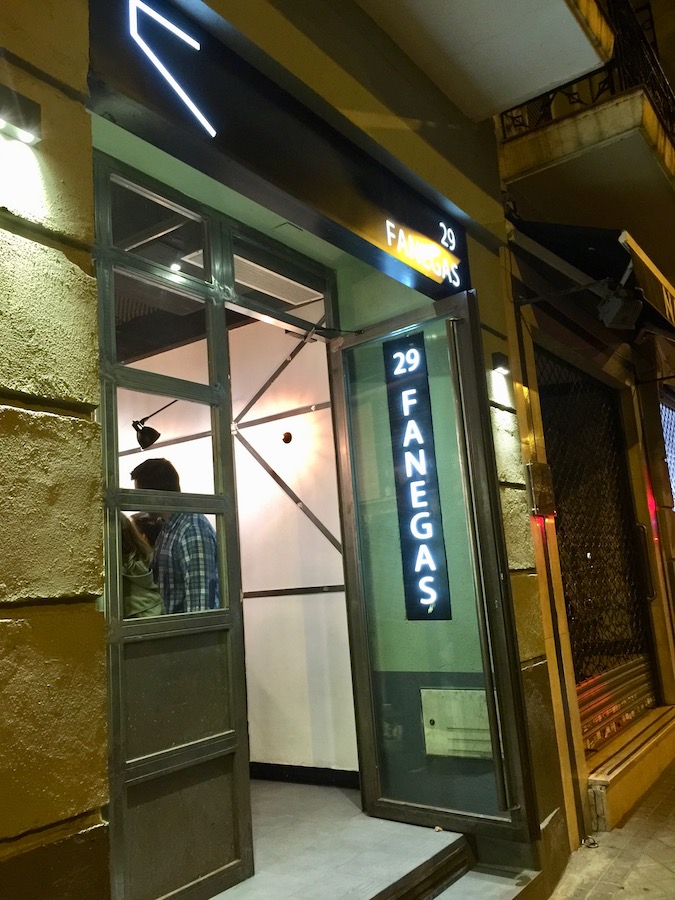 With a little help from our map, we got there and found a seat inside down in the basement (it has a very narrow storefront, but has a pretty good space down below).  We thought we were eating late on a Sunday, but we were the second group down in the basement and within the hour, the place was packed.  
Up first, we shared a spinach salad with burrata, walnuts, prunes, cherry tomatoes and mango vinaigrette – really refreshing and it was good to have some veggies.  Then we shared tapas of sirloin with melted Brie, cured Iberian ham with garlic and tomato, and a brochette of monkfish, prawns, and bacon.  The star was the brochette; each bite of the three ingredients together melded perfectly.  Another gastronomical success.
As we walked back to the hotel hand in hand, we expressed how lucky we were to travel so well together.  There's nothing better than going on an adventure with the one you love.  We are truly blessed.