April 23, 2016
We woke up far earlier than the rest of Sevilla. Everyone in the neighborhood was out until the wee hours of the morning, or so it seemed every time I woke during the night to hear merriment out in the streets. Unfortunately, we had to finish packing and cleaning up the apartment so we could make our way to the train station. We were sad to close the front door of the apartment for the last time and wave to the local vendors who were just opening their shops as we left.
The train station was buzzing with lots of people rolling their small suitcases down to various tracks (all Europeans seem to be able to pack in very small hard-sided suitcases). We found our Ave train on track 4, got through security, and found our coach at the very end of the platform. I'd opted for the 1st class coach so we'd have an ultra comfortable ride and, to Steven's delight, it came with all the free newspapers he could read, headphones, and a movie. Two and half hours later and no incidents, we pulled into Madrid's Atocha station.
We made our way to the Madrid Intercontinental, our hotel of choice for the next few days (thanks to points). Since I have elite status with IHG and had pre-informed the concierge our trip was for Steven's 50th birthday, I hoped we would get the "if available" upgrade.
We checked in and went up to our room – definitely no upgrade. In fact, it could possibly have been the smallest room I've ever stayed in (even smaller than rooms in which we've stayed in Paris). Neither of us could turn around beside the bed without whacking our hips on either the desk or chest of drawers. To say I was not happy, was an understatement.
I stewed for about 20 minutes before telling Steven that I was going to go down and see if there wasn't something that could be done. The same gentleman was at the desk and I politely asked (I was very sweet and polite – really, I was) if there was any way he could upgrade us to at least a slightly larger room. He hemmed and hawed, checked his computer several times and said that he really couldn't tonight as the hotel was full. However, if we came down in the morning when he was on duty, he would check again to see if we could get an upgrade. OK, I can live with that, for now. [Side note, when we returned after our evening activities in Madrid, there was a bottle of Cava chilling in our room for the inconvenience we suffered – nice gesture, although I'm not sure Steven can drink the entire bottle himself.]
Our evening plans included a food tour with Devour Madrid. This one not only involves tapas, but it also takes us to a flamenco show. When I booked, I was told to wear comfortable shoes and bring a jacket. So comfy shoes and jackets on, we headed down to the lobby. As we passed through the doors, the doorman asked us if we had our umbrellas. Nope, we hadn't even noticed that the skies had darkened. Not a problem, he was at the ready with a big loaner umbrella, properly emblazoned with the hotel name for advertising.
A taxi whisked us down to Plaza de las Cortes where we were to meet our guide. As we stepped out of the cab, the raindrops started – glad we had a forward-thinking doorman. We were told to meet our group by the statue of Cervantes. Interestingly, it is the 400th anniversary of Cervantes death. It was also World Book Day when all the bookstores in Madrid are open until midnight. In honor of the day, the huge lion statues guarding the Spanish Parliament across from the square had donned wire spectacles, and there was an open book on a pedestal next to each lion – adorable.
Our guide arrived just as the rain was letting up.  Her name is Hagar (pronounced Ha-Har) and she is a native of Amsterdam. She began an early love affair with Spain through her parents; her absolute favorite places in the world are Madrid and Granada.  She is also a flamenco enthusiast.  
We were hoping that our group would be as small as our last few food tours.  No such luck, Hagar said that we were to be a group of 10+. Over the next few minutes, the others arrived:  a 60-something couple from Vermont (really great people, and we've already been emailing since the tour ended); a South African couple, who currently live in London; and two couples from Seattle in Madrid for a wedding. Fun group.  Hagar brought us up to date on her background and then what we were in for during the next 5 hours.
We started off down the narrow roads of Las Letras (the literary district), home to many a Spanish literary genius, including Cervantes, and where flamenco has flourished.  Many of the streets are pedestrian-only, although taxis seem to make their way onto them quite frequently.  It is also a maze of tapas restaurants, clubs, and tablaos.  
Our first stop was Las Gatos (The Cats) for what some people call montaditos – bread with stuff piled on top. There were little open-faced sandwiches of melted brie and mushrooms, anchovies and tomato, salmon, cream cheese and olive oil, caramelized onions and Brie, and squid.  We each had a few pieces.  The tapas were served with glasses of vermouth (I had water).  Vermouth has made a comeback because it is inexpensive. It is soaked with aromatics and caramel is added to provide color and a little sweetness – 15% alcohol content.  This is not martini vermouth, that's for sure.  The bar is called Las Gatos because true Madrianos are called Gatos (cue a really long tale about some ancient battle where a young boy climbed the fortress wall like a cat).  
On our way to our next stop, Hagar took us to a cobbler's store where flamenco shoes are made. Each pair is 150 euros+ and take almost a month to make. We also walked through a flamenco school where we saw old posters and playbills for famous flamenco guitarists, singers, and dancers. When you think of flamenco, you usually only think of the dancers, but without the singers and guitarists, there would be no flamenco – they feed off of each other.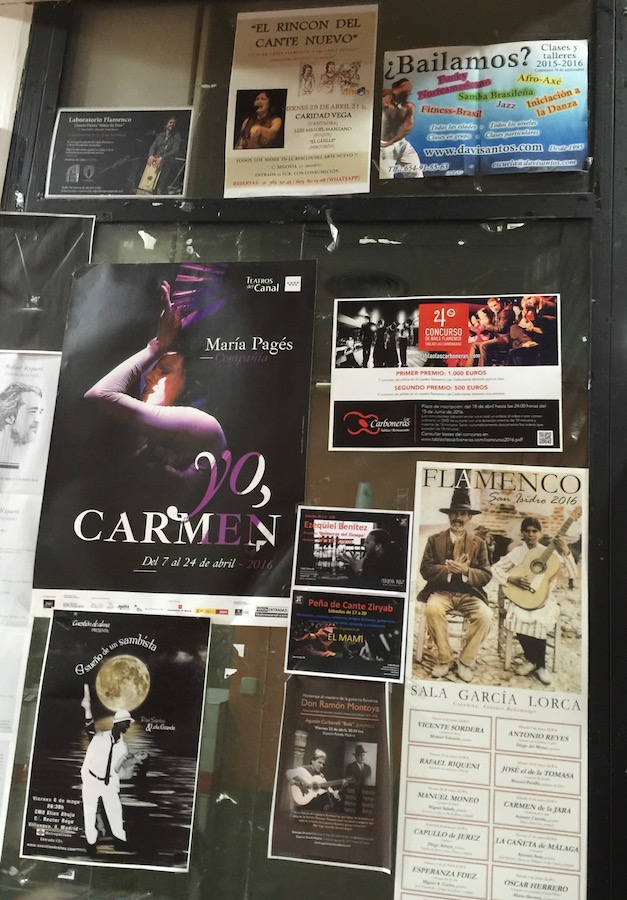 Our next food destination was a delicatessen specializing in cheese and ham for a sampling of each.  The current owner is the 3rd or 4th generation to run the shop.  His grandfather used to hold secret anti-fascist meetings in the back of the store during the dictatorship until he got caught and jailed – quite a history.  The ham and sausage served were top notch (one of the best hams can cost up to 200 euros a kilo – yikes!). The cheese was divine. There was one cheese that was only six days old, which paired with a pear jelly – it was OMG amazing, creamy with just the right amount of bite with the subtle sweetness of the jelly.  The samplings were served with Hagar's favorite local red wine.  Everyone seemed to enjoy it (my Coke Light was a very good year).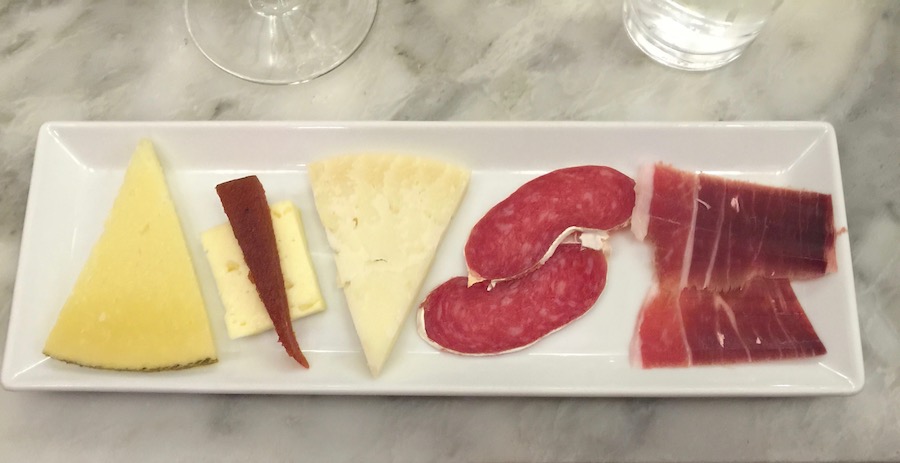 And then there was flamenco.  We had front row tickets for the 8:00 p.m. performance at Cardamomo Tablao Flamenco, one of the best flamenco venues in the city.  It's very intimate, with less than 100 seats, and the performance is up close and personal (we were not advised beforehand that we might get sweated on).  The performers consisted of two guitarists, two singers, and three dancers – one woman, Paloma, and two dashing gentlemen.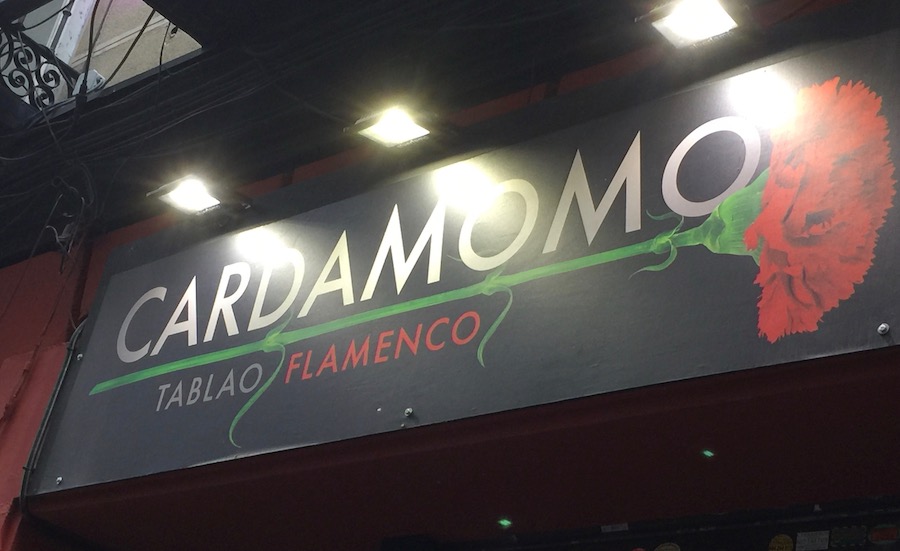 The performance was intense, very passionate, and very entertaining. Whatever notions we had of what flamenco was were thrown out the window.  There were no fancy colorful dresses, frilly dress shirts or castanets, but there were phenomenal artists who have trained since early childhood in their craft.  They have unbelievable rhythm and passion, and the music can be almost hypnotic at times.  And the feet… I've never seen feet move that quickly before.  It was incredible, and we sat in awe of their talent.  If you've never seen good flamenco, I urge you to treat yourself.  It will add a dimension to your soul you didn't know was missing.
On our way to dinner after the flamenco show (because we needed more food), we stopped by El Burladero, a bar filled with bullfighting memorabilia.  We had free reign to walk around admiring the photos. The bar was empty since it doesn't get busy until after 11:00 p.m. and stays open until 6:00 a.m.  
Some of the members of our group plan on seeing the bullfight tomorrow at the stadium – we will pass.  Besides being a tour guide, Hagar is a freelance journalist currently writing a piece on the 35 bullfighting schools in Madrid for Al Jazeera.  There are hundreds of aspiring bullfighters every year, starting at age 14, but there are only 300 bullfighters who make a living at it.  Bullfighting is very controversial and it is believed that it will be outlawed everywhere within the next 30 years.  
Our last stop was at La Casa Del Abuelo, a Madrid institution since 1906 and known for their garlic shrimp.  There were a variety of tapas, including the famous shrimp, whose sauce is divine sopped up with bread, sangria (which the Spanish actually don't drink), tinto verano (which the Spanish do drink – Summer wine, which is red wine with a splash of lemon soda – think wine coolers with a twist) and, ultimately, almond cookies baked by nuns.
Like good Madrianos, the group lingered over the tapas and drinks, talking, laughing and getting to know one another.  All too soon (5 hours after the tour started), it was time to say goodbye, with good wishes and promises of emails regarding restaurant recommendations and travel tips.