October 16, 2017
Some vacation days are meant to be taken slower, where you get up a little later, stay in your pajamas a bit longer, and take a leisurely approach to sightseeing.  Today was one of those days.  
We thought about going to the coast for the day but decided to go into Ghent instead.  Rod was craving a hamburger, so Yelp suggested Three Monkeys, one of the better burger places in the city.  After a leisurely morning and taking a few more pictures in and around the grounds, we headed out to Ghent.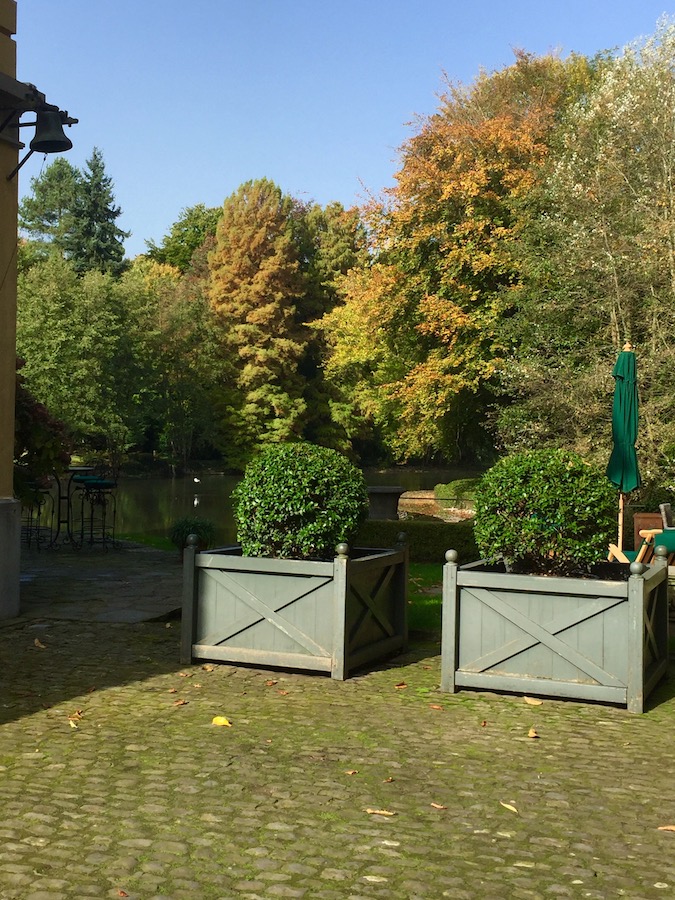 Parking wasn't as bad this morning as it had been before, but it still seemed difficult to maneuver in and among the narrow streets.  Parked, we wandered among the cute side streets until we came to the square where the restaurant was located.  Much to our surprise, Three Monkeys was closed, even though the internet had said it was open.  Insert frowny face here.  Restaurant owners in Ghent (and possibly other Belgian cities) stagger the days their establishments are closed so there are always restaurants open. They want to take business away from each other – it's all very civilized.  But today's closure was unexpected. 
Adapting to the situation, we headed toward the main square and picked one of the sidewalk cafes at random.  Although we were seated quickly, no one came to our table to take drink or food orders for 15 minutes, so we left – I know, temperamental Americans.
As we made our way out of the cafe, we called another restaurant to see if they could take us – they could, so off to Passions we went.  Our host seems to make friends everywhere, so there were pleasant greetings, handshakes and air kisses for everyone when we arrived.  Orders taken quickly, we sat back, relaxed and watched all the people go by. The restaurant is on a busy corner, so there were lots of people to watch.  Our host tried the Vol Au Vent (not as good as the one in Brussels, but still tasty) and Rod's friend got a salad. Rod decided to try the Belgian beef stew (huge pieces of beef) that came with warm applesauce and, of course, frites, and I had the Waterzooi, a Belgian chicken stew, which was so good it tasted like a warm hug in my belly.  Other than the salad, we were all in a Belgian comfort food kind of mood. 
Our group doesn't pass up an opportunity for dessert, so Rod ordered a Belgian waffle with strawberries and Doug ordered the Dom Blanche.  The waffle was lighter than air, crispy and flavored with just a hint of vanilla.  The berries were fresh and juicy (fruits taste a little sweeter here) and the cream was divine.  The Dom Blanche was tasty but didn't compete for the top spot on our Dom Blanche tour 2017.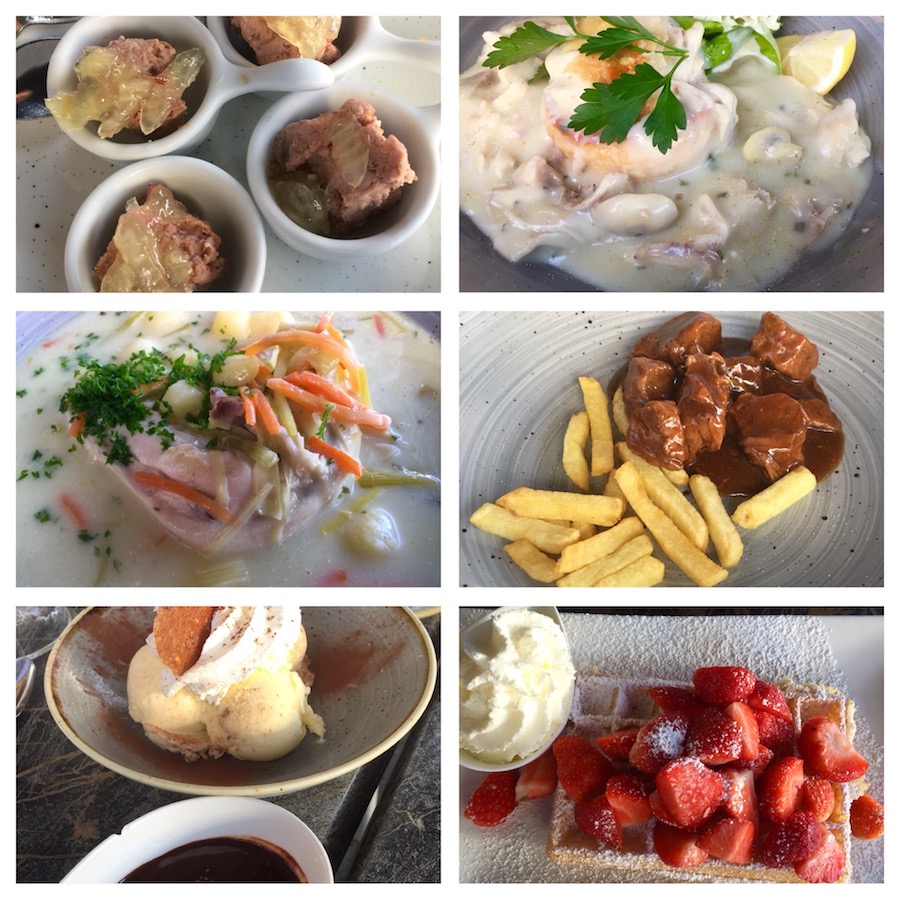 A little more wandering about Ghent, a few more photographs, and we were on our way to the grocery store in Heusden (the medium sized one – not to be confused with the smaller one in Destelbergen and the big one in another town whose name has too many consonants). 
As I've said before, I love going to grocery stores in different countries.  I love to see what kinds of products line the shelves, which ones are different and which are the same.  Apparently, Heinz makes a [Seriously] Good mayonnaise here.  The freezer section was well stocked with, you guessed it, frites.  Belgians sure love their fries.  Since we were planning a casual night in, sodas and snacks were purchased, along with more laundry detergent.
Back at the house, we cozied up downstairs with blankets, snacks, television (BBC and CNN news to catch us up to date), and gossip. Later, we determined that Pizza Hut does deliver anywhere.