July 16, 2019
"But madam, it will take you an hour to walk there!" said the gentleman manning the front desk at the hostel. We were discussing how to get to the meeting point for the night tasting tour I'd booked through Urban Adventures. I assured him that an hour's walk wasn't too far, so he pointed me in the direction of the tram/metro as I was to follow its route. Yes, it would have been easier just to take the tram, but the sun was out, there was a breeze, and I needed to get in more steps.
The sidewalks were narrow along the tram route, so caution had to be taken. Trains wooshed by leaving a margin of error of mere inches.
Narrow sidewalks also mean that passing people moving at a snail's pace can be difficult. The tramlines often double as walkways. You just have to keep your wits about you.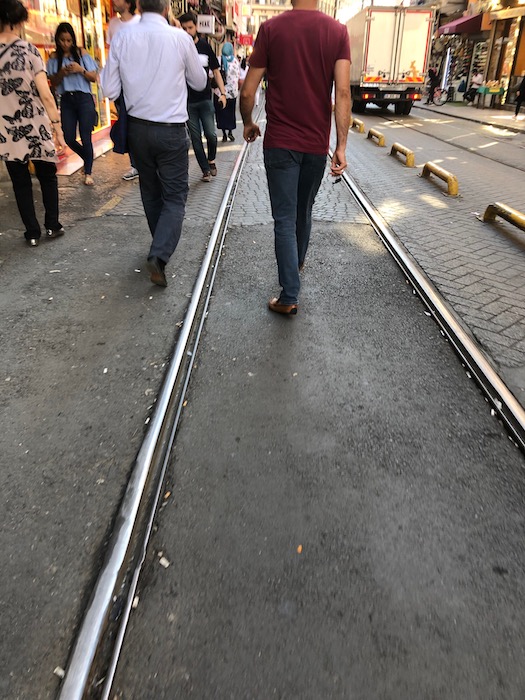 The same goes for crossing the street. Even if a street appears to be one-way, it isn't. You never know when someone will take a shortcut that isn't quite within the traffic laws. When crossing in heavy traffic, the trick we learned in Marrakech works well. Stick close to an old lady or someone with a stroller, walking on the side away from oncoming vehicles. A car is less likely to hit them than they are you. Not very compassionate I know, but sometimes you have to look out for number one.
Along the route, I saw some nice architecture and, naturally, more mosques.
Upon reaching the Galata Bridge, I kept to the busier side so I could people watch and watch the oncoming boats. I had given myself extra time, so I paused to take in the gloriousness of the view.
My instructions were to meet my guide at The Tunel; however, there was no explanation as to what that meant. When I got to the other side of the bridge, I looked around but because I didn't know what I was looking for, I didn't see any signs. It never hurts to ask for directions, so I popped into the closest hotel and asked at reception. I was literally within 100 feet of where I was supposed to be.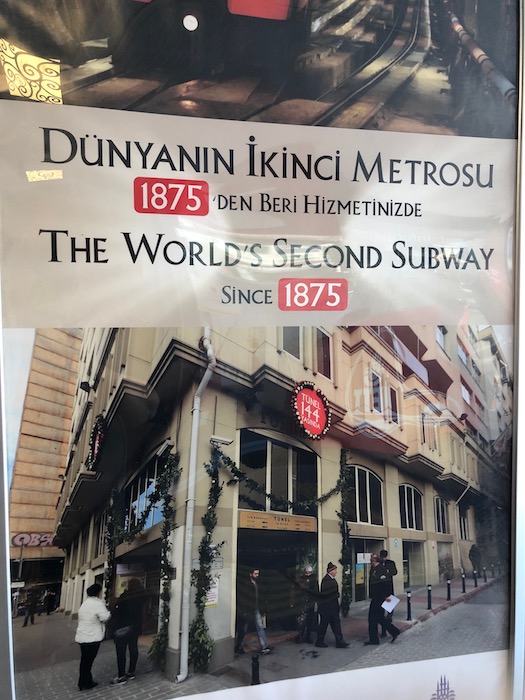 The Tunel is the name of a tiny underground funicular that connects the Karakoy and Beyoglu areas. The 90-second trip has been run since 1875 and is the second oldest metro in the world (London has the oldest). It is also the oldest underground urban rail line in continental Europe. Best of all, it's cute as a button. Unfortunately, I forgot to take a picture of the underground train, but here are pictures of its sister car from up top.
My guide, Feyza, and Oliver, the only other member of the tour, were waiting just outside the entrance. Within minutes, we were off on our food adventure.
Our first stop for the evening was a little shop at the top of the hill for borek and a beverage. Unlike the crispy phyllo dough borek I had on a previous tour, this was cooked like pasta. Su Boregi takes a long time to make and is considered a specialty. Thin, boiled dough is layered multiple times with lots of butter and sharp Turkish cheese and then baked – kind of like lasagna without tomato sauce and meat. With the borek, Feyza gave us each a container of Ayran, salty milk. She warned that the first sip was usually a shock – it was, but then it became more palatable, even enjoyable. This, she said, was the thing to drink on a hot, sweaty day, as long as you aren't lactose-intolerant. I guess it's the dairy version of Gatorade.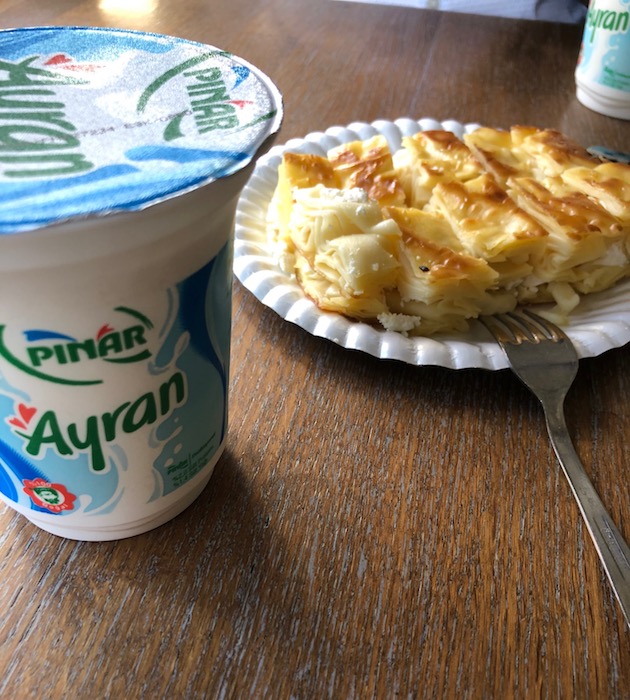 To get to our next stop, we walked through the streets of the main shopping area near Taksim Square. It was busy but not as busy as it would be later on. As early evening gave way to the dark, more and more people came out to shop and be seen. Stores in the area stay open every night until midnight or so.
We arrived at Oses, a small storefront, with a food cart out front and a small table with two stools meant just for us. The specialty of the owner is Çiğ Kŏfte, a bulgur and tomato paste tartar cooked only by spices and then rolled up with veggies in thin lavosh. An unusual combination, but quite tasty. Feyza explained that street vendors used to sell the same combination with meat in it as well, but since it was "uncooked," people eating it often didn't feel well afterward. So the meat kind has been banned. My stomach thanks whoever made that decision.
The focus of our next food find was Raki, an extremely strong liquor to be consumed only with close friends and loved ones. At 45% alcohol, it can knock you on your behind.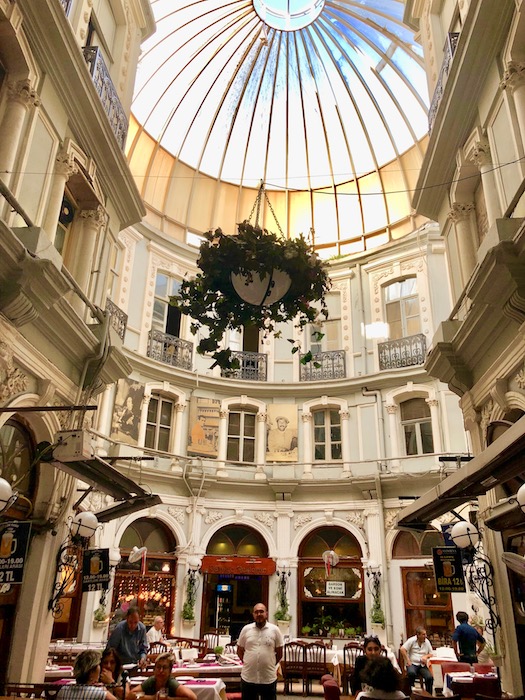 Raki is never to be consumed on an empty stomach (you will throw up) or a completely full stomach (you will throw up), so Feyza was priming us to be "medium-full." The restaurant chosen for our Raki tasting was continental in is architecture – we almost felt like we were in a Parisian café. Appetizers were ordered – wine leaves stuffed with rice and tiny grapes, an eggplant concoction much like baba ganoush, a tomato-based dip heavy on the garlic, and a thick yogurt dip with parsley. Everything was good, but the stuffed grape leaves were my favorite – I could have eaten several more.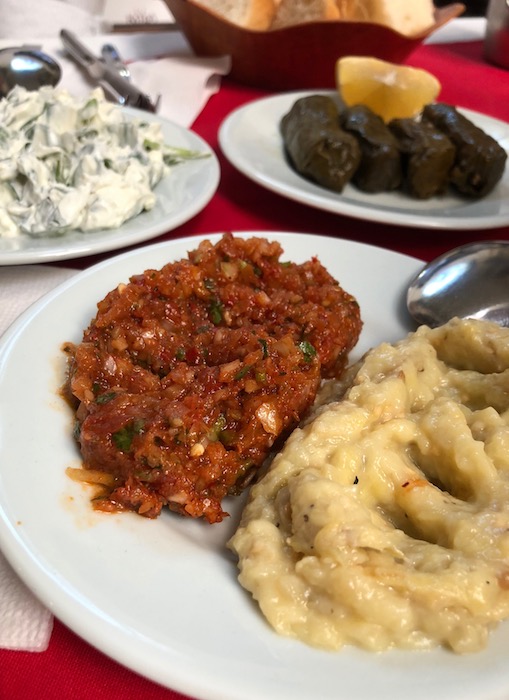 Halfway through the appetizers, Feyza deemed that we were ready. The Raki, also called "lion's milk," was brought in tall shot glasses with a glass of water. Feyza chilled the water with ice then we poured the water (not the ice) into the shot glasses – ice apparently reacts with the oils in the alcohol and ruins the drink. When the water hit the Raki, the once clear liquid became milky white and was ready to drink. Although you can down it in one shot, it's probably not advisable. Prior to drinking the first sip, you bang the bottom of the glass on the table if you want to remember someone you love that isn't there with you or has passed on. Then you drink. The slow burn of the slightly anise tasting liquor is palpable. It doesn't get any better the more you drink, but I'm sure at some point you don't feel your tongue or the inside of your mouth, so it doesn't matter. Finishing off the appetizers helped to quench the burn of my tiny sips.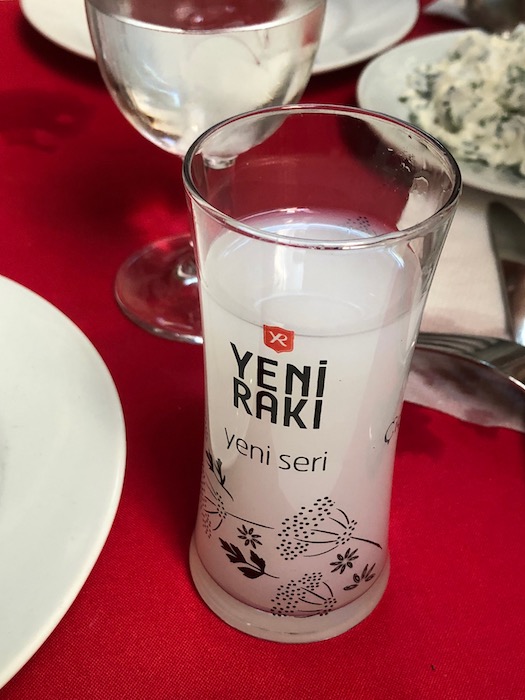 I'm a big fan of mussels, but I usually like them with frites – Belgian style. That was until I tried the Midye Doma from Sampiyon Kokorec. The fresh mussels are cracked open, stuffed with a mixture of rice (likely pre-cooked, but I didn't ask), black pepper, and cumin, then fitted back together and steamed. With a little squeeze of lemon, these little portions of heaven were delectable. Definitely my favorite of the night. A party in my mouth; or, as Feyza says, a party in my stomach.
Oliver's favorite of the night came next – Wet Burgers. Think hamburger mixed with tomato sauce and garlic on a bun brushed and soaked in butter and then steamed. Delicious goodness – check. Artery clogging awesomeness – check. Would I eat it again? You betcha.
As we meandered about town, the three of us talked about world events and politics. Feyza has been raised to be an independent young lady with her own values and opinions. Her enthusiasm for life, confidence, and sense of self shine bright, offering hope for a new generation of Turks without limitations and boundaries. It was very interesting to hear her viewpoint and debate ideas with her.
These discussions were held mainly over our last course, which we ate on the upstairs terrace of Mado, an upscale dessert bar. When Feyza began working for Urban Adventures, she had to taste test food at different restaurants, which included finding the best baklava in town (poor girl). In her opinion, Mado has the best. We each received a 2-inch square of flakey, golden, honey-soaked, pistachio filled goodness with a slice of goats milk ice cream. It's the first time that I've had to cut my ice cream – it is so sticky and gooey, you can't get a mouthful any other way. The sweetness of the baklava and the tang of the ice cream were perfect compliments. The hot tea, crispy chickpeas, and tea biscuits were welcome, but not needed to cap off this wonderful night of food.

Before bidding us goodbye, Feyza walked us up the now crowded Istiklal Caddesi, the pedestrian shopping street, to Taksim Square. The square is the location of the Republic Monument that commemorates the foundation of the Republic of Turkey. It was nice during the day but lit up it had a beauty of its own. Off to the right of the square is a wooded area that was the subject of demonstrations that saved it as a green space when the President wanted to level it to construct a building. Off to the left of the square is a mosque commissioned by the President, which is under construction. No one knows why a huge mosque needs to be built in a primarily business/entertainment district, but he gets what he wants. Although its origins are questionable, it is pretty when its lit up at night.
Feyza pointed out the metro sign and instructed me where to take it to connect to the tram that would take me back to my hostel. Her directions were good and I made it back in one piece with ease.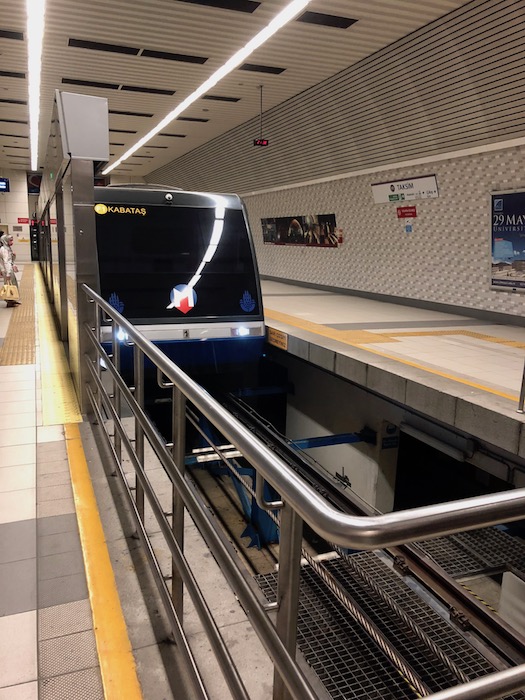 Although minimal, I found the artwork in the incredibly modern metro stations lovely.
All in all, another great day.