October 25, 2017
I'm afraid of heights.  I can be in a plane tens of thousands of feet in the air and not think twice.  Get me above the second or third floor of a building and make me look out a window, and I can turn into a pile of goo.  I didn't always have this irrational fear; a combination of events, including a reoccurring dream of falling off the side of the Eiffel Tower, started it all.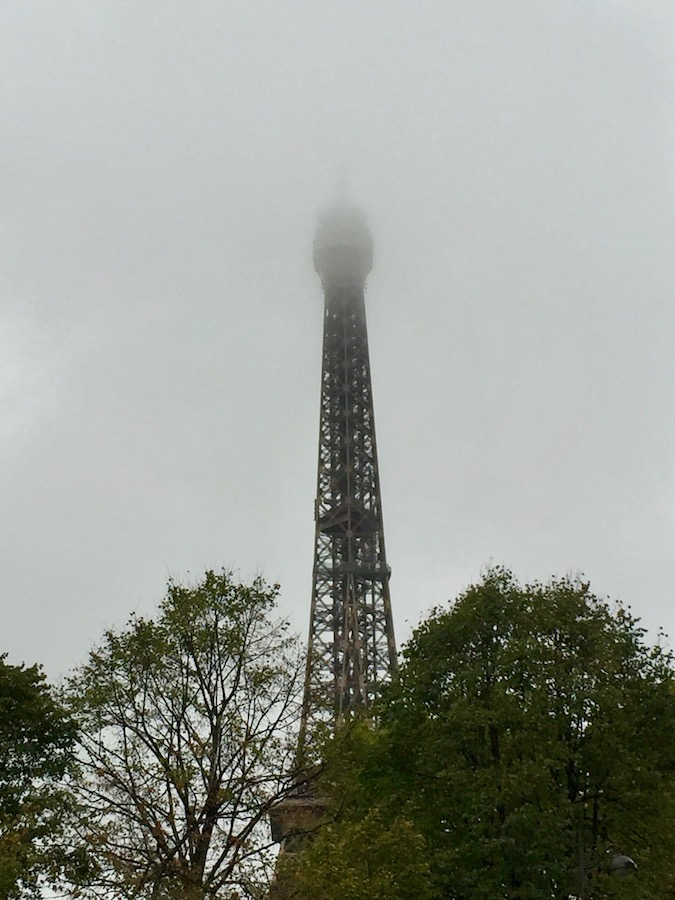 Why do I tell you all this?  Because a trip to the Eiffel Tower was on the agenda for today.  Yes, I know that I could always stay at the bottom while whomever I travel with goes to the top.  Yes, I know that the last time I went to the top of the Eiffel Tower (with Steven), I broke down in tears and had to be comforted by a little old British lady, but I was determined this time not to let my fear be my undoing.
We woke to a very foggy morning. I worried whether Sindy would be able to see anything from the top of the tower. (I didn't worry what I could see as I intended on having my eyes closed much of the time anyway.) We also worried that we might be a little chilly since we planned to be out most of the day and evening and didn't want to take our heavy coats.
A quick hot breakfast (thank you concierge lounge) and we were off on another adventure on the metro. Line 1 to Line 6, off at the Bir-Hakeim stop, and we were soon looking up at the Eiffel Tower. Not knowing which day we might do the Tower, I hadn't booked advance tickets (a rookie mistake). We were OK knowing we might stand in a long queue even though we were going to be at the ticket office before it opened.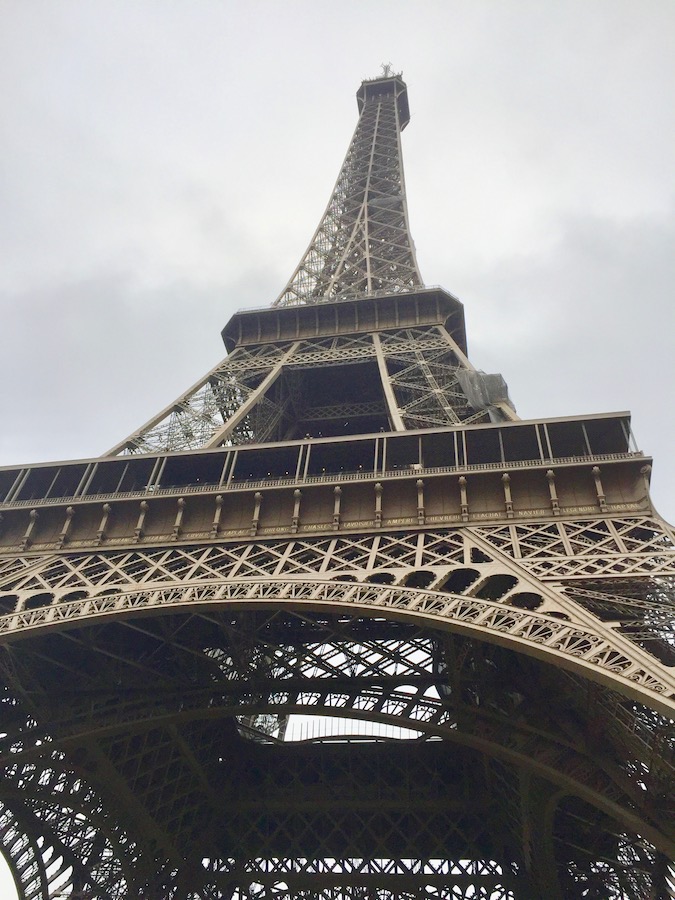 To our surprise, we were through security in a flash and about 15-20 people from the front of the line to buy tickets. We were in one of the first elevators up the Tower that morning. Short lines are not normal. I believe the fog kept people away.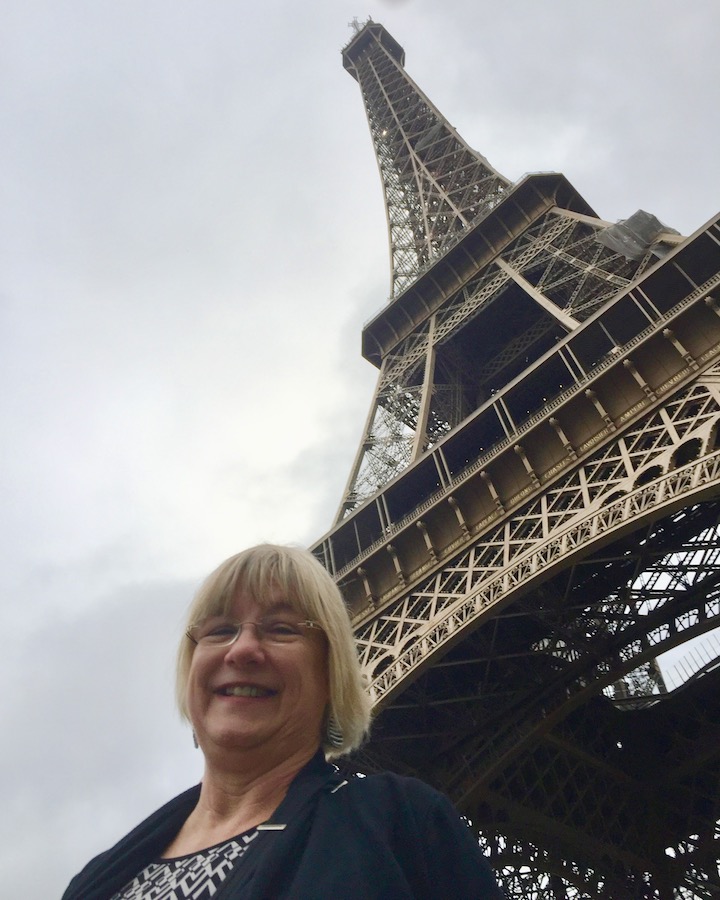 We got off the first elevator at the second level to take photos. Sindy took hers from the fenced-in edge; I kept a closer attachment to the interior wall to take mine. Sindy doesn't have a wrist leash on her phone, so every time she took a photo outside the gaps in the fence, I was afraid she would drop it. I did a complete internal freak out when I saw a lady plop her infant down on the ledge. Yes, I am aware there was a chain link fence to keep the infant in, but seriously, there is a point when you are just too close to the edge for comfort!
Then, we took the second elevator all the way up to the top. Despite the fog, we were able to see far off in the distance and pick out major landmarks. Again, I hung close to the inside wall, while Sindy strolled around snapping photos. She also got to see Gustof Eiffel's office at the top of the Tower. Talk about a room with a view. Oh, by the way, I didn't cry this time.
On my first trip to Paris when I was a teenager, I snapped a really cool picture of the Eiffel Tower from the Trocadero. Somehow, I lined up the golden statues so they led directly into the Eiffel Tower. I'd love to say it was talent, but as I remember it, I was at the end of a roll of film and just snapped the pic so I could change rolls.
Anyway, I wanted to try to replicate that photo, so we headed off in the direction of the Trocadero, stopping along the way for a yummy crepe. There were a lot more people to get in the way of a perfect shot, but I think I did pretty well.
When we were at Versailles the other day, Sindy said she would like to return and do a more comprehensive exploration of the gardens. We hopped the RER C train and headed out of Paris to Versailles' Rive Gauche station. Since the fountains were not scheduled to play, admission into the gardens was free (my favorite price). If I lived anywhere near Versailles, I would take advantage of walking the gardens as much as possible.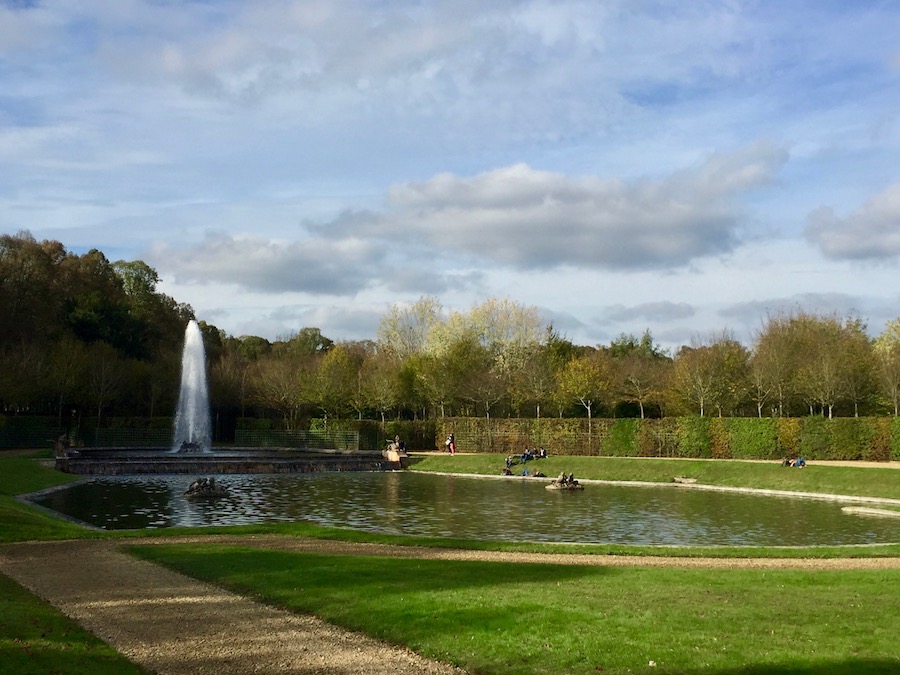 We saw the other day that you could rent a golf cart to do the gardens, which sounded like fun – so that's what we decided to do. You aren't allowed to go just anywhere on the property in the golf cart – you have to stay to a specific path. If you stray from the path, the golf cart goes about 10 feet and then shuts down. The narrator's voice tells you that you have gone astray and to return to the designated path. The cart will not go forward, only backward until you get back on track.
Off we went, at a speed just under a quick trot (no speed demons allowed) with commentary about the gardens. Classical music played when there wasn't anything worthy of comment.
There were gardens within gardens that needed to be explored, so we would park the cart, explore, and then drive to the next intersection of gardens, where we repeated the cycle.  Just because we had a cart doesn't mean we didn't get our steps in for the day.  By day's end, we had walked 12-13 miles, plus all the ground we covered by train, metro, and cart.

We took No. 29 (our golf cart) out to the grand canal and then down to the Petit Trianon, Marie-Antoinette's private home. Originally built for Madame Pompidou, the King's mistress, M-A took it over after she married Louis XVI. Apparently, she didn't like all the pomp & circumstance of the Versailles palace. Instead, she preferred having a little place where she could just be herself (which was still extravagant, but with a little less gold plating). The mini castle seems like it could be pretty livable – the rooms were more proportionate than those in the palace and the building itself was a little more cozy – probably 15,000 square feet or so.
It is, however, M-A's gardens that are breathtaking ~ she preferred the wildness of English gardens to the more formal French gardens. They go on and on. I think you could get lost.
We followed paths on foot here, there, and everywhere, even as far as the Grand Trianon, the next stop on our cart tour.
We explored the back gardens of the Grand Trianon before returning to the cart and driving over to explore the actual buildings commissioned by Louis XIV, whose formal French gardens we had already seen. This palace has housed kings (Louis XIV, Louis XV, Louis-Philippe), their mistresses, dukes and duchesses, Napoleon Bonapart and Empress Marie-Louise, and General De Gaulle. Impressive in all its pink marble glory.
Although we could have explored more of the gardens, No. 29 had been in our possession for a very long time (3 1/2 hours – you pay by the hour upon return). Since we didn't want to take out a home loan to pay the rental, we headed back. We passed many a tourist who looked at our electric steed with longing because they still had a very long walk back to the palace entrance and I'm sure their feet hurt.
Our feet were not spared, but they were better off for our having ridden in the golf cart out to the far reaches of the property. We had a blast and would recommend going the golf cart route, even though it isn't inexpensive. We probably never would have seen all that we were able to see without it. It was fun to drive, even though you had to stick to the path. I would definitely do this again the next time I'm at Versailles – and, believe me, there will be a next time.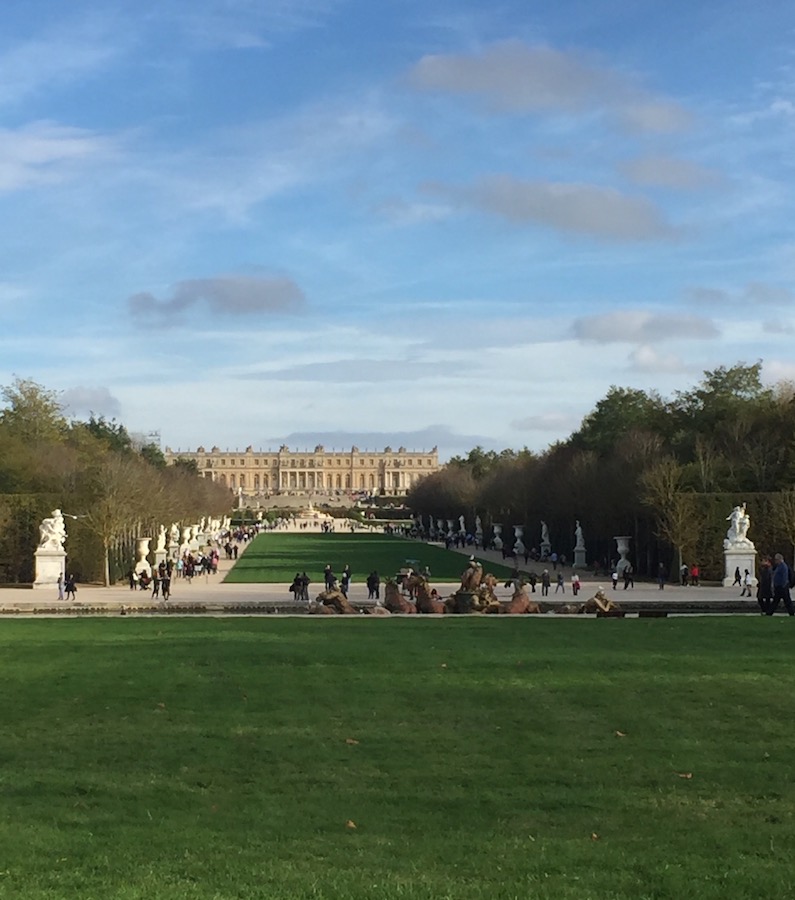 After a quick pit stop at the local McDonald's, we walked through the market in the middle of the Town of Versailles before heading to the train station.
On the platform, we met two elderly sisters from New Zealand who were very confused as to which train to take back to Paris and which station connected to the metro to return them to their hotel. We guided them on to our train (only to all get off and on to another when the train had an issue) and sat with them to peruse the metro map. I figured out the easiest way for them to go and then we settled into travel talk.
We were so engrossed in our conversation that Sindy and I missed our stop and had to add about 30 minutes more to our journey to backtrack.  (Missing a metro stop isn't bad because they are fairly close together; missing a train stop is a little trickier – we were on a train, not a metro at the time).  No matter, it's all a part of the adventure and, we got to meet two very interesting ladies who love to travel.  Sindy and I decided that we will be those ladies in several years, just with less cool accents.

P.S.  We got back to our starting point in the morning just in time to see the Eiffel Tower "sparkle."  It sparkles each night for 5 minutes at the top of the hour – beautiful.