October 26, 2017
We awoke to an even foggier morning than yesterday.
Our feet were yelling at us from all the walking we've done, so we took it easy for the morning. I also had to do a little sink laundry to get by. (I only take a week's worth of clothing when I travel and do laundry when/where I can to keep things fresh.)
Continuing our new trip theme of "All Things Monet," our big plan for the day was to go to Giverny to visit Monet's home and his famous gardens.  We booked a small group tour through ParisCityVision, but since we were staying outside of Paris (technically La Defense is just outside of the city line), we had to make our way to their office to catch the minivan.  By now, we were pros at riding the metro, so the line transfer was no problem.  
We arrived at the office to a mass of confusion as people were trying to check-in for various tours. There was a line, so I dutifully stepped into it to wait my turn. Unfortunately for others, they walked directly up to the counter without standing in the queue and the wrath of overly busy French women rained down upon them in several different languages. That's what you get for trying to take line cuts people.
When it was our turn, we handed over our paperwork and were nicely told (after all, we had followed directions) to stand off to the side and Enrique would find us in a few minutes.
Enrique, our driver and guide, was originally from Cusco, Peru, but has lived in Paris for the last 13 years. Not sure how, when or why he learned so much about Monet, but he was a wealth of information. He was very impressed that Sindy and I knew about the Marmottan Museum, and had already visited.
We were to be a group of six for the tour, but two people didn't show up. The other two people (mother and adult daughter) were picked up at their hotel on the Left Bank as we sped through Paris to get on the road to Giverny. Paris traffic can be crazy busy, but French drivers are just plain crazy. It is a free-for-all on the roads where lines are only suggestions and the only thing they obey is a red traffic light. Otherwise, there can be three cars careening down a street meant for two cars, one in each direction. Seatbelts are a must, or you will be tossed around the back seat like beanbag. There have been several times while being driven through Paris (including on the trip out to Giverny) where I've just closed my eyes, held on, and hoped for the best. I will never drive in Paris, you can take that to the bank. [Note: there are very few photos of the drive because I was holding on and couldn't take pics at the same time.]
The mother and daughter duo fell asleep almost as soon as we hit the highway; they'd just arrived in town from New Jersey.  Sindy also dozed off; I was left to watch the lovely countryside whiz by and wonder whether the fog would last all day.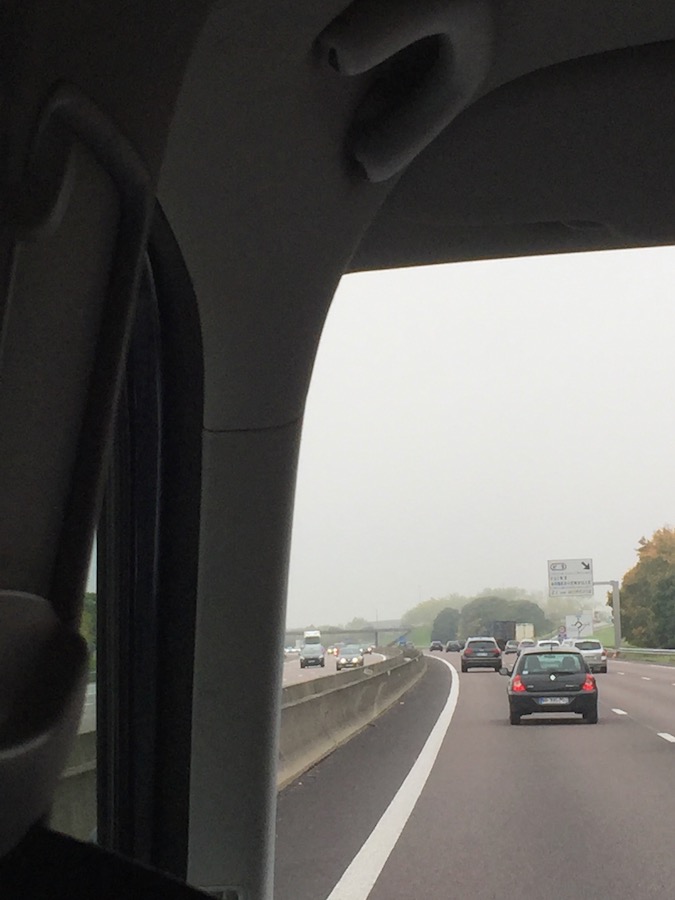 In a shorter time than I thought it would take (or anyone thought it should take based on the write-ups I've read on getting to Giverny), we were in the land of Monet. Enrique took us to the group entrance for the gardens (English garden and Japanese garden), gave us a few instructions, and then let us loose to explore the gardens, Monet's house and studio, and the Impressionism Museum.
It was amazing to walk through the gardens that provided Claude Monet 30 years of inspiration. Even though it is October, the English garden was still awash with color. I can only imagine what it looks like in Spring. In the Japanese garden, the lilies were not in bloom, but there were lily pads still floating in the ponds and the little river running through the property.
Every turn we took, we remarked that this must be the spot for his inspiration of this or that painting we'd seen at the Marmottan, or that I'd seen at the Orsay. We actually felt his paintings more strongly because we were standing inside them. By almost closing our eyes and experiencing the shapes and colors before us, we could even see what he saw near the end when his eyesight was failing. Did I say it was amazing?!
We took photos of the ponds, photos of the weeping willow trees, photos of the river, and the trees/grasses along the river, and, of course, lots of photos of flowers – so many photos of the flowers.
Monet, his second wife Alice, and eight children lived in the house that stands as a museum of sorts. All of the artwork in the home are copies, but we had seen most of it at the Marmottan. It was really cool to go through the house and say "saw that, saw that, saw that, …."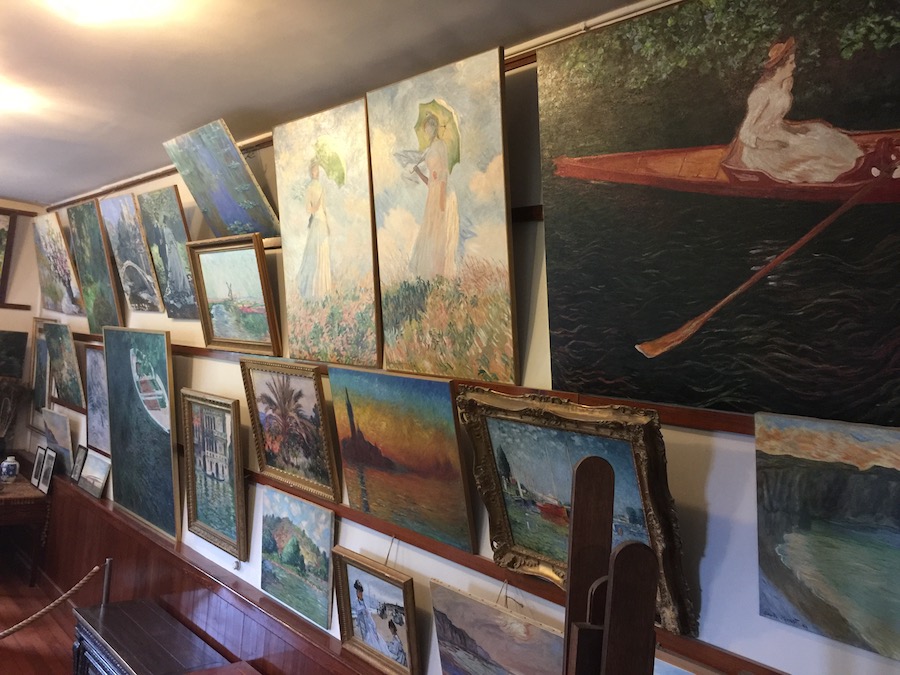 Monet's large studio, where he painted the huge panels of the famous Water Lilies (Nympheas) now handing in the Orangerie, is the gift shop.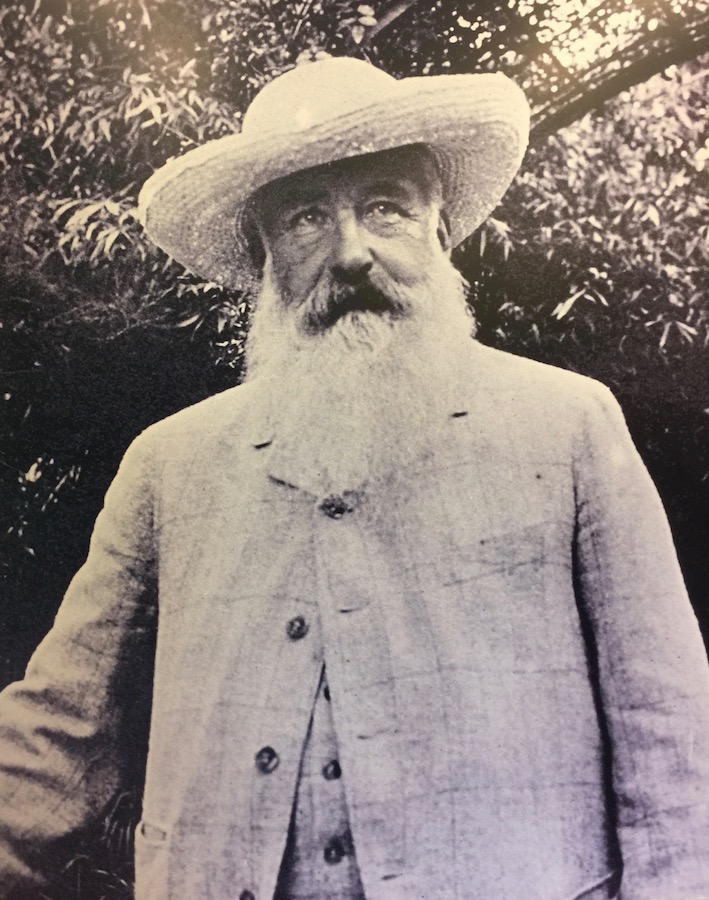 With 40 minutes to go before the time to meet the group and head back to Paris, we visited the Musée des Impressionnismes, which features rotating exhibits of Impressionist Art.  The current exhibition (changes on November 5) shows the works of Henri Manguin, a contemporary of Henri Matisse, and who admired the work of Paul Signac and Henri-Edmond Cross.  He believed in the free use of color.  I liked some of his paintings and the color, but I didn't have a strong reaction to them.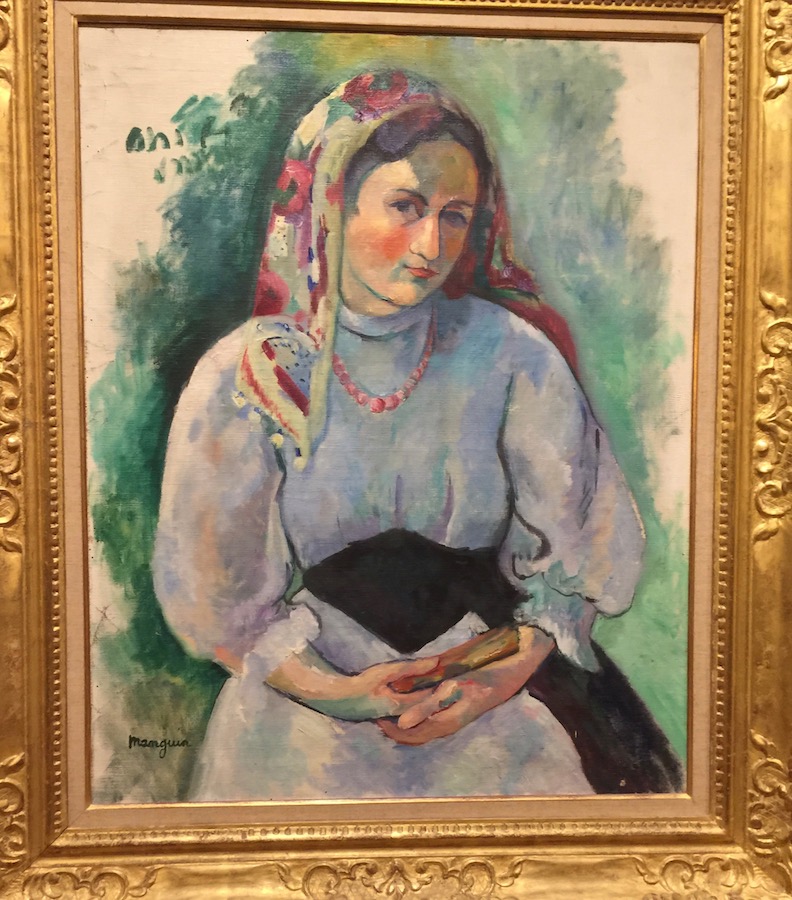 Our trip back to Paris was relatively quick and as nail-biting as the trip out. Enrique was not really happy about dropping us back off at the ParisCityVision headquarters because the traffic was supposed to be incredibly bad due to the visit of the Egyptian president. He dropped us at the far side of the Tuileries Gardens instead. Daylight began to wane, but we took some interesting photos of the Eiffel Tower in the distance.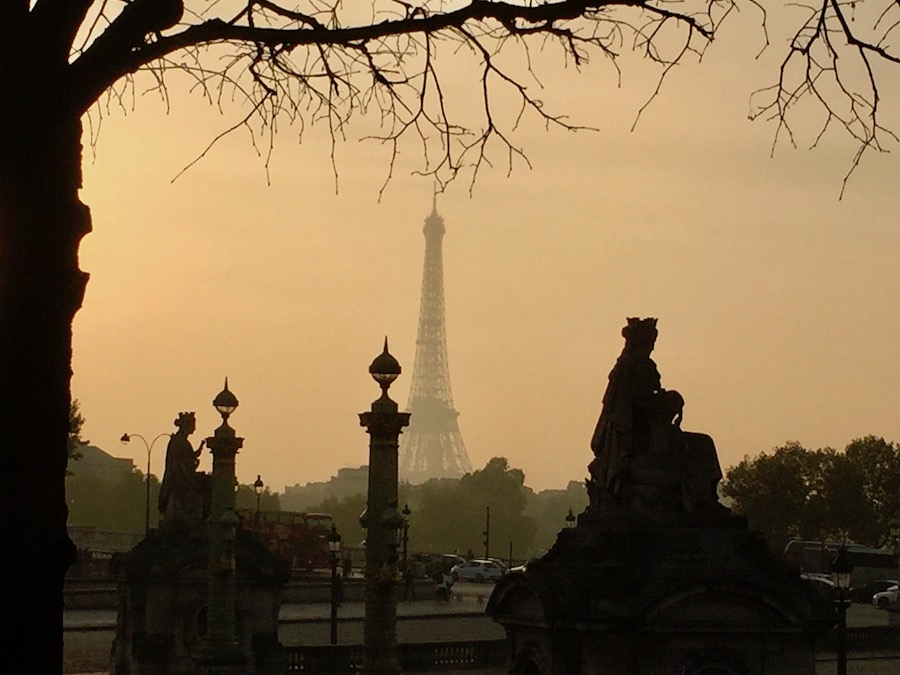 The gardens are a wonderful place to walk and relax. Around the large fountains, there are lots of chairs in which to sit and people watch, or sit and contemplate your navel. On a warm day, it would be a great place to take a book and read (though to myself – maybe something to do next week). There was an exhibition of modern art in the gardens, most of which we didn't like or get. Nonetheless, it was so tranquil and a real oasis in the center of busy Paris.
We continued our stroll, walking to a little bistro, Le Petite Vendome, for dinner. The tables were really close together and had to be pulled out to sit because there was no squeezing between tables even if someone was a size zero (which is not me). I don't usually like to be packed in like sardines, but since Yelp gave it 5 stars, we figured we'd give it a try.
Sindy had the scallops and pasta – both of which were done in a lemon, garlic, and tomato sauce. Neither of us planned to be impressed with the lemon/tomato combination, but the sauce worked well with both the seafood and the pasta. It was also great for bread dunking. I had the steak frites, which was very tasty and not too salty (usually my complaint).
The only complaint I had with my dinner is the same one I have for all of the restaurants in Paris where I've had beef. Medium well does not mean blood red. At the first restaurant where I ordered medium, I got blood red. So, I decided I would try medium well so it would be a little less raw – no luck. Whether I order medium or medium well, it comes out the same. I know, I know, first world problems.